Friday, December 9th, 2016
Sometimes it takes a little nudge to discover something wonderful that is right under your nose. In the heart of downtown Crested Butte, The Sunflower has always been a great place for us to grab a spinach and feta croissant or a good sandwich to go. For some reason, I assumed it was breakfast-lunch only because their menu lists breakfast and lunch. I was half correct. The Sunflower is a communal kitchen – a cafe/deli in the daytime and a restaurant at night. Two separate businesses that share one space. I only learned about Supper at Sunflower this spring when Rob, the best painter in town and fellow mushroom foraging enthusiast, mentioned it to me.

sunflower is located on elk avenue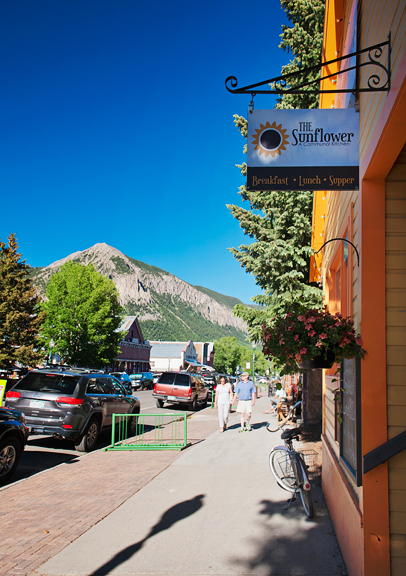 Indoor seating in this cozy, rustic establishment maxes out at 32, but in summer the pleasant patio easily doubles the restaurant capacity. Reservations are highly recommended and there are generally two seatings each night: early [6:00 pm, 6:15 pm, 6:30 pm] and late [8:00 pm, 8:15 pm, 8:30 pm]. Every time we have dined at Supper at Sunflower, the place has been packed with regulars and newcomers alike. Their staff is warm and friendly, and every server was quite knowledgeable about the menu and the extensive wine list (and what pairs well with what). Sunflower also offers a huge number of wines by the glass as well as a dozen beers by the bottle. Be sure to ask about their
porrons
.
a cozy interior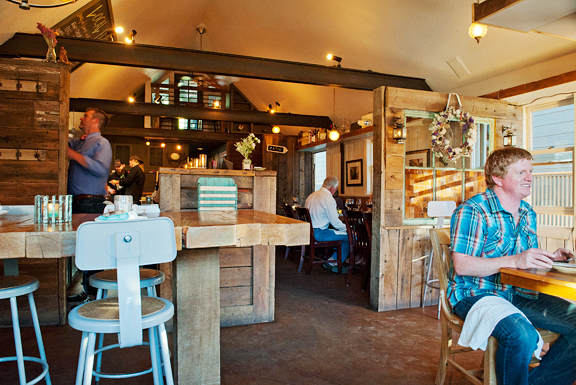 patio dining with my folks on a fine colorado summer evening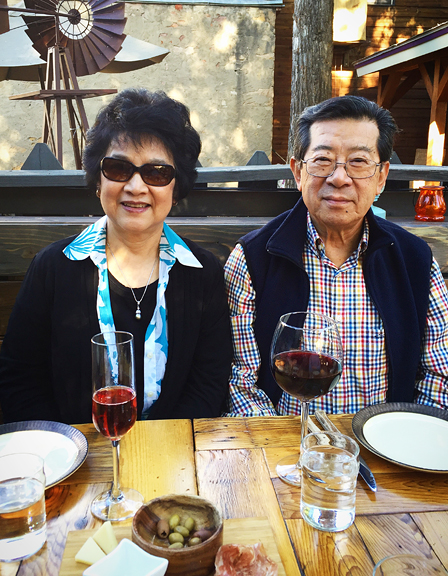 Small bites and small plates dominate the menu at Supper at Sunflower, although there are large plates in the traditional sense of a meal. I feel that the quantity on the small plates offers the best value. Supper at Sunflower encourages sharing and sampling – a fun way to enjoy and explore more of their Spanish-influenced farm to table cuisine. Start with a selection from their Nibbles, an assortment of cheeses, cured meats, olives, and nuts. There is usually a tempting seasonal soup and a couple of salads, all incorporating fresh, local ingredients.
some nibbles: olives, manchego, finocchiona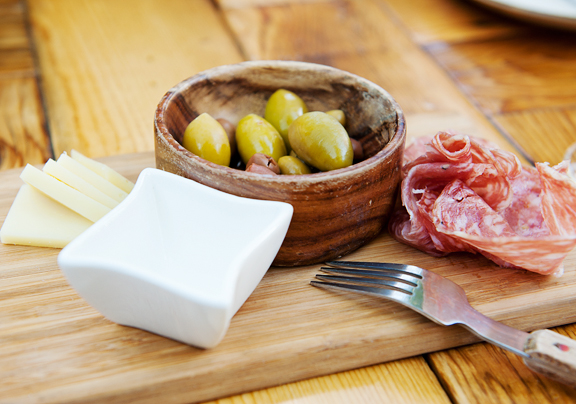 Admittedly, we get so excited about the appetizers that it wasn't until the third visit (on my birthday) that I ordered the heirloom tomato salad with ricotta cheese, watermelon, and pickled cucumbers. That salad embodied what I enjoy most about the food at Supper at Sunflower. A thoughtful and exciting balance of textures and flavors exists in most of their dishes. Best of all, I love their use of homemade pickled and preserved toppings to accentuate and enhance the plates. They add zing and zip to an already exceptional combination of flavors. Of the many (so many) small plates we've tried, my favorite was the rabbit escabeche. The tangy stewed rabbit and vegetables arrived along with an amorphous piece of charred dough – some of the best bread I've ever tasted!
albacore tuna poke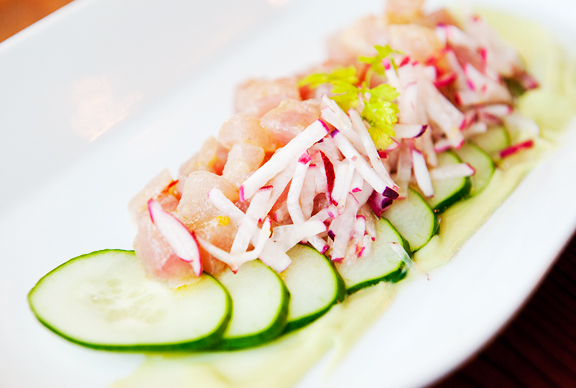 rabbit escabeche with grilled bread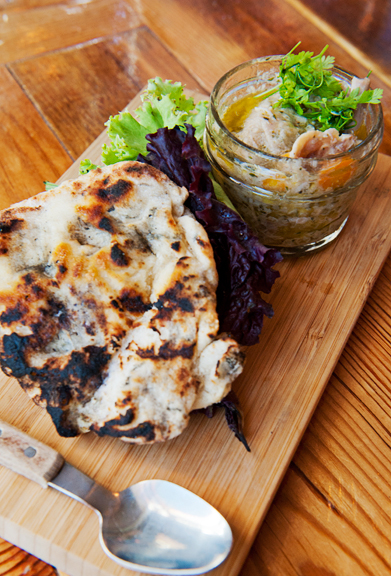 house burrata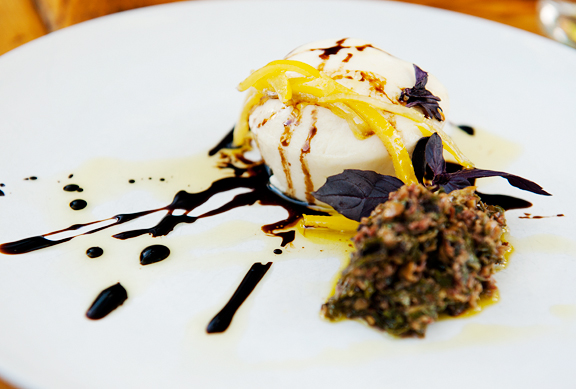 pork sausage with fava beans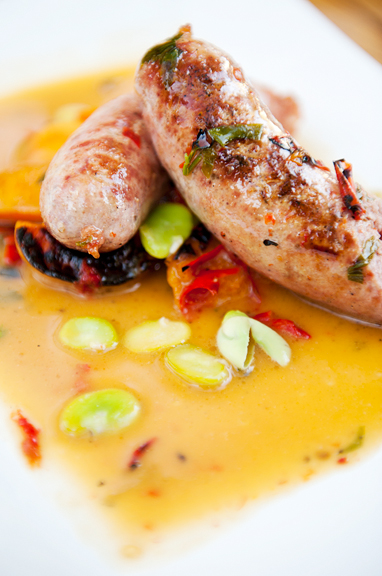 **Jump for more butter**