Recipe: roasted potatoes
It's coming down to the wire over here. I have three days to finish (well, start) my holiday baking. You might think that I should have a lot of extra time since there's very very very little snow to ski in these parts, but there were these flannel rag quilts I was sewing… nine flannel rag quilts. That took a big chunk of the last two weeks. I should clarify that while I haven't begun my holiday baking, I have most of my holiday candymaking completed. Variety is the spice of life and all that good stuff.
Life is a bit of a frenzy right now, but I did take a few hours off recently to see a rare visitor to Colorado. Deb, of Smitten Kitchen (my favorite food blog), came through Boulder last week on her book tour. While I couldn't make the actual event, we were able to finally meet in person over some noshes before her book signing.

such a lovely woman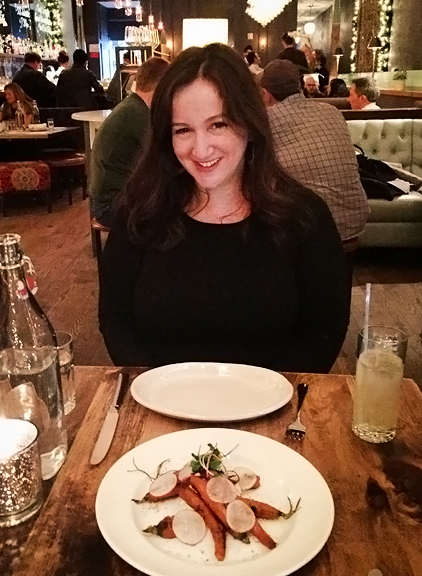 flannel rag quilts in progress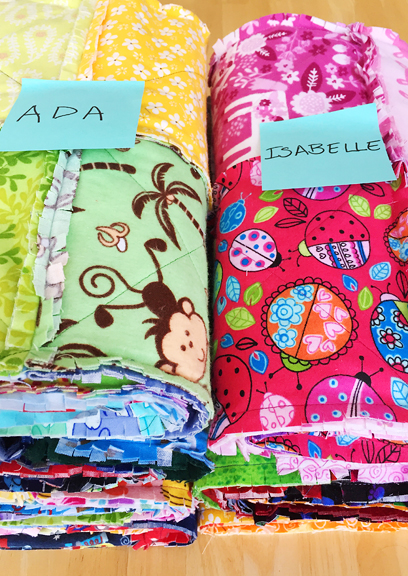 candied orange peels and chocolate caramels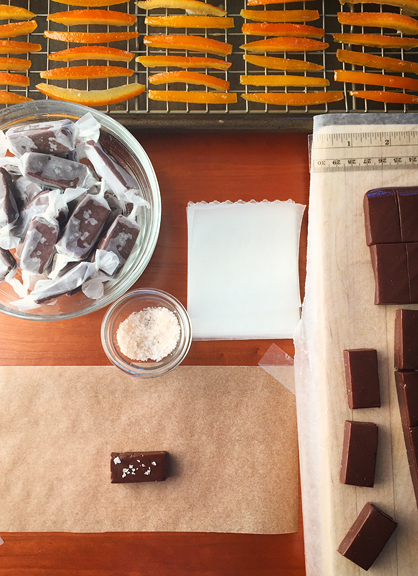 Despite being up to my armpits in chocolate, butter, sugar, cream, and flour, my mind has actually been puzzling over our upcoming holiday menu. Typically we ski our brains out on Christmas morning and I'm too wiped out to prepare anything more than a simple (but delicious) meal. Looking at the short-term forecast, our brains may very well remain securely in our heads due to the lack of snow. Even so, I still don't want to spend a ton of time cooking. I know Jeremy would be delighted with a sous vide steak, some potatoes, and lots of greens. We have a new favorite way to enjoy roasted potatoes, too.
yukon gold potatoes, duck fat, baking soda, salt, garlic, parsley, black pepper
It's unclear to me how I found Kenji's recipe or who turned me on to it (it may have been Kenji's Instagram), but when I see the words "Best Roast Potatoes" coming from a trusted source, the logical next step is to try it out. I've made the potatoes a couple of times now – the first time with olive oil and the second time with duck fat. The olive oil version was good, but holy moly the duck fat version is the stuff of dreams. Kenji's technique basically parboils potatoes in an alkaline environment to create a roughed starchy exterior, tosses them with fat, and roasts the potatoes to yield crisp outer crusts with fluffy interiors.
quartering peeled potatoes
adding salt, baking soda, and potatoes to the hot water
The potatoes simmer until they are fork tender, which takes ten or so minutes. During that time, you can prepare your fat (olive oil, duck fat, beef fat) by heating it with minced garlic until the garlic turns golden. You don't want to burn the garlic, just lightly brown it. Agitate the pan constantly to prevent the garlic from burning and then strain it just as the garlic takes on some color. Keep both the fat and the garlic. Kenji adds rosemary and pepper to his oil, but I like it better without rosemary. Go with your own preferences.
chop the parsley and garlic
garlic and duck fat
straining the fat
Once the potatoes are ready, drain the potatoes and let them hang out in the hot pot for 30 seconds to promote evaporation of any excess moisture in the potatoes. Place the potatoes in a large bowl and toss with the hot oil and salt and pepper. This tossing is the step that generates that roughed starchy exterior, so don't be too gentle! Spread the potatoes out on a pan and roast, turning the potatoes to get an even crisping. When the potatoes are done, toss them with the reserved browned garlic and parsley and any additional seasoning.
drying out the drained potatoes
pour the hot oil over the potatoes
toss to get that slushy outer layer
arrange in a single layer
roasted
toss with garlic and parsley
These really are the best roasted potatoes I've ever had. The crunch of the outer layer in contrast to a delicate, fluffy interior is heaven. In addition to the perfect texture combination, the flavor is excellent thanks in large part to 1) yukon gold potatoes (my favorite) 2) duck fat and 3) garlic. There is everything right with these potatoes.
serve immediately
dive on in
crisp and fluffy
Roasted Potatoes
[print recipe]
from Serious Eats
kosher salt
1/2 tsp baking soda
4 lbs. russet or yukon gold potatoes, peeled, cut into quarters or eighths (depending on size)
5 tbsps olive oil, duck fat, or beef fat
3 cloves garlic, minced
black pepper, freshly ground
handful of parsley leaves, minced
Preheat oven to 450°F. Bring 2 quarts of water to a boil in a large pot. Stir in 2 tablespoons of kosher salt, the baking soda, and the potatoes. Let the water return to a boil, then reduce the heat to a simmer. Cook the potatoes for about 10 minutes until fork tender.
While the potatoes cook, set a strainer over a small bowl. Place the fat and garlic in a small saucepan over medium heat. Constantly agitate the pan to keep the garlic from burning until it just turns golden (about 3 minutes). Pour the fat through the strainer, reserving the solids.
When the potatoes are ready, drain them and return the potatoes to the pot to dry for 30 seconds. Empty the potatoes into a large bowl and toss with the hot oil, salt, and pepper. Keep tossing until a shaggy layer of mashed potatoes coats each piece. Line a rimmed baking sheet with foil and spread the potatoes evenly in a single layer over the baking sheet. Roast for 20 minutes. Turn the potatoes and cook another 30-40 minutes, turning occasionally for even crisping. Toss the potatoes with the reserved garlic, parsley, salt, and pepper. Serves 6-8.
more goodness from the use real butter archives