Monday, October 1st, 2018

Recipe: cranberry walnut pepita sourdough boule
Autumn feels good. We are starting to see frost patterns on our deck and I don't have to take my jacket off when we go hiking because it remains nice and cool. Denver Erin and I spotted a majestic bull elk and a handful of elk cows and young bulls on our way to a trailhead one morning. Hiking through dark pine forests dotted with brilliant sunlit golden aspens on a chilly morning and hearing the not-so-distant piercing call of bull elk bugling from every direction is pretty freaking awesome. There are fewer people on the trails now and the woods carry that slightly fermented odor of decomposing leaves. Most leaf peepers stay in their cars or wander no more than 100 feet past the trailhead and I'm fine with that. Yuki is putting in her hiking miles and earning her Colorado mountain dog status.

on our way to some alpine lakes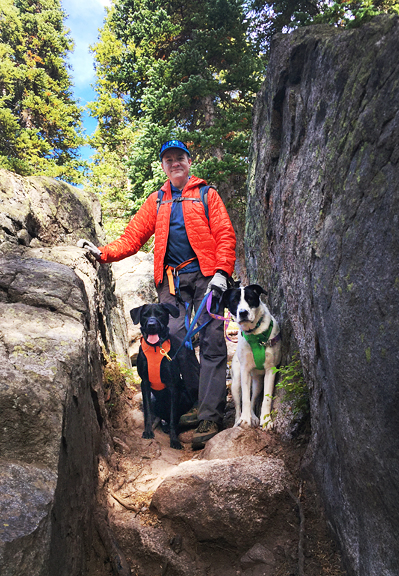 pausing for a view over the valley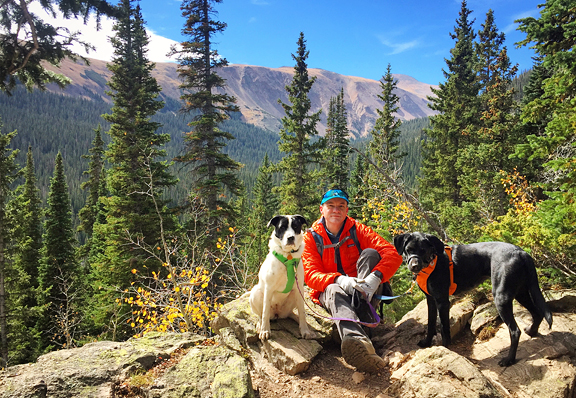 yuki and neva love their hikes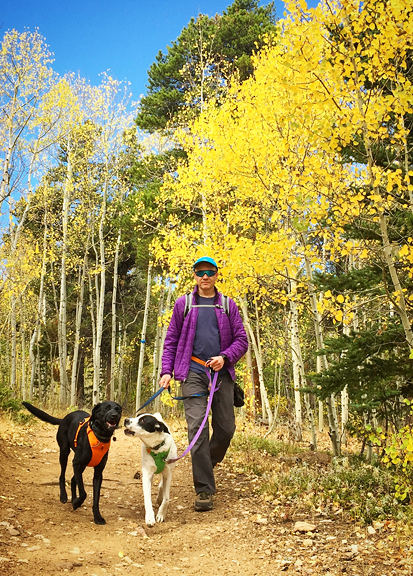 some nice orange aspens to match neva's harness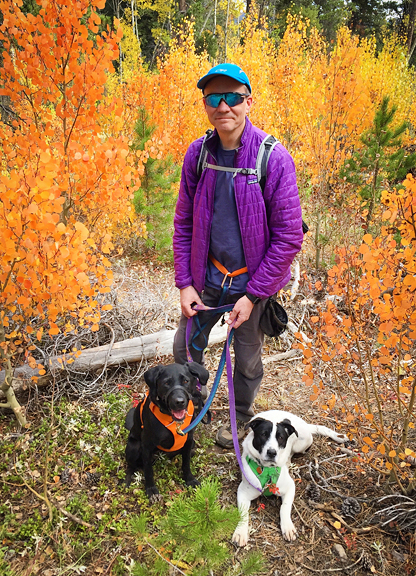 It's finally bread season around here. I haven't lived with air conditioning since I left for college almost 30 years ago. As someone who is particularly mindful of the heat (I hate it), I'm quite dialed in to the moods of the weather. The oven and my sourdough starter have been more or less neglected since June until this week. As I type, I have a batch of sourdough autolysing in the kitchen to make sourdough baguettes and a bâtard! I've also been looking forward to making this cranberry walnut pepita sourdough bread again. It all begins with some sourdough starter. For those who are new to the sourdough game, ripe sourdough starter means your starter has been fed and allowed time (for me, it's 8 hours on the counter) to produce some lovely gas bubbles. Use this starter to make the levain. My typical schedule is to mix the levain the night before and let it sit overnight, then start on the dough the next morning. The levain should be bubbly.
the levain: water, bread flour, whole wheat flour, ripe sourdough starter
mix it all together so there is no dry flour
the levain the next morning
In the original recipe,
Maurizio
used a little rye flour in the dough. I did, too. I think in the future, I'll probably stick to a combination of just bread flour and whole wheat flour, but it's in the recipe below with the option of substituting whole wheat for the rye (it's a small amount). I also halved the recipe to make one 1-pound loaf instead of two loaves and added pepitas (pumpkin seeds).
levain, water, pepitas, dried cranberries, walnuts, whole wheat flour, bread flour, rye flour, salt
Stir the levain into most of the water (some has to be reserved for dissolving the salt later). If the levain is nice and bubbly, it should float (because bubbles). Once the levain has mostly dissolved, mix in the flours. You can use a sturdy mixing spatula, spoon, or the handy dandy dough whisk, but be sure that you don't have any dry pockets of flour. Cover your dough vessel with plastic wrap or a damp cloth. I use plastic wrap because our humidity is quite low. Let that autolyse (absorb the liquid) for 40 minutes.
dissolve the levain in the water
stir in the flours
mix well then autolyse
**Jump for more butter**