Recipe: crumbled tofu stir fry
Thanks to some technologistical hiccups, my last post was published before email subscribers were migrated to a new service, so I apologize if you didn't receive a notification. But email subscription limbo has now been resolved, and hopefully this is the last we'll talk about that.
Most of our aspens have been stripped bare by intermittent winter storms and winds, but we find the delicate rattles of the remaining dried leaves soothing when we take the pups on leisurely hikes. I rather like the quiet time in the mountains between the leaf peepers and the ski crowds, when locals are left to their own shenanigans. The diurnal swings in temperature fooled Jeremy into thinking it was too early to switch to flannel sheets despite his complaints about sleeping cold overnight. Once we made the switch, his outlook on life flipped 180°. It will probably flip back after Daylight Saving ends and the sun drops behind the mountains at 4:30.

the local stand had a good run this year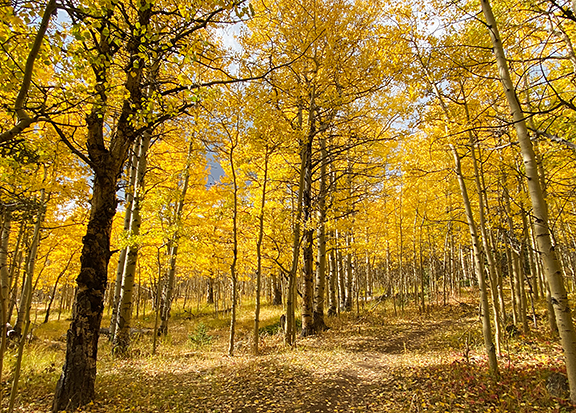 cool air and hot sun, everyone finds their sweet spot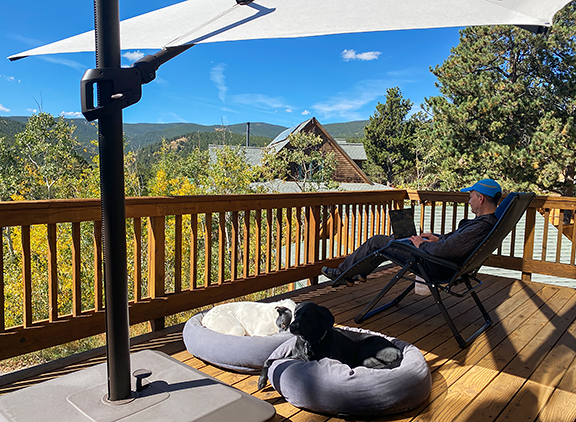 yuki and the charlie brown aspen tree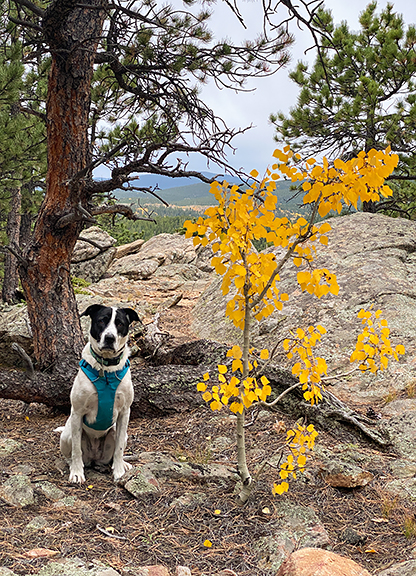 those autumn sunsets are something else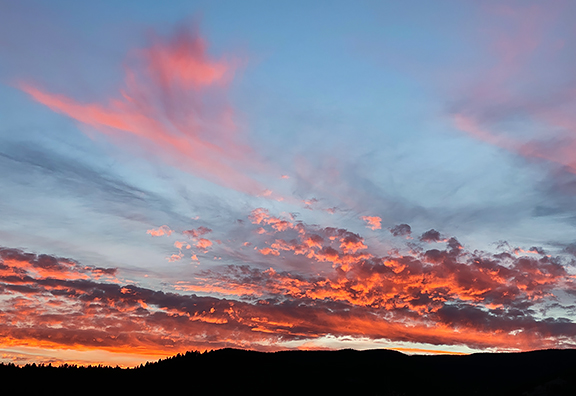 We've been making the most of this lull before ski season, cramming in medical and dental appointments, fixing and organizing house things, voting (have you voted? local elections are important, so please read up on the issues/candidates and vote!)… you know, adulting. I've also carved out some time to do a little recipe testing – especially vegetarian recipes. It can be hit or miss and the misses will require additional work, but I'm sharing a real winner today. My aunt recommended this tofu stir-fry from Melissa Clark on New York Times Cooking which I admittedly skipped when I first saw it in my subscription, but gave it a try on her suggestion. I've incorporated my aunt's tweaks as they improve upon the dish.
cilantro, chili garlic sauce, soy sauce, shaoxing wine, sesame oil, canola oil, lime, edamame, shiitake mushrooms, green onions, salt, tofu, ginger, garlic
It all starts with a block of firm tofu. Firm is important or else you will wind up with a mushy mess and many tears. Look for firm or extra firm on the packaging. Melissa Clark shreds her tofu and drains the shreds on a towel, but I prefer to freeze, thaw, squeeze, and crumble my tofu. Freezing tofu results in a spongier, more chewy texture, and the tofu absorbs marinades better and fries up crisper. This requires a smidge of extra planning: Freeze the tofu in its packaging overnight or for 12 hours, then thaw it in the refrigerator for 24 hours. When thawed, press the tofu between your palms, squeezing out a good bit of the water. From here you can crumble the tofu by hand. I pull chunks off the tofu block and squeeze out more liquid before crumbling the tofu into a bowl.
crumbled tofu
Per my aunt's notes, I doubled the sauce, mushrooms, and edamame in the recipe below. Keep in mind that you can swap or add other vegetables into this stir fry like bamboo shoots, baby corn, bean sprouts, Chinese broccoli, tree ear mushrooms, pickled mustard greens, oyster mushrooms, carrots, napa cabbage, bok choy, etc. To make the dish gluten-free, use tamari instead of soy sauce, dry sherry instead of Shaoxing wine, and source a chili garlic paste that is gluten-free (I don't know which brands qualify, but in a pinch you can use Sriracha). Prep your ingredients before you start cooking.
crumbled, sliced, chopped, grated, measured
mix the soy sauce, shoaxing wine, lime juice, and sesame oil together
I pan-fried my tofu crumbles because I didn't want to dirty more dishes, but my aunt roasts the tofu and the mushrooms (separately, and tossed with a little oil and salt) in the oven at 375°F – the tofu for 15 minutes and the mushroom slices for 30 minutes. Melissa Clark specifically states she isn't looking to sear the tofu, but I am because I like it better that way. If you don't want seared tofu, just add the tofu when you add the edamame. You can do this in a nonstick or cast-iron pan, but I used a stainless steel sauté pan for more crisping of the tofu which requires more scraping of bits from the pan.
pan frying the tofu
searing mushrooms
add ginger, garlic, and green onions
pour the sauce into the pan
stir in the tofu and edamame
remove from heat and add herbs
We really did not expect to love this recipe as much as we do. The tofu has a soft texture, akin to hard scrambled eggs (as opposed to soft scrambled eggs), but it's a pleasing chew. The lime juice adds an extra brightness to traditional Chinese flavors. I think if you don't have lime juice on hand, rice vinegar would work as a substitute. I topped mine with fried shallots for added crunch and a little sweetness, but chopped peanuts could fill that role as well. The tofu stir fry is a natural pairing with steamed rice. My aunt likes to use leftovers in noodle soups with some bok choy. I could also see this tossed with noodles and extra sauce or served over hot congee (jook or rice porridge). This one is a keeper recipe and I'll probably have a couple of blocks of firm tofu in my freezer on the regular from now on.
a new favorite vegetarian dish
Crumbled Tofu Stir Fry
[print recipe]
modified from New York Times Cooking
16 oz. package firm tofu, frozen solid, then thawed
1/4 cup soy sauce (use tamari for gluten-free)
2 tbsps Shaoxing wine (use dry sherry for gluten-free)
2 tbsps fresh lime juice
2 tbsps toasted sesame oil
1/4 cup unflavored oil (peanut, grapeseed, canola), divided
12 oz. shiitake mushrooms, stems removed, sliced 1/4-inch thickness
1/4 cup green onions, sliced
1-inch knob of fresh ginger, peeled and grated
1 large clove garlic, grated
1 tsp chili garlic paste (optional, for gluten-free check the brand you're using)
salt to taste
1 cup shelled edamame
1/4 cup chopped herbs like cilantro or green onions or basil
Crumble the tofu: Hold the block of thawed tofu between your palms over a colander or sieve. Apply gentle pressure to squeeze liquid from tofu. Break the tofu into 6-8 pieces and squeeze remaining liquid from each piece. Crumble the tofu into a bowl.
To pan fry tofu: Heat 2 tablespoons of unflavored oil over medium-high heat in a sauté pan. You can use a nonstick pan, but I prefer stainless steel for a crisper finish (cast iron would also work). Add the crumbles when the oil is hot and stir to coat. Let the crumbles turn golden (about 3-4 minutes), then stir them around, scraping any bits that stick to the pan. Set aside. Wipe the pan clean.
To bake the tofu: Preheat oven to 375°F. Toss the tofu with a little salt and 2 tablespoons of oil and spread in a single layer on a baking sheet lined with parchment paper. Roast for 15 minutes. Remove from oven.
Stir the soy sauce, Shaoxing wine, lime juice, and toasted sesame oil together in a small vessel. Set aside.
Make the stir fry: Heat the remaining 2 tablespoons of unflavored oil in your sauté pan over medium-high heat. When the oil is hot, sprinkle the mushrooms evenly over the pan. Allow the slices to give up their liquid (about 4 minutes) before giving them a stir. As the liquid begins to boil off, stir and turn the shiitake slices in the pan for more even browning. Sauté to desired browning or crispness. Add 1/4 cup green onions, ginger, garlic, and chili garlic paste (if using) to the pan and stir until the onions have wilted (2 minutes). Stir in the tofu, edamame, and sauce and cook for another minute until everything is heated through. Season with salt to taste. Remove from heat and stir in the herbs. Serves 4-6.
more goodness from the use real butter archives