With taxes done, we decided to head out to review Laudisio, a restaurant that my supervisor (a foodie in her own right) raved about. [Note: We reviewed Laudisio when it was in its old location. It has since moved to the 29th Street Mall in Boulder and expanded into a larger establishment. We have dined at both locations. The old location had better, more personalized service. The food is still very good.]

laudisio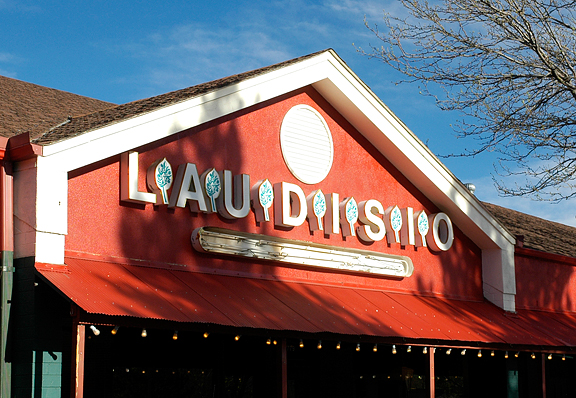 This restaurant has been voted Boulder's top Italian restaurant 12 years in a row. We arrived early Saturday evening and within the hour and a half that we dined, the place filled up with diners ranging in attire from casual to funky to slick. Several groups were clearly regulars which speaks well of this restaurant. The staff was professional, friendly, warm, and most knowledgable about the food and particularly the wine. The overall atmosphere was cozy and casual with the unstated goal of really enjoying your time at Laudisio.
a comfortable and romantic atmosphere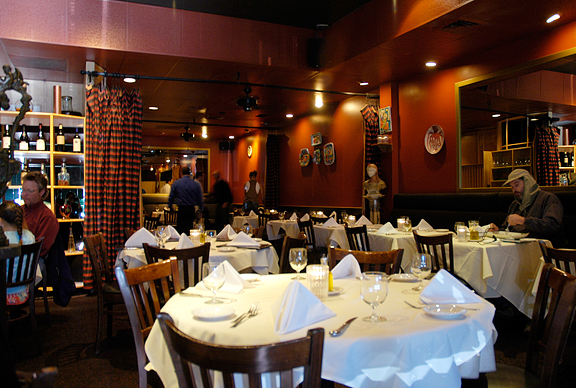 The bread basket arrived with our water and the menus. By menus I mean the regular menu, the specials menu, and the wine list. There were three breads in our basket: a warm and fluffy focaccia, a small loaf of bread topped with asiago, and thin, crisp flatbread sticks. I was a huge fan of the first two with olive oil. The menu offers a nice selection of cold appetizers (and some warm), salads, pasta and risotto, red meat, fish, and poultry.
an assortment of breads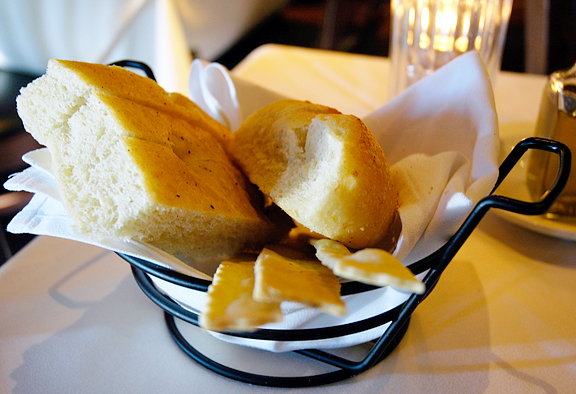 We opted for a flight of white wines ($7.50) to sample the oft-praised wine selection at Laudisio. The lightest was a 2004 Pinot Bianco (Tiefenbrunner). Light, crisp and incredibly drinkable, but not a wine that really leaves a big impression on me. The 2003 Pinot Grigio (Peter Zemmer) was fruity and slightly spicier with more presence. This was my favorite to drink on its own. Jeremy's favorite was the 2004 Portico dei Leoni (Alois Lageder) which was a fuller body tasting of apples and pears. I liked this one with the salmon appetizer most. Laudisio provides a nice chart with tasting notes and background information on the tray for diners. We quite enjoyed this selection of wines.
flight #2: trentino-alto adige bianco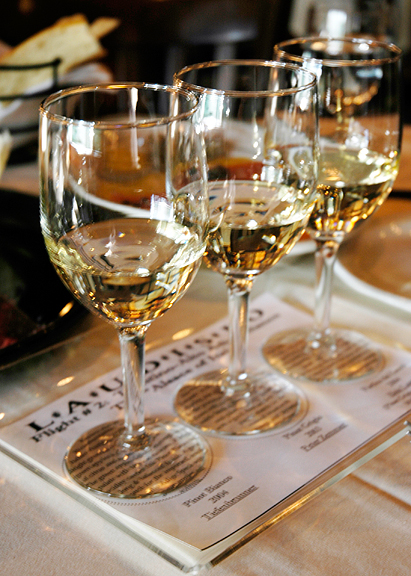 One of our appetizers was the citrus-cured smoked salmon ($10) which was presented with capers, thinly sliced red onions, lemon confit, a hot mustard, a purée of garlic and capers, and a plate of crostini. The salmon is made in-house and had a firm bite with nice overtones of citrus peel. The flesh was fresh – not fishy at all. I think the mustard was pretty strong, which I liked, but I felt the salmon was better complimented with the capers, onions, and the garlic caper purée. The lemon confit was a nice touch too, but it did not add to the experience for me. I could have been fine with or without it. As for the crostini… see the next paragraph.
citrus-cured smoked salmon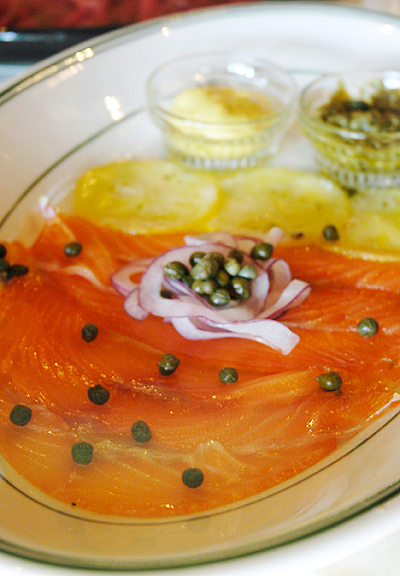 The buffalo carpaccio ($9) and the salmon arrived at the same time. Because I was busy moving plates around to photograph them, I did not notice which plate the crostini accompanied. I tasted it with the salmon, and then I tasted it with the buffalo. I thought it was superb with the buffalo (oops!). Carpaccio is thinly shaved raw or cured meat. Talk about tender! It was served on a large plate with the slices fanned out and topped with a mix of baby spinach and arugula, with a mix of shredded horseradish in olive oil and perhaps lemon, set in a bowl-shaped tuille of parmigiano. The buffalo, horseradish and parmigiano were an incredible combination of flavors.
carpaccio di buffalo in a parmigiano basket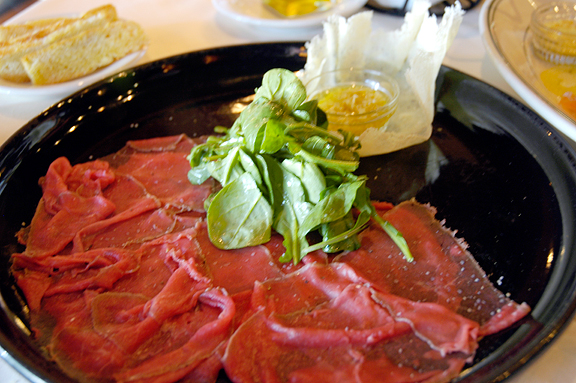 A second flight of wines ($11) was in order for the heavier entrées – reds. The first of this set was the 2002 Pinot Nero (Aloi Lageder). It smelled and tasted very strongly of hyacinth blooms in spring to me and overall it was my least favorite – weak with an odd combination of flavors I did not care for. The 2004 Lagrein (J. Hofstätter) was the most pleasing of the reds to drink in my opinion. It had nice fruit (I like fruity) with other richer flavors and it was not too heavy. The 2003 Teroldego Rotaliano (Zeni) sort of smacked me over the head after the first two. It had more oak and a much bigger body – a little heavy for me to take with my entrée but wonderful with Jeremy's steak.
flight #3: trentino-alto adige rosso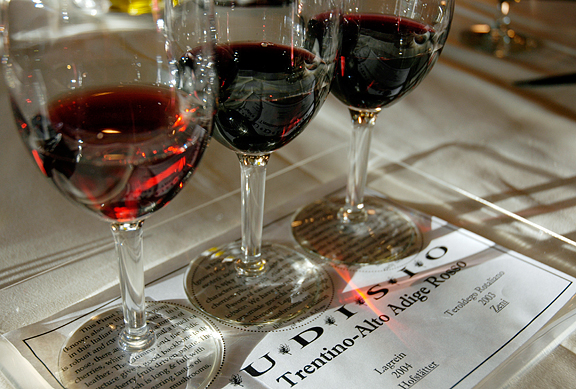 I ordered the gnocchi ($18) with wild mushrooms, garlic, and asiago cheese. The suggested wine on the menu to pair with it was the Lagrein 2004, which I didn't realize was our second wine in the red flight – it really did pair beautifully with the dish. The gnocchi itself was quite good, but just shy of that melt-in-your-mouth I'm-ready-to-die texture of Full Moon Grill or The Kitchen. Still, the combination was delightful and I was crazy about the heaps of different mushrooms. The ingredients are not only fresh, but full of flavor and masterfully combined. I should mention the portions at Laudisio are generous.
gnocchi della montagna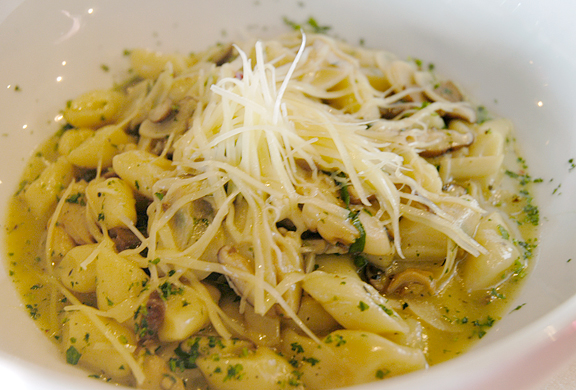 Jeremy told me that his filet mignon ($29) was cooked to perfection – as good as any he has had in a restaurant. The filet was cooked rare (by request) and served on a bed of "reason enough to become vegetarian" wild mushrooms in a madeira reduction and topped with a slice of melted brie. It was accompanied by pan fried potatoes (perfection) and steamed asparagus and broccoli with shreds of cheese and sea salt sprinkled on top. Jeremy felt the broccoli was the only unexceptional part of the meal. Jeremy mentioned the beef was especially good – some of the best flavor and texture he's tried. The bite I had with the 2003 Teroldego was the pinnacle.
filet mignon with melted brie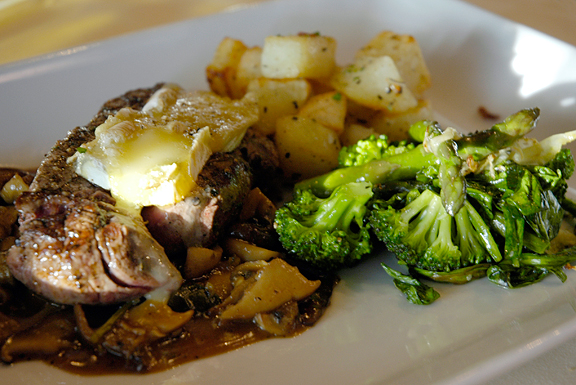 We specifically asked to box up our dinners so that we could sample Laudisio's fine dessert selection. Denver's 5280 Magazine rates the crème brûlée ($6.50) here as the best dessert in Boulder and I had to find out for myself. I probably wouldn't call it the best dessert, but I would certainly say it is the best crème brûlée. It is served in a shallow dish so that each bite has some of the incredible caramelized sugar (and I like that they use coarse sugar for the topping). The custard is rich and creamy with a subtle vanilla flavor. The volume, though shallow, is substantial – and I ended up taking half of it home.
classic crème brûlée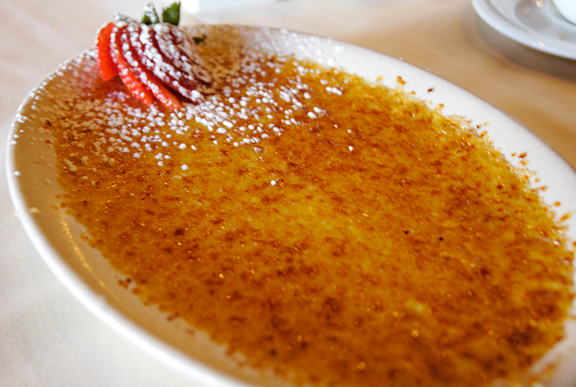 The chocolate bombe ($6) beckons to chocoholics. The base is a genoise of rich dark chocolate topped with a light, smooth, yet rich chocolate mousse accented with Grand Marnier. The whole thing is delicately covered in a luscious and sinfully dense dark chocolate ganache (my guess is Valrhona, but I could be wrong). Jeremy said this was the best chocolate dessert he has had in a restaurant to that point.
chocolate bombe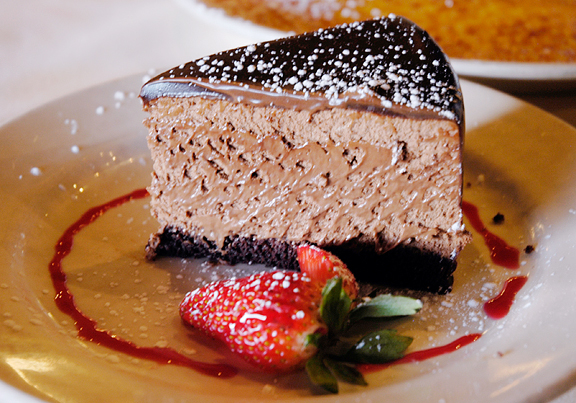 The coffee ($1.50) was Amante and very good (Italian espresso roast), but not the best. We truly enjoyed our dinner at Laudisio and rank it up there with the better of the Boulder restaurants (hmmm, there are a lot in Boulder…).
Laudisio (permanently closed)
1710 29th St. #1076
29th Street Mall
Boulder, CO 80301
303.442.1300
April 15, 2006
Italian
$106 including tax (not including tip) for 2 diners
Rating: 94/100 (A)