In my last pastry class, Shan had an extra sheet of this fabulous, moist, chocolate cake. The cake lacked good structural integrity because he had forgotten to adjust for altitude, but it was delicious. As folks packed up to leave, he called out for someone to take the last sheet cake. No one offered, so I said I'd take it. I loaded it carefully into the car along with my tub of praline butter chocolate mixture, and more chocolate petits fours than you could shake a stick at.
Today I decided it was time to clear out the refrigerator. I grabbed the sheet cake, chocolate mousse, and praline mixture and fashioned a layered torte/cake in my new hexagon ring mold.

pouring praline butter chocolate mixture over the first cake layer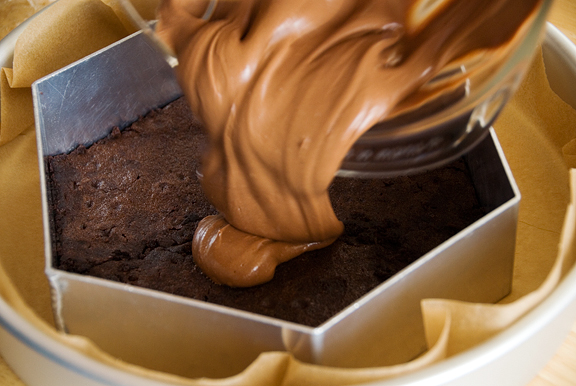 spreading the mousse over the second cake layer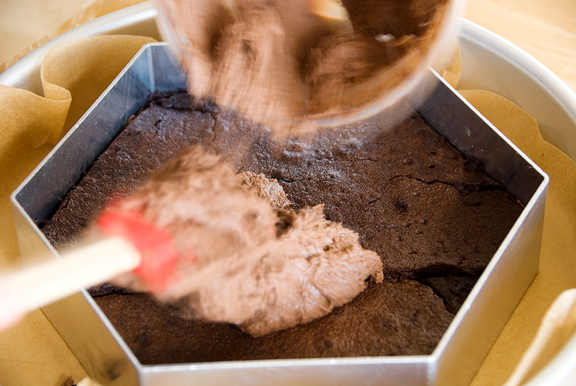 After freezing the whole thing for several hours, I prepared a chocolate glaze and then removed the torte from the freezer. It unmolded easily and I set it up for a quick glaze.
glazing in callebaut dark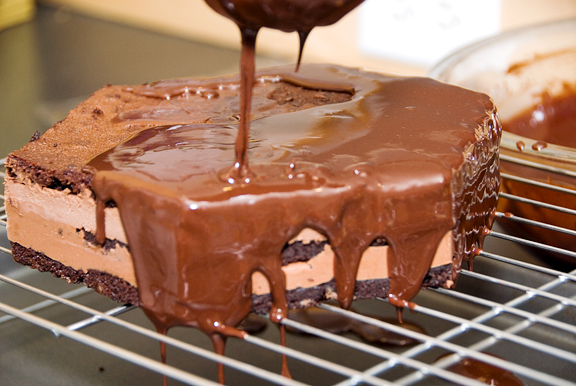 I wanted to use up an orange by making candied orange peels for decoration, but was unsure of the blend of flavors (hazelnut, chocolate, orange) and instead opted for a safer flavor combination albeit a more labor intensive one. I skinned some hazelnuts (something even worse than skinning almonds) and then boiled up some caramelized sugar. I had seen this decoration on
nordljus
and wanted to give it a try. There is a short window of time between when the sugar is too hot and too cold.
topped with caramelized hazelnuts that could poke your eye out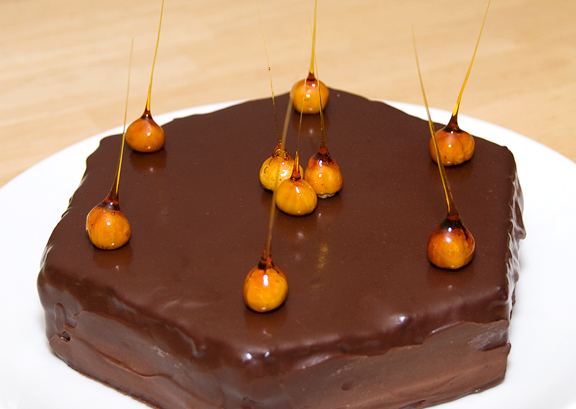 the whole torte was worth doing just to make the hazelnuts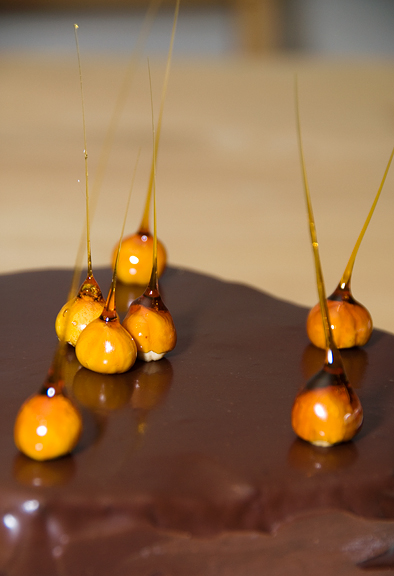 a slice for the official taste tester (jeremy)