I should just learn to accept that it is okay to purchase a cake. But not yet.
It's really hard for me to bake in someone else's house, mainly because their kitchen isn't outfitted the way mine is, but also because I need to dominate in the kitchen – no room for yackity yack, please get out of my way.
Today's endeavor involved two cakes that will be traveling with us. The first: lemon lemon with lemon cake. The second: chocolate with chocolate and chocolate cake. If the second cake was not for Jeremy's grandma, I might have gotten a lot more interesting with the flavors, but the Darlings like their chocolate straight up. Not the most sophisticated, but certainly doable.
The recipe I have for the lemon cake base makes a lot because I only have 9×2 pans. I like the 9×3's they have at school. So we had enough batter for a mini 6-inch. I made all of the components for the cake and then packed them up since it makes more sense to assemble it at Elena's place. I wanted to test it out though in mini form, so I made the 6-inch version with limoncello simple syrup, lemon curd, and lemon buttercream. It's cute.

mini lemony lemon cake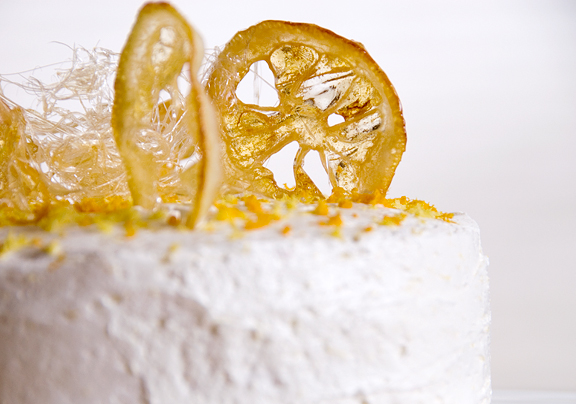 I decorated the top with orange and lemon zest, candied lemon slices, and some spun lemon sugar. Jeremy got to try the first bite when he got home and gave it a thumbs up. I love lemon curd and the recipe I have is nice and tart! *pucker*
in cross-section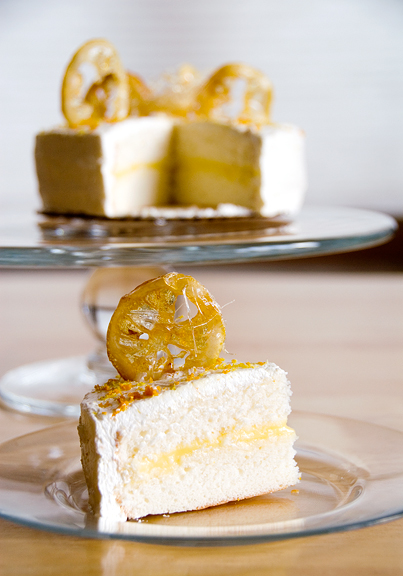 The second cake was a little uninspired, just because I find chocolate to be a tad dull. But Jeremy assured me that Grandma would go nuts over this. It's chocolate base with Grand Marnier simple syrup, dark chocolate ganache, and chocolate buttercream.
ganache layer #3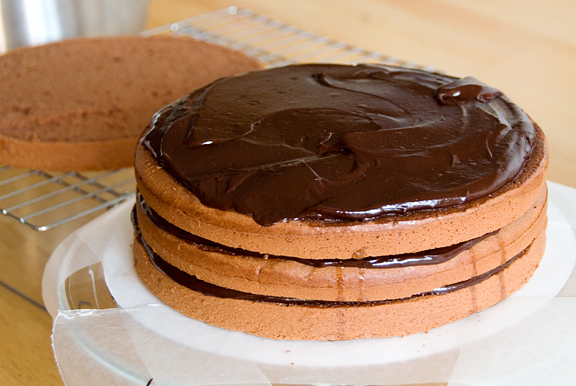 crumb coat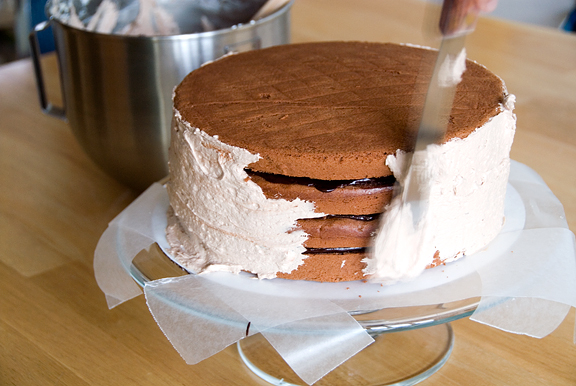 I assembled it at home because there won't be time when we arrive.
little chocolate flowers and chocolate twigs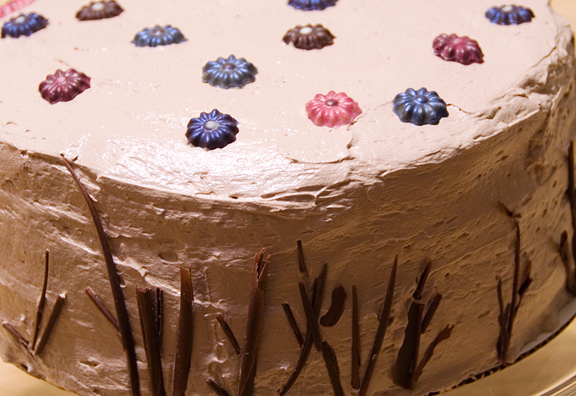 I hope it transports well.
And finally, neat little trick I read about and tried tonight. In making those two (three) cakes, I used 55 eggs and 44 of those were egg whites. What do you do with 44 egg yolks? I could have tried making those nifty egg yolk raviolis that Kell made for her dad's birthday, but I had neither the pasta maker nor the time. I beat them with a little sugar and then divvied them up in ice cube trays and froze them. They're a sticky gooey mess, but when I pried each one out, I set it on a baking sheet and refroze them.

each cube is one egg yolk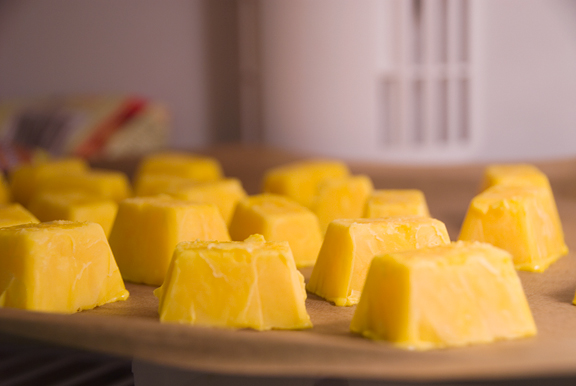 Next I popped them all into a ziploc and stored them in the freezer. Egg storage is a big deal in pastries because so many recipes require uneven amounts of whites and yolks. I hate to waste food. In class, we store all yolks or all whites in large tupperwares for the next class to use because classes are always going on in that classroom. We measure eggs in weight too. Whites will freeze, no problem. Yolks are a problem because they become spongy. So the solution is to add a little sugar or salt – depending on if you intend to use them for sweet or savory recipes – and then beat the yolks and freeze. Usually 1 tablespoon is equal to one large egg yolk. They say 1.5 tsp of sugar for every 4 yolks, or 1/8 tsp salt for every 4 yolks. Nifty!