Oooh, I felt so energized when I woke up this morning! In contrast to the weather each morning this entire week, the sun was bright on the hillsides at daybreak. Not that I don't like my overcast mornings, I really do cherish them since they are the exception rather than the norm here. But it seemed to enhance my already good mood.
In the afternoon I picked Jeremy up after all of his meetings with his students were done. We got ourselves some brand spanking new trail runners at the Road Runner sale. Then we caught a matinée showing of Ratatouille since we assumed all of the kids would be seeing Harry Potter. Oh, Ratatouille is such a delightful film – and beautiful to watch.
We did our grocery shopping after the movie and poor Jeremy was feeling hungry from the moment the film began. But I had a surprise up my sleeve for him. I plan the weekly menu and usually our first meal after grocery shopping is something fresh. Tonight, I made some sashimi rolls. Too bad Joyce (who is Japanese) and Kell (who is Japanese on the inside and Aussie on the outside – an Egg) weren't there to either instruct or critique. That would have been fun. I requested sake belly and some lovely maguro from the Whole Foods fish counter. Oh, to have access to Sydney's fish markets now *sigh*.

sake (salmon) and maguro (tuna) sashimi rolls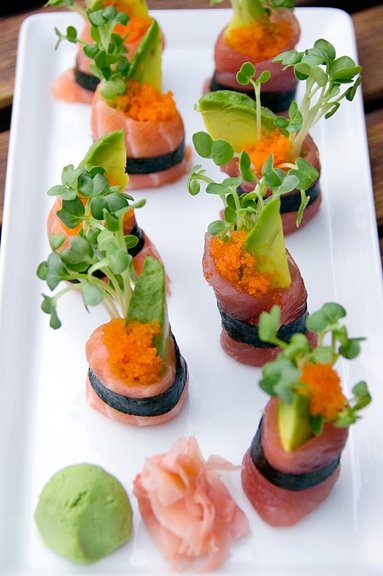 wrapped around avocado and daikon sprouts with masago (flying fish roe) and seaweed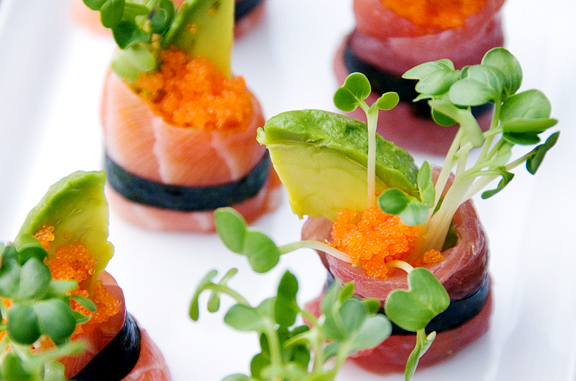 Delish! I also procured some matcha, which smells heavenly. Can't wait to make something with it. And in kitchen equipment news, I finally bought duplicate pastry brushes so now I have a set for pastries and a set for savory foods. It's almost like a kosher kitchen except the concern is contaminating pastries with strong leftover flavors of garlic, butter, bbq sauce, etc. Jeremy wanted to buy a branding iron so we could label the wooden handles for pastries or savories, but I don't think people make branding irons that small unless they are herding something like… hamsters?