I've had matcha on my mind lately. You just can't make real green tea any pastry without matcha, the finely ground green tea. I even dreamt about what I was going to make, but this morning I changed my mind and opted for an opera-like cake. I could use up my earl grey infused ganache and turn some other chocolate ganache into glaze. All I needed to make was the matcha spongecake and the buttercream.

matcha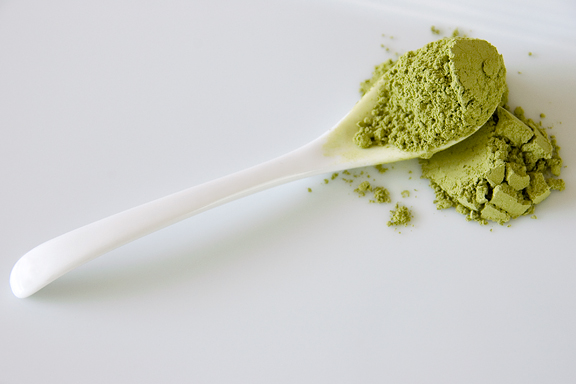 I actually learned a lot about the whole process without screwing it up entirely. I made the spongecake in a jelly roll pan thinking it would be thin enough so I could get away without slicing it. Opera requires pretty thin cake layers (traditionally a jaconde is used) and the jelly roll wasn't thin enough. I used half a swiss buttercream recipe and added 3 teaspoons of matcha which made it mildly green in tint. The assembly is straightforward, a layer of spongecake, then buttercream, then spongecake, then ganache, then repeat and top with spongecake – wrap in plastic and press down on the cake with a flat surface. Refrigeration is the most important step. After the cakes were chilled for about 30 minutes, I poured a chocolate glaze on top (no need to glaze the sides) and refrigerated for about an hour.
matcha and chocolate opera: not a lot of yield for all of that work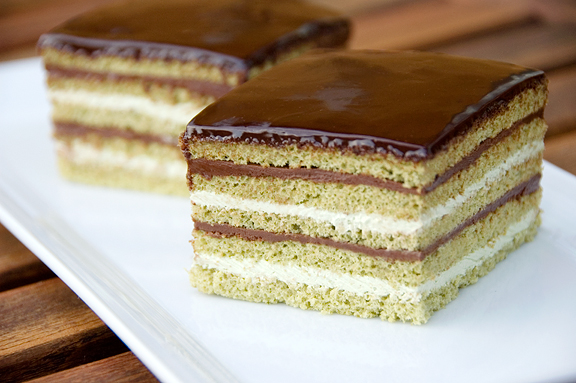 Once the whole thing is chilled,
carefully
cut away the edges. That is probably the toughest step. I recommend cleaning a good bread knife with hot water and wiping it clean before each cut. Take care when slicing through the ganache as it is hard and can pull the whole cake out of shape. Sprinkle a little matcha on top and serve.
excellent with coffee or tea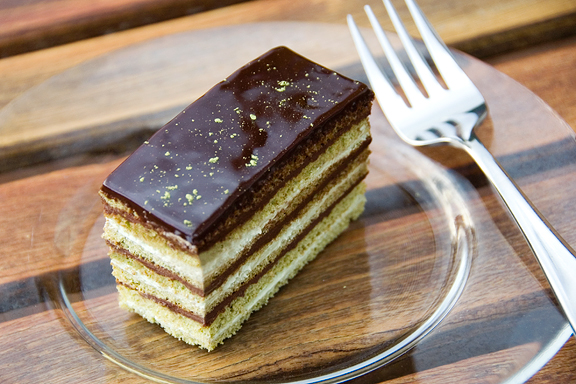 jeremy sips coffee with the trimmings while kaweah looks on with great interest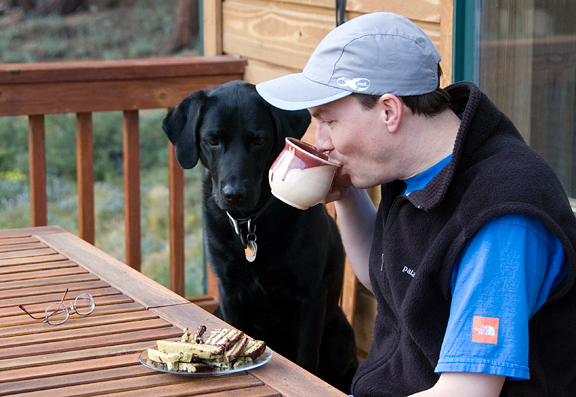 It tastes very nice with the chocolate coming up front and the earl grey kicking in midway with a mild start to the green tea and a green tea finish. The ganache and glaze are quite sweet, so I think small servings are perfect with some strong espresso. It was quite involved and pretty frustrating, but I think I have a better idea for making it next time and prepping everything ahead but the buttercream. Still, I think it turned out okay considering.
This is the last bit of baking I do until after Whistler.