On Saturday, I did something odd and decided to ditch kayaking in favor of exploring Seattle. I don't typically enjoy urban exploration, but when you're in a lovely setting with great character and even better hosts, then it is hard to pass up. Erin and Caroline are the perfect tour guides, much like Jerad and Kell of Sydney. Here's my tour of Seattle in pictures. Unfortunately, it doesn't capture everything we did!

blueberries growing in erin and caroline's yard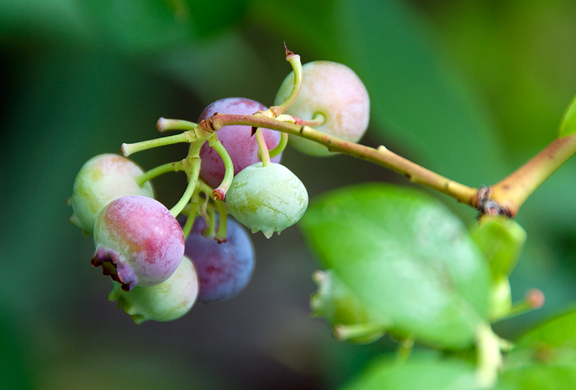 begin the tour from their lovely front yard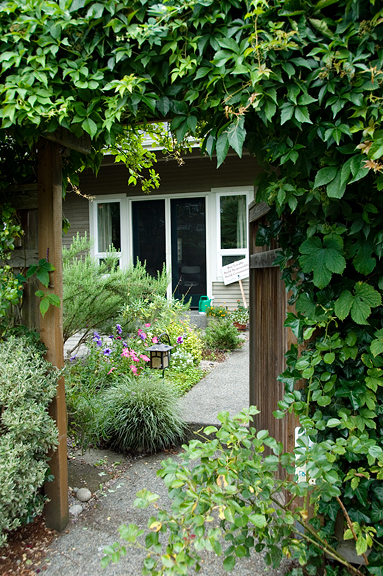 First Caroline prepared an uber special cappuccino for Jeremy – because she is as much a caffeine connoisseur as he (and also a major foodie) – and we all chatted over fresh market berries to discuss the order of the day. We walked a few blocks to Macrina Bakery for a small brekkie bite of amazing baked goods and then they took us for a morning stroll through their neighborhood of Queen Anne. Seattle neighborhoods have a very lived in feel to them. Land is precious and people with limited land but loads of money design and grow the most beautiful gardens around their homes. It has a wild and elegant look to it – and so green! The Emerald City, right?
jeremy, erin and caroline at a neighborhood park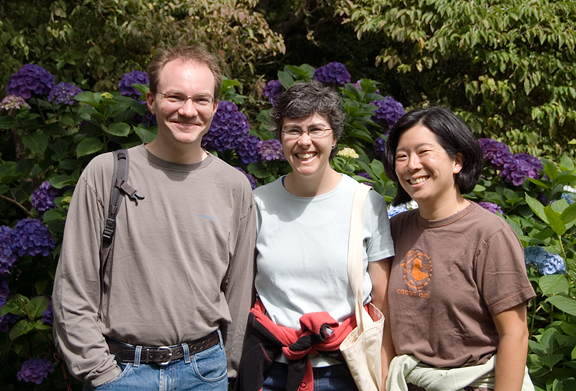 the purplist of purple hydrangeas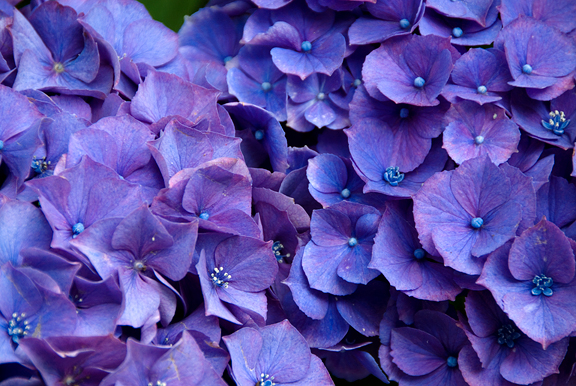 our fantastic friends with the puget sound behind them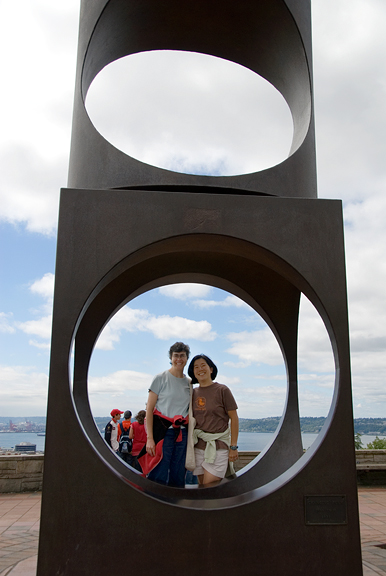 local shops in queen anne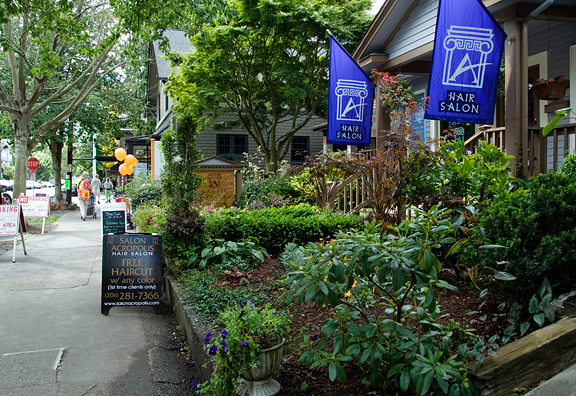 Erin had to get the car so she could pick up their friend, Kelley, who was flying in for a conference. She dropped Caroline, Jeremy, and me off at Pike Place Market on the way. We grabbed a mouth-watering lunch at Matt's In The Market before touring the rest of Pike Place including the awesome Fish Company where employees shout in unison and throw and catch raw seafood in a sort of incredible performance art spectacle and several other food and art vendors.
melt-in-your-mouth catfish sandwich at matt's in the market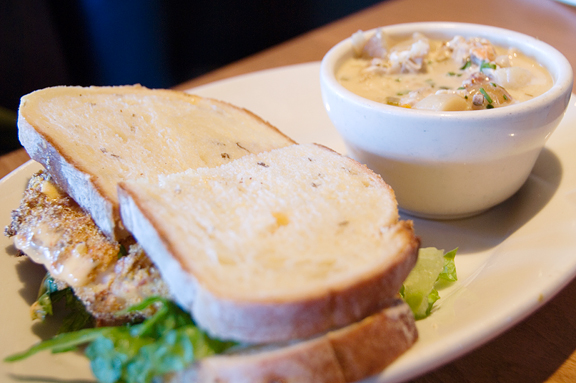 nuggets of fatty goodness: mini donuts with a line of customers you wouldn't believe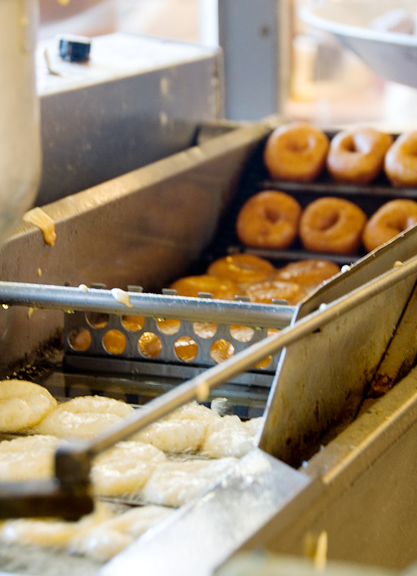 where fish mongers give cirque du soleil a run for their money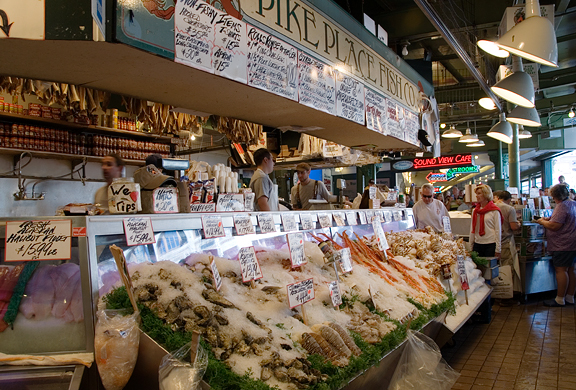 one of several flower stalls gushing color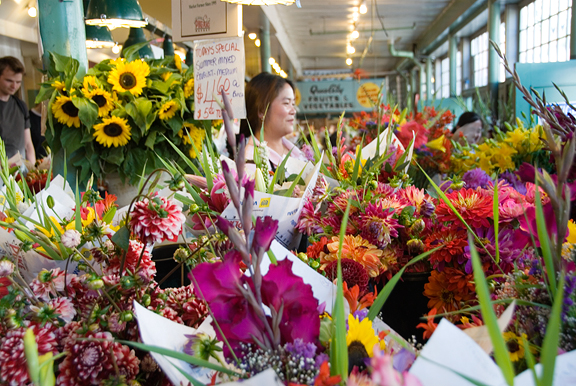 lots of fresh produce everywhere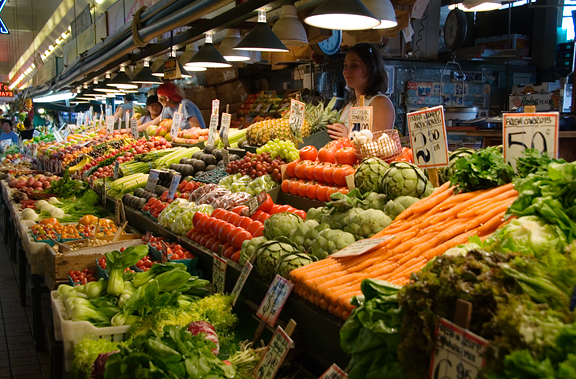 scrumptious summer fruits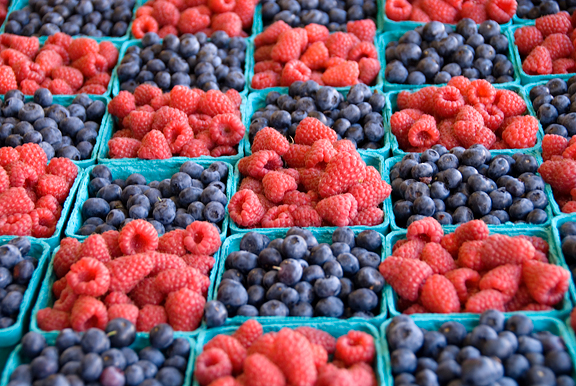 In celebration of Pike Place Market's 100 year anniversary this year, 100 pig sculptures were commissioned to be installed around the city a few years ago to promote art and to raise funds for the market's human services. We spied several pigs everywhere we went which was incredibly fun in addition to all of the other great art around Seattle.
this little piggy is rachel, the market's bronze piggy bank
bumble pig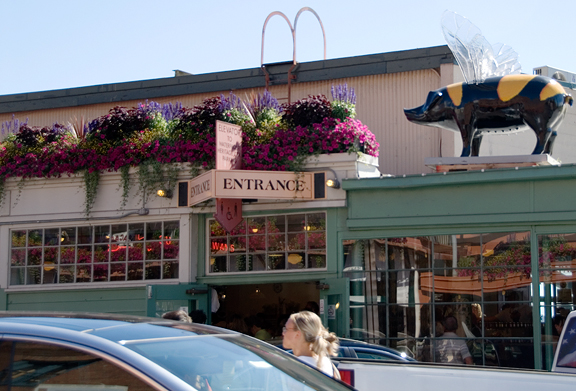 guess who's coming to dinner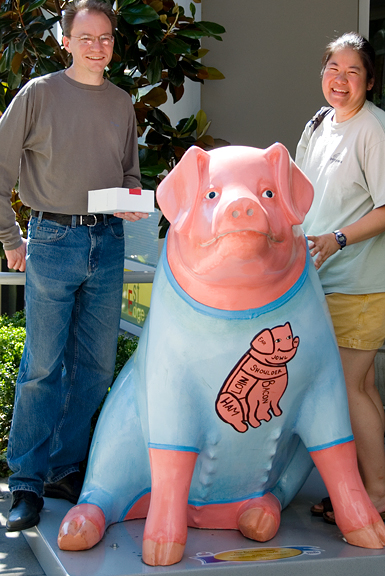 pigasaurus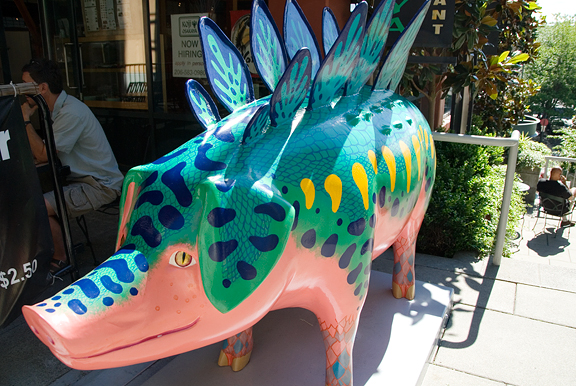 quantum man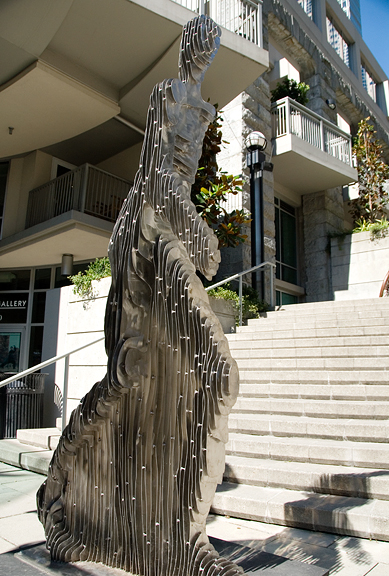 a huge chihuly at benaroya hall (symphony)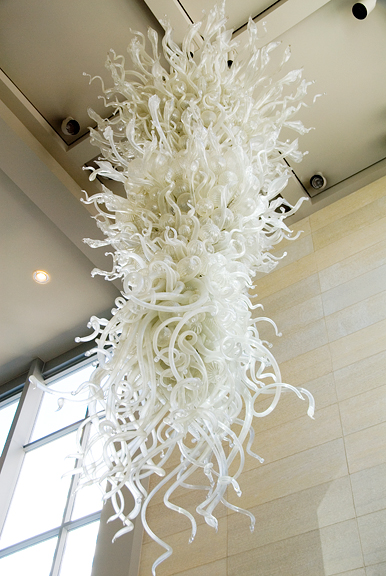 the other chihuly at the opposite end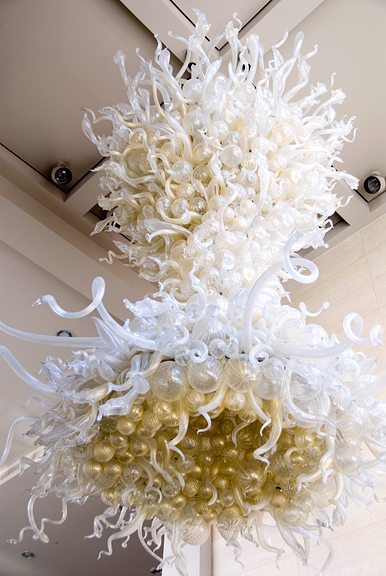 We met Kelley and Erin at Benaroya Hall and set off in search of something to cool off with… perhaps some gelato? I had bought a box of a dozen macarons for everyone to try, but especially for Jeremy, who has never had one before. We opened those up to have with our passion fruit and pear gelatos. Then they took us to Caroline's office where there is a Chihuly in their lobby (Amgen)! After Amgen, we drove to the locks where there is a nice park and you can watch the salmon swimming up the stairs that were built for them.
orange, chocolate, and vanilla macarons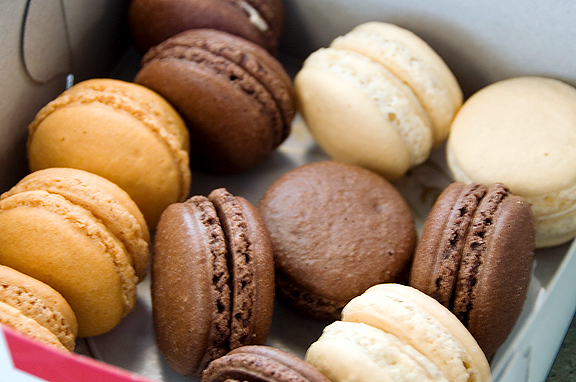 chihuly in blue: it's supposed to be a cell, which is fitting for the company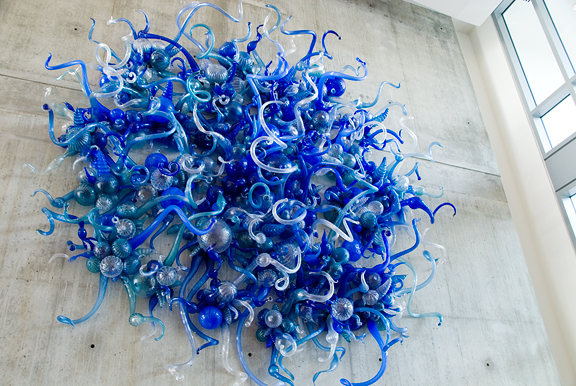 erin, caroline, kelley, and jeremy on the double helix bridge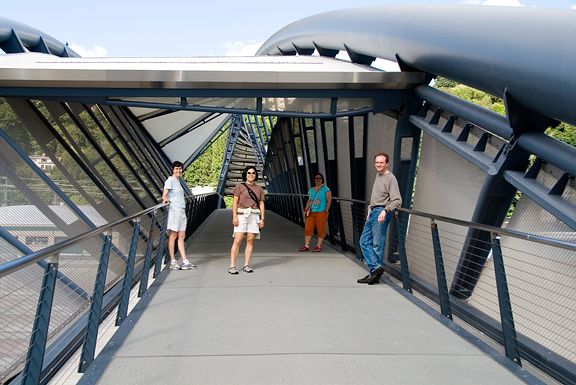 double helix – i love the union of science and art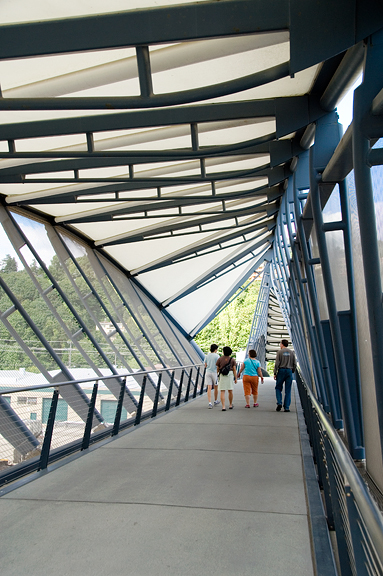 amgen has some lovely gardens on their campus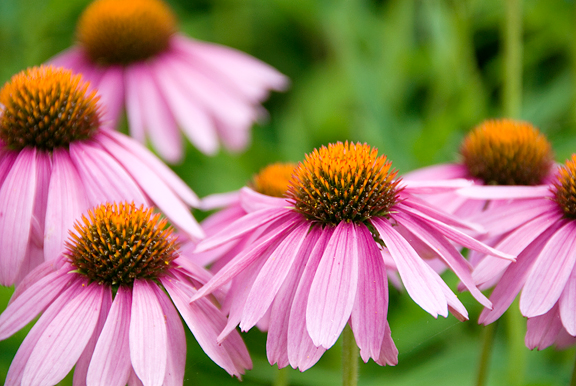 erin and caroline at the locks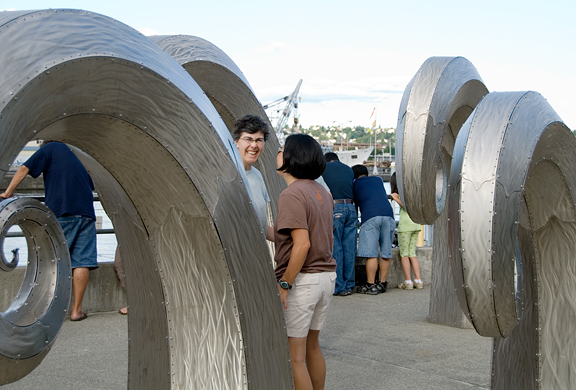 By the time we were done watching enormous salmon swimming upstream, we went to dinner at Pair which is not tapas, but serves smaller plates so you can let's say, order 3 or 4 between two people. Dinner was incredibly good (though long). Kelley is terrific and fun (another foodie – yay!) and coined the term: delicious air (referring to fatty, light, delicate foods). Chris and Jen were going to drive down from Bellingham to visit since we were in town too, but Chris was feeling under the weather, so they had to cancel. We were all bummed, but I know we'll see them again either here in Colorado or there in Washington. So many awesome women.
dinner at pair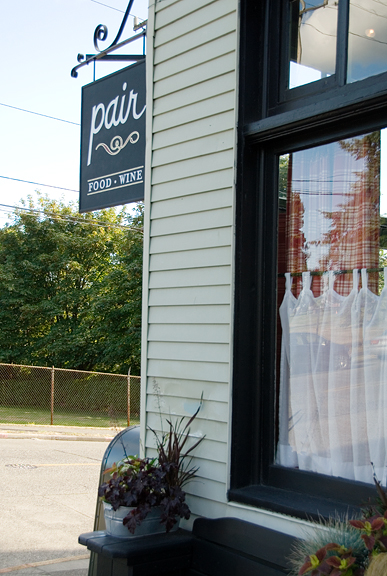 pair: creamy cambozola fondue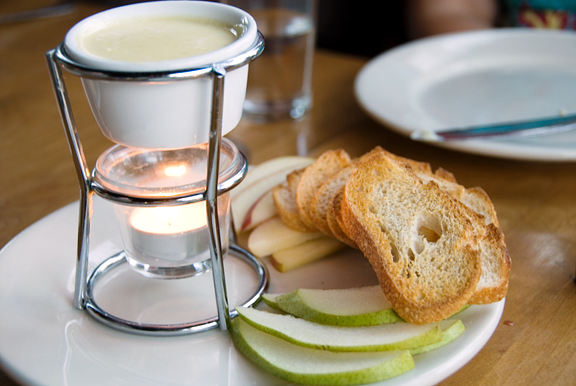 pair: smoked salmon toasts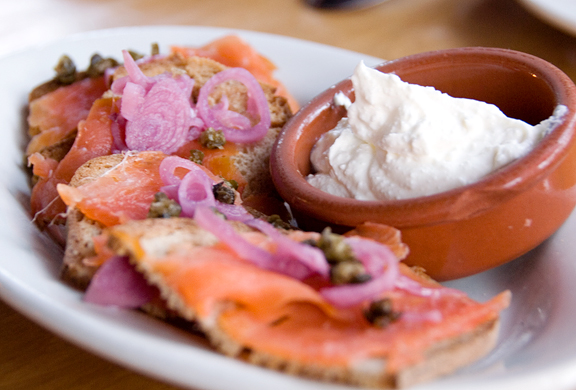 pair: roasted beet and frisee salad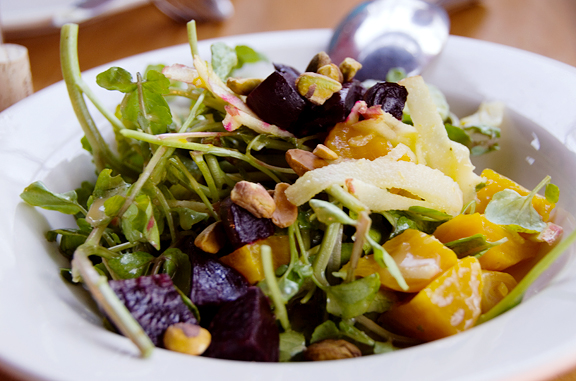 pair: my dungenness crab mac was the pinnacle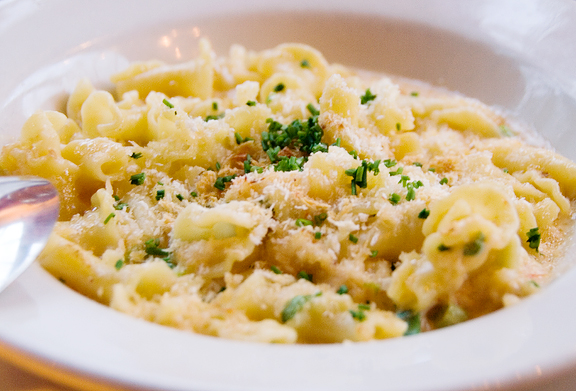 pair: jeremy and erin gave their butter roasted halibut the thumbs up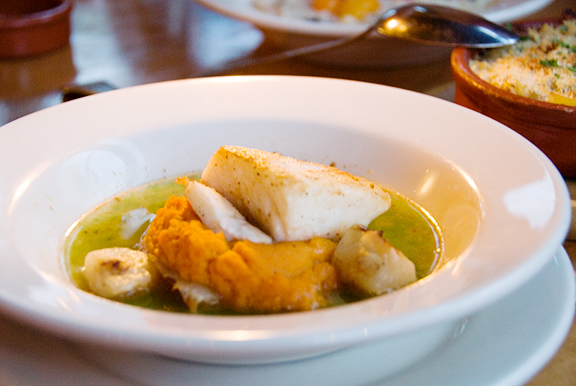 We got home at 11 pm and were all five of us, *wiped out*. Such fun! Unfortunately, Jeremy and I had to get up at 3:30 to catch our morning flight. Caroline stayed up and made banana bread which she packaged along with fresh blueberries, napkins, some fruit leathers, and the macarons and left on the door knob for us. Love Seattle. Love Erin and Caroline. Alaska Airlines, not so much…