We left Whistler (finally) and headed for dim sum in Vancouver. Dim sum was very good, although I think my parents ordered too much (they kept saying they weren't hungry, but then they ordered so much food!). Unfortunately, we had to wait a half hour to be seated, and by the time we headed for the US, we were behind schedule. That was quite unfortunate because the border crossing (a different one, as we thought we'd be smarter) took 3 hours. It boggles the mind how people and systems can be so poorly implemented, but it happens on a daily basis. So all you can do is creep along in the very slow line (400 meters in 2 hours).
After the border crossing, we dropped my parents off at their friend's house in a woodsy Seattle suburb where they were spending the weekend. Then Jeremy got us to downtown Seattle where life and the city were hopping on a Friday night. We managed to park the car at the one spot that opened up and changed in the front seat from our grubby clothes into something more presentable for our reservation. Cascadia was just around the corner and an absolutely beautiful restaurant inside. We felt so hungry and thirsty! We agreed to order a really nice meal and just *breath out slowly* relax – or rather rejoice. The food here was fantastic. Caroline said Kerry Sear is one of the best chefs in Seattle. Oh man…

cascadia: ahi tuna appetizer with passion soy (!!)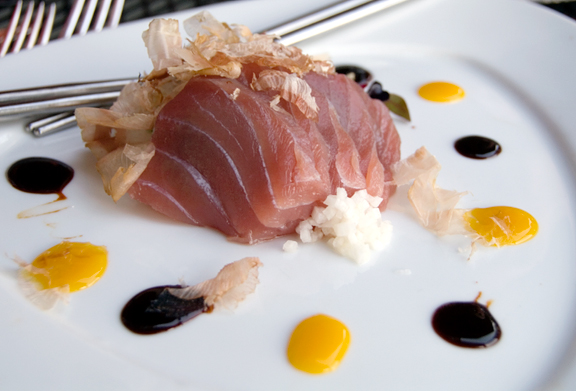 cascadia: kobe carpaccio appetizer with tandoori relish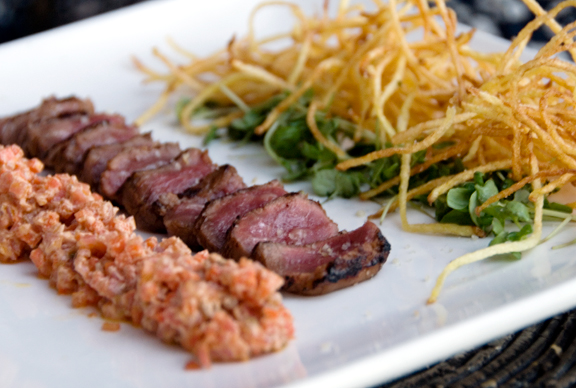 cascadia: organic beef tenderloin main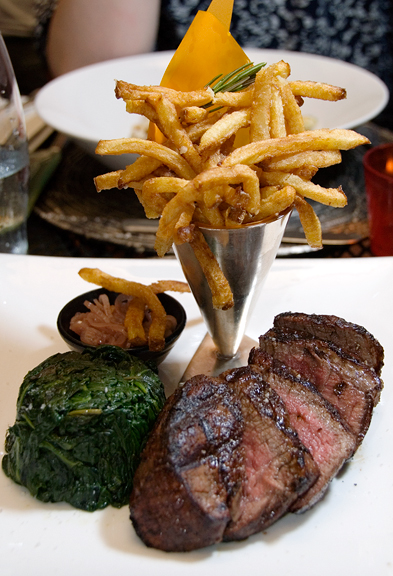 cascadia: crab and white truffle gnocchi main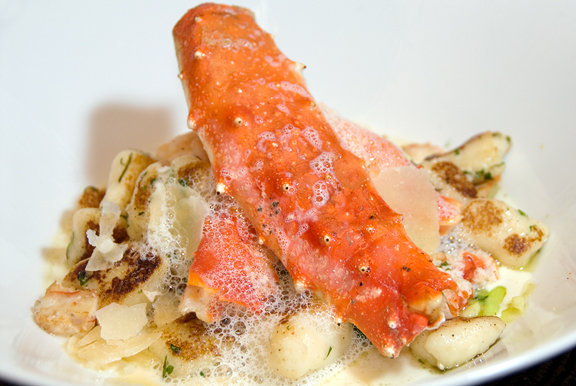 Did we want wine? Yes please! When we are tired, we don't usually want to drink alcohol, but we felt that the long day warranted a nice glass or two.
Caroline called to say their basketball game was over, so we arranged for them to come meet us for dessert. When I asked the server to please bring our bill to settle up before they arrived she said it was taken care of. WHAT?! She sheepishly said that the person who made our reservation had already given instructions to charge their account.
Our faces dropped. It was the sweetest gesture in the world for Erin and Caroline to treat us, but… but… Had we known, we wouldn't have ordered what we did! I guess that was the point of them not saying anything, but still. I felt horrible. Jeremy chuckled and said, "Caroline beat you at your own game!" I couldn't believe they did that. I knew it was their way of thanking us for shooting their celebration – but that was OUR gift to THEM.
I simultaneously scolded and thanked them when we all hugged our greetings and you could see how happy and victorious they were. It was so nice to sit down and chat and enjoy the company over dessert and coffee and tea with these two incredible ladies.

a shared triple crème brûlée: hazelnut, latte, almond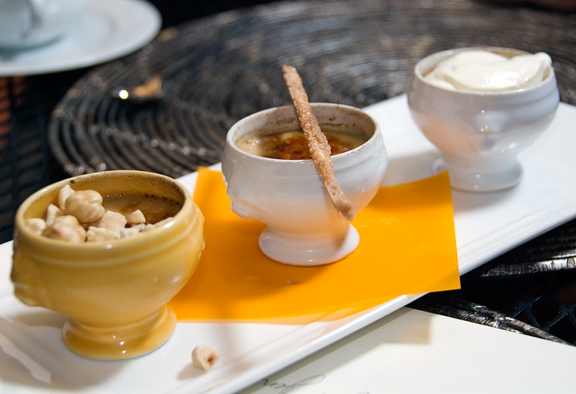 We got to their gorgeous house after 11 pm. We had been once before right after climbing Mount Baker, when they had moved in the week prior and boxes lined the halls. This time, their place was home and it is beautiful. We really feel comfortable visiting with these two (or having them visit with us) because they're so with it, they are so on top of everything that it is a real pleasure to spend time together. Well, I am finally in a place I love (Seattle) with three people (including Jeremy) I love to be with, and the morning is nice and cool.