Recipe: candied orange peels
For many years we rented because we were in grad school, because post-docs are so short-term, because we lived in Southern California… All those years I cooked and produced vegetable and fruit scraps and bemoaned the fact that I didn't have a compost pile of my own, in a yard of my own, to put on a garden of my own. Now that we've been in our own house for 2 years, I've been rejoicing in my own compost pile (well, compost bin – otherwise the winds would have my potato peels strewn across the next county) which sits in my own yard. I don't have my own garden yet, but one day I will figure out what to grow in our 2-week growing season…
So it's great that I have a composting system because I can reduce the amount of trash we take to the dump by half! Even so, I would prefer not to have to throw things away if possible. Since I was juicing oranges recently, a flash of brilliance hit me smack in the forehead and I decided to make candied orange peels. Mind you, I don't dig on candied orange peels myself. I mean, I can stomach maybe one, or two – but that's enough for the year. Jeremy on the other hand… he'll sit there and eat one after another.
It's a fairly simple process (but not a quick one) to make candied orange peels, but I never had a desire. In my pastry course, we did a massive candied orange peel campaign one night in a frenzy of garnishes and decorations. I loved that class, but it was fast-paced and because we divvied up the duties, I wasn't able to get my hands on everything. All I ended up doing was peeling a dozen oranges and taking a ton of notes.

use almost every bit of the orange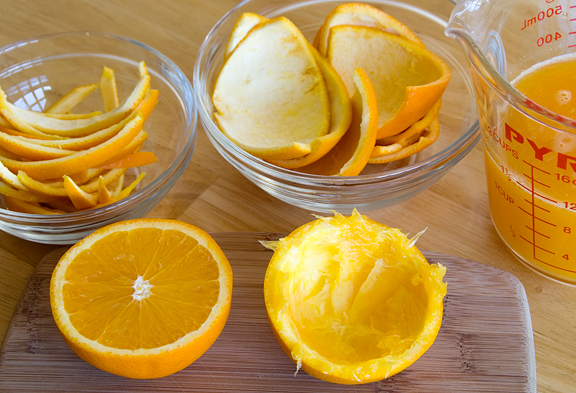 Some recipes tell you to remove the pith, but without the pith you are left with not a lot of orange peel even though it may not technically be part of the peel. I think the concern is that the pith makes the peel bitter. You can remedy the bitterness by blanching the peels.
blanch the strips of peel three times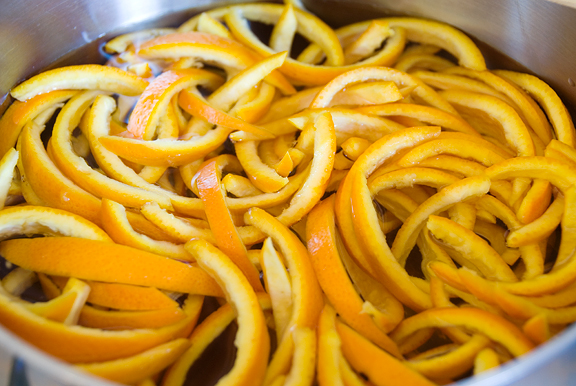 Simmering the peel in a sugar syrup is the next step. Some suggest 30 minutes, 45 minutes – basically simmering until translucent. I found I had to boil it for 75 minutes before I guessed it was translucent enough, but that could be my elevation (I'm sure it is).
translucent enough for ya?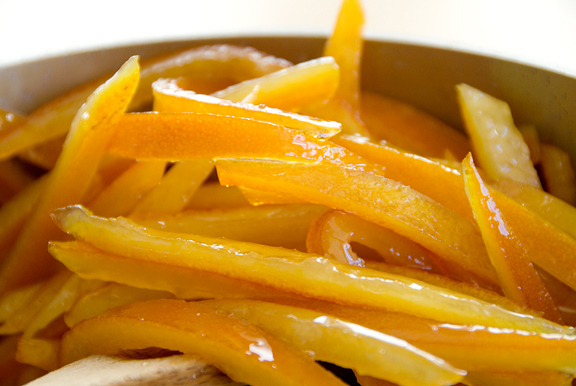 What you get is a big gooey mess if you dilly dally too long. I set a few cooling racks over cookie sheets and lay the strips down one by one – not touching. Actually, I rolled several in sugar and then set them down to dry, but got tired of doing that and just let the rest dry as they were. I also think they are too sweet rolled in sugar, so drying as is was perfectly fine. The recipe says to dry for 4-5 hours, but I personally find drying for 2 days to be ideal (and I live in a rather dry environment, so humid climates will require more drying time or better controlled humidity).
Edit (December 7, 2011): Many folks have asked what to do with the remaining orange-flavored sugar syrup. KEEP IT! If it's too thick, you can add a little water and thin it out, but put the stuff in a jar and keep it in your refrigerator.

orange sugar syrup
Use it as an orange simple syrup for fruity cocktails, fizzy drinks (just add fresh lime or lemon juice, seltzer water and ice), to add to tea, to soak a cake, whatever you like! But you can totally use this, so don't throw it out. -jen
End edit.
a cookie sheet is great for catching all of the drips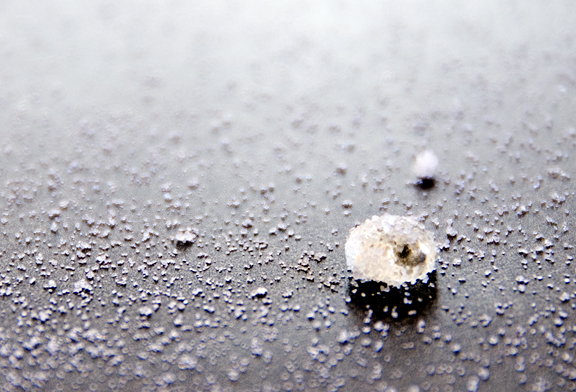 dry 4-5 hours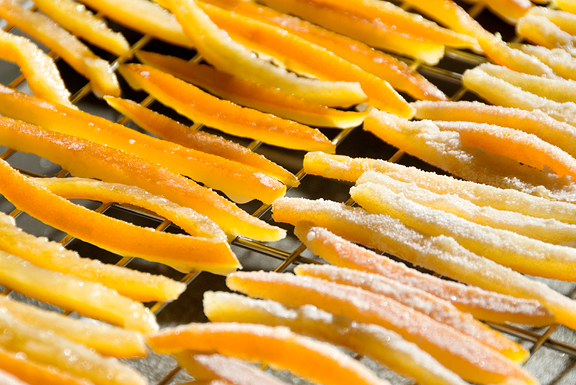 When the strips were done, I stored the sugar-coated (hell, they are ALL sugar coated – I mean the sugar-rolled) strips in a tupperware. I took the non-rolled strips and dipped them in tempered dark chocolate, which is one of Jeremy's absolute favorite confections. Those require cooling/drying time on the racks. In hindsight, I probably should have set them directly on the baking sheet because I prefer the flush face to the rack marks. Good to know.
chocolatey
better than compost
Candied Orange (Citrus) Peel
[print recipe]
4 oranges, peel of (or any thick skinned orange)
3 cups sugar
1 cup water
1 cup sugar for rolling
or
8 oz. chocolate for dipping
You can harvest the peel in many ways. Here are two I recommend: 1) Cut the oranges in half and juice them. Cut each half in half again and take a spoon to scrape the pulp out, leaving a clean pith. 2) Lop off the top and bottom of each orange (think of removing the polar caps where the stem and opposite end are) just to the fruit. Score the orange peel like lines of longitude every 60 degrees. Peel the orange and clean the inside of the peel with a spoon. (I generally don't like to remove too much pith.)
Cut peel into 1/4 inch strips. Place peels in a large saucepan and cover with cold water. Heat on high until water comes to a boil. Pour off the water. Repeat twice more. Combine sugar and water in the saucepan and bring to boil over high heat until temperature reaches 230°F. Add peel and reduce heat to simmer. Simmer until peels are translucent (30 minutes or longer – 75 minutes at my 8500 ft. elevation). Remove peels from syrup and roll in sugar if desired, and set on rack to dry for 4-5 hours (well, I dry for 2 days and more humid regions will require more time). Once the peel is dry, you can dip in tempered dark chocolate – shake off excess, and place on foil, wax paper, or baking sheet to dry. Store in a tupperware, or if not chocolate dipped, store in sugar or as is.