Recipe: chocolate chip banana bread
I am not a banana enthusiast. If all of the fruits were lined up on stage for me to select one-by-one for eating, the banana would definitely be among the last remaining few, looking awkward and feeling self-conscious… I tend to prefer fruits that are juicy and refreshing. The banana makes me thirsty and drowsy. But I do know what is good for me and bananas are certainly that. I periodically buy some, hoping that the guilt of watching them rot will be enough incentive to chop one up to eat with some yogurt.

spotted bananas, my favorite!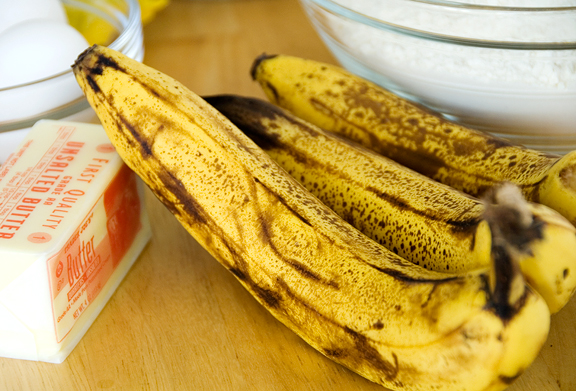 Alas, I have outwitted myself. Overripe bananas don't go into our compost – noooooo. Overripe bananas go into banana bread. For the longest time, my feelings about banana bread were pretty similar to my feelings about bananas. Thirsty-drowsy. That was until my good friend, Mary, suggested the addition of some chocolate around the same time that I was experimenting with an unsatisfactory recipe for the bread. There are two key ingredients to my banana bread recipe.
sour cream adds moisture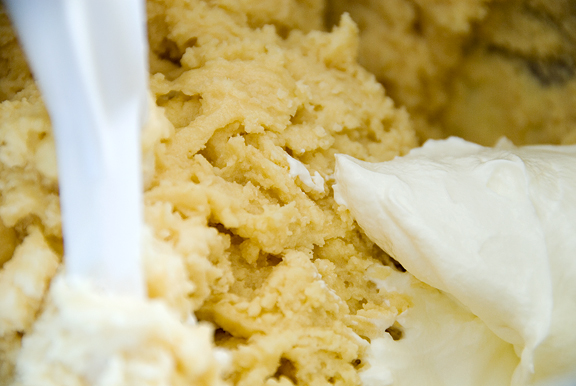 chocolate chips add… love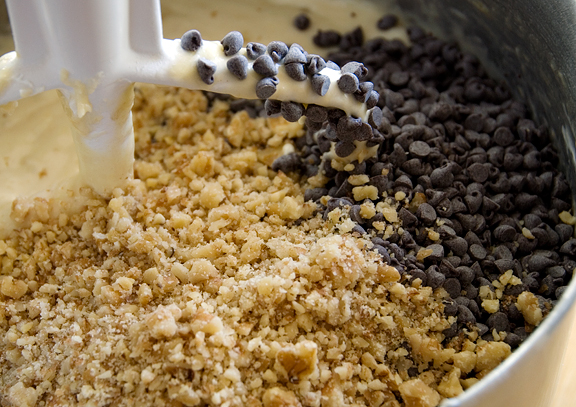 When I can find mini chocolate chips, I use them. They suspend nicely in the batter and for some reason, I am drawn to tiny foods. If I can't find mini chocolate chips, I chop dark chocolate. That works too. Larger chocolate chips are fine, but I usually see a stratification as they settle to the bottom. You could try tossing them in flour first to see if it helps suspend them. Then again, my friend Sarah doesn't care
as long as there is chocolate in there
.
batter up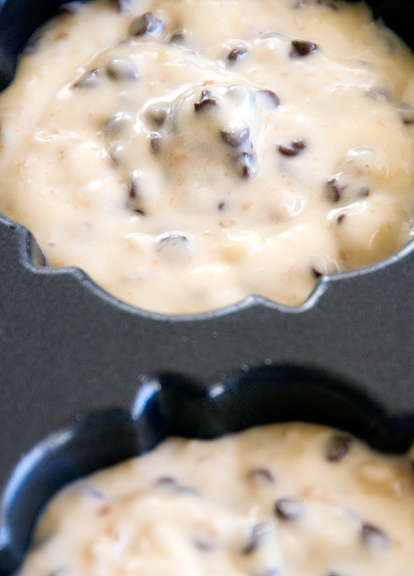 I typically bake this banana bread in loaf pans or a bundt pan, but digging through my boxes of cooking pans, I re-discovered my old mini bundtlettes. I think it frightens Jeremy that I am delighted upon finding random baking equipment that I forgot I had.
the ugly banana is transformed into a beautiful bundtlette
My only gripe with my bundtlettes is that the chocolate chips stick to the pan and it's quite the time-consuming ordeal to get them out without destroying the delicate shapes. Our neighbor, Tom, prefers the bundtlettes because there is more crispy surface area per bite as opposed to a loaf pan or a large bundt. Duly noted, sir!
you are looking at a cross-section of joy
and here is the life-size bundt version
a slice or two makes the perfect snack
Chocolate Chip Banana Bread
[print recipe]
1/4 cup butter, room temperature
1 1/3 cups sugar
2 eggs
1 tsp vanilla
1 1/2 cups smashed, very ripe bananas
2 cups flour
1 tsp baking powder
1 tsp baking soda
3/4 tsp salt
1 cup sour cream
1/2 cup chopped walnuts
1 cup mini chocolate chips (I usually put in 1 1/2 cups)
Preheat oven to 350°F. Cream together butter and sugar. Add eggs and vanilla; beat well. Mix in the bananas. Combine dry ingredients and mix into batter alternately with the sour cream. Add nuts and chips. Mix well. Pour into two greased loaf pans (8×4-inch), or one bundt pan, or 12 bundtlettes (or anything you want, really) and bake for 45 minutes or until top is golden brown and a toothpick comes out clean from the center. (Not wet and gloppy, but moist crumbs are okay). Dusting the pan with flour may be advisable for the bundtlettes.
more goodness from the use real butter archives