Recipe: dark chocolate tartelettes
Happy Chinese New Year to everyone! Gong Xi Fa Tsai! Jing Nian Quai Le!
It is the year of the Rat and in case you didn't know, it's Peabody's year. Last year was the year of the Pig, which was my year. Since I made it through more or less in one piece, I'm going to assume that I was working the good juju. Peabody tells me she's sharing the good juju with me into this year. I love that girl. In turn, let's just say good juju all around for everyone! I sincerely wish each of you everything your heart desires in the new year – health, happiness, luck, fortune – all of it and more. xxoo
I began my morning quite early because I was behind schedule on making dumplings. Well, let me explain why. I spent yesterday telemark skiing with a bunch of awesome tele babes on the mountain. I felt well enough to tele all day with my D70 in tow too.

a bluebird day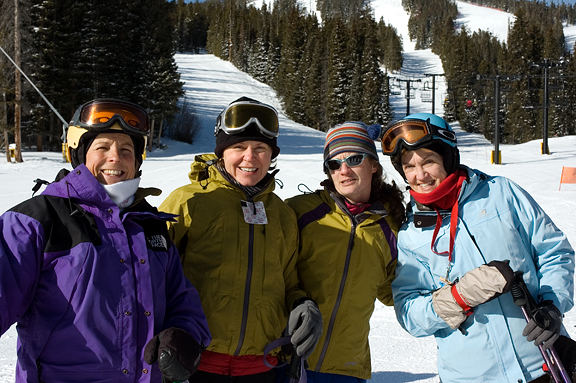 janet does the balloon drill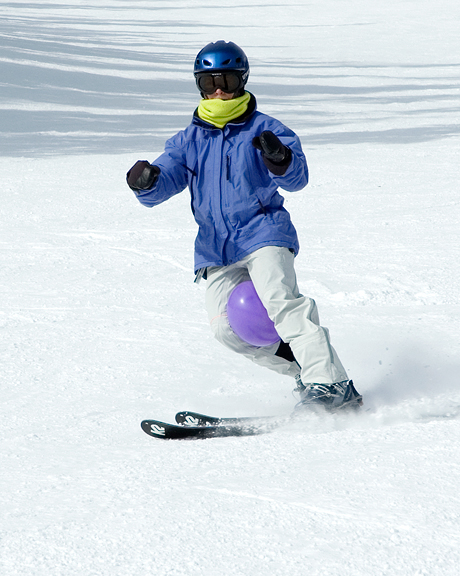 my group: the advanced tele babes
our kickass instructor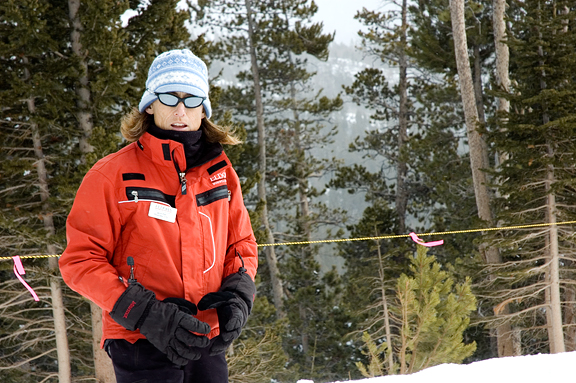 At lunch, I discovered that my hair was starting to fall out. So after the program, I hauled my butt down to Boulder and had my head professionally shaved. [The nurse advised against doing at home since cuts and infections are potentially dangerous due to low blood count and compromised immune system.] People had told me how traumatic it was to lose their hair in clumps over a period of 2-3 days, so I promised myself I wouldn't allow it to be drawn out. I've never been a girly girl who cared about being feminine or pretty or whatever – as long as I can kick ass, I'm good to go. But I will admit that it was a little disconcerting. I never realized how thick my hair is – brrrr! By the time I got home it was 6 pm and time to make the big hot pot soup and then I was pooooped.
So that's my lame excuse for why I was behind schedule on dumplings, but the skiing was totally worth it. Jeremy and I had some sweet pastries for breakfast since he's not a fan of Chinese sweets and I didn't feel like making any. I cranked out several dumplings and cooked them up and stuffed a few into him before he left for work.

traditions: mandarin oranges, dumplings, rui tsai and a hong bao (red envelope)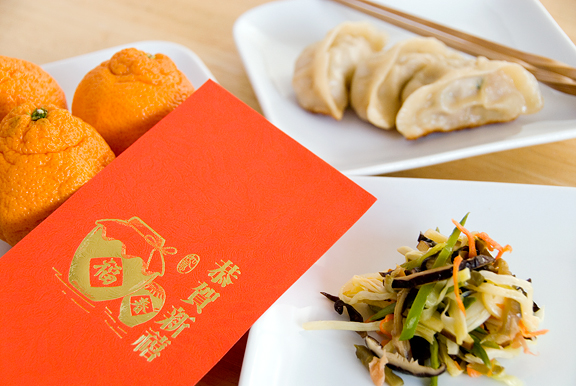 I also hung the Chinese character
fu
(luck) upside down on our front door. The literal translation is that luck is upside down –
dao
, but in Chinese the word for upside down sounds like the word for arrives, so it means "luck arrives".
a pic from last year because I don't feel like shooting the current one right now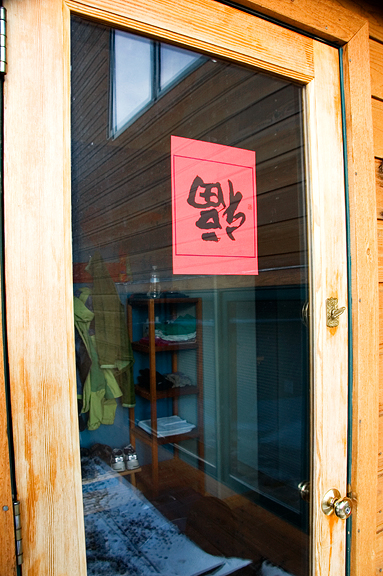 I can't help but do a few of the traditional things for the Chinese New Year as it is the biggest holiday of my Chinese culture. Halloween is my favorite holiday, but Chinese New Year is the most important holiday to me. The Lunar New Year represents family to me more than any other time and we are to remember and honor our ancestors too. It is also when I miss my sister most because she used to call me every Chinese New Year's Eve to ask what foods she should prepare so little Ben will grow up with our family's Chinese traditions. She isn't my ancestor, but I remember and honor her all the same because I loved her so very much. Jeremy was so kind as to clean The Entire House last night as we aren't supposed to clean the house for the next 2 weeks starting on New Year's Day – something about sweeping out the luck. Anyway, we're both thrilled about that directive!
Right! So all of this Chinese tradition is great, but I know what makes my guy happy and one of those things would be chocolate. To be honest, chocolate makes me happy too – not eating it, but working with it.

hot cream and chopped chocolate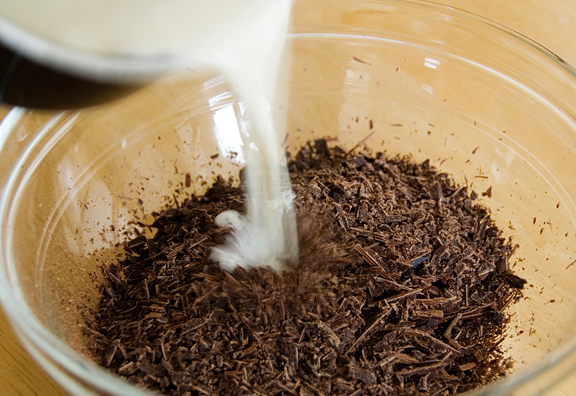 I still had leftover crust dough from that
Daring Baker's Lemon Meringue Pie Challenge
and wanted to use it up. Jeremy seemed to enjoy the crust and I figured some little chocolaty somethings would be nice.
adding espresso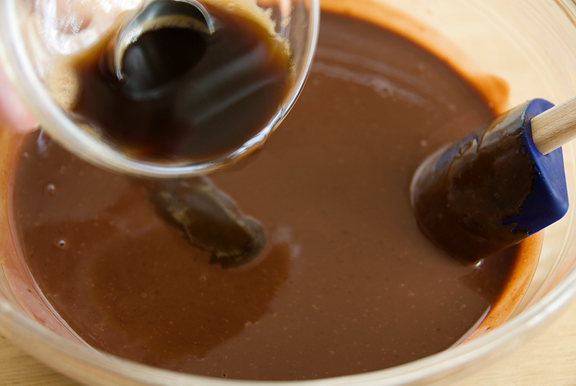 Do you ever get a cookbook and then forget about it and then rediscover it and feel like a kid on Christmas Day? It's like that 20 dollar bill that you find in some random pocket months later… Well, Sherry Yard's
The Secrets of Baking
caught my eye this afternoon and her recipe for Deep, Dark Chocolate Tart matched up with what I had in mind sans the crust (I'll bet it would be awesome with her chocolate short dough). So I snarfed the ganache filling and made a half batch.
pouring the ganache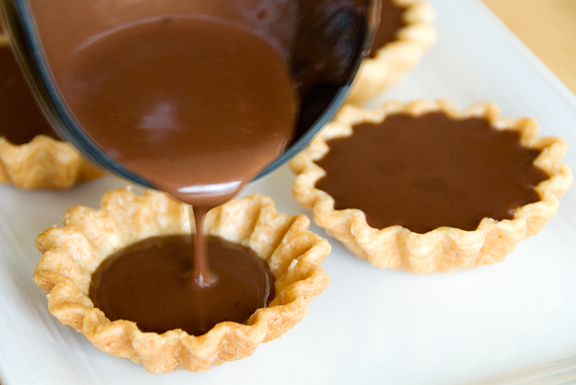 I baked the little crusts and had to press the top mold down pretty hard because this dough has a tendency to rise. I definitely prefer short dough to this and will use it next time. When the crusts cooled, I filled them to the brim with the soft ganache and then let them set up in the refrigerator for an hour.
piping whipped cream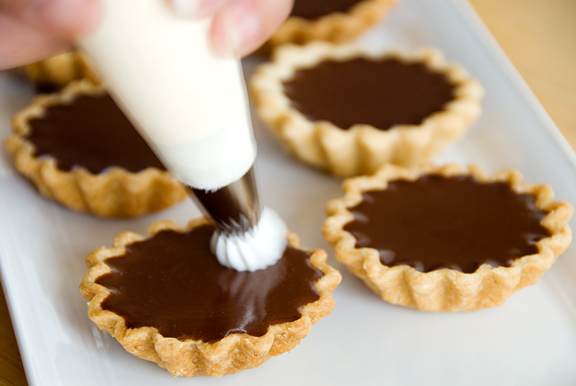 Whipped cream is such a pleasant and easy topping to work with. I also love how it contrasts with a deep, velvety, rich chocolate both in color and texture. I added a bit of sugar, vanilla, and a little almond extract because I like how almond and coffee and chocolate play off one another. Just for a little spice, I sprinkled the tartelettes with some ground nutmeg.
a little something sweet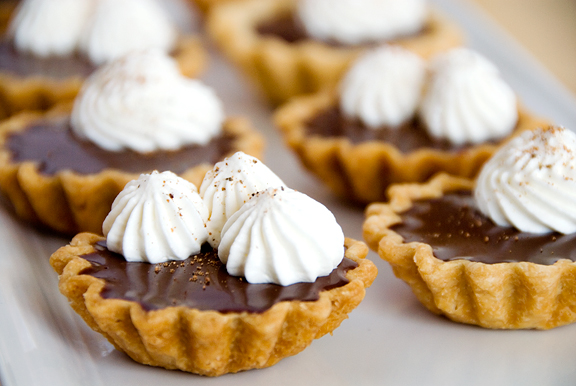 Jeremy was quite delighted to open the refrigerator this evening and see a plateful of these cuties. But they weren't all for him, as I requested that he take some over to our neighbors (and good friends) to wish them a happy new year. I think sharing is one of the things I love about baking.
2-inch rounds of happiness
Dark Chocolate Tartelettes
[print recipe]
ganache from Sherry Yard's Deep Dark Chocolate Tart (The Secrets of Baking)
note: I highly recommend using a short dough instead of the crust recipe I list here. A short dough is flakier, crispier, thinner, and sweeter than the crust from the Lemon Meringue Pie recipe. Plus, it will behave better (no shrinkage) especially if you are using petits fours molds or tart pans. Just be sure to stack a second mold on top even if using short dough. Also, I only made a half batch of the ganache, but I'm listing the ingredients for the full recipe.
crust:
¾ cup cold butter; cut into ½-inch (1.2 cm) pieces
2 cups all-purpose flour
¼ cup granulated sugar
¼ tsp salt
⅓ cup ice water
ganache:
8 oz. bittersweet chocolate
2 tbsps unsalted butter, softened
1 1/2 cups heavy cream
2 tbsps brewed coffee or espresso
whipped cream:
1 cup heavy whipping cream
1 tbsp sugar
1/2 tsp vanilla extract
1/4 tsp almond extract
For the crust: Make sure all ingredients are as cold as possible. Using a food processor or pastry cutter and a large bowl, combine the butter, flour, sugar and salt. Process or cut in until the mixture resembles coarse meal and begins to clump together. Sprinkle with water, let rest 30 seconds and then either process very briefly or cut in with about 15 strokes of the pastry cutter, just until the dough begins to stick together and come away from the sides of the bowl. Turn onto a lightly floured work surface and press together to form a disk. Wrap in plastic and chill for at least 20 minutes. Allow the dough to warm slightly to room temperature if it is too hard to roll. On a lightly floured board (or countertop) roll the disk to a thickness of ⅛ inch (.3 cm). Cut a circle about 2 inches (5 cm) larger than the pie plate and transfer the pastry into the plate by folding it in half or by rolling it onto the rolling pin. Turn the pastry under, leaving an edge that hangs over the plate about ½ inch (1.2 cm). Flute decoratively. Chill for 30 minutes. Preheat oven to 350ºF (180ºC). Line the crust with foil and fill with metal pie weights or dried beans. Bake for 20 to 25 minutes. Carefully remove the foil and continue baking for 10 to 15 minutes, until golden. Cool completely before filling. If using petits fours molds or small tart pans, I prefer to roll the dough between two pieces of plastic wrap to less than 1/8 inch and pressing it gently into the mold. Stack a second mold on top and press down. Leave the second mold in place. Bake for 20 minutes, remove the top molds, and bake for another 5 minutes. Remove from heat and gently pry the crust out from the mold and let cool on a rack.
For the ganache: Finely chop the chocolate and place in a medium heatproof bowl along with the butter. Bring the cream to a boil in a small saucepan over medium heat. Immediately pour it over the chocolate. Let sit for a minute. Use a rubber spatula to gently stir the contents until completely blended (don't stir all crazy-like though, because you will introduce air bubbles which will make your tart look diseased). Add the coffee and stir until well incorporated. Pour the ganache into the tart shell(s) and place in refrigerator to set for an hour.
For the whipped cream: Place ingredients in a bowl and whip on medium speed until frothy. Increase speed and whip on high until stiff peaks form (or soft peaks, if you prefer the floppy effect). Garnish tart(s) with dollops or pipe using a pastry bag.