I am finally getting to that ubiquitous meme that has been floating about the fblogosphere. I was tagged by the very popular Jaime of Good Eats 'n Sweet Treats, and I do mean popular, because she was tagged five times. There are actual rules to this meme:
1. Link to your tagger and post these rules.
2. Share 5 facts about yourself.
3. Tag 5 people at the end of your post and list their names (linking to them).
4. Let them know they've been tagged by leaving a comment at their blogs.
Okay, five things about me… Let's get on it:
1) I have an engagement mountain bike. I don't own an engagement ring, nor do I ever want to. My mountain bike is faster, better, AND cheaper! Jeremy has an engagement mountaineering expedition pack.
2) I will take cold weather over warm weather. You may have figured that out from the ski whore photos, but you probably don't know that I can't stand the beach. There's all that *sand* everywhere and it's hot and there's no shade. In case you think me a close-minded grump, I spent nearly every waking moment of my youth on the water or the waterfront. Warm weather puts me in a foul mood of sorts, especially if it is humid. Give me a snow-mantled mountain any day.
3) I think men look ridiculous naked.
4) I can't stand relaxing – you can relax when you're dead.
5) When I see a shooting star, I like to imagine my sister is saying she loves me.
Now for the fun part *rubbing hands together*. It wasn't easy, but I decided to tag the following folks because I want to learn a little more about them:
Christine at Hot.Sour.Salty.Sweet. And Umami, aka HolyBasil. She maintains one gorgeous food blog and has demystified one of my favorite ethnic cuisines that I was too scared to explore until now.
Chuck at Sunday Nite Dinner because I fancy young men who cook beautiful food!
Cindy at Figs, Lavender, and Cheese. I just discovered her blog and the woman is friggin' hilarious to read.
Kathryn at the beautiful diabetic. She is beautiful and incredible and inspiring.
Susan at StickyGooeyCreamyChewy. An absolute sweetheart of a woman who cranks out first rate treats as easily as she doles out the good vibes.
It's snowing outside. That's good news. Pup and I went out onto the deck to survey the flakes. Nice and fluffy.

the storm track is just getting started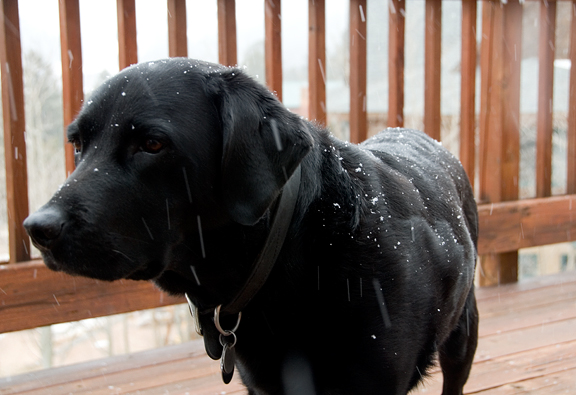 watching little birdies in the yard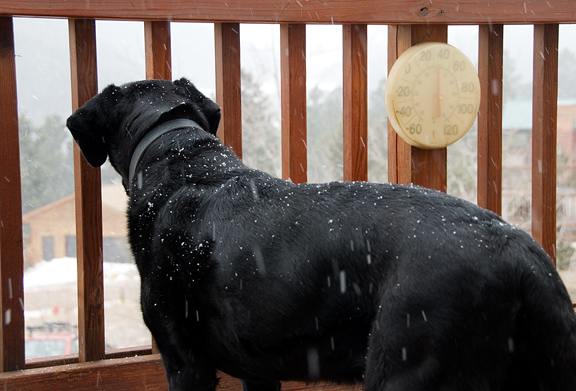 did u sed treetz?!