Recipe: brunswick stew
My local hill got five inches of powder last night, so I grabbed my teles and headed out this morning. There's no more powder, because I skied it all up. Powder feels like silk – except when you biff (and I did one very nice skis-over-head tumbler), but even then it's a lovely way to wipe out.

dude in front better not track up my freshies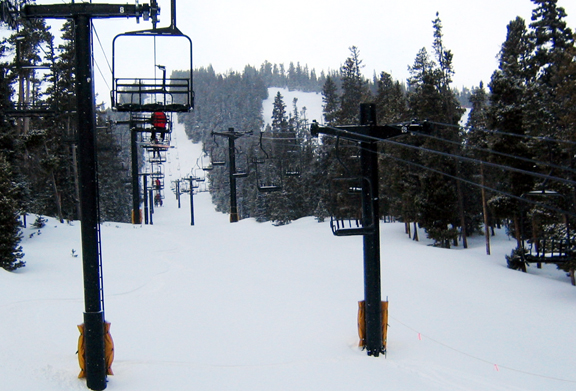 it snowed the whole morning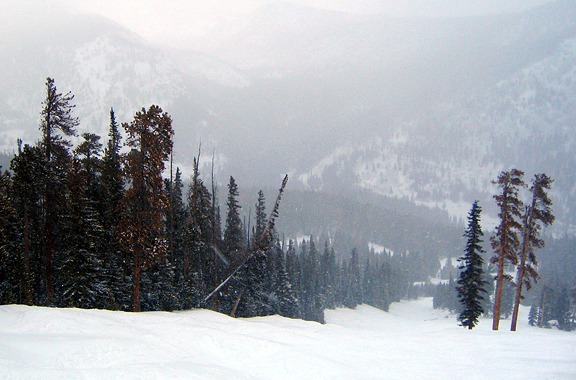 That was tiring (but fun), pushing powder around. I mean more tiring than usual because I haven't been able to eat much solid food lately so I've been rather low on the blood sugar. My body's weak after the last cycle's myriad of side-effects anyway. I'm on the front end of that period when my body is sort of returning to normal and I desperately work out to bring it up to speed before the next dose. Consider it the inflection point of the sinusoid. It's good to get the tele legs back. More snow in the forecast. More tele.
There's nothing quite like a steaming hot bowl of soup or stew after skiing. Well, there wasn't any to be had since I hadn't made it. Easy enough to fix. Brunswick stew is a local specialty where I grew up. It's simple to make and all of the ingredients are easy to get your hands on. I find it surprisingly delightful every time I make it because for some reason the recipe looks dull to me. I think it's the sugar.

the veggies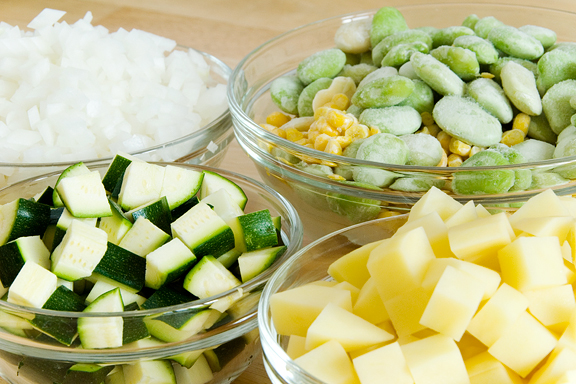 The recipe I have comes from The Williamsburg Cookbook which lists a lot of traditional recipes, as in from the Colonial Days. Brunswick stew was originally made with squirrel, not chicken. I have never had squirrel before and I have no desire to trap any of the ones twitching in our trees. Organic chicken works for me.
chicken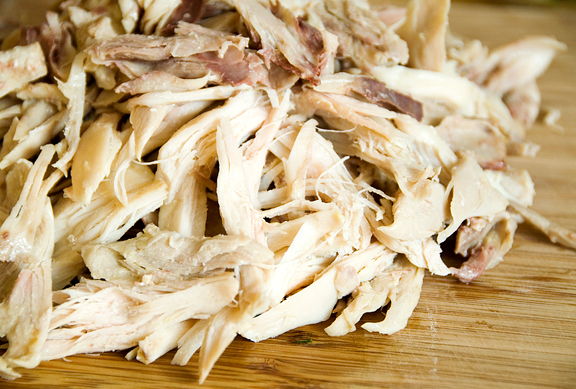 I like to make my stew in two steps. First I boil the chicken in water and when the chicken is ready, I remove the skin and bones and shred the chicken. Then I strain the broth and refrigerate it until the fat has solidified (organic chicken fat is less solid) and remove the fat. That's the first step.
some tomatoes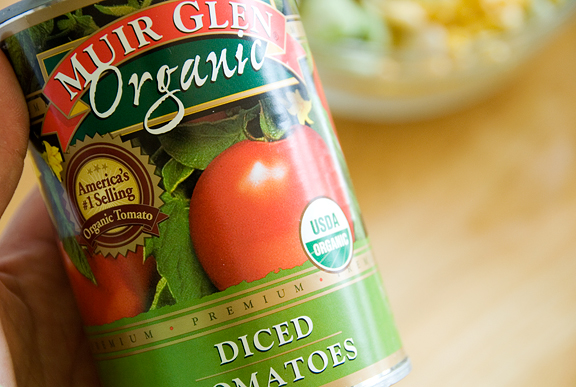 Yeah, no fresh tomatoes right now. I like this brand of organic toms. I also substitute zucchini for okra, and I typically like to use baby lima beans instead of standard limas. But my local store didn't have baby limas, so I had to settle for adults this time around.
into the pot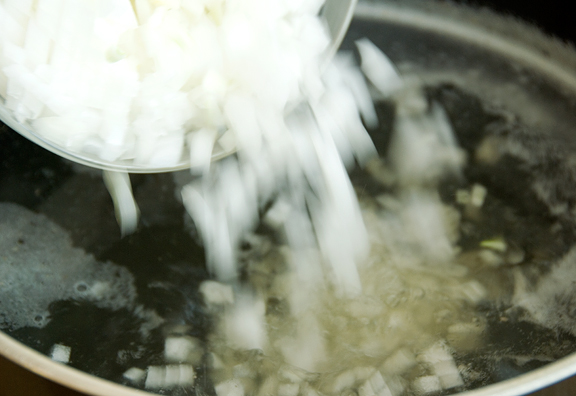 The second step resumes the recipe by heating the broth and adding the vegetables. Cook until the potatoes are tender, about 30 minutes.
add the chickie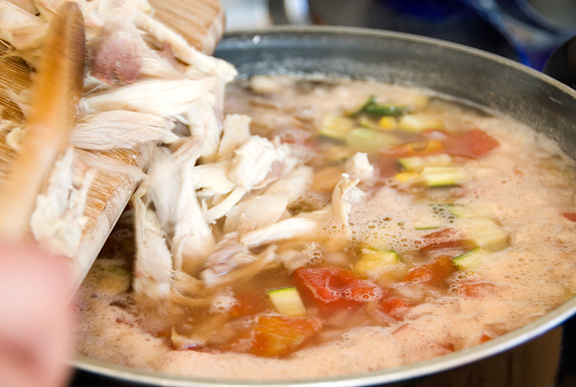 Then add the meat and spices (salt, pepper, and sugar – I told you it was simple) and the instructions just end there. I like to let it simmer for another 30 minutes at least. What you end up with is a satisfying hearty soup or sort of thin stew. Good and hot.
brunswick stew – desquirrelized
Chowning's Tavern Brunswick Stew
[print recipe]
The Williamsburg Cookbook
1 stewing hen (6 pounds), or 2 broiler-fryers (3 pounds each)
2 large onions, chopped
2 cups okra, cut (I subbed zucchini)
4 cups fresh or 2 cans (1 pound each) tomatoes
2 cups lima beans
3 medium potatoes, diced
4 cups corn cut from cob or 2 cans (1 pound each) corn
3 tsps salt
1 tsp pepper
1 tbsp sugar
Cut chicken into pieces and simmer in 3 quarts water for thin stew, or 2 quarts for thick stew, until meat can easily be removed from the bones, about 2 1/4 hours. Add raw vegetables to broth and simmer, uncovered, until the beans and potatoes are tender. Stir occasionally to prevent scorching. Add chicken, boned and diced if desired, and the seasonings. The book notes that Brunswick stew benefits from long, slow cooking, and that some people believe the flavor improves if the stew is left overnight and reheated the following day. Makes 8-10 servings.