Recipe: chocolate-dipped strawberries
What does the passage of a year mean? We read so much into the Earth's completion of her tiny path around the Sun. A way to mark Time because it doesn't stop for anyone. I never stopped to think much about how we recognize these temporal ticks and why. Not much until my sister died – out of the blue, just like that. No time for good-byes, I-love-yous, what-do-you-want-us-to-dos. That sick and empty feeling sucking the breath out of me every time I came up for air. Stepping out into the night thinking she'd emerge from the darkness and tell me it was a mistake. A terrible mistake, please. Numb mind. Racing heart, aching heart… broken heart.
Not 24 hours earlier, a blanket for Ben? Sure, I could knit one for him. He may tell you his favorite color is pink, but it's really green – you know, four-year olds. So glad she loved the blanket I knit for Emily. Only 10 days and already full of piss and vinegar, just like me, just like her mom. Love you. Love you too. Our last words to one another.
Just like that.

kris and me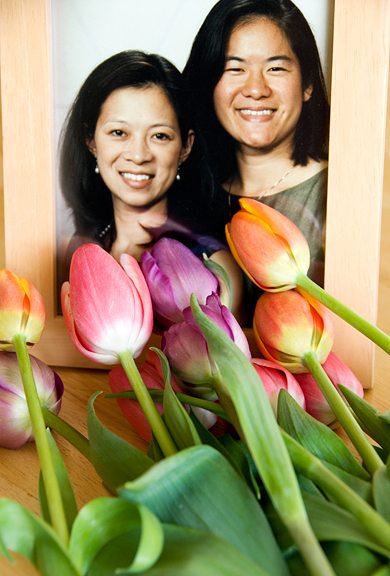 Rummaging through old letters, old photos, I begged with my self from the past. Please, didn't you take more? Didn't you write more? Where are they… Why didn't you save those thousands of emails? Because I always thought she'd be there. She told me it would always be us. I was grasping desperately to hold on to what was left, even though I knew I had what was most important already – in my head, in my heart. I would bring only what I could carry.
Four times around the Sun – I've gone in circles. May 1. That pain is still there if I want it, but I leave it be. I hold on to what keeps me going and what made her so dear to me: my best friend, my only sister. Laughter, snarky remarks, hugs, kisses, tears, practical jokes, heart-to-heart talks, phone calls, emails, visits, surprises, gifts, inside jokes, hopes and fears, plans for the future. Don't mourn. Celebrate.

organic, ripe strawberries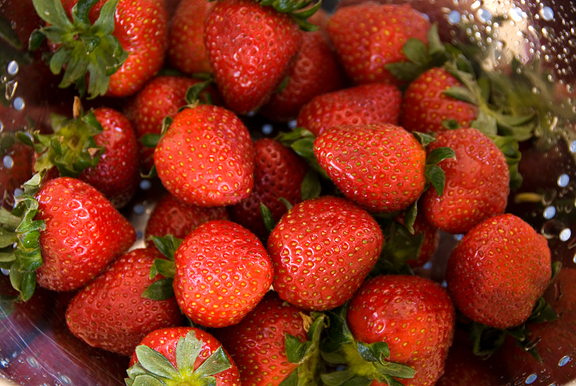 Cooking is big in my family, yet somehow it skipped Kris. Surprisingly, her petite size 0 (yeah, you read that right) body could put away a lot of food – and good food at that. Whenever I visited Kris, I would cook for her and she would treat me to things we both loved to eat. I think she would have enjoyed these strawberries. I know she would have.
drying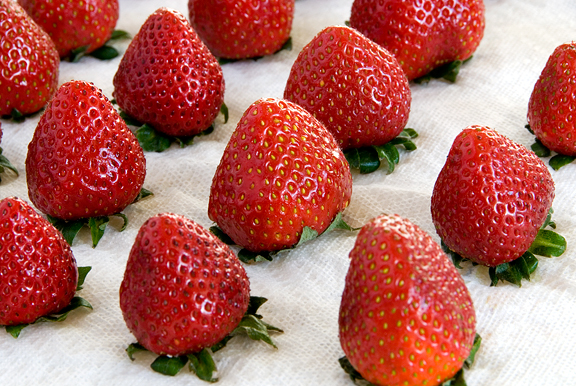 For me, the most important part of the recipe is getting your hands on ripe strawberries, and you can only do that in season. I find that organic is far sweeter and more fragrant than conventional and this time they happened to cost the same. I gently wash the berries and then blot them and set them to dry completely. That's pretty easy to do where I live as the humidity was somewhere around 50%.
64% Valrhona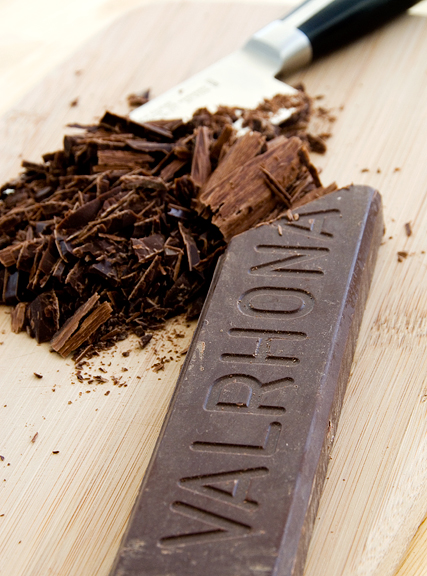 If your berries are sweet, then a good bittersweet chocolate will play on that sweetness nicely. The Valrhona I used was just sweet enough. I think overly sweet chocolate kills the strawberry. I don't bother tempering the chocolate when dipping strawberries because there are too many factors that don't make it worth it for me.
dipping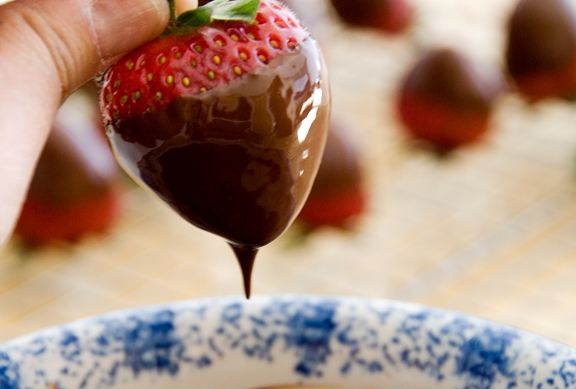 I let the strawberries set up on their tops after dipping, because I dislike the foot you get when you set them on their sides to dry. This is probably one of the more aggravating steps – trying to balance the berries on their tops while wet with chocolate. They tend to tumble about and run into one another and smear chocolate everywhere. Maddening, I tell you.
steady…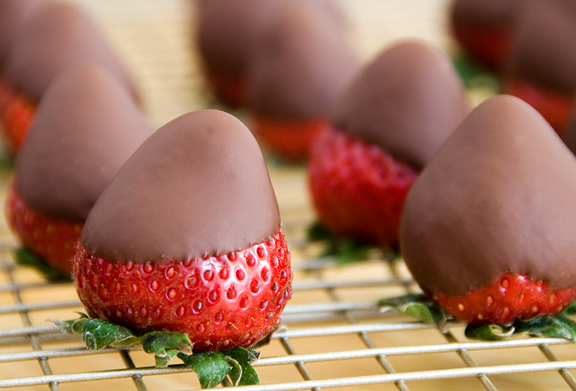 Once the chocolate has set up in a cool room, I either dip in a different chocolate or do something lazy like drizzle white chocolate. I personally dislike white chocolate, but I find that a little bit adds a hint of sweetness to the shell of bittersweet on the strawberry.
adding visual and flavor contrast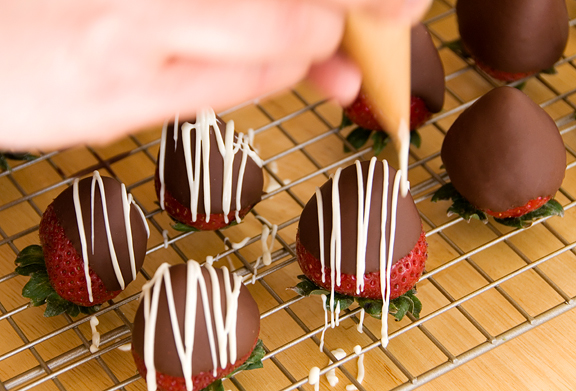 Jeremy tells me the strawberries are perfection. I did take a nibble, despite knowing I wouldn't be able to taste the full range of flavors because of the chemo. It's like playing piano with mittens on your hands. However, the berries smelled right and I knew what the chocolate tasted like when I was healthy… Beethoven composed even when he was deaf. Of course, he was a genius and I'm just a tool ;)
to celebrate
Chocolate-Dipped Strawberries
[print recipe]
24 ripe strawberries (I prefer organic)
8 oz. bittersweet chocolate, chopped (used Valrhona 64%)
1 oz. white chocolate, chopped
Rinse strawberries and gently pat dry. Set on a rack to dry completely. Melt bittersweet chocolate in a double boiler. Dip strawberries in chocolate and shake off excess. Set to dry on a rack (on the tops as shown in the photos) or on parchment (on the bottoms which will give you a foot of chocolate) in a cool, dry location. When chocolate has dried, melt the white chocolate and drizzle over the strawberries. Or, you can melt more white chocolate and dip the strawberries a second time.