Recipe: chocolate raspberry cake
I live in a snowglobe! It's snowing beautiful, white flakes outside right now and for once – for once it's falling vertically instead of flying past on its way to Kansas. Lovely. Really lovely.

looking up valley this morning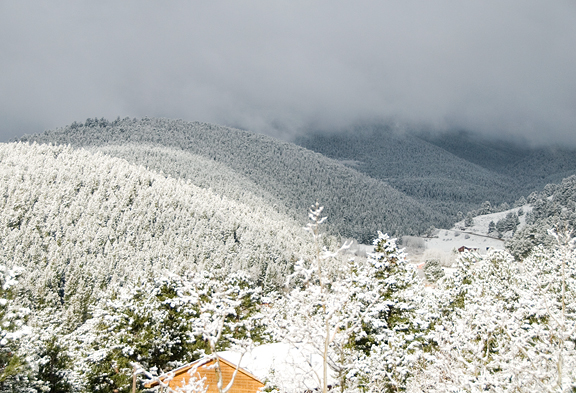 Folks may be sick of seeing pictures of the weather around here, but for me, weather is an integral part of nature and I love it – love to read it, study it, feel it. Weather is beautiful to me. If you don't understand and respect the weather, you really have no business climbing in the mountains.
good on ya, cali!
California's Supreme Court just declared a voter-approved ban on same-sex marriage unconstitutional. Thank you! It is not an issue of gay rights, but civil rights.
Recovery is slow this time around, but I'm staying patient (this is rare). Thoughts of sushi and berries and salads flit around in my mind nearly 24/7. I am having trouble eating solid foods at the moment, but I know it will pass and I have a list of new restaurants I want to try as soon as it does! I'm craving authentic Asian food, which means I will probably have to venture into Denver. *sigh* Any favorite recommendations from the locals? The operative word here is authentic.
I made a habit of bringing baked goods to oncology each time I got chemo'd (except the first time). It's a cheery set up for what is to most, a depressing situation: a giant room with huge windows and all of the infusion stations lined up along the walls – facing the center. In the middle of the room is the nurses' station which is open and inviting. All of the nurses are situated at their computers to face us because they need to make sure we don't keel over and die :) There was a communal kitchenesque area where folks could go to grab a snack, coffee, tea, etc. I had brought chocolate chip banana bread, sour cream coffee cake, raspberry cream cheese cookies, and lemon petits fours.

butter, sugar, eggs – that's a good start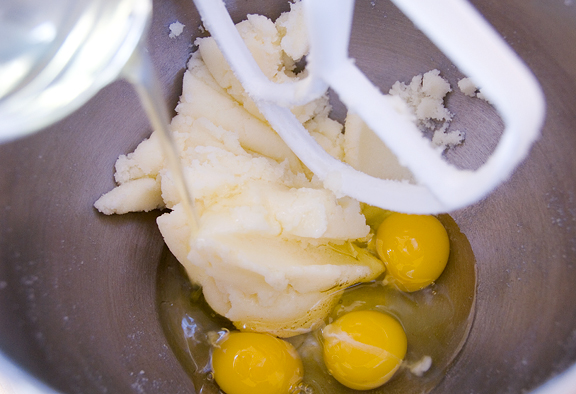 For my last chemo, I wanted to bring something chocolaty because (most) people love chocolate and I really adore my nurses – one is a tele skier! Something with chocolate… Something with sour cream… Something rich and moist…
i cannae resist a cake recipe that calls for sour cream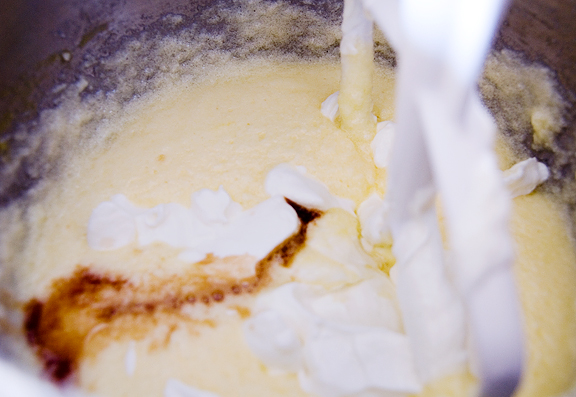 I had a hard time finding a recipe that fit the bill and received rave reviews to boot. I ended up trying one from a book that contains my favorite tea cake recipe. Ideally, I was looking for a rich, dense, moist chocolate bundt cake made with sour cream that has bittersweet overtones without being overly sweet. If you have one of those, send it my way.
the dry ingredients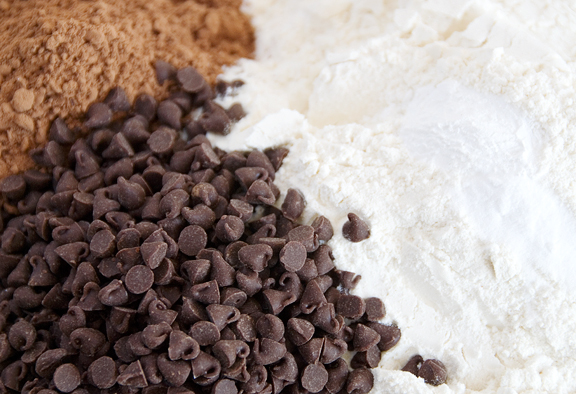 This cake calls for raspberries to be folded into the batter, which I thought was a nice touch. I think raspberries and chocolate go together like beans and cornbread.
gently folded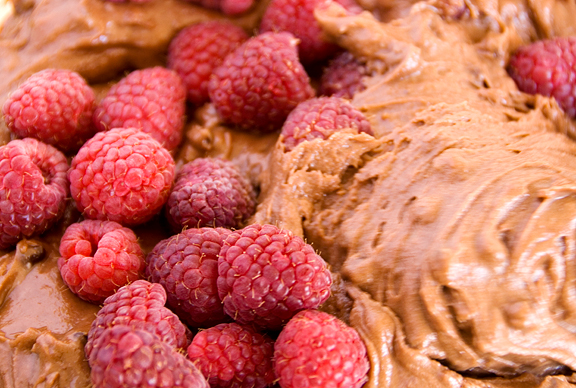 into the happy pan we go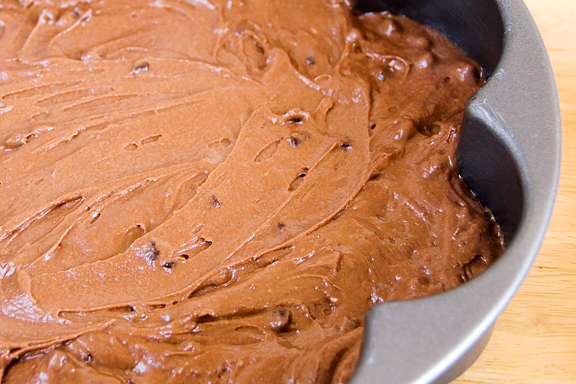 Another reason I wanted to try this cake was because it didn't require layering and complicated frosting. I love making layered cakes, but there are times when you just want a one-pan recipe that comes out beautifully on its own – no cutting, no stacking, no crumb coats.
an easy ganache glaze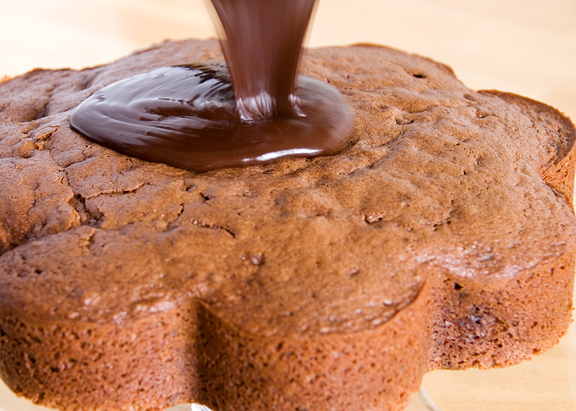 simple
I made two of these cakes. The first was to test for edibility and shooting. I made Jeremy try it. He liked it. I gave several slices to my neighbors and they liked it. I sent the rest to Jeremy's graduate students, and they scraped the cake saver clean. I guess it's fine, but it didn't have that dense and rich texture I was seeking. The crumb itself is slightly on the dry side, but the chocolate chips and raspberries give it pockets of moisture. It is chocolaty without being too sweet. I don't think this is the go-to chocolaty, dense, moist, cake I was looking for. The search goes on…
dotted with chocolate chips and raspberries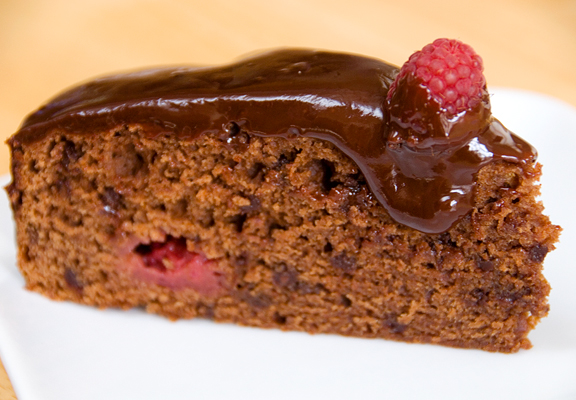 Anniversary Chocolate and Raspberry Cake with Chocolate Glaze
[print recipe]
modified from Easiest and Best Coffee Cakes and Quick Breads by Renny Darling
1/2 cup butter
1 1/4 cups sugar
3 eggs
1 cup sour cream
2 tsps vanilla
1 1/2 cups flour
6 tbsps cocoa
2 tsps baking powder (1/2 tsp for 8500 ft.)
1/2 tsp baking soda (1/4 tsp for 8500 ft.)
1/2 cup mini chocolate chips
3/4 cup raspberries
glaze*
1 cup semi-sweet chocolate chips, melted
2 tbsps butter
2 tbsps light corn syrup
Preheat oven to 325°F. Cream together butter and sugar until light and creamy. Beat in eggs until blended. Beat in sour cream and vanilla until blended. Combine and add the remaining ingredients (except for the raspberries) and beat until blended. Stir in the raspberries. Spread batter evenly into a greased 10-inch springform pan and bake for about 55 minutes or until a cake tester comes out clean from the center. Allow to cool in pan.
Make the glaze: Melt chocolate. Heat butter and corn syrup together until bubbly, and stir into chocolate until blended. Allow to cool for 10 minutes or until slightly thickened. When the cake is cool, remove it from the pan and spread the top and sides with the glaze.
*Jen's glaze: I didn't use this glaze recipe. Instead, I heated (don't boil) 5 ounces of heavy cream and poured it over 5 ounces of chopped chocolate. Let the cream sit for a minute and then stir until smooth and pour over the cake.