Recipe: sangria
On a recent post where I bagged on annoying blog characteristics I got a lot of comments and emails about why I hate Blogger. I'm sorry, I should have been more clear. There are a lot of people who blog on Blogger, and I love those people, I just HATE BLOGGER. Aside from the incredibly stupid and clumsy mechanics of Blogger, it is ass slow. I know this because when you try to visit over 1000 Daring Baker blogs in the course of a few days (where the majority are on Blogger) you start to pick up on how painfully stupid and poorly designed the commenting procedure is. I'm no authority on blogs, I just know what makes me crazy when I go to other blogs – although I do have professional experience on the design, programming, and implementation side (including some user testing).

my avocados ripened too late for the party, but not too late for us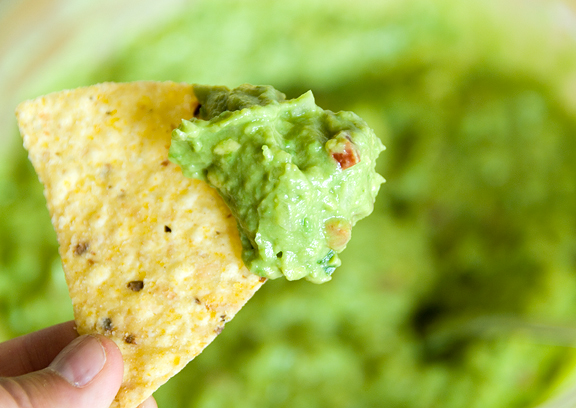 Now I'm going to make a few observations about photography… I usually keep quiet, but every now and again I will let loose and rail. Here is more brain dump. And away we go!
1) A dSLR for you, and a dSLR for you… Everyone is jumping aboard the dSLR bandwagon, it seems. A lot of people feel compelled to drop a wad o' cash for one of these pretty babies because they want to post pictures on their blog. For most folks, a really nice point and shoot (aka dummy cam) will do just fine. I see a lot of shitty looking pictures that were taken with a dSLR and some expensive glass. Such a waste. Buying a fancy camera doesn't make you a good photographer any more than buying a slick pair of skis will make you an Olympic class skier. There is actually something to learning how to take a good picture.
2) Don't take photography for granted. Let's back up and think about what usually makes a nice photo (and when you get really artsy, all of these rules are out the window). Focus. Composition. Focus. Lighting. Oh, did I mention FOCUS? If you can't hold a camera steady, there is this amazing piece of equipment called a tripod. They run as little as $25 and won't shake up your shot like a drunken freshman during rush. I tripod 70% of my photos and of my money shots I tripod about 95%. What you are shooting will have some bearing on what type of lenses and other equipment you want. There is a big difference between shooting food and shooting weddings, for instance.
3) See the light. Lighting is a technical issue, but when you begin to understand the nature of light (natural, artificial, diffuse, offset, reflected, etc.) it becomes an art. Try shutting off your flash. Try using an off camera flash with bounce or diffuser. Try natural light with reflector. Mess around and learn how light behaves and how it interacts with your subject. If you're outside, try shooting before sun up or after sundown. You'd be amazed at how different a change in lighting can make your shot. Light is a pain in my ass and it was something I avoided learning about for years, but it was worth it. I'm no expert, but I consider myself mildly competent now. It's definitely a more advanced topic, but it is important.
4) *I'm* driving the bus! Take the camera off auto. Learn to use manual. Learn what aperture is. Learn what shutter speed is. Learn ISO. Learn white balance. Learn to manual focus. And learn to post-process (this is digital we're talking about). If you leave your dSLR on auto, you have essentially purchased an expensive and large point-and-shoot camera. For shame.
5) Composition is the big one. I think compo is where the signature of the photographer comes through. It's the translation of the vision in your head into the photograph you produce. What's the set up? What is the subject? WHERE is the subject? IS there a subject? How is it lit? What are the implied actions/motions? Where are you leading the viewer's eye? Is there chaos? How does it make you feel? What is the focus? What is the depth of field? Sometimes no matter how I try, I cannot make a shot work because what I see as beautiful with my two eyes doesn't transition into a good photograph through my lens (usually in the backcountry where, as a rule, I do not move natural subjects). Your brain creates a unique and vast image in your head from the input through your eyes. Your camera – it don't do that. Ever take a picture of something you saw that was beautiful only to be disappointed later with what the camera captured? Yup. That's what I'm talking about – the lens and camera are far more limited than your brain and eyes. What you convey through the camera is the true art.
Composition is not so much a technical issue as a personal preference. It comes with practice and the beauty of digital is that you can practice a lot without going bankrupt! I shoot daily and when I am shooting, particularly in the backcountry, I see the world in two views: from the perspective of my eyes, and what that would look like through my camera and lens. I know them so well that I can consider a gorgeous span of wildflowers and know what I can and can't get with the camera without even removing it from my pack. That comes from a lot of practice. So practice, damn it. Practice. And vary your shots to see what works and what sucks.
6) Zoom the hell in. Whether it means zooming in with your lens or getting up close and personal with the subject (I'm assuming food here, but yeah – other subjects too). Not all shots need to be macro shots, but people are usually too conservative and are zoomed out too much. My friend E was complaining how people who take "snapshots" for her with her camera wind up making the people subjects teensy tiny so that you don't even know who is in the picture. Do you NEED to include their shoes? A lot of things can be implied even if they aren't in the picture. You can get the idea of a bowl of berries across without showing the whole bowl.
7) Move your ass. If you insist on taking pictures always standing at full height – you are boring and so are your photos. Perspective is crucial. Get on your belly! Crouch low, shoot up, angle sideways, turn the camera, shoot directly down. Try SOMETHING different. It may not always work, but you won't know until you do it.
8) And my pet peeve that is addressed directly at food blogs: multiple shots of the same frakking thing (with the exception of the end product, but that can go too far as well). I mean, how many pictures do you really need to post of a hand sprinkling brown sugar over cake batter? Six? Seven? What a waste of my bandwidth. That's what VIDEO is for, durrrrrr.
Well, that's my two cents and with the decline of the dollar, it's worth less now than it was when you started reading. I'm just tossing out what works for me which may or may not mean anything to you.
Kathy had asked if I could post the sangria recipe earlier. I actually went searching online at various food blogs for a good sangria recipe because I typically prefer the tried and true recipes I see on food blogs rather than the standard online collections. I came across this one at Andrea's Recipes and decided to give it a try.

citrus slices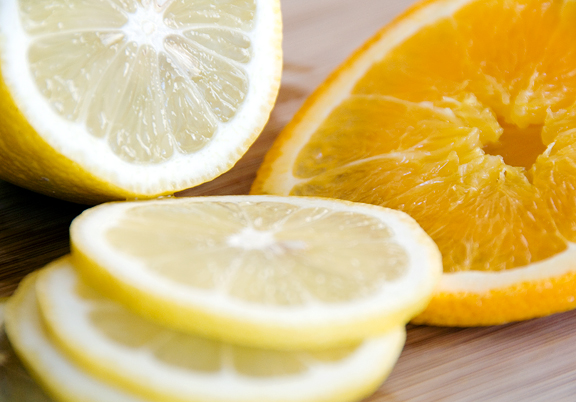 strawberry and peach to add before serving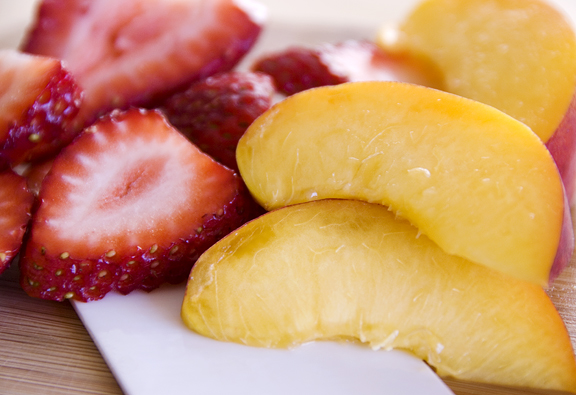 The beauty of sangria is that you don't have to buy expensive wines – cheap wines work perfectly here. I don't know how to shop for cheap wines, but my local liquor barn employee had excellent recommendations and pointed me to some good affordable picks. Toss in some sugar and seasonal fruits and you are good to go.
pour the wine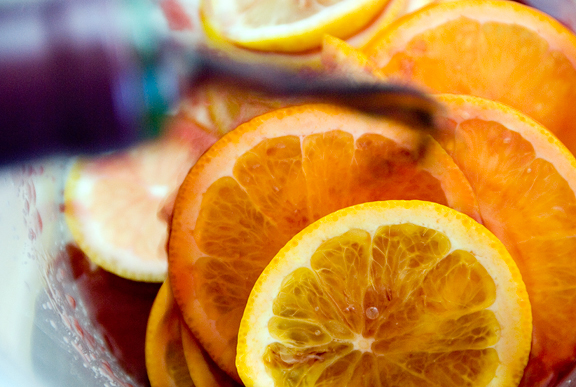 Sangria is one of those drinks that will knock me to the ground because I love fruit and will drink a lot of sangria just trying to get to the floating peach in my glass. So deceptive, this adult fruit punch… It's perfect for combating the summer heat.
put up your dogs and cool off with some of this
Sangria
[print recipe]
1 orange, thinly sliced
1 lemon, thinly sliced
1 cup sugar
1 (750 ml) bottle dry white wine
1 (750 ml) bottle dry red wine
2 peaches, sliced
1 pint strawberries, sliced
1/2 cup Grand Marnier
Combine orange, lemon, sugar and wines in a large glass bowl or pitcher and stir until sugar is dissolved. Cover tightly with plastic wrap and refrigerate for at least 4 to 6 hours, or overnight. Add peaches, strawberries, and Grand Marnier before right before serving. Serve over ice.