No recipe today. Just me blathering away…

ahhh, sangria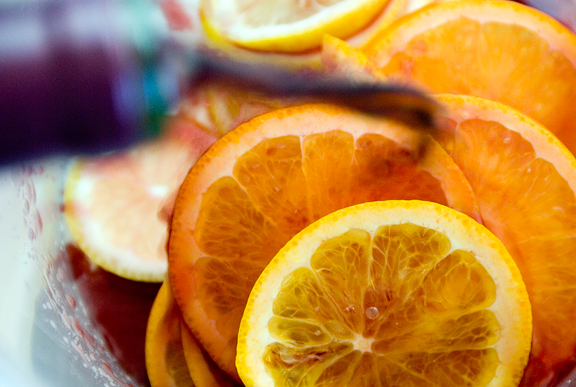 Is it July yet? Just yesterday I was freaking out because I realized we were nearing the end of June. My summer is almost booked solid and even though summer technically began less than 2 weeks ago, I can't help but get this panicky feeling that summer is already over – gone! I psyche myself out like that though, because I cannot ever relax except under heavy sedation… If I wake up after 7 am I feel as if my whole day is done for. Hey, I never claimed to be free of mental issues!
strawberries and peachy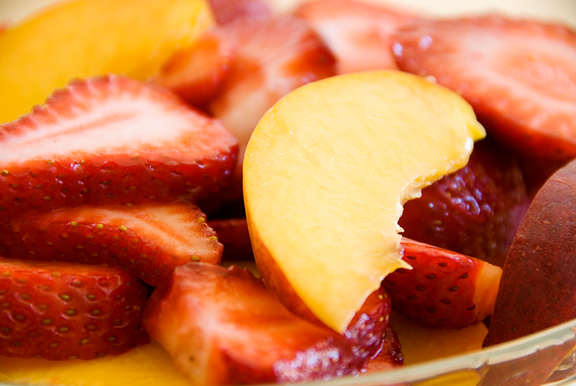 June has been a bit of frenzy for me, but with the tele betties barbecue we threw yesterday, I can breathe a sigh of calm today and smile at the spread of leftovers in our fridge! I had BARBECUE for brekkie this morning, and
that
, my friends, is a beautiful thing.
bacon makes it (baked beans) good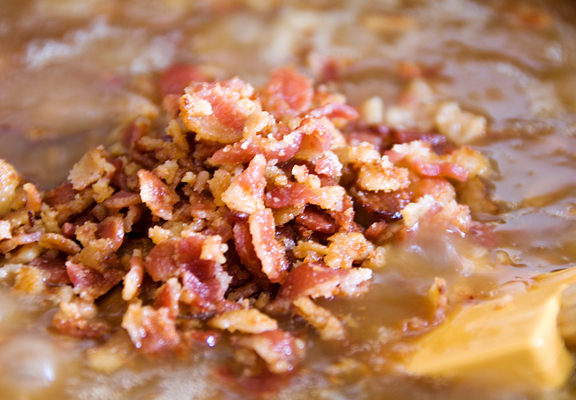 My aunt was visiting this weekend ever so briefly – to crash at our place for a night before picking my cousin up from camp in Denver and driving the 7 hours back home to New Mexico. Older relatives in my family are always "elders", but not so with Elena. She's always been my friend ever since I was a wee tot, and she still is – even more so now that we are adults.
my favorite aunt and uncle by the globe fountain in boulder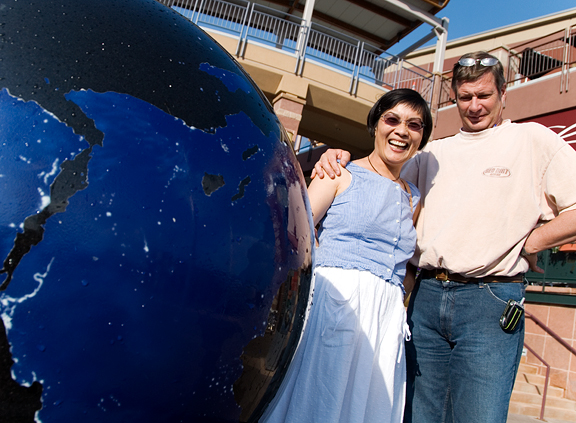 The barbecue was great fun yesterday. I have this thing about the company I keep – specifically the female company I keep. They are almost exclusively what I call alpha chicks. What did you expect of me? I have LOADS of amazing women friends and each one is a superstar in her own right. I adore them all and yes, they kick ass. That's actually a pre-requisite to be my friend… kick-assery. Nothing like cooking up a storm for a bunch of alphas and chilling out together well into the mountain night. And don't feel sorry for Jeremy… he loves an evening with tele babes.
the menu
chips and salsa, crudités and spinach dip
blackberry-lime cordial cooler, sangria, iced tea
texas barbecue beef brisket
carolina-style pulled pork
mayonnaiseless coleslaw
baked beans
german potato salad
potato rolls
chocolate pistachio cake
mojito jello shots
watermelon sorbet

oh yeah, i made cake for the chicas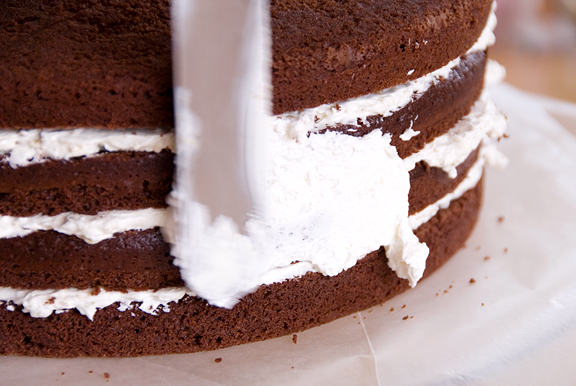 Now that my cooking/baking frenzy has abated, I am getting around to visiting blogs and taking care of some desperately-needed digital house keeping. I can tell that my health is improving because a number of things have begun to annoy me on my web travels… I'm just tossing some observations out there:
1) It pains me when blogs play music on their site. This is usually because I am playing iTunes or some public radio show feed on my computer and then I am suddenly accosted with cacophonous noises because frakking Céline Dion (them) just doesn't jive with The White Stripes (me).
2) I hate sites that make my browser crash. Because I usually have a million tabs up and when the browser crashes I have to go and reload every page, swearing all the way. I usually never revisit those sites again.
3) Tastespotting is back. It is being run by Someone Else. The new Tastespotting is woefully short on technical prowess because it accepts the changes to my profile, but then it doesn't. Bastards.
But this brings us to another issue, which was the void left by the old (and in my opinion, better, version of) Tastespotting. Everyone was sort of dumbstruck for the first day or so, and then a bunch of folks stepped up to the plate and implemented their own versions. There are quite a few out there. At first this was nice, but soon it became obvious that there was a lot of overlap. And while I believe that redundancy is good in many situations like climbing or emergency planning, I most definitely do not want it in my daily food porn. For what it's worth (probably not much, but – this is my blog, so I can rattle on as I please), I'm getting behind Chuck's Food Gawker because it is not only the best in design and functionality, but because Chuck is SO DAMN GOOD about feedback and improvements.
And while Food Gawker is my choice for the onslaught of all that is delicious and documented in the food blogosphere, I also visit Robin's FP Daily for the beauty of food porn and because I enjoy her little commentaries. I like witty, and Robin is just that.
4) I understand that blogging is not a commercial production for most people, but… would it kill ya to spell check the damn entry before you post it? Or maybe read it over once to catch the misuse of your in place of you're? [Just watch, I'm going to make this very mistake in my next post…]
5) I have great hatred for Blogger. Sure, call me elitist. I can't help that I happen to prefer blogging platforms that actually work.
6) I don't have a 10-foot wide monitor. How many columns can a blog possibly fit onto a standard page before the main text is relegated to two words per line? People put so much shit on their front pages now: ads, previous posts, blogrolls, photo thumbnails, archives, more ads, twitter… The overly-enthusiastic horizontalization of the blog is really annoying when I'm on my (precious) 12″ powerbook or better yet – on my iphone. It is also Bad Design Practice. And while I'm at it, who the hell wants to read hot pink text in 8 point font on a medium gray background? Pouring salt in my eyes would be a far more entertaining way to ruin my vision.

nosh on this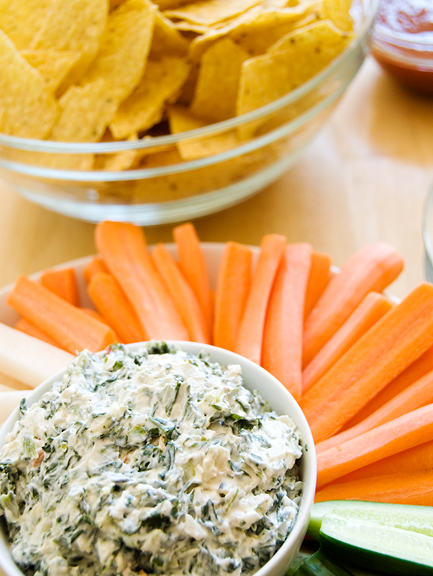 I haven't been so good about replying to comments lately. I will definitely get to that tonight, folks. Right now, I'm going to enjoy a nice, long cardio workout before getting zapped by radiation oncology.