Plenty of good things to bandy about on the blog today. For one: sushi, which is always a plus for me. More on that in a moment.
I spied some incredible looking mammata as I left the cancer center this afternoon. I had my camera with me (it goes just about everywhere I go) and was able to take a few shots from the parking lot before it dissipated. We get a lot of these in the summertime down on the flats – all of that atmospheric instability makes for gorgeous cloud formations. It made me recall something Tom told me recently, "the best camera is the one you have with you." So true (what I would have given to have had my camera in my lap instead of in the backseat of the car when a bobcat crossed our path a few weeks ago driving home).

ominous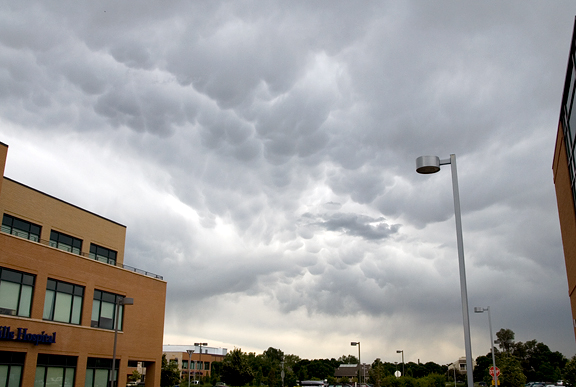 After that neat sighting, I went and sat in my car and opened a package that had ridden down the canyon with me to my radiation appointment. I had been running late, so no time to open the package. It was from Bee and Jai of
Jugalbandi
!
so beautiful… whatever could it be?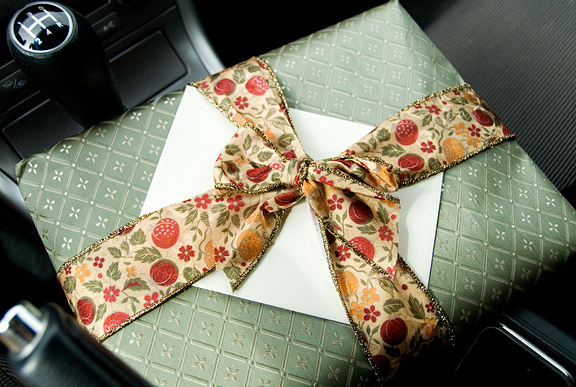 wonderful wonderful things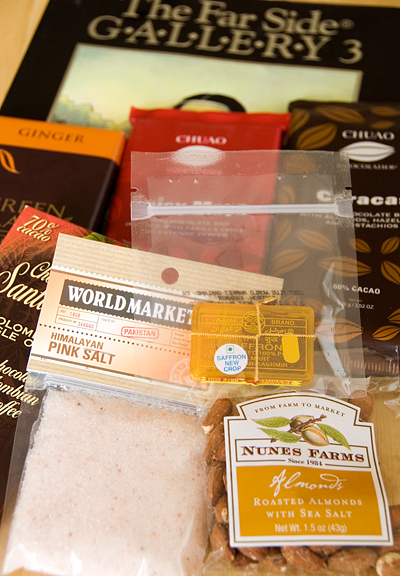 A care package is like a hug from far away. I only "met" Bee recently, but what a sweetheart she is. Just look at all of the goodies! Of course, I can't possibly let this go without a retaliation package. Just you wait, Bee and Jai. Just you guys wait… Thank you so much. xxoo
Jeremy and I resumed our sushi tour after a one week hiatus (just too much shit going down last week). This time we tried Kasa, a relative new-comer to the Boulder scene. It has been in business for a year and we happened across it one day after walking from the post office to Pearl Street pedestrian mall.

kasa means umbrella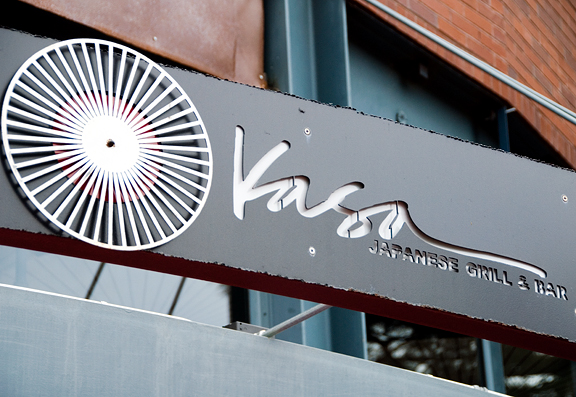 The restaurant sits on a prime corner location and the interior is very bright because all external walls are windows onto Pearl and 15th. The restaurant has a hip and artsy black and white theme wrapped all around the sushi bar, sake bar, and table seating.
great natural lighting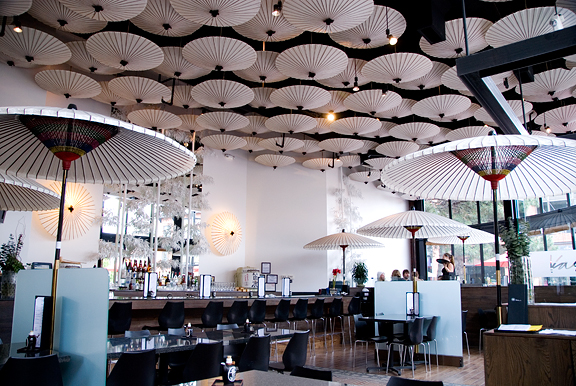 We found the service to be a complete mishmash because it seemed that whoever was nearby would take our order, serve us food, refill drinks, give us our bill… Inconsistent in a strange way. There didn't seem to be a clearcut sushi chef in the traditional sense either. But that was okay because the quality of the fish was superb. On par with the best of them. Here, have a looksee.
start with some light seaweed salad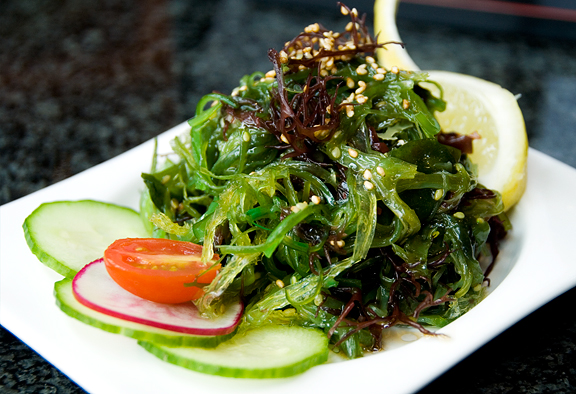 sashimi deshoku (chef's choice)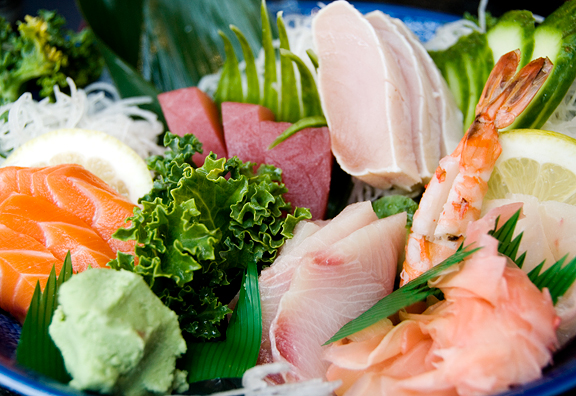 red dragon roll: spicy tuna with avocado and anago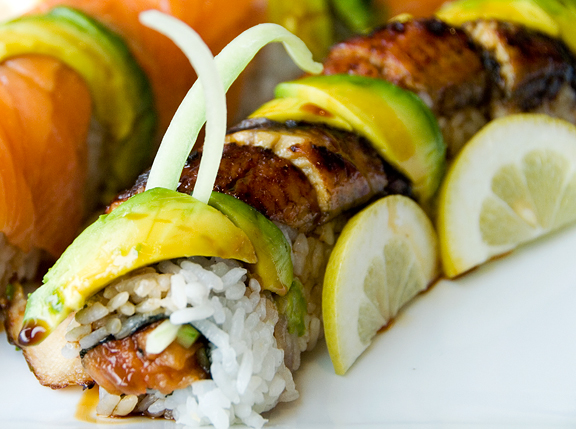 #9 roll: shrimp tempura, crab, cucumber, salmon and avocado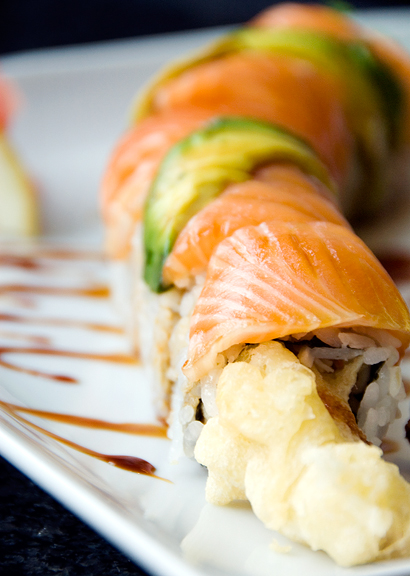 nigiri: tobiko with quail egg, scallop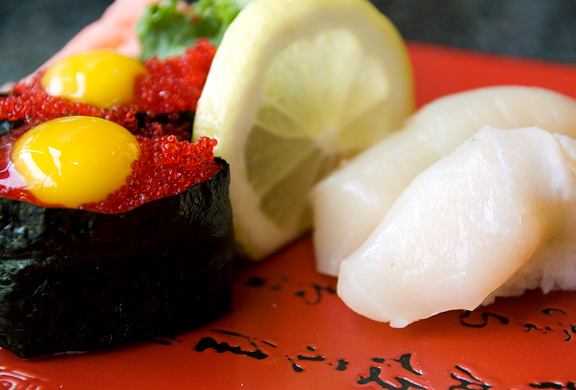 The seaweed salad was a little less seasoned than I prefer, but it was still enjoyable. Everything else was terrific, awesome, delicious, fresh. The presentation was gorgeous, as you can see. The rolls were quite good, but they didn't have that magic combination of flavor, texture, shazaam-in-your-mouth experience that we got with other sushi joints.
Here is my beef with Kasa: it is ass expensive. Okay, all sushi in Boulder is expensive, but for some reason Kasa's sushi and sashimi run a few bucks more per item than other places on the tour. Add to that the fact that their selection isn't as extensive as any of the other sushi bars (they were out of toro today). Jeremy noted that they must pay an arm and a leg for their rent. Perhaps, but Tora is also on Pearl Street, their chefs are the real deal, and their selection is unsurpassed.
I like Kasa. I mean, I didn't even need my tripod to shoot because it's so well lit! We both loved what we ate for dinner, but considering the financial damage I would rather walk the extra 5 blocks to Sushi Tora.
Kasa
1468 Pearl St.
Suite 110
Boulder, CO 80302
303.938.8888
July 1, 2008
Sushi
$71.60 (including tax, not tip) for two diners
Rating: 85/100 (B)
New rankings:
1) Sushi Tora
2) Amu Sake Bar and Restaurant
3) Ai Sushi and Steak
4) Kasa Sushi
Anyhoo, that's another sushi bar under our belt. After getting home and feeding the pup her dry kibbles (oh shut up, she LOVES that stuff, she loves *anything* – she's a lab for crying out loud), we went to survey the state of our local columbines. Ramping up and looking good. These are for you, Diane! See the rest on the photoblog.

blue columbines – the colorado state flower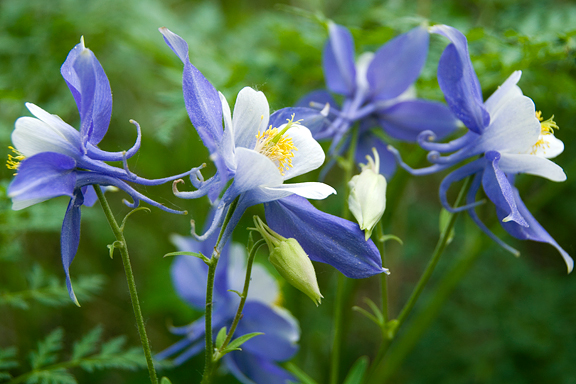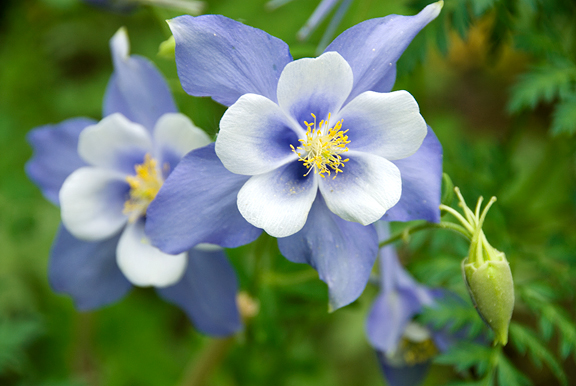 I was going to poll you guys about what lens I should get next, but then I started researching online and basically found the lens that *I need to have* and ordered it just now. And I thought Kasa was expensive… We'll see what kind of pretty I can wrangle with the new glass once it gets here.