Recipe: chocolate pistachio cake
Boy, I have been posting a lot of sweets lately. I try to mix things up, but I wanted to get this cake recipe up because it's so pretty and a great dessert to serve for a holiday weekend. Tomorrow is the fourth of July – the quintessential summer holiday here in the States. My favorite part? The fireworks. I am a visual creature and nothing dazzles me like pretty colors and bright lights. I am drawn to lovely sparklies like Lite Brite (remember that toy?) and gummy bears and shooting stars and… fireworks! Oh boy oh boy oh boy!

a mountain of dry ingredients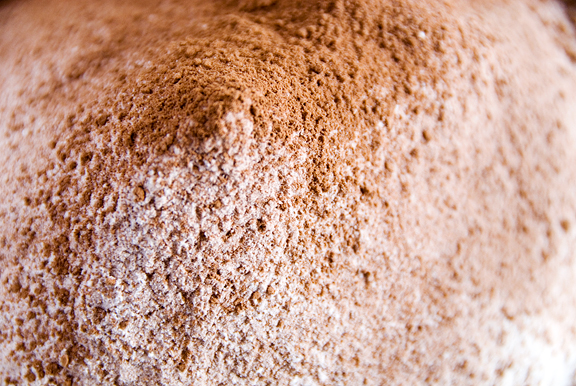 batter in the pan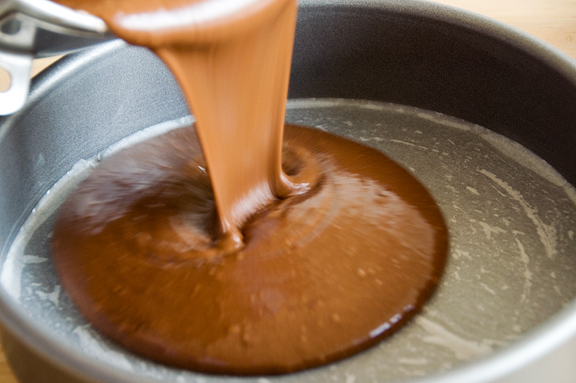 But on to this cake. I served it at the tele betties barbecue last weekend. It's my riff on Marcel Desaulniers' White and Dark Chocolate Pistachio Cake from his famed
Death by Chocolate
. I have a signed copy only because my parents live near Trellis Restaurant where he is chef and co-owner. Mom gave it to me years ago, when I was too timid to even crack the book open – it was so intimidating then! My baking prowess has since been found and nurtured. In graduate school I even exchanged a few emails with Marcel on the doubling of his recipes. He's such a great guy – so friendly and approachable.
skinning pistachios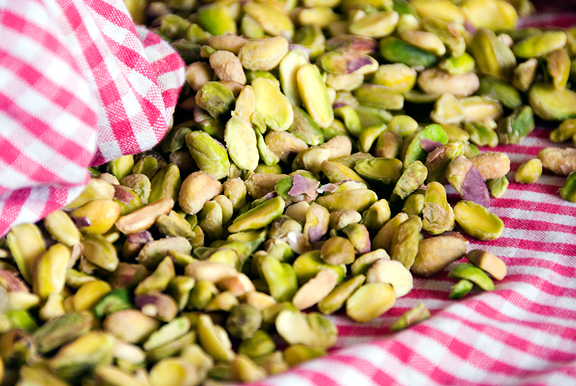 whipping swiss meringue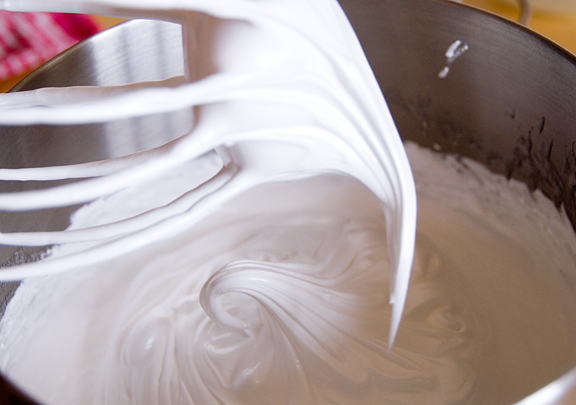 I omitted the white chocolate from the buttercream frosting because I think it is too sweet and I just hate white chocolate in general. No one seemed to miss it. I also doubled his chocolate cake recipe so I could make a 4-layer deal instead of his prescribed 3-layers. And besides, I wouldn't be able to eek out 3 decent layers from a single cake because our oven is crooked and the dome is always lopsided. I should level the oven, but I'm a bum and there wouldn't be an overabundance of cake trimmings for Jeremy to snack on! Skinning the pistachios is the biggest pain in the ass. The only reason I do it is because I love pistachios so much… and because I forget what a pain it is until I start skinning them.
folding chopped pistachios into the buttercream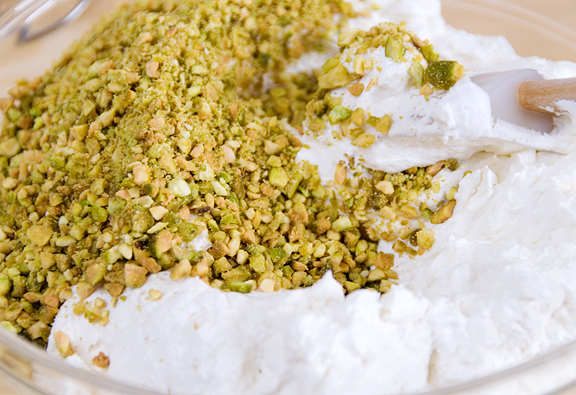 spreading the pistachio buttercream on the first layer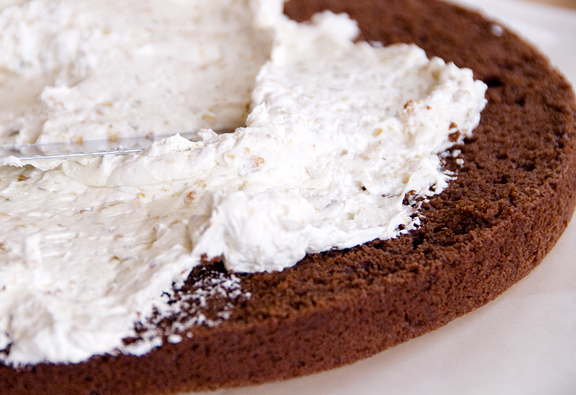 I debated adding a soaking syrup because I wasn't sure if this cake would crumble apart if it got wet. I decided against it. Turns out if you serve the cake within 24 hours, it's pretty moist without soaking syrup and is delightfully dense. If you have leftovers, they tend to dry out with time, so I recommend immediate consumption.
crumb coating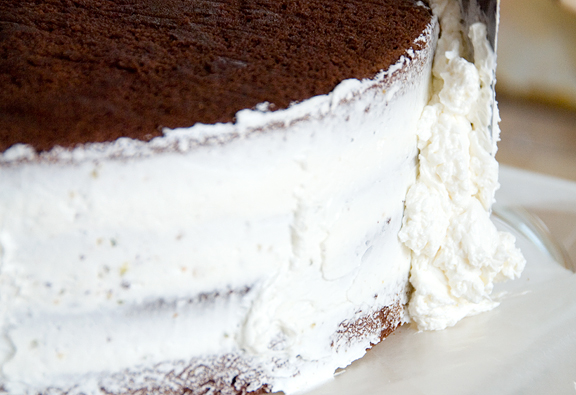 decorate as you see fit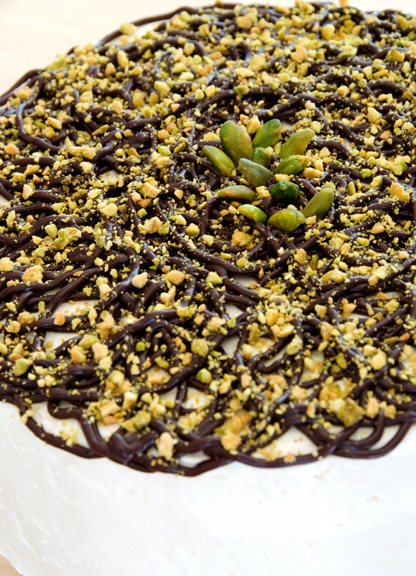 I was planning to pipe some cute little standard stars around the edge, dotting them with pistachios, but I was too impatient for my ganache to set up because I had a gazilion other things to make for the party. So I drizzled rings all over and sprinkled the top with extra chopped pistachios and a flurry of whole ones in the center. Good enough for government work.
love the light and dark motif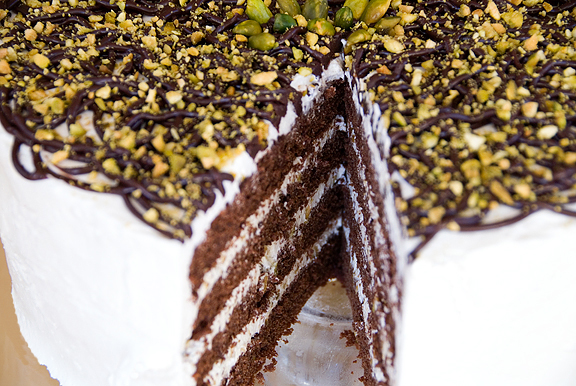 The cake was a huge hit with our guests. I like the solid construction of this dessert as I don't have to worry about it falling to pieces when I serve a slice. I also think the dark and light contrasts are striking and beautiful together, not to mention the awesome pairing of flavors: pistachio, vanilla, and chocolate. The dense chocolate layers play wonderfully with the creamy and light (ha! a POUND of butter?!) frosting and the nuts add a bit of crunchy texture. The chocolate cake is not overly sweet, which I love because buttercream is plenty sweet as it is. However, I enjoyed the little zing of rich and sweet that the ganache lends to the whole ensemble. All in all a great cake. Wow your friends and see your enemies driven before you.
now that's real love, folks
Chocolate Pistachio Cake
[print recipe]
modified from Death by Chocolate by Marcel Desaulniers
joe's chocolate cake
makes ONE 9×3-inch round cake – I used TWO of these for my version, so double this recipe if you want a 4-layer cake
1 1/2 cups plus 1 tbsp all-purpose flour
6 tbsps unsweetened cocoa
1 tsp baking soda (1/4 tsp at 8500 ft.)
1 tsp salt
4 oz. butter plus extra for coating the pan
2 oz. unsweetened chocolate, broken into 1/2 oz. pieces
1 cup sugar
2 eggs
1 tsp vanilla extract
1 tsp red raspberry vinegar
1 cup water
[Note: I made TWO chocolate cakes to give me 4 layers instead of the three in Marcel's original recipe. This results in plenty of leftover "dome".] Preheat oven to 325°F. Combine flour, cocoa, baking soda, and salt in a sifter. Sift onto wax paper or a bowl and set aside. Coat 2 9×3-inch round pans with butter on the base and sides. Place circular parchment in the bottom and brush with more butter. Marcel says to dust with flour, which I apparently overlooked. I didn't have any problems, but my pans are also non-stick. Gently melt unsweetened chocolate over water bath or on half power in the microwave – stirring to prevent burning. Set aside. Beat sugar and butter together in mixer fitted with paddle. Beat on medium for 1 minute, then on high for 1 minute. Scrape down the sides and beat on high for 15 seconds after the addition of each egg (one at a time). Scrape down the bowl after each addition. Add vanilla and vinegar and beat on high for 20 seconds. Add the melted chocolate and mix on low for 10 seconds. Scrape down the sides of the bowl. Boil water and operate the mixer on low while adding the sifted dry ingredients. Mix for 10 seconds. Add the boiling water (carefully!!) and continue to mix on low for 10 seconds. Increase speed to medium and beat for 5 seconds. Pour batter into pans. Bake for about 45-50 minutes or until toothpick test is clean. Remove from oven and allow cakes to cool in pans for 20 minutes. Remove the cakes from the pans and refrigerate for at least 1 hour.
pistachio and vanilla buttercreams
this amount was just enough for the 4-layer cake
8 oz. egg whites
16 oz. sugar
1 lb. butter, room temperature
2 tsps vanilla extract
1.5 cups shelled pistachios
Combine egg whites and sugar in a mixing bowl. Whisk constantly over a bain marie until 140°F is reached. Place on mixer with balloon whisk and whip until stiff. Turn down whip speed to 3rd and whip until cool to the touch (this takes a while – should be cooler than your hand). Change to a paddle and gradually add soft butter by tablespoon pieces. Mix to emulsify. Once desired consistency has been reached, add vanilla. Blanche the pistachios in boiling water for 3 minutes, then drain and place the nuts in a cotton towel. Fold the towel over the nuts and rub vigorously to loosen and remove the skins. Toast the skinned pistachios on a baking sheet for 15 minutes at 325°F. Remove from oven and allow to cool to room temperature. Reserve a few whole ones for garnish. Finely chop the remaining pistachios. Take 2/3 of the buttercream frosting and fold in the pistachios. Save the remaining third of the buttercream for frosting the cake.
ganache
6 tbsps heavy cream
4 oz. semi-sweet chocolate, chopped
Bring the cream to a boil and remove from heat immediately. Pour over the chocolate (making sure to cover all of the chocolate) and let sit for a minute. Stir until the ganache is smooth and evenly mixed. Put in the refrigerator until firm enough for piping.
Assembly: Cut off the dome tops of the cakes. Slice your cakes into two layers. Place the base of one cake on the serving plate or a cake board. Spread 1/3 of the pistachio buttercream over the layer. Repeat twice more. Top the cake with the other base slice (upside down, so base it facing up). Crumb coat the sides with the vanilla buttercream (a thin layer spread around the entire cake). Then frost the entire cake with the rest of the vanilla buttercream. Decorate the cake with chocolate ganache however you like and garnish with whole pistachios and/or any extra chopped pistachios. Serve at room temperature.