Recipe: intense brownies
*Rant On*
I originally wrote about my cancer, not to solicit advice or sympathy, but to explain why my blogging would be affected and to just toss out what was on my mind. It wasn't an invitation for random headcases to swoop down upon me with quack remedies and solutions or to tell me what not to consume or who and how to worship. Just because I was diagnosed with cancer does not mean I welcome these obtuse assaults on my sensibilities. Personally, I don't allow having good intentions excuse inconsiderate or stupid behavior. I don't even tolerate that crap from people I know.
So, for anyone with unqualified advice on cancer (particularly if you haven't HAD it) and how I should be living my life, please stay the hell away from me. When you get cancer, I'll be sure to send all of the nutcases YOUR way so in addition to the shitty treatments, your various debilitating side effects, and the myriad of infections you contract, you – in your ample spare time and infinite energy – can sift through loads of freakishly useless advice because you know, that's going to help your cancer heaps.
*Rant Off*
The heat continues to roast the Front Range of Colorado, but life must go on. And by life, I mean social life. And by social life I mean, social life involving food. I met up with friends for lunch today at Treppeda's in Niwot. This place makes fantastic sandwiches as well as the famed Chicken Parm(esan) that my pals rave about. For me, there is no other than The Chief.

my favorite order at treppeda's: chief niwot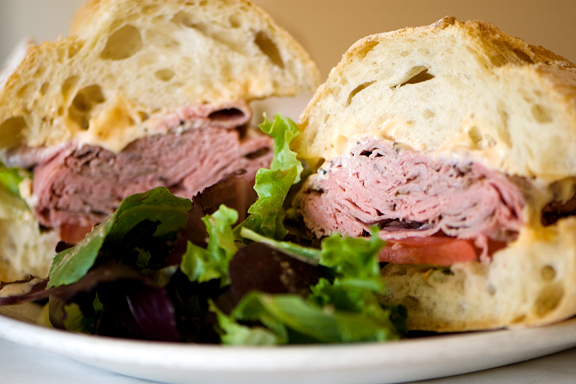 Oh man, that sandwich was gooooooood. I love me some roast beast on good chewy bread. It's almost like I am having an affair with The Chief because Jeremy has never eaten here and the one time I tried to bring him to Treppeda's for lunch, they were closed.
I'm over two-thirds done with my radiation treatments. I met with my nurse today and she said that people who undergo radiation treatment after chemo typically report that they feel great and aren't experiencing problems. They tend to be pretty energetic, upbeat, and happy. Those who haven't had chemo often complain of fatigue and some discomfort. They just feel tired and drained of energy all the time. Huh. I guess that could be construed as a positive for chemo? Nah – chemo sucks the big one, period.
On our way home, we passed the Boulder Farmer's Market and I pulled into the parking lot on a lark. Could it be that the peaches from the Western Slope have arrived? We made a quick pass up and down the stands. The only peaches were early peaches and those aren't worth farmer's market prices. Even the heirloom tomatoes looked like ass today. Still, the farmer's market is bursting with color and vegetables. I am just anxious to get my grubby paws on some juicy sweet peaches because the ones at the grocery store blow. I left the market slightly disgruntled, but I imagine it was the 96 degrees in Boulder more than the lack of Western Slope peaches.

pretties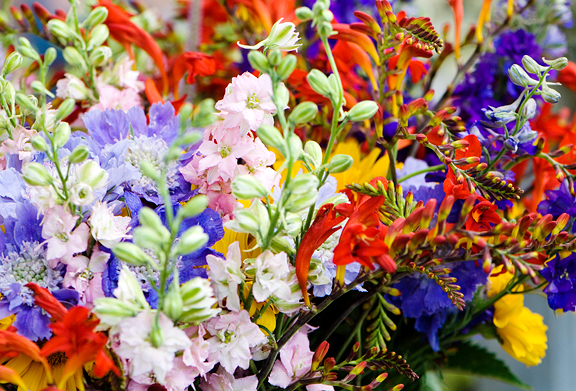 lovely squash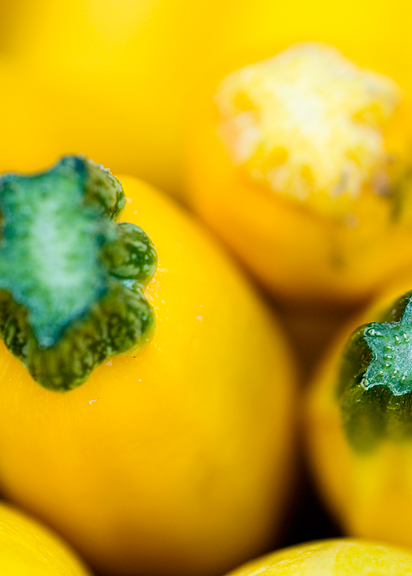 Which is why it's so good to live in the mountains because as I pulled into our driveway, the temperature reading was 80 degrees! While that is still considered too hot by my standards, it is a welcome relief to the oppressive heat down on the flats. Deeeeelightful. I was able to whip up some dinner without blowing a fuse. We dined on the deck while admiring the heavy cloud cover and cool breeze. It cools down enough at night around here that I dare to turn on my oven when the fancy strikes me.
oh yesssss, butter and chocolate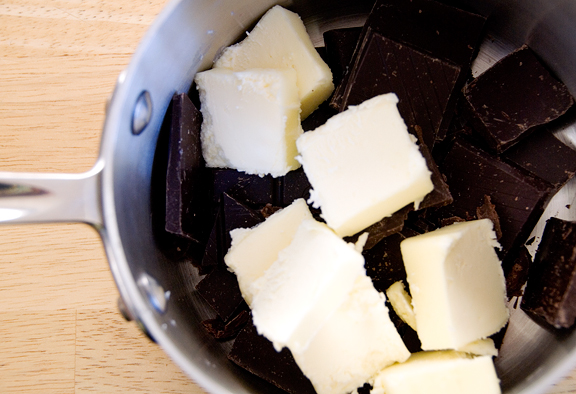 other ingredients including espresso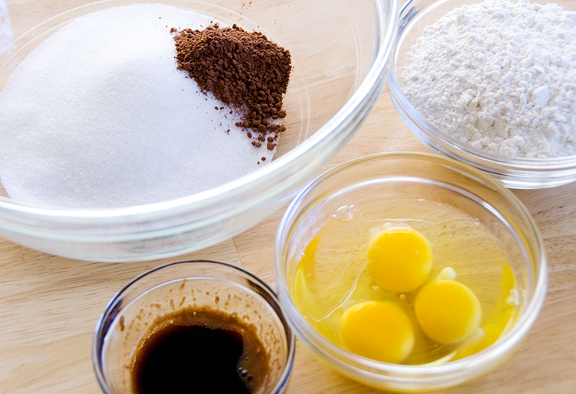 So our recipe for today is brownies. Oddly enough, I have blondies in the oven as I type. We don't discriminate in this house! I don't crave brownies like some people, but I can eat them. I do tend to prefer chewy brownies to cakey brownies because if you are going to eat cakey brownies then just go and have real chocolate cake done right. That's my take on it. I have yet to find the perfect chewy brownie recipe, but this one was quite nice. I made a hybrid of
CHOW's Intense Brownies
and the Independence Pass Brownies from Susan Purdy's
Pie in the Sky
cookbook. Basically, it's the CHOW recipe adjusted for high altitude because that's a pickle of a problem for me with about 50% of baked sweets.
pouring in the melted chocolate mixture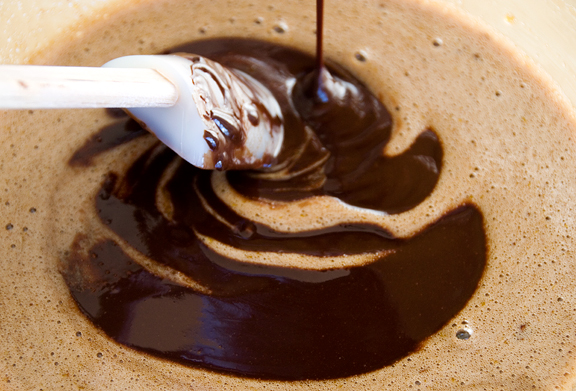 batter in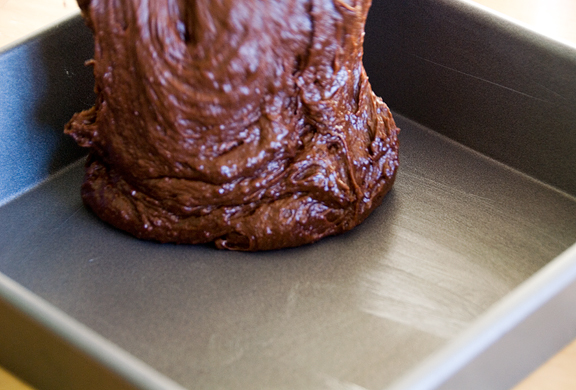 The plain brownies worked out quite well, but just a tad cakier than I would prefer. I made a second batch modified for Rocky Road style with macadamia nuts and marshmallows. The marshmallows pretty much disappeared during baking and the baking time had to be extended before the center of the pan could set properly. I think next time I should reserve some extra marshmallows to sprinkle on top. These were pretty successful although much sweeter (thanks to the marshmallows) and more gooey.
regular brownies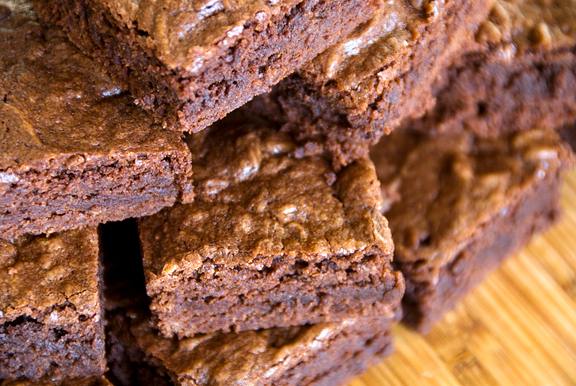 rocky road brownies: with mac nuts and marshmallows
Intense Brownies
[print recipe]
modified from CHOW's Intense Brownies
6 oz. bittersweet chocolate
8 tbsps unsalted butter (7 tbsps at 8500 ft.), at room temperature
2 eggs (3 at 8500 ft.), at room temperature
1 cup sugar (1 cup minus 1 tbsp at 8500 ft.)
1 tbsp unsweetened cocoa
1 tsp vanilla
1 tsp brewed espresso
3/4 tsp salt
1 cup flour (1 cup plus 2 tbsps at 8500 ft.)
rocky road version
1 cup chopped nuts
1 cup small marshmallows
Oven: 350°F. Butter an 8-by-8-inch baking pan. Combine chocolate and butter in a medium saucepan and cook over medium-low heat, stirring frequently, until evenly melted. Remove from heat and let cool to room temperature. Combine eggs, sugar, cocoa powder, vanilla extract, espresso, and salt in a large bowl and briefly stir until just evenly incorporated. Add cooled chocolate and mix until uniform in color. Add flour and stir until just incorporated. If making Rocky Road version, stir in half of the nuts and marshmallows. Pour batter into baking pan. If making RR version, sprinkle remaining nuts and marshmallow over the batter. Bake until a tester inserted in the center of the brownies comes out clean, about 25 to 30 minutes (23 minutes at 8500 ft., 26 minutes for RR version at 8500 ft.). Remove from the oven and cool completely before cutting.