Recipe: chocolate espresso semifreddo
Funny how just a few weeks ago some of my bloggy buds were all, "Dooode, you are blogging daily and I can't keep up witchyoo, yo!" And I'm all like, "Laydeeeez, I'm on another steroid dose for my side-effects and I can't sleep, so I just keep a bloggin'!" Okay, well that ended abruptly this past weekend because I replaced blogging with doing everything else. Seriously though, we were just entertaining my ILs this weekend. Still, I'm breaking it down into a few posts since they involve… FOOD!
Last year, Jeremy's folks were out to visit us about a week before I got my diagnosis. It was also the weekend of MIL's bday. I asked her what she wanted to do for her birthday and she replied she'd like to bake a cake with me! MIL likes to bake and I had just completed a pastry skills course that summer at the culinary school (my reward for defending my PhD dissertation), so she wanted to try one of the recipes I had learned. We made a lovely Lemon Mousseline Torte. Thing is… FIL is a chocolate fiend. Not just that he likes chocolate, but he won't touch anything else if there *isn't* chocolate in it. Okay, that isn't entirely true. If it is a hunk of meat… perhaps FIL should meet Mr. SGCC – aka Caveman, Susan? :)

let's start with some chocolate cookie crumbs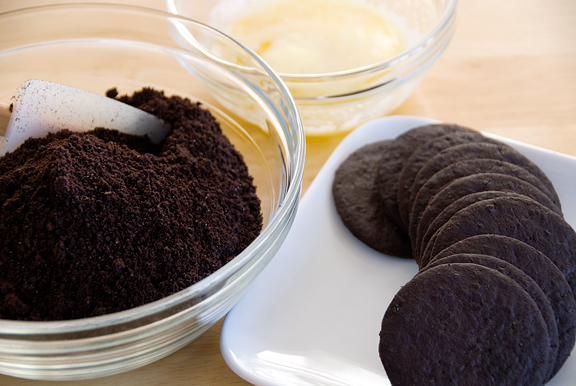 press a nice chocolate cookie base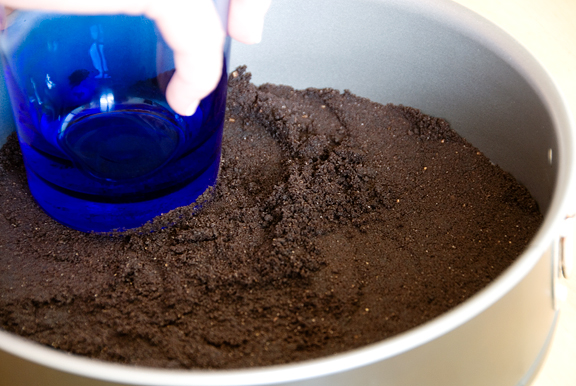 On this visit, MIL mentioned that she'd like to bake together again. Sounded great except it's been hot here lately. Oven, heat, summer – gah! While I flipped through the course notebook, I came upon the "frozen desserts" segment of the class. Ah ha! I really wanted to make some bombes, but the professional grade molds I need (yes, I *need* them, damn it!) wouldn't ship in time for us to use. I had a good alternative though, and it wouldn't require much oven time at all.
chopped chocolate stirred into the custard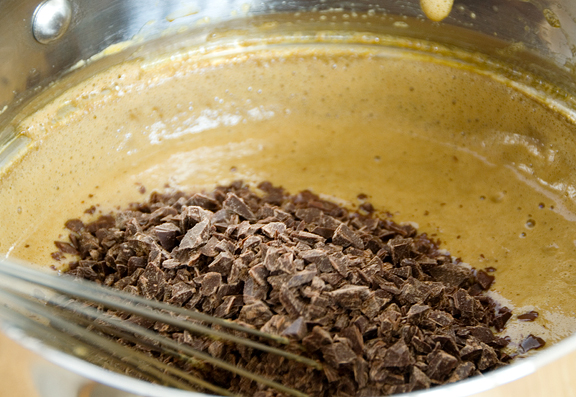 The recipe in class was a white chocolate espresso semifreddo, but I altered it to a chocolate espresso semifreddo because 1) I hate white chocolate and 2) FIL eats chocolate chocolate, not that white crap. On Sunday morning, I left the house really early to hike out to a point for shooting (nature… with a camera). A little later, Jeremy took his folks on a short hike while I returned home and began the mise en place for the semifreddo.
mascarpone and cream lend to a lovely texture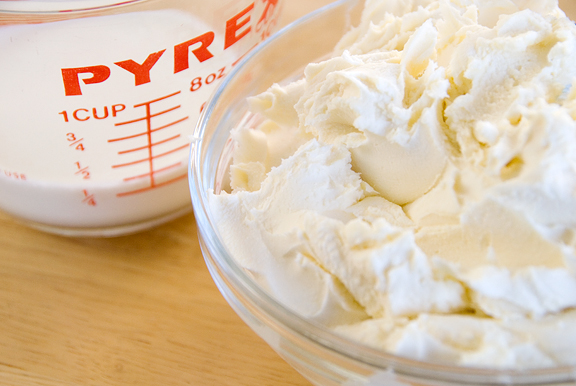 I think in the course of my food blogging, I have settled into a pattern of how I cook or bake. That is to say, I actually prepare food with the photography in mind, with the photography planned into the steps as if it were part of the recipe. Second nature, by now. It becomes painfully obvious how not normal that is when I prepare food with other people because they aren't used to it. Funny that. I felt so bad asking MIL to not add the chocolate yet, to please hold the spatula still for a second, to wait until I could angle the reflector… MIL is an incredibly good sport about it. When I tried this with my grandmother last fall, she gave me these hilarious frowns that read, "Crazy American-born Chinese Granddaughter!"
combine chocolate and mascarpone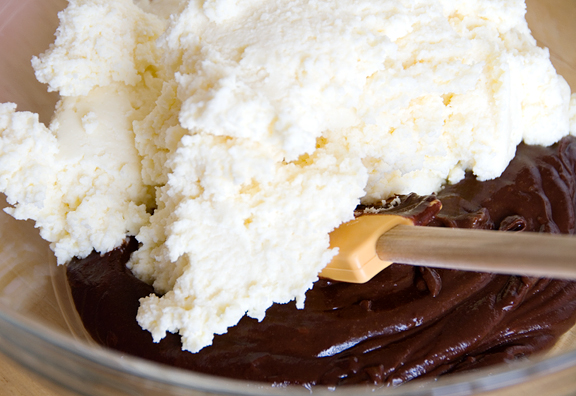 The dessert has three main components that wind up as one semifreddo. That's weird for me. If I make three separate components, I usually expect to see those components in the final product (like cake, ganache, mousse, for instance). I altered the recipe somewhat because I think making Italian meringue is messy and a pain in the butt compared to Swiss meringue. I swapped out the white chocolate for semi-sweet chocolate (Valrhona 64%), replaced the Italian meringue with the Swiss meringue, and used instant espresso powder instead of brewing my own espresso.
folding meringue into the chocolate and mascarpone mixture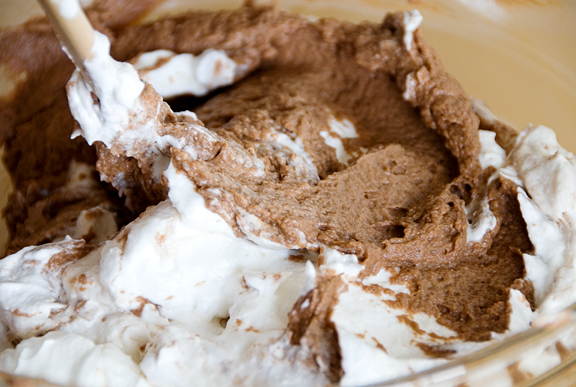 The semifreddo presents well. The texture is smooth and rich, but refreshingly cool which I find perfect for summer months. There is a tanginess to the flavor imparted by the mascarpone, but it isn't as overt as what cream cheese would have contributed. Everyone who has a slice seems to love it. I could go either way. I find that the recipe is more effort than one would expect for such a simple looking dessert. Still, it's a winner and my ILs really enjoyed it.
let thaw for ten minutes before serving
Chocolate Espresso Semifreddo
[print recipe]
1 3/4 cups chocolate cookie crumbs
3 tbsps unsalted butter, melted
3 oz. espresso
4 large eggs separated
1/3 cup sugar
2 tbsps sugar
2 tsps vanilla extract
1 tbsp dark rum
4 oz. semi-sweet chocolate, chopped fine
16 oz. mascarpone cheese
2 oz. heavy cream
Heat oven to 350°F. Lightly butter bottom of a 9-inch springform pan. Mix cookie crumbs and butter together. Press crust into the springform pan and bake for 10 minutes. Remove from oven (turn oven off). When cool, line the sides of the pan with a 3-inch wide parchment strip along the inside edge.
Over a double boiler, whisk together the yolks and 2 tablespoons of th sugar until it is pale yellow and thick. It should ribbon. Lift whisk out of the bowl to incorporate air into the mixture. Add espresso, rum, and vanilla. Place over simmering water and cook, vigorously whisking until liquid coats the back of a spoon and the mixture is thick and foamy. Remove from heat and add the finely chopped chocolate. Stir until melted and continue stirring until cooled. In separate bowl, stir together the mascarpone and cream until soft and smooth. Do not overstir. Place egg whites and 1/3 cup sugar in stand mixer mixing bowl. Gently whisk together over a simmering water bath until 145°F is reached. Remove from bath and set the bowl on the stand mixer with the balloon whip attachment. Whip on medium high until stiff peaks form. Reduce speed to medium and mix until the bowl is cool to the touch (cooler than your hand). Fold the mascarpone mixture into the chocolate mixture until there are no streaks left. Fold 1/4 of the meringue (sacrifice) into the chocolate-mascarpone mixture. Fold in the remaining meringue in three parts – don't overmix or the volume will reduce!
Spread the mixture over the baked crust in the pan. Tightly cover with plastic wrap and freeze for at least 4 hours. When ready to serve, loosen and remove the sides of the pan. Remove the parchment paper strip. Serve cold and cut slices with a warm, dry knife.