Recipe: pistachio chocolate chip blondies
We are heading out of So Cal and into my favorite place in the world.
But to round out the weekend, I will have to be quick. Saturday afternoon we drove south to visit with two of my favorite bloggers: Todd and Diane of White on Rice Couple! It is the first time we've met in person, but I really felt they were kindred spirits already. They welcomed us into their beautiful home, Sierra wanted me to chuck the ball and Dante sniffed my crotch. Hi-larious dogs, I know Kaweah and Sierra would be bffs. Oh, and when I say "beautiful" to describe their home, it is an understatement. Stunning? Gorgeous? Breath-taking? Magazine-worthy? Words don't do it justice. It's a HOME, not a house (must include fabulous yards). It shows great love and care and attention to detail yet it isn't a museum piece, it's usable and lived in and HOME, you know what I mean? And that is a reflection of Todd and Diane – people with real substance and sincerity. I just wanted to pack them up and take them home with us (the dogs too).

diane preps us for the tour of little saigon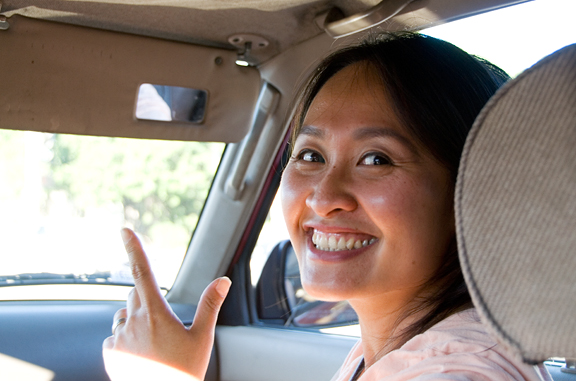 jack fruits as big as kaweah!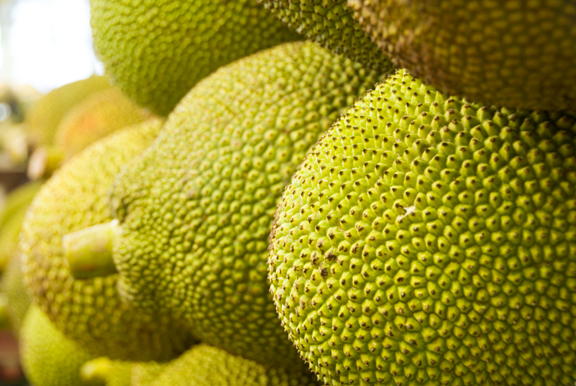 diane offers up fresh rambutan outside of the market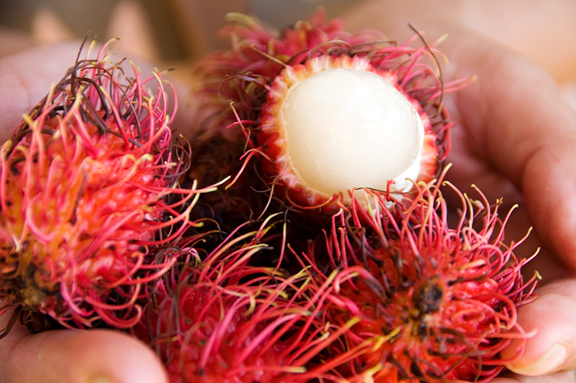 roses blooming on one of their many trellises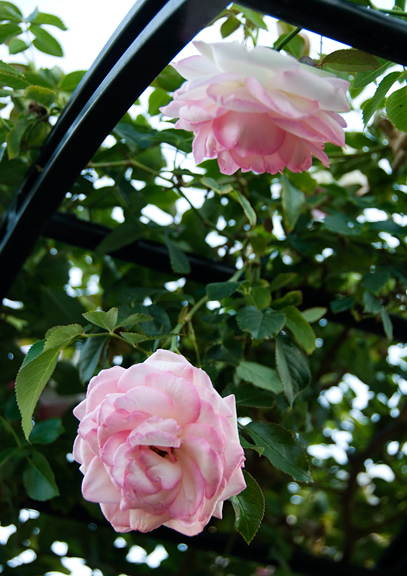 sierra playing in the yard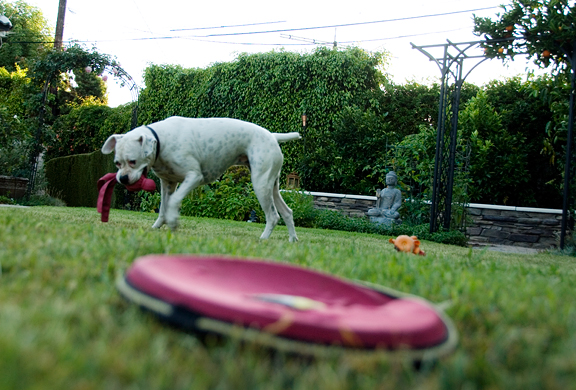 Not only did we get a fabu tour of Little Saigon (I could follow Diane around and listen to her chatter away in Vietnamese for hours) and discover that our man, Todd, also speaks some Vietnamese (go white boy, go!!!), but they stuffed us full of amazing foods they prepared at their house – half of it straight from their garden(s)! Am I yelling too much here?! It's because we have never experienced such incredible hospitality like this from foodie friends (or any friends, for that matter) – EVAR! Did I mention I want to take them home with me?
diane gets dinner ready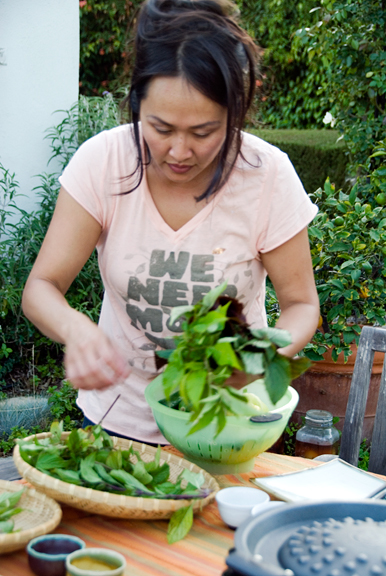 delicious fresh produce for our spring rolls
enjoying fresh mangosteen for dessert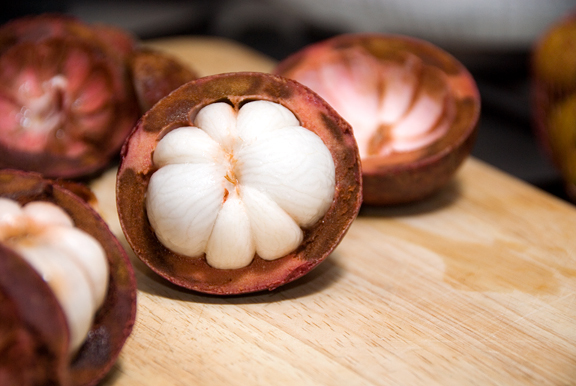 dante stares down the figs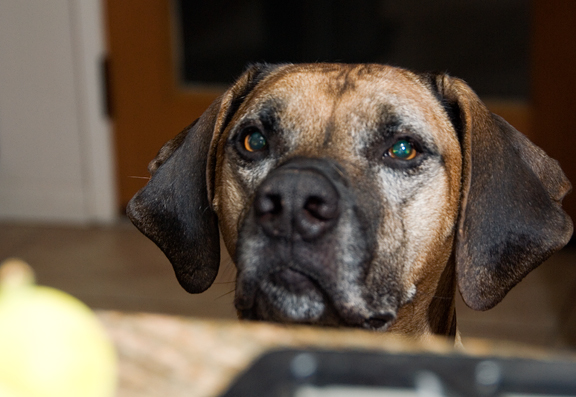 some of the best people (and pups) on earth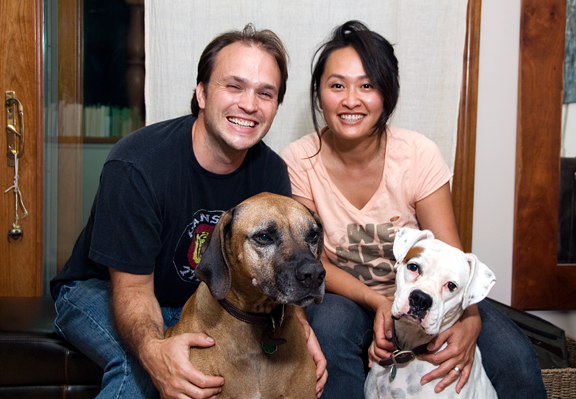 Sunday we visited with friends from my undergraduate days (volleyball days, really). They are the most amazing parents. Their oldest son is autistic and the younger one is well… unique. We love both of those boys – they are not only incredibly amusing, but quite sweet in large part because their parents rock. Another dear mutual friend joined us for dinner (Dr. Hogly Wogly's barbecue – accept no substitute). It felt so good to see these people again.
thomas gives leroy-kitteh a lift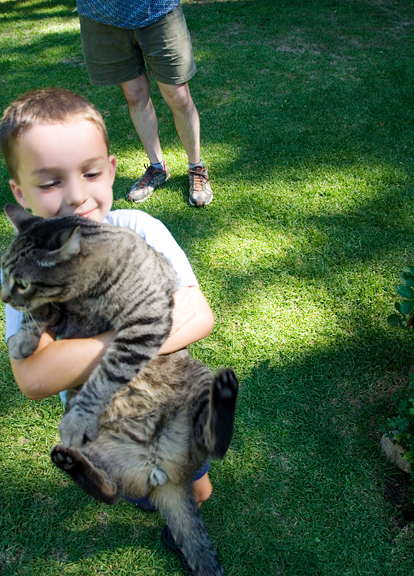 jack discusses science with jeremy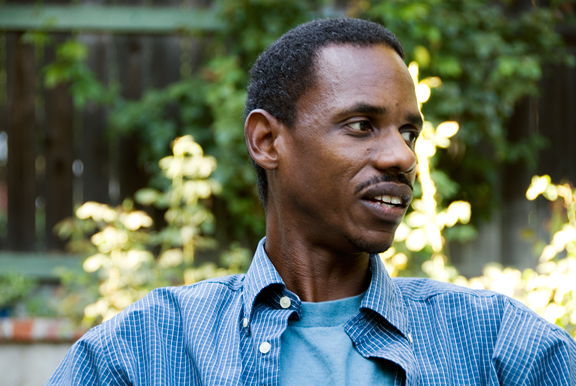 kevin read a bedtime story to me and his mom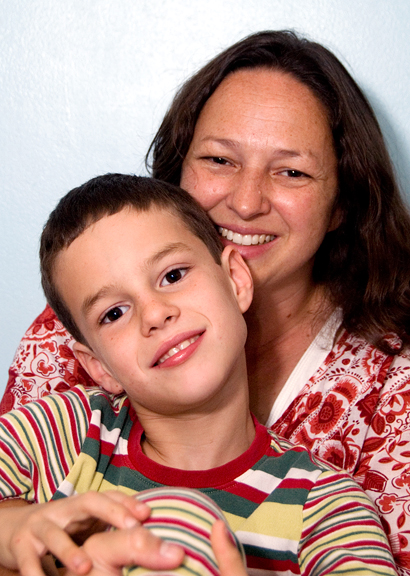 There's nothing quite like having good quality peeps for friends. I used to be the type of friend who put up with a lot of crap because friends were really important to me. Friends are still one of the most important aspects of my life, but I don't waste my time on jerks, people who don't respect me, and most of all people *I* don't respect. Life is too short to be spent on folks like that.
Okay, it's time to go so I'm tacking on a recipe that I baked a few weeks ago. I got the inspiration from Deb and decided to tweak the recipe with some of my favorite flavors like pistachio and almond.

love pistachios and it's not just because they are green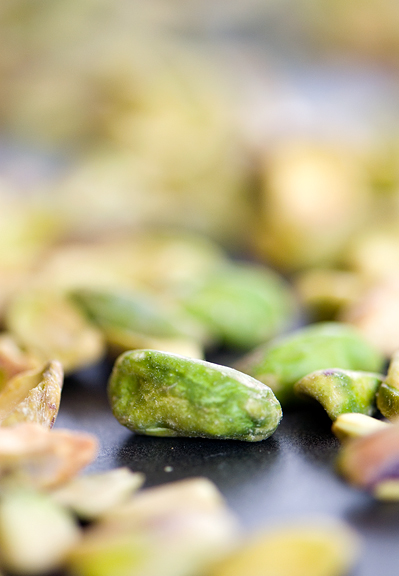 buttah and brown sugah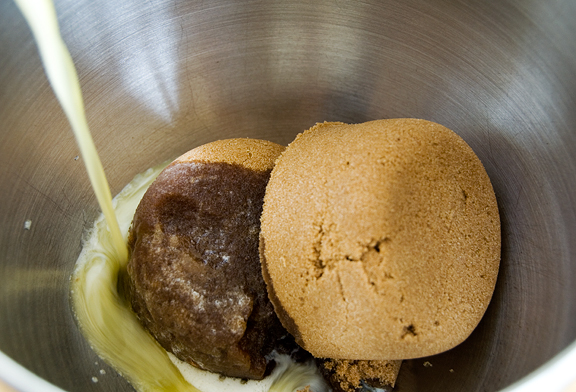 I doubled the recipe, since I usually bake with recipients in mind. These went out to neighbors, docs, patients, techs, buddies. I have a terrible habit of throwing cereal into cookies or bars on occasion. Cornflake crumbs add a neat texture to chocolate chip cookies, as do rice crispies. I had some rice crispies and tossed those into the dough.
stirring in the dry ingredients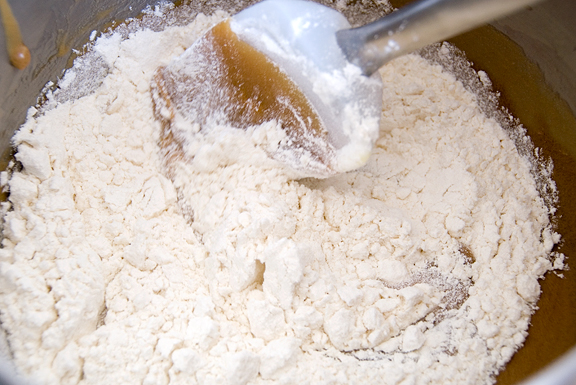 pistachios, chocolate chips, and rice crispies…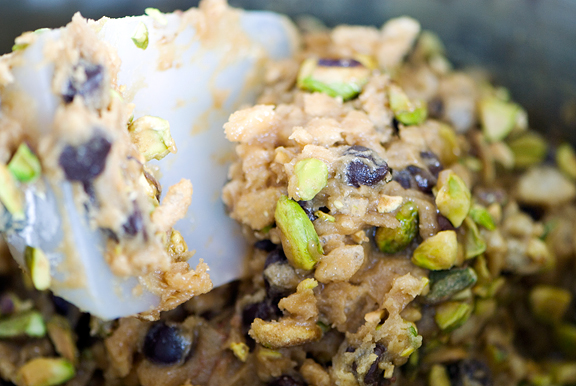 Verdict: I had baked these before in the classic sense (just chocolate chips and vanilla extract) which were good. This version was just too sweet for me. I'm not a sweets fan though and everyone else loved them. I thought I put in too much chocolate (I know, some people would say there is no such thing). Jeremy did suggest leaving out the rice crispies because it added a more chewy texture than he prefers in bar cookies. Duly noted.
sweetness
Pistachio Chocolate Chip Blondies
[print recipe]
based on Blondies on Smitten Kitchen by Deb
1/2 cup butter (1 stick)
1 cup brown sugar
1 egg (1.5 at elevation)
1/2 tsp vanilla
1/2 tsp almond extract
1 cup flour (1 1/4 cups at elevation)
1/8 tsp salt
3/4 cup pistachios, toasted
1 cup chocolate chips
1 cup rice crispies cereal
Butter an 8×8-inch pan (or 9×13-inch for a double batch). Mix the melted butter with brown sugar and beat until smooth. Beat in egg and then vanilla and almond extracts. Stir in flour and salt. Mix in nuts, chocolate, and rice crispies. Pour into and bake at 350°F 20-25 minutes (40 minutes for a double batch), or until set in the middle. Cool on rack before cutting.