Recipe: beef tenderloin wraps
It's December and I am officially in what I call "shit pants" mode because there is an overwhelming amount of stuff to get done. I've been spending a lot of time in the kitchen and so far I've burned my hands twice in two days. I am on a roll, baby!

there's the beef: tenderloin (salted)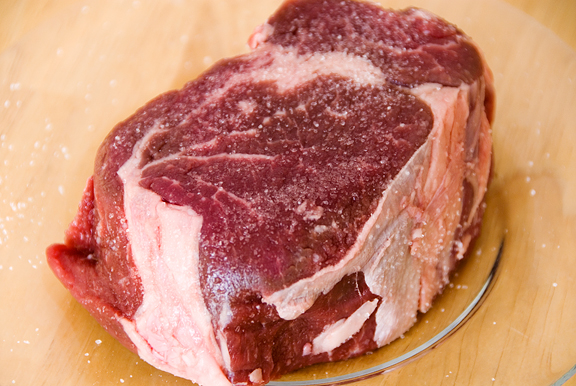 Well, party season is here whether you like it or not. Hard for me to say if I like parties or sit down dinners better. I guess I like the intimacy of a sit down dinner because you can have a nice conversation with a few people versus the social butterfly flitting from one guest to the next – getting only 15 minutes tops with each guest. That said, I like parties because it's a great excuse to make tons of little foods.
grilled rare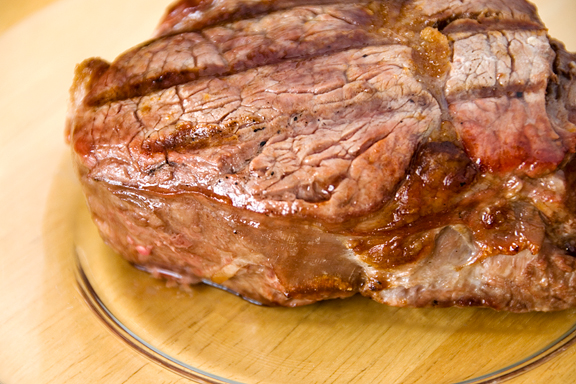 One appetizer I like to serve is a beef tenderloin wrap. It's so bloody easy. Grill up a filet mignon or two, chill it (to let it firm up), and then slice thin. I like my beef to moo (just like I want my fish still flipping). Sadly, most of my friends like their beef to be some horrid shade of gray. Is there a correlation between foodie and steak rareness? My one bud in town (who is actually in Antarctica right now) likes her steak nearly raw – she's a foodie and she's French. I love the French (yes,
Helen
, that especially includes you!).
sliced beef and green onions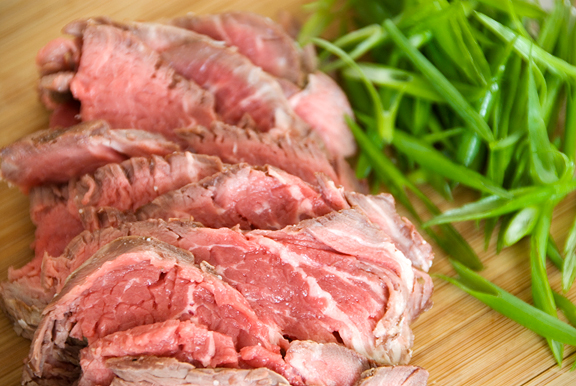 This appetizer has a slight Asian flare to it because I slap a little hoisin sauce on each sliver of beef. I should point out that you will likely have leftover bits of steak (odd shapes that don't roll well). You can eat those, share with puppy, or save them for a recipe I'll be posting shortly. Just don't throw them away. That will make me cry real tears, kids.
i use this brand of hoisin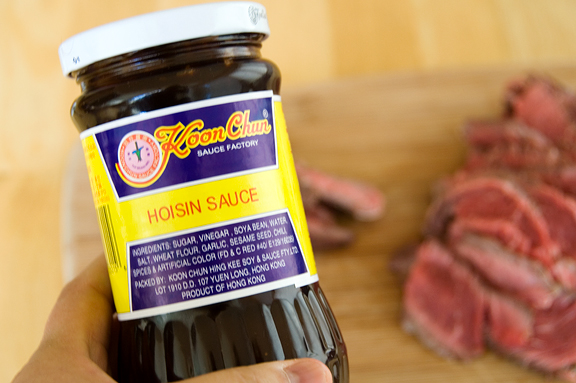 the mess is worth it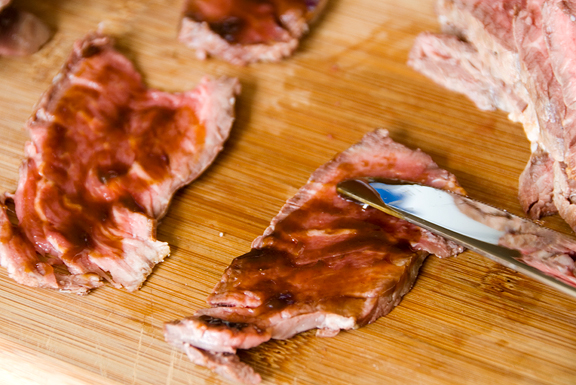 Then you pile a few strips of green onion on one end of the beef and roll it up. For aesthetics, I recommend letting the green onion ends stick out the sides. That's just me. If you're feeding a bunch of barbarians, it won't matter much, but let's hope your guest list is deserving of filet mignon.
roll it up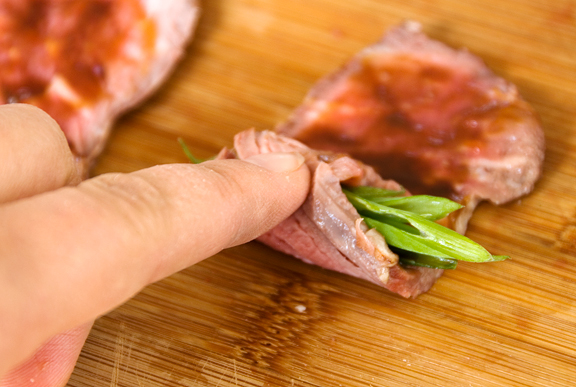 Spear each roll with a toothpick and try not to hurt yourself. If you make these ahead of time, then cover them with plastic and store in the fridge or else they get that dried meat look which some might find appealing, but not in this instance.
pretty carnivorous bites
Beef Tenderloin Wraps
[print recipe]
1/2 lb. filet mignon (one piece)
salt
2 stalks green onions
3 tbsps hoisin sauce
toothpicks
Salt the filet and grill or pan sear to desired doneness (Jen recommends rare, but hey – whatevs). Let beef rest and then refrigerate for an hour. Wash and trim the green onions. Slice the green onions on a shallow angle into thin strips. Remove beef from refrigerator and using a sharp knife, slice at an angle to about 1/8-inch thickness, as many slices as possible. For each slice, spread a little hoisin sauce on the beef, place a few green onions at one end of the beef (with the onions sticking out over the edges), and roll up the onions in the beef. Secure with a toothpick.