Recipe: peppermint bark
Busy hands! I am keeping off the streets as there is way too much to get done. I've been sewing, growing, making, baking, slicing, dicing…

knitting and sewing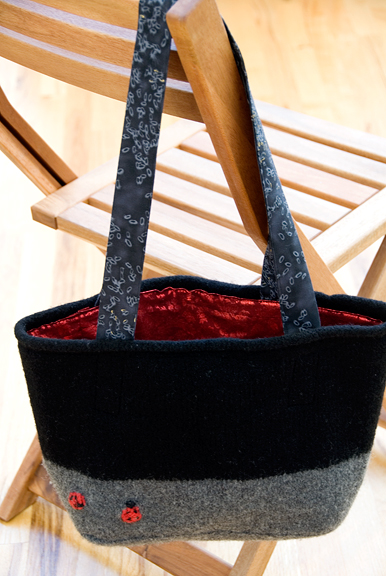 forcing paperwhites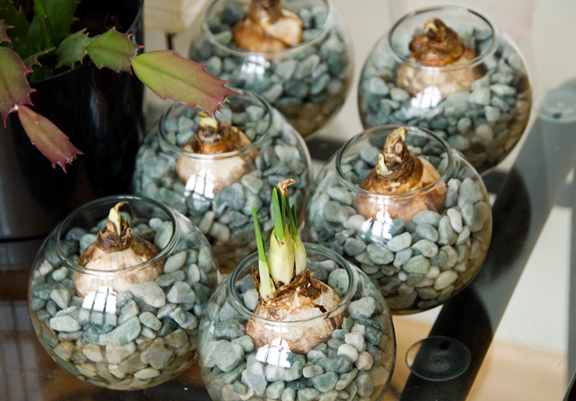 making tags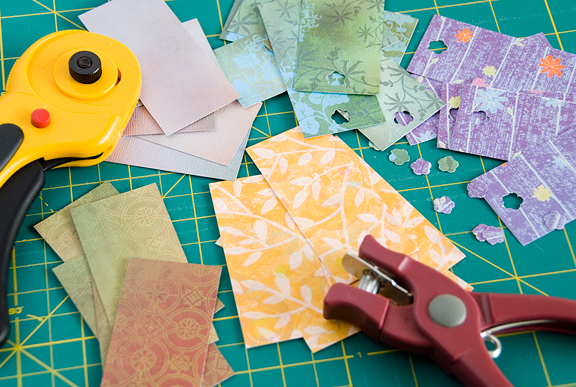 slicing orange peels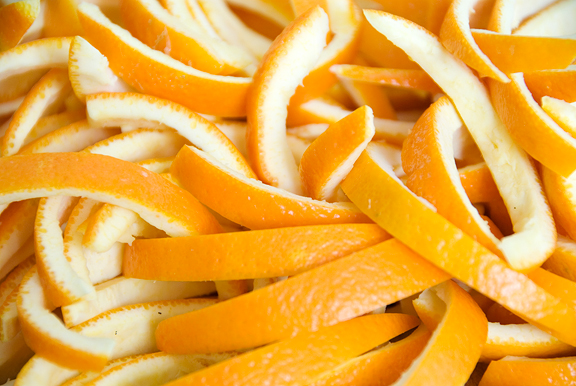 We don't even celebrate Christmas and I'm quickly going insane over here. While we tell everyone not to give us stuff and we don't give others stuff, I can't very well explain this to my 9-year old nephew and my 5-year old niece. Each year I rack my brain trying to come up with something handmade to give them because I think gift-giving is on steroids these days. I used to worry that they wouldn't care much for my gifts because they get SO MUCH STUFF. They received a lot when my sister was alive, but it really got out of control after she died.
The last time I saw the kids, I was tucking my nephew into bed and he asked me to get his spaceship from the bottom bunk. I saw the plush spaceship pillow I had made for him the year before and handed it up to his outstretched hands. "Hey," I said, "didn't I make that?" He hugged it to his chest and nodded, "Uh huh, it's my favorite." I smiled and kissed him goodnight. Then I went down to the basement and quietly cried my eyes out.
In the interest of time and sanity, I kept it simple this year and went with custom stockings that will be filled with all sorts of little goodies and educational doodads (plus a cool book for each child). I need to expand my crafts repertoire…

fleece and fuzz for him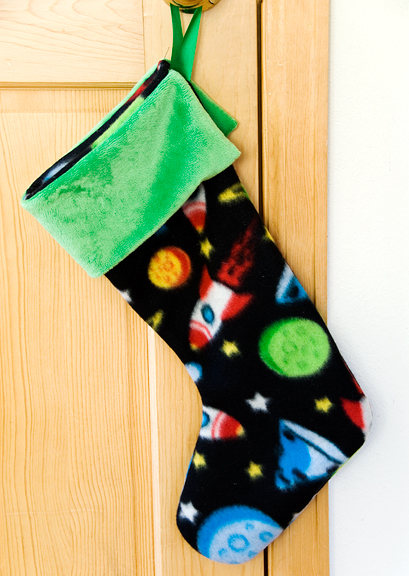 fleece and crazy fur for her (she likes pink, okay?)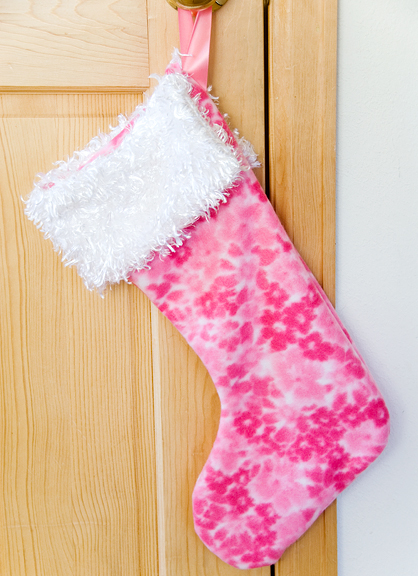 It doesn't end there. I do make a point of sending homemade goodies to certain people each year – folks whose hard work we appreciate (or not, in the case of the post office – but who wants to piss off the local post office who handles your mail?). I have an enormous list of sweets and treats and I'm about halfway through. Timing is everything since I'm waiting for the paperwhites to grow tall enough to be presentable and cookies won't keep for too long before going stale. Some recipients will consume their goodies right away, while others might not get them for a week or more. I have a bloody spreadsheet for who is getting what and when.
hard and soft vanilla bean caramels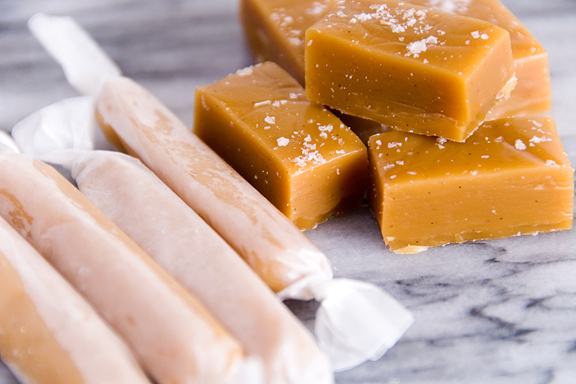 I'll post the caramels another day when my fury has abated. My double batch of
candied orange peels
are drying now, to be dipped in chocolate later. I made some peppermint bark yesterday, and while I was swearing like a sailor Jeremy quipped, "I seem to recall you saying you'd never make this again the last time you made this." I have in fact said that about several confections (
chocolate-dipped strawberries
,
petits
fours
glacés
, and
candied orange peels
to name a few). The problem with confections is that people love them and so I can't help but make them.
candy canes for smashing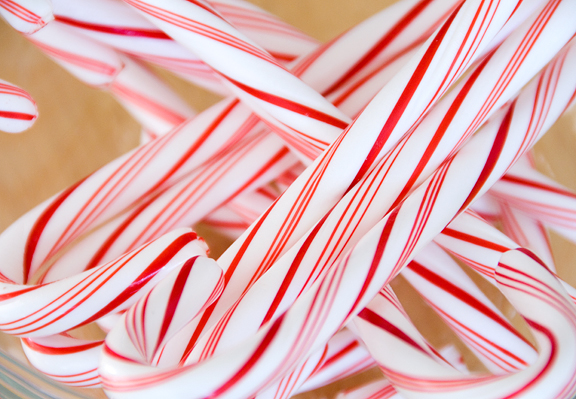 sifting smashed bits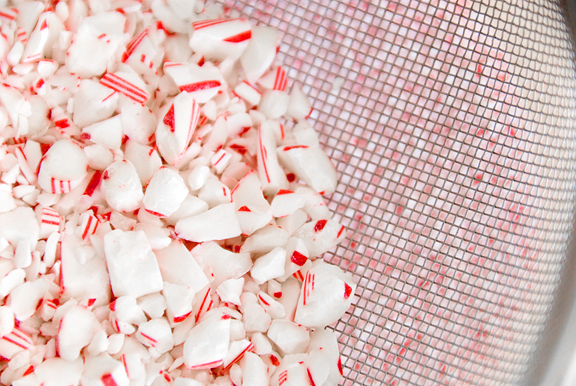 Peppermint bark is actually very easy to make. The reason I hate making it is because I always try to temper the chocolate only to realize after the fact that it isn't tempered and it doesn't matter. Instead of smashing the peppermint candy canes or peppermint starlight candies, I suggest using a food processor. I've tried smashing them in ziploc bags with hammers or rolling pins, only to put dents in tables, counter tops, rolling pins, and silpats. Once the peppermint is crushed, I sift the powdery bits out from the larger pieces.
spread melted dark chocolate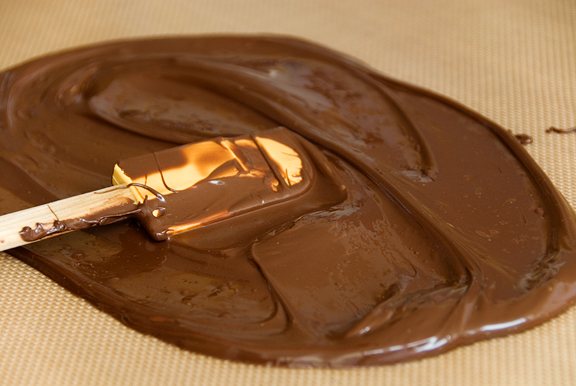 chopped white chocolate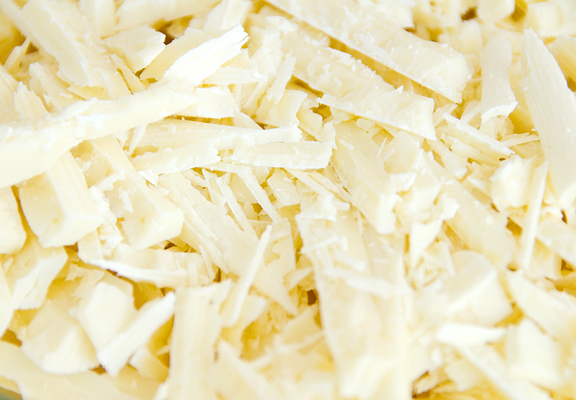 I used Guittard semi-sweet chocolate chips. They are my favorite chocolate chips. For peppermint bark, I don't tend to use the best chocolate I have in my cupboard. Valrhona and Callebaut are saved for things like truffles, flourless chocolate cake, or chocolate soufflé. For the white chocolate, I had some compound Ghirardelli on hand. I am not fond of white chocolate, but of the few I've worked with and tasted, I like Callebaut the best. If you do choose to temper the white chocolate, you need to get actual white chocolate and not "white baking chips" with ingredients like palm oil – they will seize.
stirring in the pulverized candy cane dust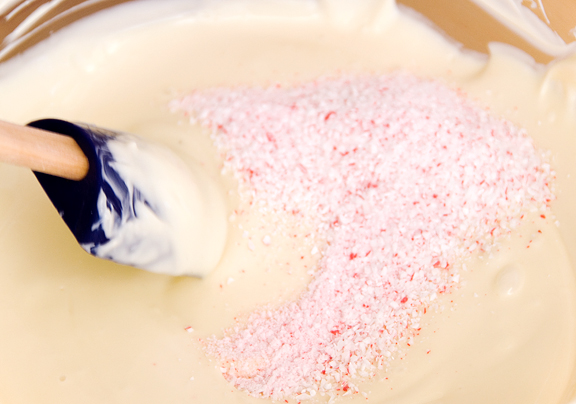 layer the white chocolate mixture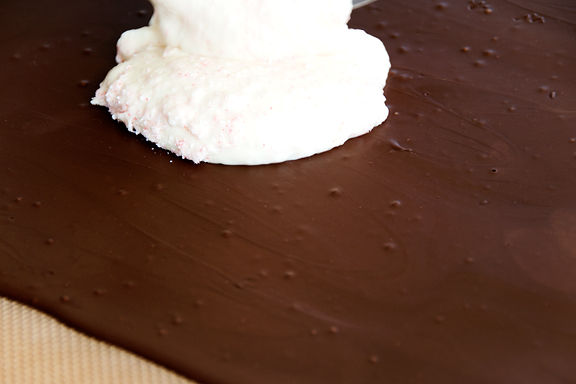 You can melt or temper your chocolate. Some folks won't know the difference, so you make the call. Straight melting is very easy. Tempering requires more equipment, technique, and some practice, but a superior result. If you are interested in tempering, I describe
the seed method of tempering dark chocolate
and you can ignore the sous vide method for keeping the chocolate in temper as you don't need to do that for making peppermint bark. The tempering recipe at the end has instructions for tempering milk and white chocolates.
After spreading a nice and even layer of melted dark chocolate on a silpat, let it cool, but not completely. If the chocolate is completely cooled, it may not bind well with the white chocolate layer and delaminate when you break it into pieces. I stirred the candy cane dust/sand into the melted (and cooled) white chocolate. If you stir too much, the whole thing turns pink, so a few folds should be good. Mine still turned pinkish. I suppose you could stir it into the dark chocolate, but because I hate white chocolate, the sandy bits make it more tolerable to me. I then poured and spread the mixture over the dark chocolate layer and sprinkled the peppermint chunks over the white chocolate layer.

almost done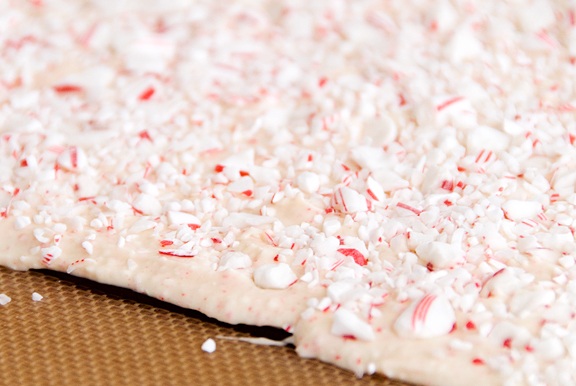 It helps to press the candy chunks into the white chocolate so that the peppermint bark doesn't shed candy as much. Let the bark cool completely before breaking or else it won't break cleanly. Also, I recommend wearing a glove with plastic over it when breaking up the pieces so that 1) your body heat doesn't melt the chocolate and 2) you don't leave your finger prints on the chocolate.
distribute
Peppermint Bark
[print recipe]
12 peppermint candy canes, crushed (about 1 cup)
1 lb. dark chocolate, chopped
1 lb. white chocolate, chopped
Sift peppermint candy to separate the large chunks from the peppermint sand. Set aside. Melt or temper* the dark chocolate and pour onto a jelly roll pan lined with aluminum foil or a silpat. Spread evenly to desired thickness. Allow to cool until almost set. Melt or temper** the white chocolate. When cooled or at temper, fold the peppermint sand into the white chocolate taking care not to overmix (and getting pink chocolate instead). Spread the white chocolate on top of the dark chocolate. Sprinkle the peppermint chunks evenly over the white chocolate and gently press the pieces into the layer. Cool until completely hardened. Break the bark into pieces. Makes 2+ pounds of peppermint bark.
*I use the seed method to temper my chocolate.
**If you are tempering the white chocolate, it must be white chocolate and not "white baking chips" or anything that contains palm oil because your white "chocolate" will seize during tempering.
Updated December 7, 2018