Recipe: chocolate truffles
Augggggggghhhhhhhhhhhhhhhh!
I'm done! I'm done! I finished packing everything up at 3 this morning. It is all ready to be shipped or handed over. Get it away from me!

i made a huge mess yesterday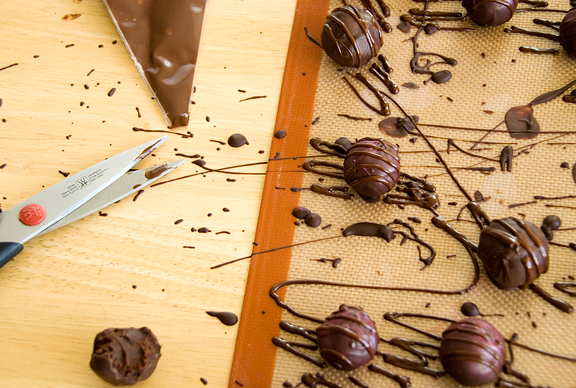 but i love it when things package up nicely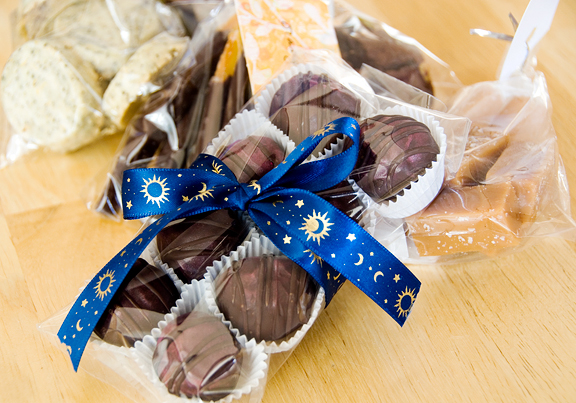 So let's get rolling here as I don't have a lot of time. I make truffles about once or twice a year. I really dig the
Robert Linxe truffles that Deb blogged about
because I love to NOT temper my chocolate. But I like variety, and so this year I decided to enrobe truffles… in tempered chocolate… which I hate to do. Idiot, am I.
start with good chocolate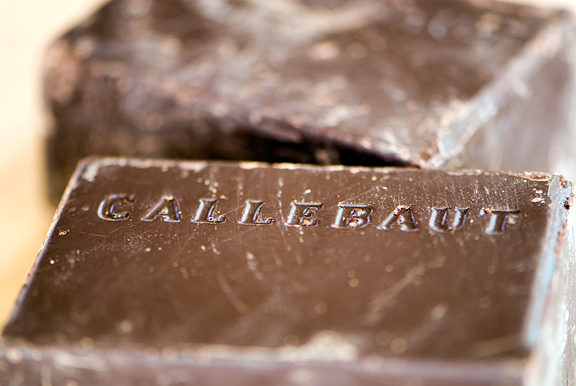 and chop it up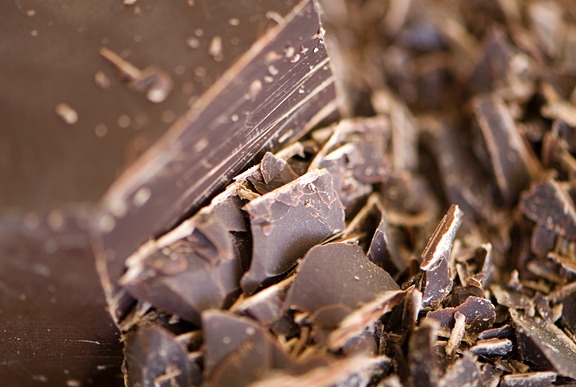 Some folks say use good chocolate, others say it doesn't matter. I say it matters like hell. Why? Well, I can taste the difference between Valrhona and Callebaut and Ghirardelli and Guittard and Nestles… And if I don't like the quality of the chocolate, I'm certainly not going to give it out to people with my name stamped on it – sort of like my photography, sort of like my pottery, sort of like everything. No half-assedness allowed! When making truffles, it's the chocolate that is front and center. Make it count.
pour the hot cream over the chopped chocolate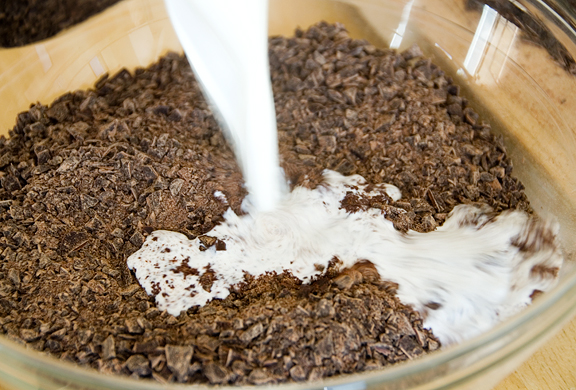 stir gently to avoid introducing too many bubbles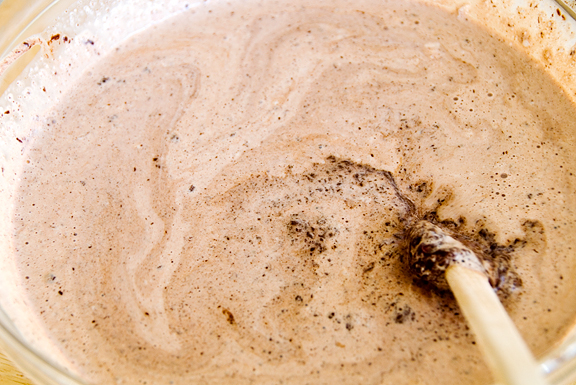 What I love about truffles – what I think anyone who makes truffles loves about truffles – is the magical transformation from what looks like a terrible mess (hot cream flecked with bits of chocolate) into a silky, dark, velvety chocolate ganache. Have faith, keep stirring, it will come.
flavored with grand marnier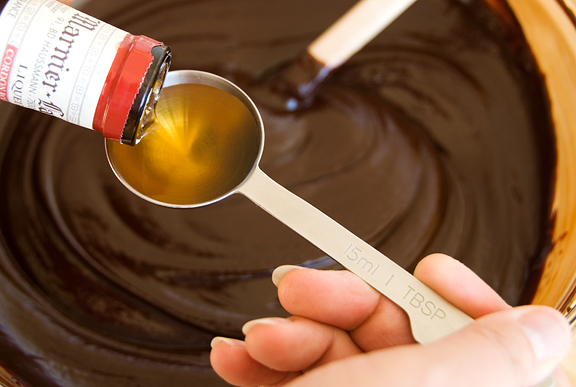 roll chilled ganache into little balls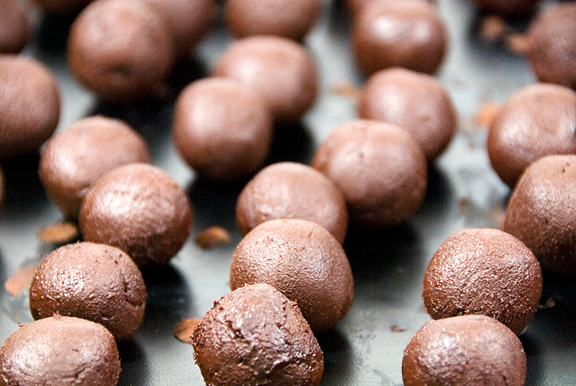 Well, as expected, something had to give. My brain. Too many sweets in production at once is a guarantee for a slip up. I was thinking of the chocolate to cream ratio and did a 1:1 (which is a glaze) instead of 2:1 (for ganache). Durrrrrr. I had a pound of Callebaut (64%) and 2 cups of hot cream. Luckily, I had another pound of Callebaut (64%) intended for enrobing. I quickly chopped that up and added it to my mix. I used the guidelines from my pastry skills course last year. Somewhere in my notes, I had scribbled:
use 4 tbsps Grand Marnier for every 2.5 pounds of chocolate
. I poured in 4 tablespoons of Grand Marnier and honestly could not taste it *anywhere*. I poured in 2 more tablespoons. Very faint. I wanted to add more, but the thought of somehow tanking the ganache by pouring in a whole bottle of Grand Marnier (and it was a big bottle) – two whole pounds of Callebaut… I chickened out and held off. When the ganache had cooled and solidified, I scooped out and rolled… about 180 truffles. That was a lot. I would have been happy with 90, but that's what happens when the brain goes on momentary vacay. That was day 1.
On day 2, I prepared myself to enrobe the truffles. Enrobing is something I really dread because I am not a temper master and I hate to ruin a temper when using good chocolate. I was out of Callebaut, but I always have an emergency stash of Valrhona (I mean, I don't now, but I'm going out to replenish it shortly). In general, it is really hard to work with less than one pound of chocolate when tempering. The more chocolate you have, the better the heat capacity.

1.5 pounds of Valrhona (1 pound 64% and .5 pound 70%)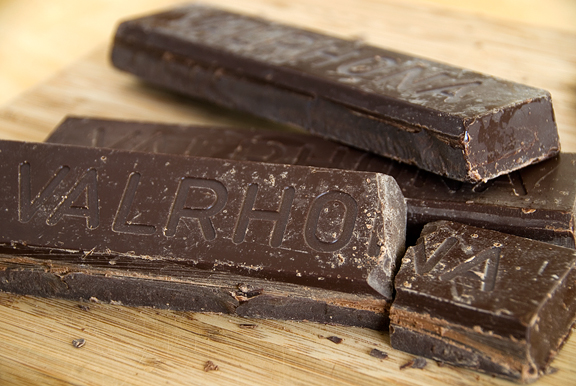 chop chop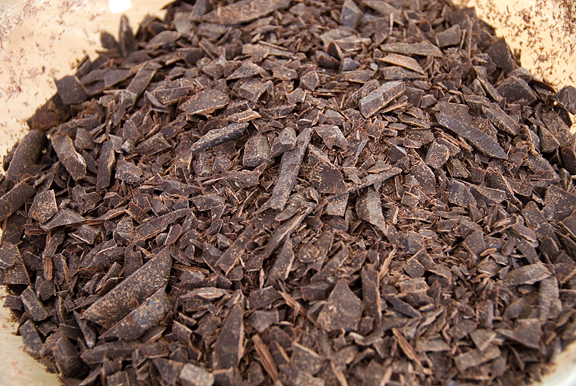 Tempering chocolate is maddening and I'm not going to go into all of the details and ins and outs because I am not an expert. I have about a 50% success rate with tempering chocolate and this time was no exception. There are better tutorials out there if you want to know how to do it right. I personally like the seeding method because it's easier and because I need all the help I can get. I melted the chocolate over a water bath and removed it from the bath the moment the temperature reached 118°F. Take care to never ever never ever NEVER let a drop of water touch your chocolate. It will seize, it will not temper, and you will have to start over again with new chocolate. I set my bowl over ice packs and stir it (trying not to introduce air bubbles) while watching the temperature drop.
bring it to 95°F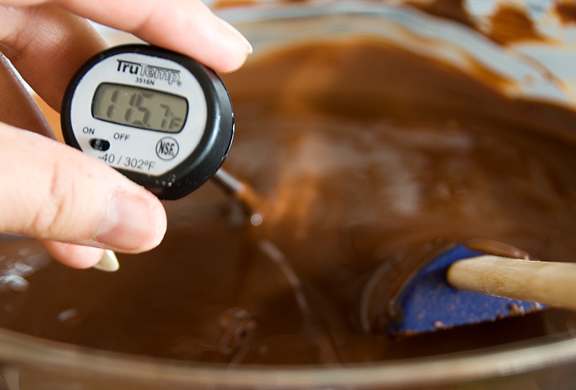 seed it with tempered pieces of the original chocolate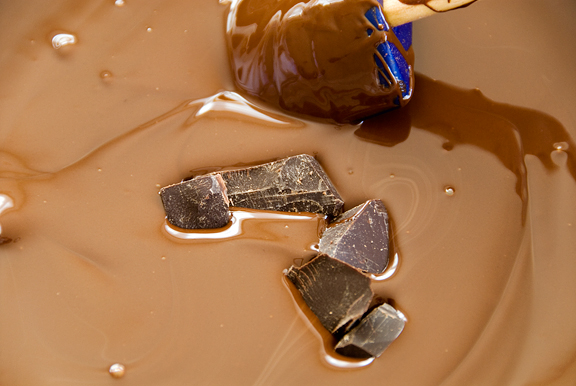 When the temperature reaches 95°F, it is time to seed the chocolate by tossing in a few pieces of tempered chocolate. The compound chocolate you started with is tempered (I reserve a few large pieces for seeding). At this point, stir and agitate the melted chocolate down to 89-91°F. The agitation is important to promote beta crystal formation. Don't ask, just do it. When the chocolate reaches that target range, you can do a test swatch and dip the back of a spoon in the chocolate and let it cool. When it cools, if it is shiny – it's in temper. If it's streaked, gray, grainy – it's not in temper. With chocolate in temper, I will start to enrobe the ganache (at room temperature is best to avoid cracking).
enrobing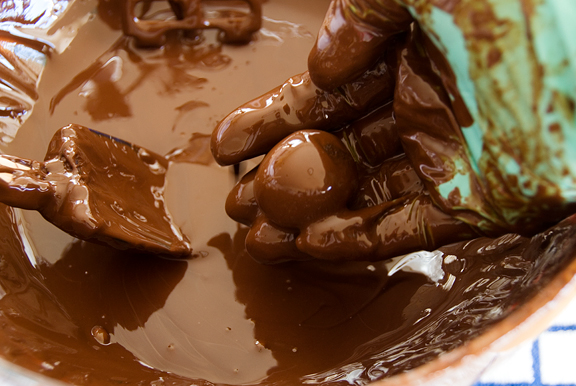 cooling on silpat (or use parchment)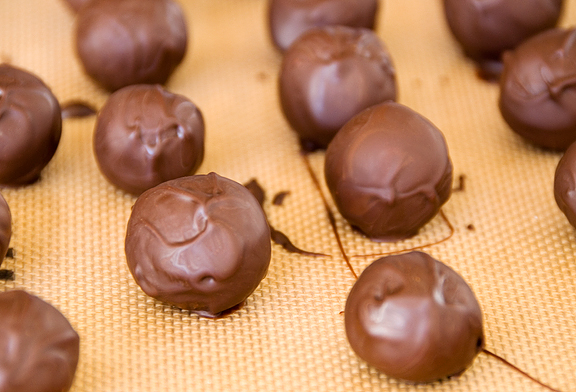 You need to work quickly. I dump three ganache balls into the chocolate (don't add too many or else the temperature of the chocolate will drop too quickly). I grab the first and make sure it is coated completely, then shake out excess chocolate by hitting my hand against the side of the bowl. I roll it onto a silpat (next time I'm using parchment) and then repeat with the other two while replacing each truffle that is removed with a new ganache ball (using my other hand). It's messy. And while all of that is going on and chocolate is flying around, you need to continue to monitor the temperature of the chocolate. My digital thermometer dropped into the chocolate FOUR TIMES. So annoying. When the temperature begins to drop too low, I set the bowl over a pot of warm water. If the water is too hot, I will layer some towels in between the pot and the bowl or just remove the bowl from the pot. There is much to keep track of and it is especially stressful when your hands are covered in chocolate and the dog is just waiting for something to drop on the ground.
My first 90 truffles were in temper. Then I began to lose the temper and you could see it in the streaky chocolate coating. Some of my truffles had cracked, probably because they were too cold. My pastry chef had told us to double coat truffles, which I did for about 1/3 of them. If you double coat, you need to let the first coat dry and harden completely before enrobing a second time. I had already decided to luster dust my truffles for some color, but I also realized that luster dust is a semi-effective way to hide bad temper chocolate. Sort of. I chose the raspberry luster dust, although midnight blue would have been beautiful too, no? Just remember to apply the luster dust after the chocolate is *completely* dry.

use a paintbrush, or if you have one (i don't) a makeup brush to apply luster dust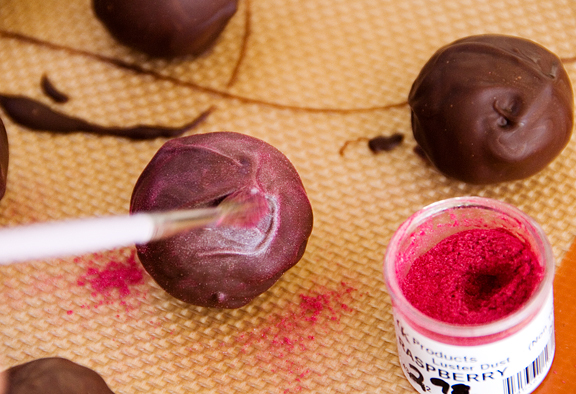 some extra decoration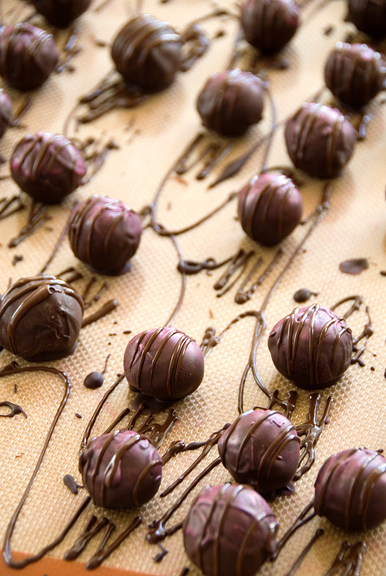 If you like to add the little lines of chocolate decoration on top, you need that chocolate to be in temper too. I pipe it out through a teeny hole in a disposable piping bag (parchment cones are *great* too). For the stripes, it looks best to sweep your piping tip past the truffle. A lot of beginners just squiggle back and forth on the truffle and it looks… not so good. Try it. You'll see what I mean. It makes a bloody mess, but in the end you get a nice finished product. While enrobing is a lot of work, I have to say there is something especially lovely about them compared to rolled or dusted truffles. And that extra special something is conveyed to the recipients too.
put a smile on someone's face
Chocolate Truffles
[print recipe]
1 lb. good quality dark chocolate
1 cup heavy cream
2-4 tbsps Grand Marnier (optional, to taste)
Fine chop the chocolate and place in a medium bowl. Heat the cream until it begins to boil. Remove from heat and pour the cream over the chocolate. Let sit for a minute (make sure all chocolate is covered by the cream). Stir the chocolate and cream together until velvety and smooth. Stir in Grand Marnier. Let the ganache cool until solid. Scoop out teaspoon-size balls of ganache and roll into a ball. Roll in cocoa powder, powdered sugar, nuts, crushed candy, or enrobe in tempered chocolate (if enrobing, you will want a pound of chocolate for the tempering and double enrobing may be necessary if cracking occurs on the first shell). I also like this method.