Recipe: chocolate caramels
First off: that puppy is not mine. She belongs to my friend's new beau. Her name is Sonora (I like dogs named after geological provinces or features) and she is 100% mutt.
Second: My shoulder and neck issues are more or less under control now, thanks! I gave up on the marathon coding sessions and now take breaks every couple of hours – which is great because I have resumed my 1-2 hours of cardio and that makes me uber happy. In addition, it is a great excuse to get back to some baking and cooking. Oh, and I ice my shoulder a couple of times a day and that reduces the inflammation. Heat always seems to aggravate the pain.
To the topic at hand: Fellow food bloggers have often wondered aloud (or on their posts) why they bother spending hours writing up entries if people don't bother reading them? How do they know that some folks don't read the entry? It's pretty obvious from the content of certain comments. I am not all that concerned with whether or not people read my posts in their entirety or at all for that matter. It's cool. I understand that some folks just like to browse the pictures (and if you're a Daring Baker, who the hell has the time to read over 1000 entries describing the SAME recipe?) If someone wants to comment without having read the post, then that's fine, although I might get a tad snarky in my reply if I'm running low on patience.
No, what really puzzles me about the whole thing is this: when it seems obvious to us bloggers that someone hasn't read the post, is it really an issue of not having read the words or is it an issue of not understanding what they read? What it boils down to is: are those people lazy or reading comprehension-challenged? I suppose the problem with posing this question in the body of a post is that the reading comprehension-challenged won't understand it, and the lazy won't have read it.

what is this? caramelizing sugar again?!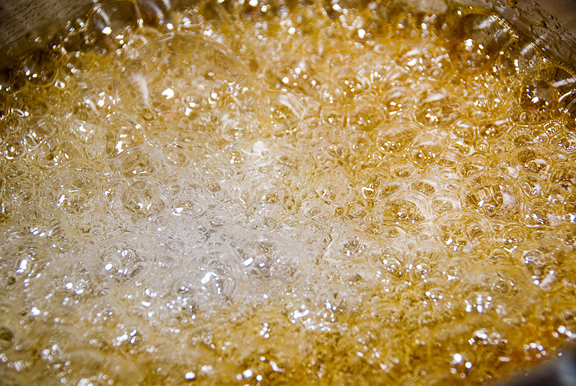 I've stated in the past that candymaking makes me cuss like nothing else, and yet, I keep coming back to it like some pathetic crack addict. Why? I'm a fan of fun #2 (i.e. suffering)… and because there is a little joy to be had – that feeling of satisfaction if it should work out, if I should be victorious.
pouring caramel over chopped bittersweet chocolate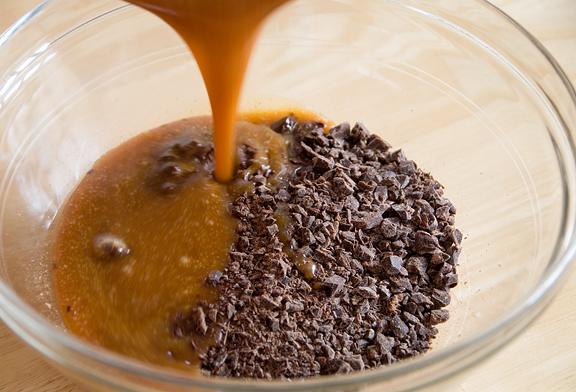 But really, what else is easier to distribute to people you like than candy (okay, maybe cookies)? I mean, I can't walk around handing out salads or cream of broccoli soup or slices of pork tenderloin roast… but candy – hell yes! And people on the whole love candy.
let it set up in a pan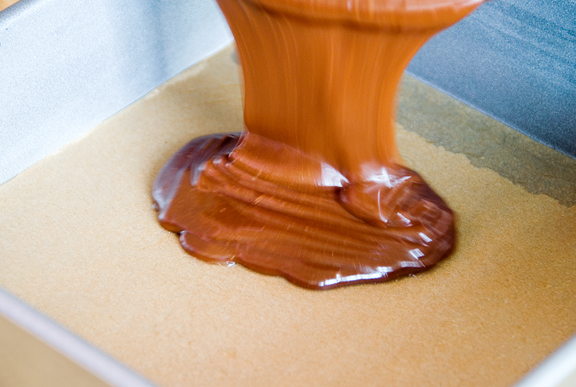 When I took a pastry skills class in 2007, we had a session devoted to candies. I was glad to have some guidance for candy making at high altitude, but more than that, it was good to give me a little confidence boost to attempt these on my own. I am not a candy person, per se. I'll take a grilled cheese sandwich over chocolate any day, but if there is a candy that I love, it would have to be chocolate caramels. I happen to have a recipe from my class, so I made some the other day.
cutting the very soft caramel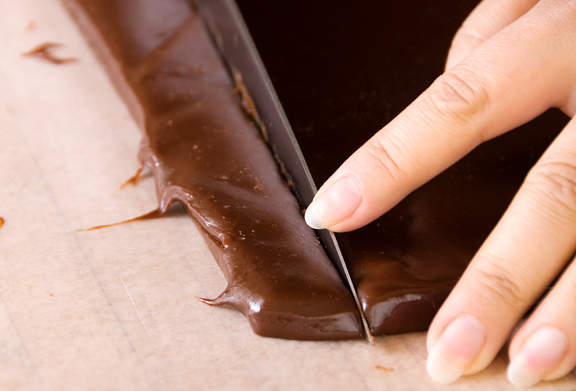 I recalled that the caramels we made in class were soft, gooey. My intention was to slice them up and wrap them the way I did with the
vanilla bean caramels
. However, after a day of letting them set in the pan, I came to the conclusion that these would not be remotely well-behaved (far far too sticky and oozy). [That may also be because a small fraction of the caramel stuck to the pan when I poured it onto the chopped chocolate – because I was photographing the step…] So instead of wrapping a gazillion little caramels in wax paper – a task in and of itself, I resigned myself to the only honorable thing to do: enrobe the caramels in tempered chocolate.
they went from spheres to domes in seconds
Remember when I
enrobed truffles
over the holidays and said you had to work quickly? Well, you have to work three times faster on these suckers, because they hold their shape for all of two seconds – if that. I had to pick up each caramel, roll it into a ball, enrobe it, and slap it down on parchment before it oozed through my fingers, taking care to keep the caramel encased in the chocolate. It was more runny than I would like to have dealt with.
oozy blob shapes – i call it the handcrafted look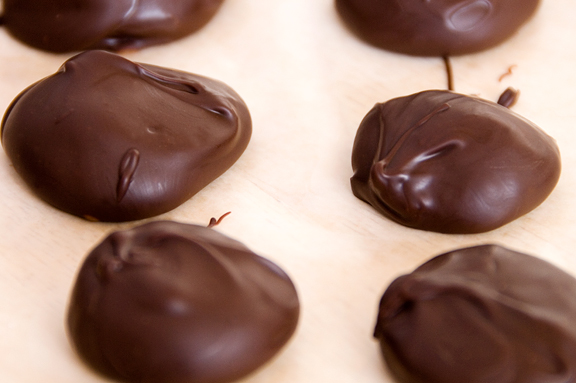 Chocolate was flying,
flying
I tell you! When all of my caramels were enrobed, I could see that the first half was in perfect temper, and the last half was out of temper. The tempered pieces hardened in no time and looked so shiny and pretty. The others were still wet, took forever to dry, and when they DID dry, they were streaked. If I enrobe candies more than three times a year, I will consider investing in a chocolate tempering thingy because my chocolate drops out of that 89-91°F range and it's game over.
oh so worth the trouble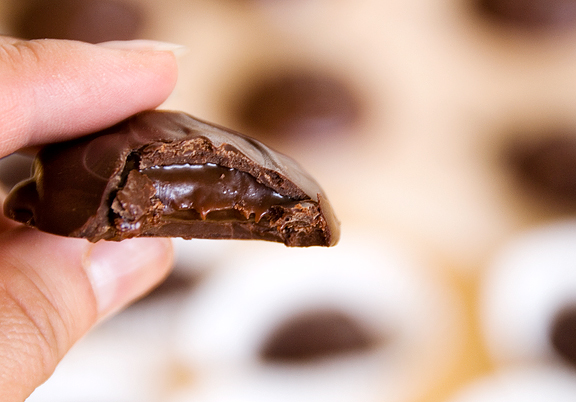 After cleaning chocolate off the table, the rug, the chair, my apron, my sleeve, and even my forearm (under my sleeve!), I tried one of the caramels. The taste was very satisfying, but more than that, the smooth and oozy caramel is perfectly delivered in a crisp, delicate shell of good dark chocolate.
the beauty of insanity
Chocolate Caramels
[print recipe]
from CSR pastry skills course
6 oz. bittersweet chocolate, finely chopped
7 oz. granulated sugar
7 oz. heavy cream
7 oz. light corn syrup
1/4 tsp salt
Line the bottom of an 8×8″ baking pan wiht parchment paper and lightly grease it with a flavorless vegetable oil. Place the chopped chocolate in a large bowl and set aside. Combine the sugar, corn syrup, and salt in a medium saucepan (3 quart was just right for me). Cover and bring mixture to a boil. When steam comes out from under the lid, remove the lid. Heat the cream gently until hot in a separate pot. Cook the sugar until the mixture reaches an amber color (mine turns amber at the edges first – so I usually consider it "amber" when the center just begins to turn golden as the rest will be fairly dark). CAREFULLY pour the hot cream into the caramel (don't pour too much at once or it will overflow and splatter). Remove from heat and until emulsified. Immediately pour the caramel over the chopped chocolate. Let sit for 3 minutes. Stir until smooth, but don't use a whisk because you don't want to incorporate air. Pour the contents into the prepared pan and smooth it out and let cool about 8 hours or overnight – until solid. Invert the caramels onto a cutting board (I invert it onto wax paper) and peel off the parchment paper. Cut into 1-inch squares. Mold into shape if soft enough. Dip squares into tempered chocolate and put on parchment to set up. Store in a cool dry place, not in the refrigerator.