Recipe: chocolate macarons
My overhauled website is up! The gallery is not up. That will probably have to wait until after Chinese New Year because I am a paranoid Good Chinese Daughter. If you happen to find errors or broken links, please let me know via email. I got tired of proof-reading it after several hours. Sometimes I think I should just shut up.
I looked across to the Continental Divide this morning when I let Kaweah out into the yard. Cooler weather is coming back. There is a formidable bank of dark, angry clouds sitting over the mountains, screaming past overhead. The winds are up. They sound and feel violent. I love weather.
Just yesterday I was skiing in a short-sleeve shirt and a thin, hard-shell jacket, gliding down the mountain with my ladies in the sunshine. It was 50°F. Too hot for goggles, I pulled out my sunnies. Felt like spring. But anytime is a good time to offer your friends a box of chocolate macarons. Nothing works up your appetite like a morning of tele, and these betties earned it.

i am in love with dutch-process cocoa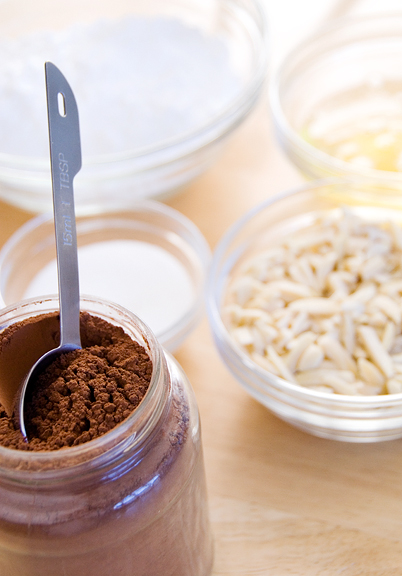 I had cut my teeth on
pistachio macarons
last month under the unwavering guidance of beloved
Tartelette
. I think she is one of the best human beings on this Earth. Obviously, I had issues of my own to work out at my elevation, but managed a decent first attempt (or second attempt as the first ones were hollow).
ready to grind into a fine meal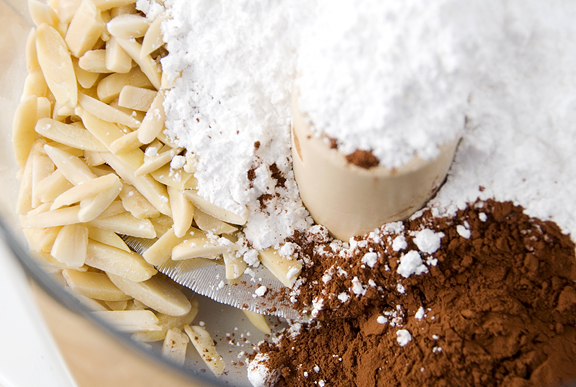 The reason I chose pistachio was because I *love* pistachio and it had a festive feel for December. But I knew there was no avoiding the next step… chocolate macarons. Because everyone I know is crazy for chocolate. I can hear Vader's voice now, "Luke, it is your destiny." And so it was. But not quite.
meringue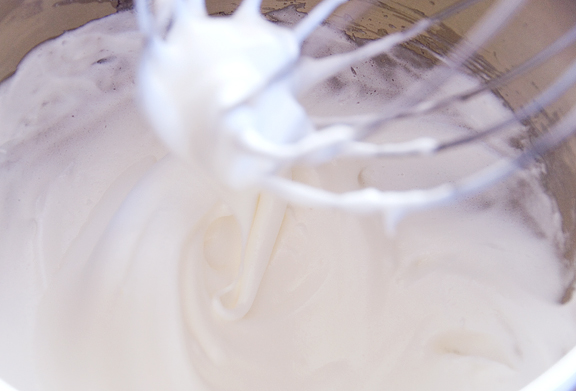 I went in search of a chocolate macaron recipe at
Tartelette's
place first, then wandered over to
Mr. Lebovitz' site
. Wow, he had done a lot of research. So I gave it a try and my macarons came out with the texture of… what do they call it? Rocks. I know it's not David, it's me and my blasted altitude.
the crux: macaronage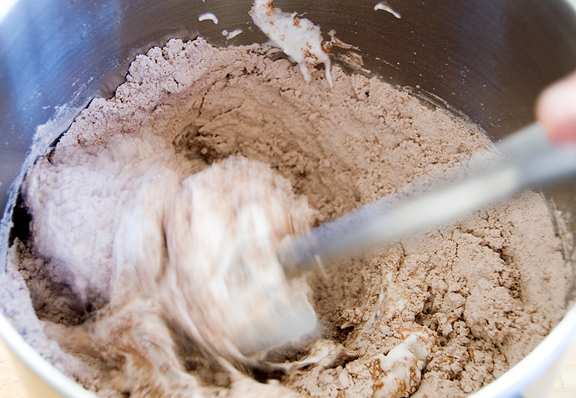 Whimpering to my dear friend, I asked Helen if she had a chocolate mac recipe for me to screw up. She sent me to her
snickers macarons
recipe which I easily turned into chocolate macs, substituting almonds for the peanuts. And you know what? It worked. I heart Helen.
pipe the precious goodness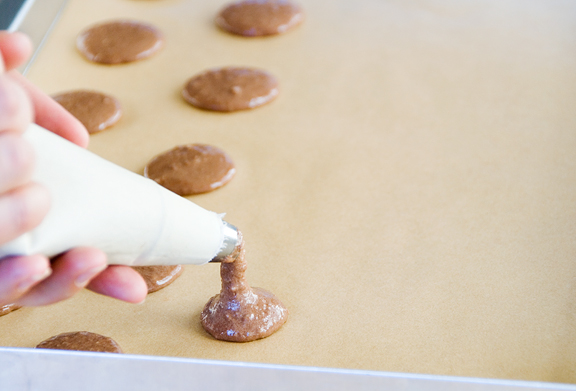 Consider my failures to be research in high-altitude baking. While Helen suggests letting the disks of batter sit for an hour, mine needed only 30 minutes. I know that is in large part because of the discrepancy in her humidity (are you kidding me? Charleston, South Carolina? I have to wring out the emails she sends me because they are so damp) and our dryness in the Rockies. And I inadvertently made a few other discoveries.
dang!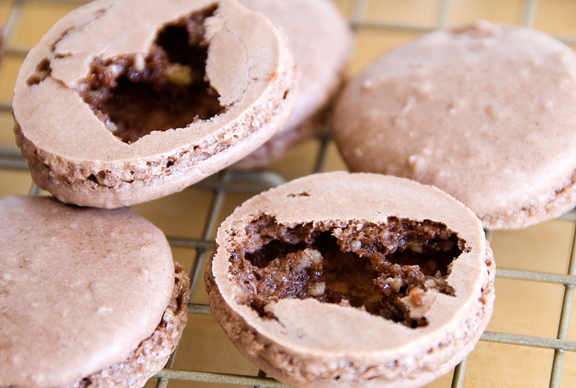 It wasn't rainbows and lollipops from the get go. My first batch had several stickers, as in, their innards stuck to the parchment and disemboweled themselves. Unsightly. Seems that every time I make macarons, I make them twice. First to learn and second to fix. The second batch was better and the difference was that I used dark baking sheets instead of my silver baking sheets (and this was only because I was too lazy to wash the silver ones for reuse – ha ha!)
more like it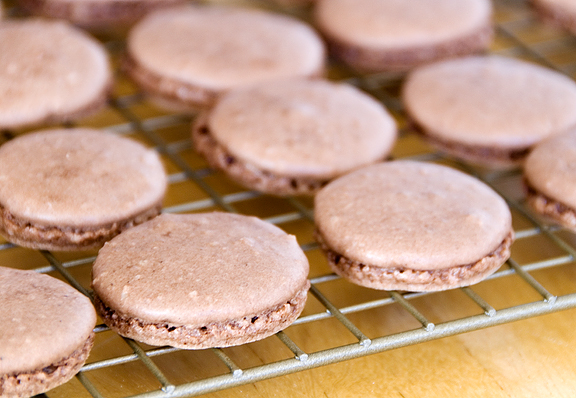 I had leftover chocolate espresso buttercream and espresso ganache from the birthday cake I made last week. They both work beautifully with the chocolate macarons. You should have seen the faces of everyone who tried one. Worth every bit of effort.
i think i have found the perfect gift
Chocolate Macarons
[print recipe]
slightly modified from Tartelette
110 g blanched almonds
200 g minus 2 tbsps powdered sugar
2 tbsps cocoa powder (I used Dutch process)
3 egg whites (about 100 g), aged a day, room temperature*
50 g sugar
1 cup espresso ganache or chocolate espresso buttercream
*Helen said I could use egg whites that have been in the refrigerator for 2-3 days or longer and I've used some as old as 4-5 days with equally good results. Just be sure to bring them to room temperature.
Pulse the almonds in a food processor until finely ground. Add the powdered sugar and cocoa powder and pulse until well-blended. Whip the egg whites until foamy and gradually add the granulated sugar while whipping until a shiny meringue forms (but not too dry). Add the almond mixture to the meringue and quickly incorporate the mixture into the meringue while taking care not to overbeat. You want to achieve a batter that flows and "ribbons" for at least 5 seconds. Pour the batter into a piping bag fitted with a large plain piping tip (Ateco 809 or 807) and pipe small rounds onto a baking sheet (Note to myself: use the darker baking sheets) lined with parchment paper. The rounds should be about 1 1/2 inches in diameter and at least an inch apart.
Sea-level: Let the macarons sit out for an hour to develop a hard shell. Preheat oven to 300°F. Bake for 8-10 minutes, depending on size.
@8500 ft. (and my low humidity): Let macarons sit out for 30-40 minutes until a hard shell develops. Preheat oven to 325°F. Bake for 14 minutes depending on size.
Let cool. Remove from parchment paper. Pipe chocolate ganache or buttercream onto a macaron and sandwich with a second macaron. Makes about 24.
chocolate espresso buttercream
adapted from Death by Chocolate by Marcel Desaulniers
8 oz. semisweet chocolate, chopped
2 oz. unsweetened chocolate, chopped
2 tsps instant espresso powder
1 lb. unsalted butter, room temperature
5 egg whites
1 cup granulated sugar
Heat 1 inch of water in the bottom half of a double boiler over medium heat. Place 8 ounces semisweet chocolate, 2 ounces unsweetened chocolate, and 2 teaspoons espresso powder in top half of double boiler. Allow to heat for 8 to 10 minutes, transfer to a stainless steel bowl and stir until smooth. Set aside until needed. Place egg whites and sugar in a Kitchenaid mixing bowl. Set bowl over 1 inch of water in a saucepan over medium heat. Whisk gently until mixture reaches 140°F. Remove from heat and set on Kitchenaid mixer with balloon whisk. Whisk on speed 4 until stiff. Turn down whip speed to 3rd and whip until cool to the touch (this takes a while – should be cooler than your hand). Change to a paddle and gradually add soft butter by tablespoon pieces. Mix to emulsify. Once desired consistency has been reached, fold in cooled chocolate until well incorporated.
espresso ganache
from Death by Chocolate by Marcel Desaulniers
1 cup heavy cream
2 tbsps unsalted butter
2 tbsps granulated sugar
8 oz. semisweet chocolate, chopped
1 tbsp instant espresso powder
Heat the heavy cream, 2 tablespoons butter, and 2 tablespoons sugar in a 2 1/2-quart saucepan over medium-high heat, stirring to dissolve the sugar. Bring the mixture to a boil. Place 8 ounces semisweet chocolate and 1 tablespoon instant espresso powder in a stainless steel bowl. Pour the boiling cream over the chocolate and espresso. Let sit for 10 minutes, then stir until smooth. Keep at room temperature until ready to use.