Recipe: pistachio ice cream
The groundhog has spoken, so to speak. Punxsutawney Phil saw his shadow and according to lore, we shall have six more weeks of winter! Just six?! I'm calling it a reprieve because I have blown (literally, figuratively) the past week of potential skiing due to my cold. Six more weeks merely takes us into mid-March, and March is when we in the beautiful state of Colorado (at least the western half – I know, I'm a mountain snob) get some of the best big dump snowfalls. Where I live, winter can start as early as September and ends sometime in May. All of the other seasons get crammed into the remaining months.

a local cousin of phil's: a marmot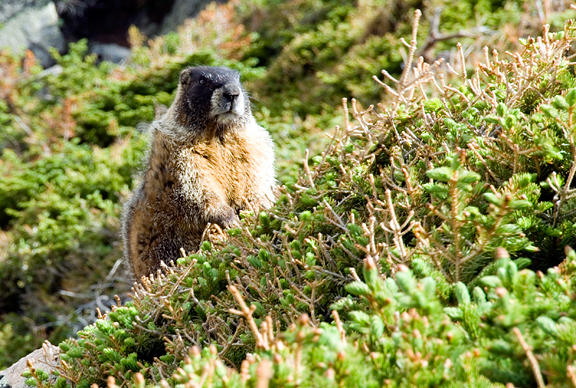 Unless I'm on my back and completely delirious or comatose, I always have to be doing something. I got quite a bit of work done including several internal issues on
urb
which means I'm now 20% less crazy! Instead of getting my ski on, we stayed home and worked this weekend which puts me in a much happier frame of mind at the start of this week. Yip!
pistachios and sugar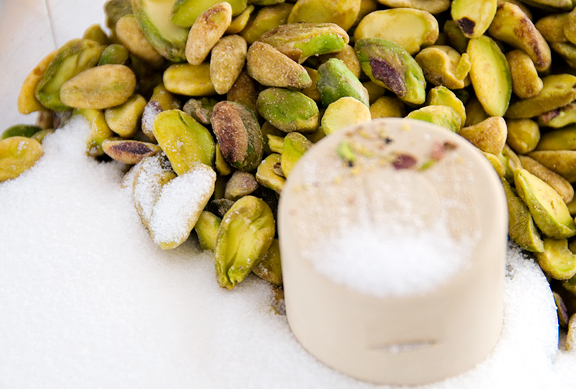 After I made the birthday cake for my friend's 50th a few weeks ago, I had a ton of egg yolks left in my refrigerator. I had been wanting to make pistachio ice cream ever since I got
David Lebovitz'
ice cream bible (
TPS
, don't you know). After I had a try at the
coffee
,
chocolate
,
matcha green tea
, and
vanilla
ice creams, I flipped through the lovely pages in search of pistachio ice cream and found… nada, tostada.
grind into a fine green goodness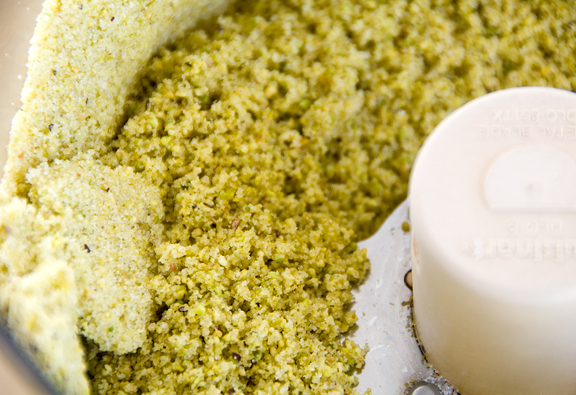 Rather than lobotomizing one of DL's ice cream recipes, I went searching online and settled on a recipe from
Epicurious.com
. I didn't really follow the instructions and it still worked out! For instance, I ground the pistachios with all of the sugar instead of just 1/4 cup, but it doesn't affect the custard, really. That was just me not reading carefully. Well actually, that was me making and shooting three recipes in parallel – something I hope not to do again for a long, long time.
adding the sugar-pistachio mixture to the milk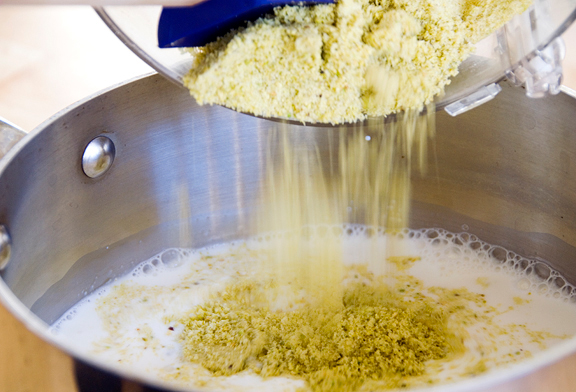 I was a little puzzled about adding almond extract to hot milk and then heating it again during the custard stage. I was always told that extracts and liqueurs should not be heated or they might boil off. The almond extract was stirred in at the very last stage before pouring everything into the ice cream maker.
whisking the hot milk mix into the yolks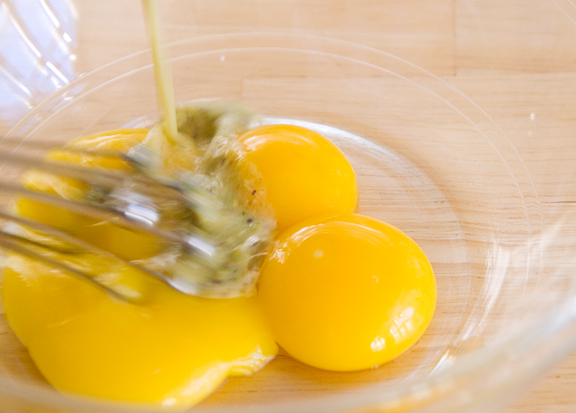 The other odd bit about the recipe was that the ground pistachios are cooked into the custard and then the custard is supposed to be strained. The reason for straining the custard is a good one: to get rid of the cooked egg bits so that you have a nice and smooth ice cream. I suspected I would encounter a problem with the straining because of all the pistachio bits, so I used the sieve with the coarsest mesh and still managed to capture about an ounce of ground pistachios. Dang. I hate waste. Maybe "finely grind" means "grind the hell out of"?
pour cream into the custard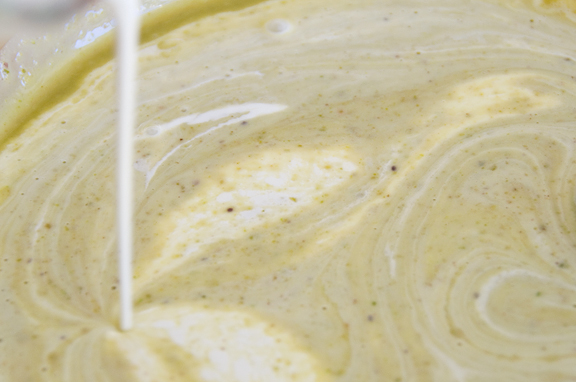 The last step was to stir in chopped pistachios. I hesitated because I quite like a smooth ice cream, but decided to go ahead and add the nuts. These were chopped a little finer than the coarse chop the recipe suggested – sort of a compromise.
stir in some chopped pistachios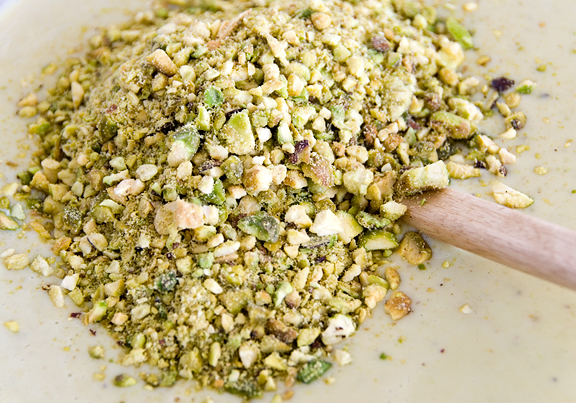 While some recipes I found called for green food coloring, I didn't need any because the pistachios impart a beautiful green shade to the ice cream. The flavor is decidedly pistachio with some almond overtones – very nutty and a hint of bitter which I think might be from the skins because I didn't bother skinning them. Maybe next time I'll go to the trouble of skinning the pistachios, but I really like the ice cream as it is.
a mini scoop on a mini cone is a huge treat
Pistachio Ice Cream
[print recipe]
from Epicurious.com
1 cup unsalted shelled pistachios
3/4 cup sugar
2 cups milk (do not use low-fat or nonfat)
1/2 tsp almond extract
4 large egg yolks
1 cup whipping cream
3/4 cup unsalted shelled pistachios, toasted, coarsely chopped
Finely grind 1 cup pistachios and 1/4 cup sugar in processor. Bring milk and ground pistachio mixture to boil in heavy large saucepan. Remove from heat. Mix in almond extract [Note: I actually think it's best to add the almond extract when everything has cooled – so I waited to add it just before putting it in the ice cream machine]. Whisk egg yolks and remaining 1/2 cup sugar in medium bowl. Gradually whisk in hot milk mixture. Return custard to saucepan. Cook over low heat until custard thickens and leaves path on back of spoon when finger is drawn across, stirring constantly, about 10 minutes (do not boil). Strain into large bowl. [Note: This is when I add the almond extract.] Chill until cold, about 2 hours. Stir 1 cup whipping cream and chopped pistachios into custard. Process mixture in ice cream maker according to manufacturer's instructions. Transfer to container and freeze.