Recipe: fried lemon slices with aioli
I am feeling particularly energized lately! So many things are converging to put me in a great frame of mind these days. My cold is kicked, the longer daylight hours are fantastic, I am making some professional inroads, tons of interactions with friends – old and new, and feeling like I can tackle just about anything. That's huge. Lots of opportunities in motion and I'm stepping ahead into new territory. Even our unbelievably warm, sunshiny days have put an extra spring in my step as I rush around keeping busy (which I love) and out of trouble.

untouched corduroy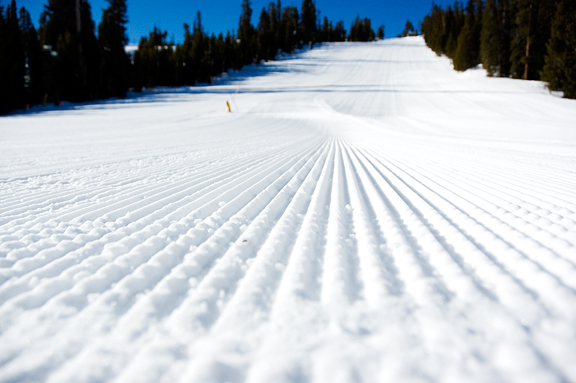 My tele class was incredible yesterday: the snow, the weather, the skiing, the ladies, the networking – all phenomenal. I smiled to myself on the lift while my buds were chatting away… just took a short moment to reflect on my life and feel good about it, about the people I love and how fortunate I am to have them in my life. Don't think for a moment that I don't wake up each morning raring to go and grateful that I am alive. What
Patricia
had to say recently about the power of positive thinking resonated with me. Do you know people who get bent out of shape over the most trivial things? Or some folks who are always victims (my friend calls them professional victims) and suck the life force right out of you? These individuals are defeated before they even get to the starting line. That is sad and not just a little pathetic. Life is hard enough as it is, why would you go and screw yourself some more? Happiness for me (and for most of the happy people I know) is making the most of what you've got and running with it. I draw inspiration from people like that and they feed my own determination and initiative. As my oncologist instructed me when he listened to my lungs and asked me to take a breath, "with gusto!" You bet.
bluebird day at the top of my favorite black run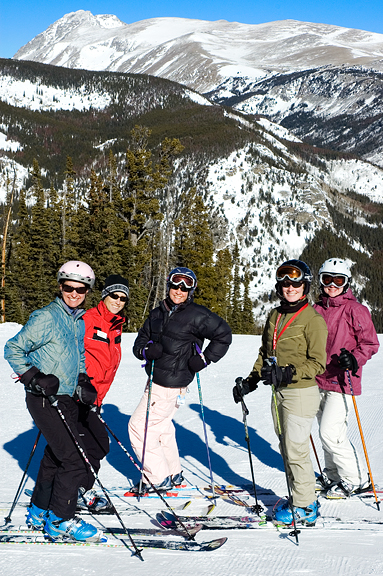 messing around on moguls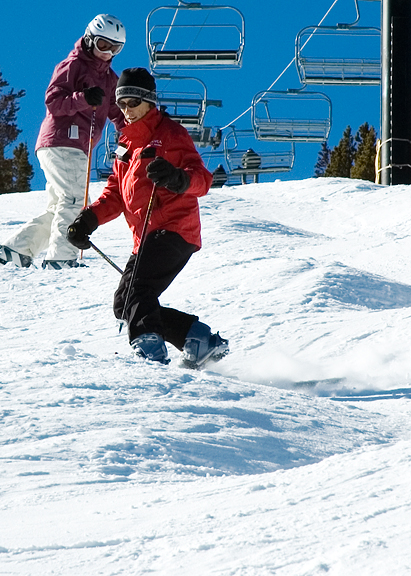 And it is with gusto that I feel it is time to share the love, what with Valentine's Day right around the corner and all. Everyone could use a little cutlery in their lives, don't you think? I know that people rave and rave about their Santoku knives all the time. I quite love my Santoku (Henckels), but I'd be lying to you if I said it was my goto knife. In fact, I goto a lot of knives depending on what the heck I'm doing.
behold, my favorite knives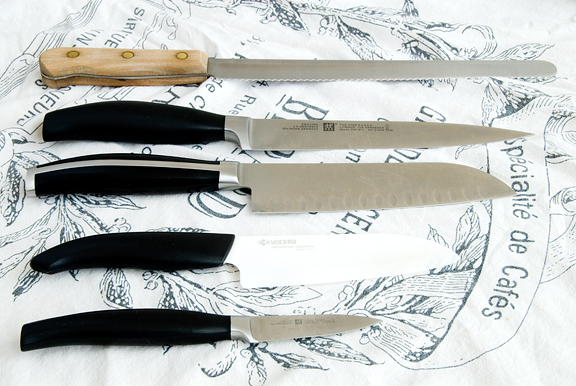 From top to bottom: 10-inch Chicago Cutlery bread knife, Henckels five-star 8-inch carver, Henckels five-star 7-inch Santoku, my baby, Henckels five-star 3-inch pairing knife. I think I reach for these knives the most. The bread knife gets the most use for pastries and specifically, cakes. The 3-inch pairing knife is an all around utility knife for peeling fruits and vegetables (I do a lot of that). The carving knife actually has an identity as a benchwarmer as I tend to use it when two other preferred knives are dirty. However, I use it when serving cakes (anything round that requires radial slicing) or other foods because its width is thin and the length is perfect for clean cuts. I don't carve much because we don't often eat large hunks of animals and I'm a lousy carver. There is likely a correlation between those two observations. My Santoku is the workhorse – heavy, strong, sharp. I slice, dice, julienne, mince, crush, chop, split with this knife on a daily basis. It is incredibly reliable and lovely. If someone were to attack me in my house, this is the knife I would grab to wound them. Those little grooved pockets on the side would keep the intruder from sticking to the Santoku blade when I pull it out to inflict yet another debilitating blow. And then there is the one… the white knife.
kyocera ceramic 5.5-inch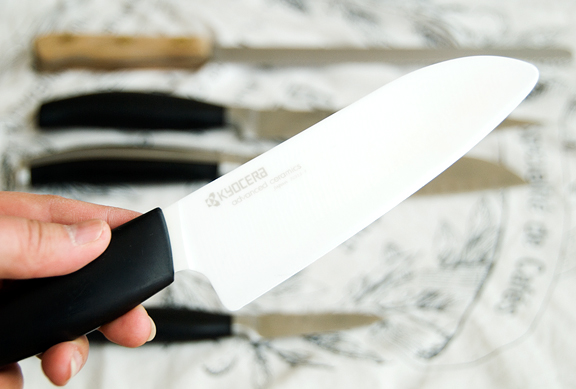 A couple of years ago, my parents bought a Kyocera ceramic knife for themselves and picked one up for me. They called me several times to find out if it had arrived and when it finally did, they told me to "slice a tomato with it!!"
Which I did
. At first I was afraid of it because it is *really* sharp. Not only is it *really* sharp, but it is brittle because it is ceramic. That means you don't bang or tap it against anything. You don't twist it or apply any amount of torque to the blade. Don't try to cut bone with it or frozen things (thawed is okay, but not frozen). Don't drop it! Don't lay it on its side and put something heavy on top of it. You don't sharpen it (you can send it back to Kyocera to be sharpened once every year or so, but I haven't yet). What you do is
love
it and slice with it…
beautifully
.
The Kyocera is not my everything knife, but since I spend hours each week slicing and dicing, I use it often. It is the nature of Chinese cooking, I dare say. I get thinner, cleaner slices than my Santoku can produce. Feels like silk when you cut through a tomato. It is an amazing tool in the kitchen. You need to have a certain amount of fear and reverence for the knife or it will cut you – and then you will be put in your proper place (that would be the ER).
With great power comes great responsibility. Who is up to the task of owning their very own 5.5-inch Kyocera Ceramic knife? I only ask because I'm willing to give one away – shipped to anywhere in the world! Kyocera isn't paying me to do this, I'm doing it out of my own pocket because this knife rocks my world and I in turn want it to rock yours… Well one of yours, anyway. Don't worry, we can afford it.

we just won't feed kaweah for 8 months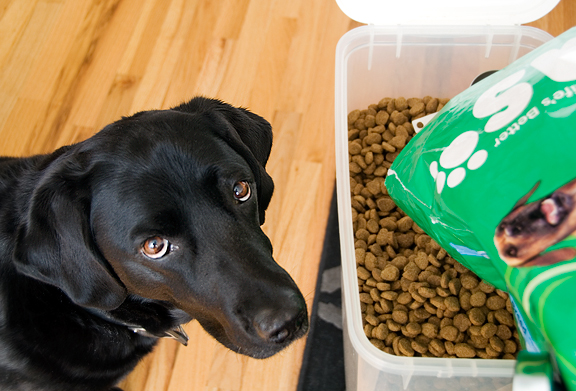 For the regular readers, you know that leaving a plain old comment isn't enough to enter a drawing on
urb
. We try to be a leeeeetle more cerebral than that.
Try
. *snort*
What makes you happy? Hopefully nothing so banal as "money" (yeah, I'm judging… it's my blog). I'm talking about something that makes you feel good about being alive, be it achievement, laughter, service, vengeance, family, a snuggy puppy, that perfect cup of coffee, a friend… You don't need to write a novel, just a thoughtful comment on one thing that makes you happy. It doesn't have to be THE thing, just ONE thing. If it's God, that's perfectly fine too, as long as we refrain from making God everyone else's thing. You have until midnight, Friday the 13th (woooo!!!!) of February (2009) to leave a comment. One person will be chosen at random and the winner shall be announced on Valentine's Day: February 14th. Who loves ya, baby?
Note: If you win and break it soon thereafter, I will personally come to your house and smack you for being such a dolt.
Other Note: You can opt out of the drawing by saying so in your comment, but from me to you, I wouldn't.

don't smash the garlic with the kyocera, smash it with the santoku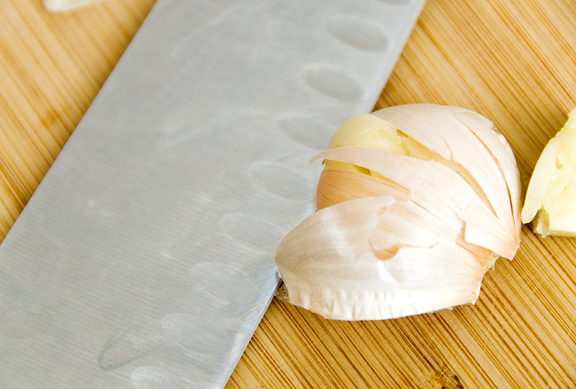 I know, I know… I just sang the praises of the Kyocera ceramic knife and here I am with the Santoku! But you see, this is how I peel garlic – particularly when I want crushed garlic. [
Kitt mentioned this
and I was all, "yeah, doesn't everyone do it that way?"] I lay the clove on the the board, place the blade of the Santoku flat on top of the clove, then set the palm of my hand on the knife with a crushing blow of force that renders the hard-to-peel skin easy to peel. It comes right out and then we do a little choppy choppy.
gather it up in a pile and pour some salt on the wounds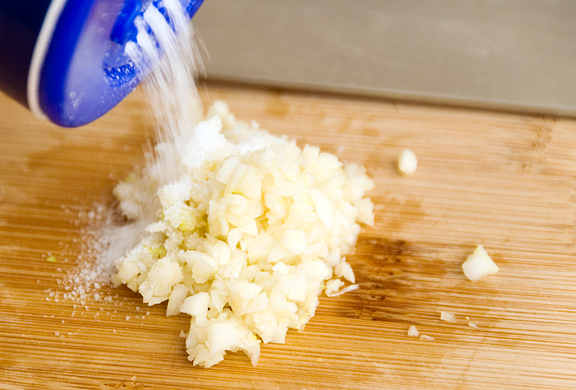 This is how I work the garlic when I want it in a paste for something like
guacamole
. I love garlic, but the chunky raw bits can be a little too assaulting. I press the salt into the garlic with the flat of my Santoku knife until it is pulverized. Yes, do not attempt this with a ceramic – you're just flirting with heartbreak (or knifebreak).
vampires beware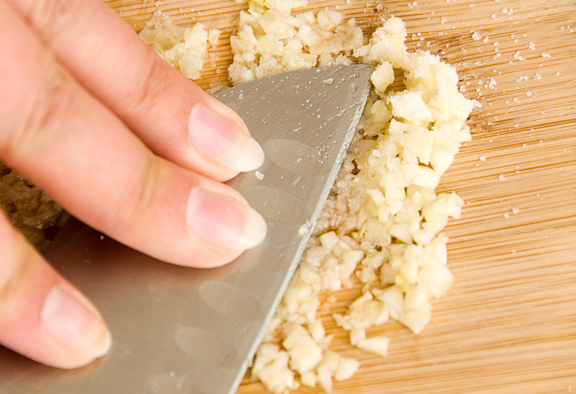 The paste is for aioli. I've always loved the stuff, but never made it myself. I remember asking my aunt years ago how she makes mayonnaise and the only thing that stuck in my mind was "eggs" and "beat the hell out of them". I was both exhausted and exhilarated after I got home from tele yesterday, but I had it in my head to make aioli and fried lemon slices like the ones I had at
Radda
last week.
beat the hell out of them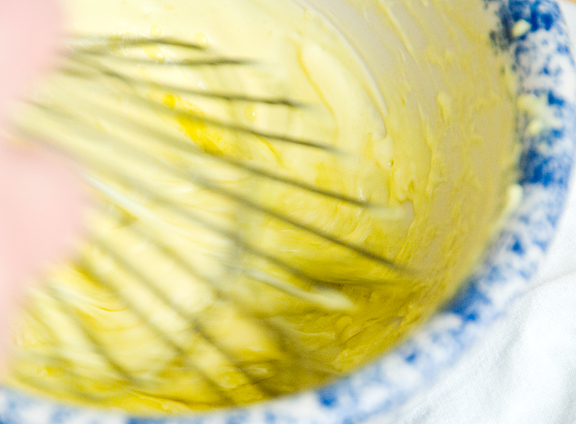 Just a little fy to the i: I started beating the egg yolks and garlic with a whisk, adding a drizzle of olive oil and all I got was a soupy mess. What? You think everything works out the first time around? With new egg yolks, I used my electric egg beater (how appropriately named) and only
a few drops
of olive oil at the start, which gave me a nice and thick consistency and then the rest of the oil helped to bring forth the fluffy, creamy volume.
the white knife makes her appearance… she always does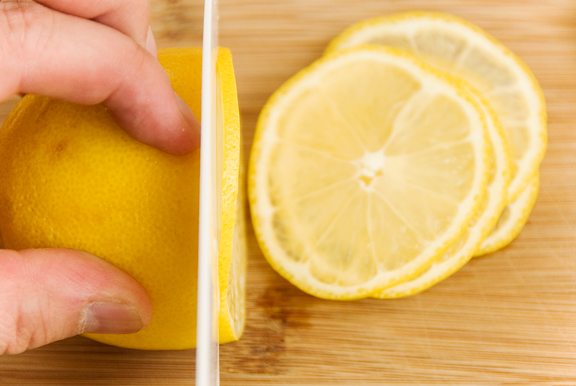 If you like lemons, this is a recipe JUST FOR YOU. I bought a juicy organic lemon with a thin rind for this experiment. You can tell it's juicy from the weight in your palm. The thin-skinned lemons tend to be smooth and yield to gentle pressure. Be sure to wash it well and pat it dry. The lemon slices should be thin, but not so thin that they fall apart because they have to form enough skeletal structure for the fried goodness.
egg bath, bread crumbs, awaiting destiny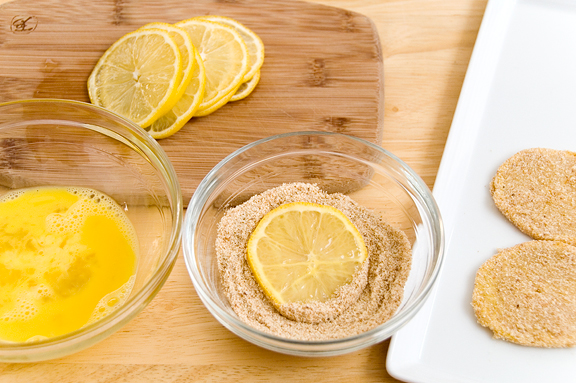 I used a simple egg bath (one egg, beat it) and some bread crumbs, although I have a sneaking suspicion that panko flakes or tempura would be fabulous. The frying started out happily enough. I had my camera ready to get a shot of beautiful lemon slices bubbling away in the oil until some juice leaked out and all hell broke loose. Well, there was much splattering of oil and I opted to put the camera away.
instead of paper towels, use a cooling rack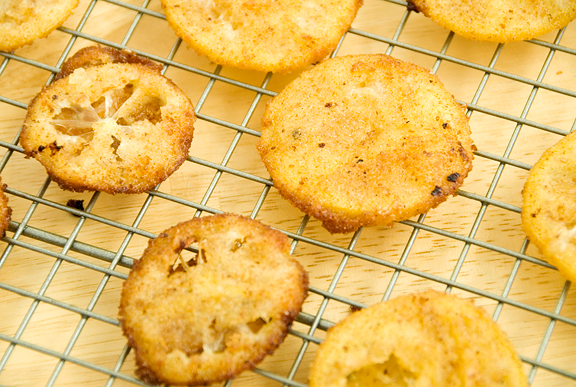 The slices are great on their own – crispy, lemony, tart. They are even more awesome with a dip in the aioli. I'll confess, I made fish tacos for dinner last night and I dropped a slice or two into each taco with a smear of aioli and I think I have found true bliss.
there is no charge for awesome
Fried Lemon Slices with Aioli
[print recipe]
1 lemon, organic and thin-skinned
1 egg, beaten
1/2 cup bread crumbs
aioli
aioli
3 cloves garlic
1/2 -1 tsp salt
2 egg yolks
3/4 cup olive oil
juice of 1 lemon
Make the aioli: Peel the garlic cloves and mince. Gather the garlic into a little pile and pour the salt over it. With the flat of a sturdy knife blade, crush the salt into the garlic until you get a nice paste. Combine the paste in a bowl with the egg yolks. Whisk or beat the egg yolks together (you can also use a food processor), adding a few drops of olive oil at the start. Keep whisking and adding a little oil until it begins to thicken. While whisking/beating, pour half of the oil into the mixture in a slow and thin stream. Add a tablespoon of lemon juice and continue whisking in the remaining oil until it reaches the desired consistency. Add more lemon juice and or salt to taste.
Fry the lemons: Slice the lemon into 1/8-inch thickness. Dip each slice into the egg, then coat in breadcrumbs. Place in hot oil (350°F) and fry for about a minute or until golden. Take care that there will be some splattering. Remove from oil and set on a rack to cool. Serve with aioli.