Recipe: pomegranate lemon panna cotta
Pom poms. I was not and could never have been a cheerleader in high school. I did not wear a skirt and bloomers in the fall. I wore a kilt and bloomers (boxers if coach let us) and shin guards and a mouth guard and I carried a big stick. I played field hockey. In college, I traded my shin guards for knee pads and played volleyball… A LOT. Indoor sixes, fours, triples, doubles, and outdoor grass doubles. It's the California way. And while I miss the burning lungs from summer smog and playing an entire tournament on half a bagel and a banana, my jogbra tan – which I thought was permanent – has finally faded away. But, I am never wanting for things to do around here.

i like bumps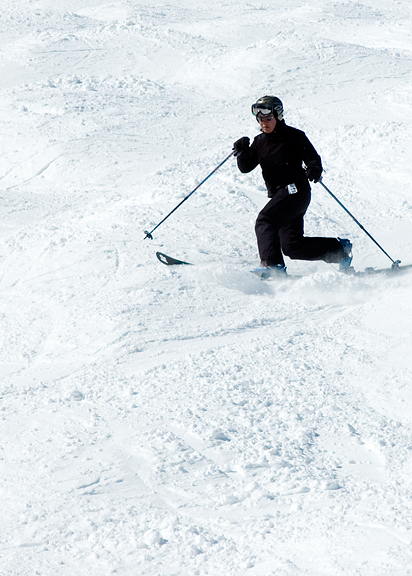 jeremy: beaming at breck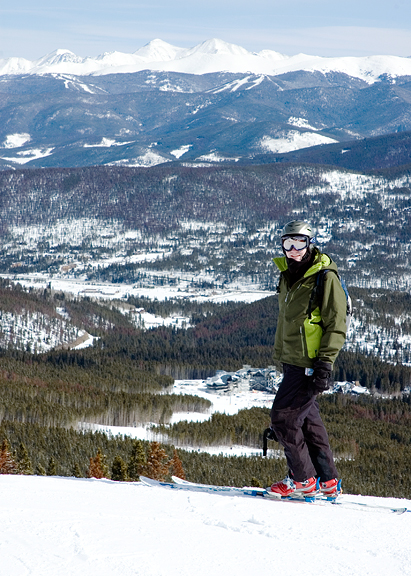 Jeremy and I worked over the long weekend (you will undoubtedly notice the slight change in format), but did take a day out to ski Breckenridge and it was fan-fricking-tastic! When we got home, we enjoyed a well-deserved treat that I had made earlier in the week with one of Jeremy's favorite fruits. Janny, of POM Wonderful, had asked me last month if I would like to sample some of her company's pomegranate juice. Absolutely. I had just purchased a 1.8 liter bottle of the stuff for the guy. Quel coinkydink.
ridiculously shaped, but very cute little bottles
I was mulling over what recipe to make with the pomegranate juice and my various ski betties suggested cocktails or reduction sauces to accompany meat as we rode the lifts up. But when I opened the box at home, I knew what I wanted to do with the tart and deep red juice. Just in case you've been living under a rock, pomegranate juice is incredibly good for you. I actually avoided it during my chemotherapy because you don't want superdoses of antioxidants to counter the effects of the chemo.
a little lemon zest
gelatin softening over lemon juice
To be honest, my original incarnation of this recipe was with lemon and passion fruit. Seeing as passion fruit is exorbitantly expensive here (I stand there fondling them every time I go to Whole Foods, but can never get past paying $2 per fruit), and the precious pomegranate juice had just arrived at my doorstep…
adding non-fat plain yogurt
pouring the lemon panna cotta into glasses
The panna cotta recipe I was using called for crème fraîche, which I didn't have on hand. I subbed plain non-fat yogurt which in my head was supposed to even out the heavy cream and whole milk (right!). Hey – you have your delusions, let me keep mine. Those phenomenal bombe molds I have worked beautifully at holding the juice glasses at the right angle. I love when things can have multiple uses. It justifies the purchase that much more for me.
pomegranate jello
I made pomegranate jello with the juice and attempted to layer it with the panna cotta. It looks pretty, but all of the waiting for things to set and pouring and tilting got a little tiresome. This is not a recipe for the impatient (I am impatient). Well, the recipe is fine for anyone if you want to do the standard dual layer deal. What I mean is if you want to make all of the tilting layers, then keep in mind that it won't be a fast assembly.
another pomegranate layer
Pomegranate juice can be sweet or tart or anywhere in between. This batch was on the tart side, so I added a teaspoon of sugar to the gelatin which was enough to enhance the flavors without making it *sweet*. It should be relatively tart because when eaten with the creamy panna cotta everything strikes that perfect balance. Jeremy thought it was perfect and I quite liked the combination – light, creamy, refreshing, a little zing from the pomegranate and yogurt. It's my new favorite panna cotta recipe.
a pretty bite
much easier
Pomegranate Lemon Panna Cotta
[print recipe]
modified from Epicurious
lemon panna cotta
5 tbsps lemon juice
2 tsps powdered unflavored gelatin
1 cup whole milk
1 cup heavy cream
1/2 cup sugar
2 tbsps lemon peel, grated
1 cup plain non-fat yogurt
1 tsp vanilla extract
Sprinkle the powdered gelatin over the lemon juice and let sit for ten minutes until softened. Combine the milk and cream in a saucepan and heat until warm. When the gelatin is softened, stir it into the milk with the sugar and stir over low heat until dissolved. Remove from heat and stir in the lemon peel, yogurt, and vanilla extract until smooth. Pour into serving glasses (only half of 3/4 way) and refrigerate.
pomegranate gelatin
2 oz. water, boiling hot
1 1/2 tsp powdered unflavored gelatin
8 oz. pomegranate juice
1 tsp sugar (optional)
Stir the gelatin and hot water together until the gelatin has dissolved. Pour the pomegranate juice and sugar (if using) into the mixture and stir. When the panna cotta has firmed (depending on size of glass, but be sure not to take it out too early) pour a layer of pomegranate gelatin over each panna cotta and let set up in refrigerator.