Recipe: crab mac and cheese
Are you feeling crabby this Valentine's Day? If so, I've got just the dish for you. But I ask you to be patient because I have a winner to announce for the Kyocera ceramic knife drawing (and some other musings)! People like to use the site random.org for their random drawings, but I have something beyond random – we call it mindless and ridiculous.

ready to do her job, naked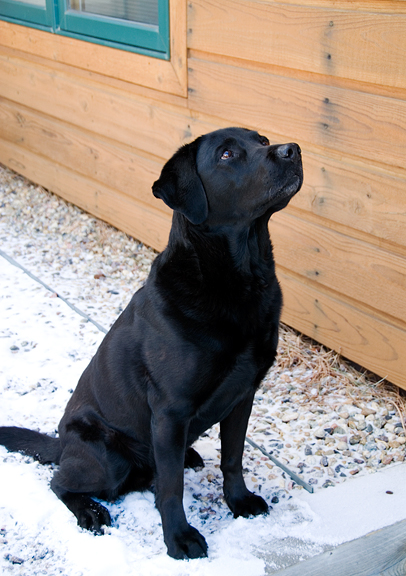 In consultation with my resident astrophysicist, someone well-versed in statistics, we agreed to place a treat inside Kaweah's Kong toy and hide it in the yard. Jeremy would time how long it took for Kaweah to find the Kong in 100ths of a second.
she canvased the yard in no time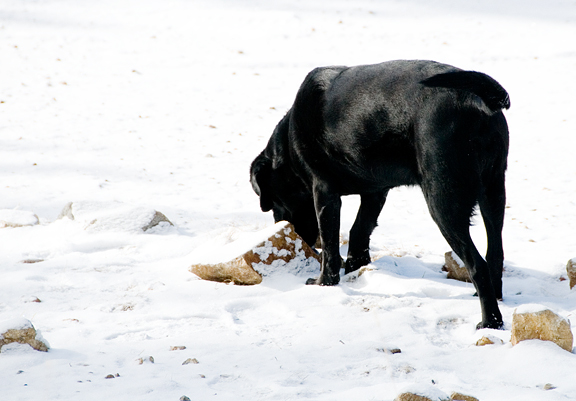 and found her kong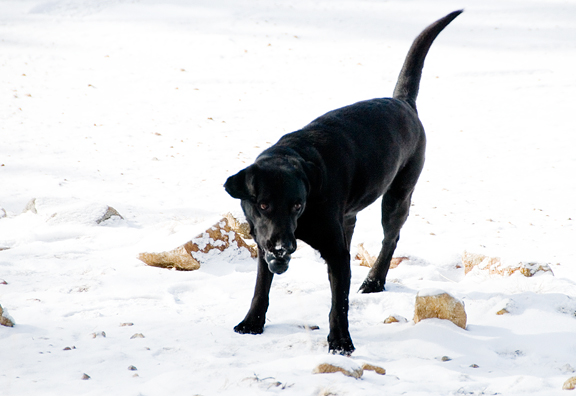 in 51.19 seconds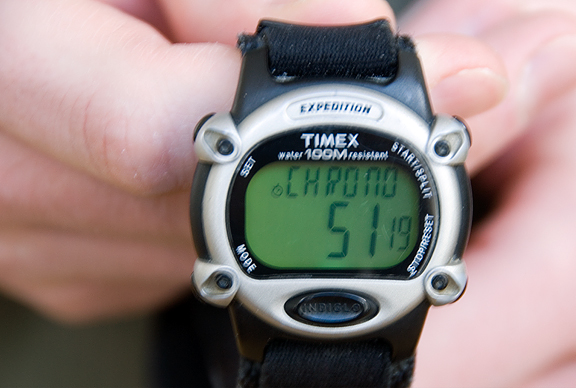 We then took the mod of 5119 by the number of entries (multiple comments were deleted except for the first instance). We had 412 legitimate entries and the mod was 175. Our 175th commenter is Adrienne who wrote:
Anything new that is not sad or unfortunate tends to make me happy, be it meeting new people, exploring new environments, investigating new creatures, cooking new things, surprises, unexpected. I'm a novelty junkie.
Congratulations, you've won the Kyocera ceramic 5.5″ knife! I will contact you via email to get your mailing address. I really appreciate so many of you sharing your "happy" with me. There were a lot of genuinely beautiful sentiments and I know I am not the only one who came away feeling the warm fuzzies after reading them. So thank you.
What makes me happy? Too many things to name, just too many. But if I had to put my finger on one thing it would have to be living. I don't mean being medically alive, I mean really living life – for whatever time I've got – and appreciating that I have this opportunity. A gentleman passed me on the slopes yesterday while I was pausing to take a picture of the scenery in the distance.

whooshing past me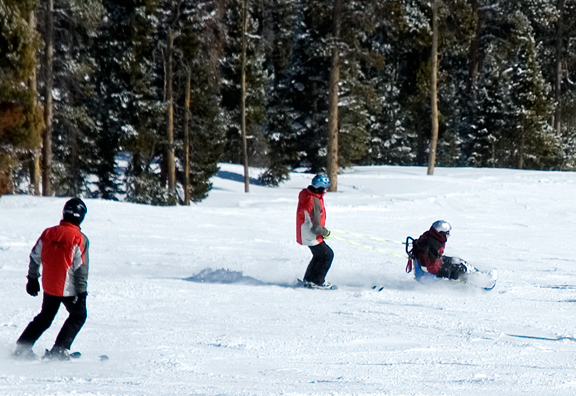 That's him in the sitting position, a paraplegic – skiing. The people with him are there in case he needs help, but this guy didn't need any help except getting on and off the lift. He was beautiful in so many ways. A reinforcement to my belief that you have to work hard to overcome obstacles and that it is worth it to do so. An inspiration because my obstacles pale in comparison to his. But there we were, skiing on a gorgeous bluebird day. I watched him glide down the mountain and I felt such a rush and love for life. Happy.
And while we're on the topic of happy, I have to share part of this very special Valentine I received today – and it wasn't from Jeremy! [Next set of photos and text: courtesy A. Kiely]

hooray! a package from jen!!!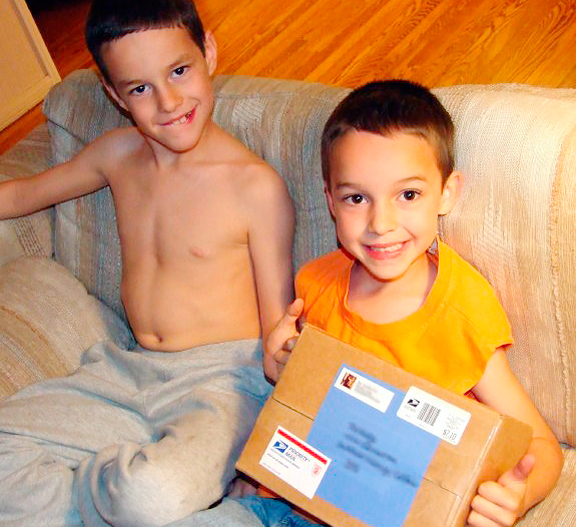 we can hardly wait!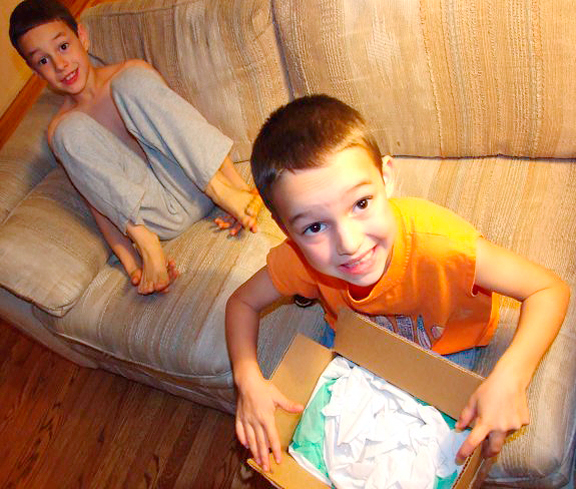 mmmmmmmmm!!!!
i can't believe jen also sent us this awesome hat!!
chomp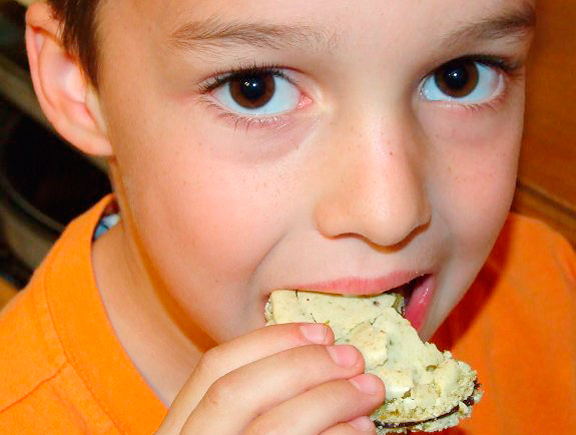 be sure to read my blog, "use real tuna"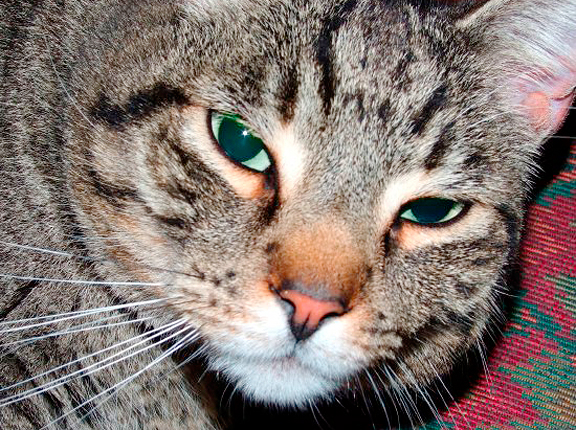 happy valentine's day from people who lack your culinary expertise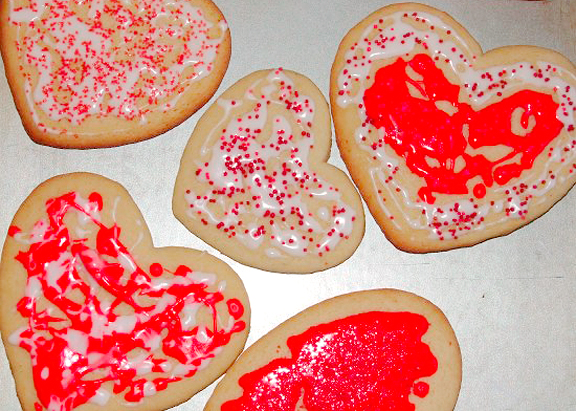 Love,
Kevin, Thomas, M, A, and Leroy (their kitty cat).
Message from Thomas:
Please send us a mile of snow. Love, Thomas.
Totally unrelated, but here is Kevin's life wish list that he dictated to me last weekend:
Kevin wishes that:
1. That when I order stuff, it would come right away.
2. That the ABC's were in a different order, with "M" much earlier.
3. That there was no wind ever.
4. That the numbers were in a different order.
5. That paper money was camouflaged, so no bad guys would see my money.
This was far and away the best Valentine I have ever received. EVAR. My friends are the most amazing parents on the planet. We have pictures of Kevin and Thomas all over my house. I love those boys (Thomas is the cutest little troublemaker). I knew Kevin before his autism diagnosis and I watched how he and his parents worked tirelessly to help him adjust to life as we know it. Kevin is a sweet boy in this crazy world that he doesn't always understand. One May evening, not long before we moved to Colorado, we were saying good-night to our friends in their front yard. Kevin was gently twirling in circles next to me on the lawn when he muttered something. I leaned close and asked what he had said. He repeated, "I sure do love you." And with that, he locked himself into my heart forever. More happy. You guys made my day, today. xxoo
As I said at the beginning, it is okay to be crabby. Grouchy? No. Crabby? Yes… especially if you put the crab in mac and cheese, which is what I did today. Just between you and me, I don't really feel that elbow macaroni and crab make good roommates, so I searched and searched for radiatore pasta and found nada. I settled on some chiocciole.

whole wheat chiocciole, white cheddar, butter, milk, crab, garlic, egg yolks
I don't make mac and cheese often, but I've made it enough times from scratch (twice) to know that I don't care for that pasty feel of too much flour in the sauce. Instead, I reduced the amount of flour and added a couple of egg yolks to give the cheese sauce a creamy and smooth custard-like texture.
whisking flour into garlic and melted butter
A paste of garlic and salt helped to give the flavor a big boost since mac and cheese is on the bland side. The garlic doesn't overpower the dish at all, but rather enhances the other flavors. When the flour and butter began to foam after a minute, I whisked in the milk and the egg yolks. If you've ever made custard, then you know you need to stir to keep the egg from cooking on the bottom and sides of the pot.
stir in the cheese
When the sauce thickened to nappe consistency (enough to coat the back of a spoon) I stirred in the shredded organic sharp white cheddar. It smelled fantastic!
folding in the crab and cooked pasta
After folding in the crab meat and pasta, I debated whether to bake it or serve it "saucy". I think you could go either way and they would both be awesome. If you decide to serve it saucy-style, then I suggest warming everything up in the pot before serving. This time, I poured the crab mac into a baking dish and sprinkled cracked wheat bread crumbs (just pulsed the toasted slices in my food processor into coarse crumbs) over the top.
sprinkle some bread crumbs on top
I used canned crab meat because I'm trying to clear out pantry space, but I think some nice lump crab meat would work beautifully in this recipe. Still, the crab mac was much better than I expected it to be on the first try – excellent. Happy Valentine's Day. Go get some lovin'.
a scoop of crab mac with sautéed kale and roasted parsnips
Crab Mac and Cheese
[print recipe]
8 oz. pasta, cooked (radiatore is my favorite shape for this dish, but penne is also nice)
2 cloves garlic, minced
1 tsp salt
4 tbsps butter
1 tbsp flour
2 cups whole milk
2 egg yolks
8 oz. cheddar cheese, shredded
1 tsp black pepper, ground
12 oz. crab meat
2-3 slices of bread, toasted (I used cracked wheat sourdough)
butter (optional)
Boil the pasta to al dente. Drain and set aside. Sprinkle salt over the minced garlic and mash into a paste with the flat of a sturdy and strong knife blade. Melt the butter and garlic paste in a large saucepan over high heat. When the garlic becomes fragrant, whisk in the flour. After a minute or so, the butter mixture should foam. Whisk in the milk and 2 egg yolks until well combined. Stir constantly over medium heat until the sauce thickens and coats the back of a spoon. Add the cheese and stir until it is melted. Season with black pepper (add more salt to taste). Remove from heat and stir in the crab meat and pasta. Pour everything into a 9×13-inch baking dish and spread evenly. Toast the bread (you can butter the bread if you like, but I chose not to) and then pulse in a food processor into coarse crumbs. Sprinkle over the crab mac. Bake at 375°F for 25 minutes. Serve hot.