Recipe: strawberry macarons
I know you weren't gone. I was, but it's like you were gone. Now that I'm back, my regular brand of crazy can resume. I haven't had a moment to really wade through my photos properly, but I have a few preliminaries to share of Yosemite and some of our visits in the bay area. You might even see some folks you will recognize.

we caught the tail end of the dogwood bloom in the valley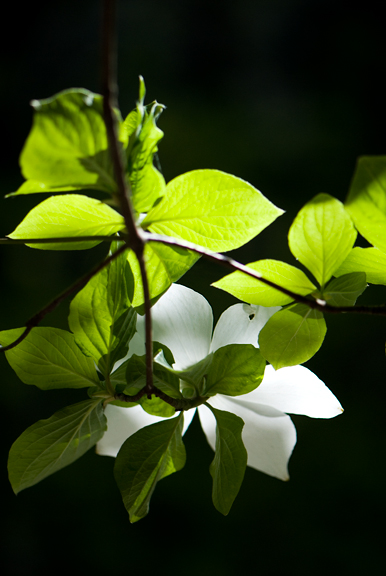 and some spectacular wildflower displays outside of the valley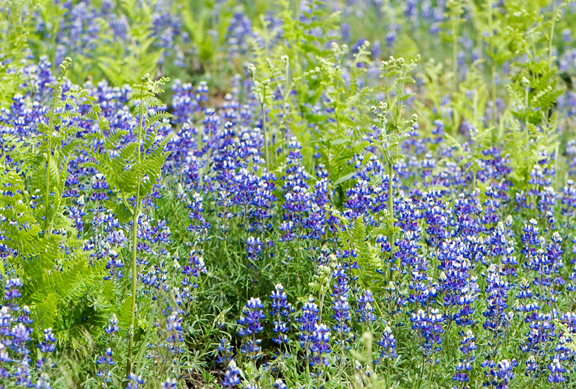 and witnessed impressive volume in the falls around the park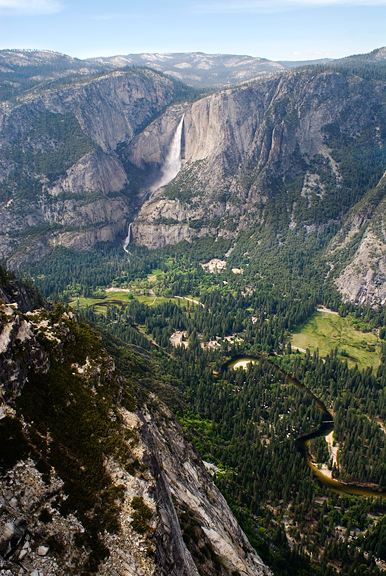 We rolled into town in time to spend a weekend with my grandma and my aunt (also visiting grandma from out of town). However, we did manage to squeeze a morning in to meet up with some of my favorite bay area food bloggers. First we did a short hike with Chuck and Hungry Bear of
Sunday Nite Dinner
near Palo Alto. And for those who (still) don't know, Chuck is the creator and overseer of
foodgawker
. I quite love the way he runs that gig because he's a real programmer who understands web interface (nothing makes me want to run screaming in the other direction more than a site that does not work). I always knew Chuck and HB were nice people and our meeting confirmed it ten times over. They're smart, genuine, kind, fun, and funny. Our time together was so short, but really great.
your secret is safe with me, hb!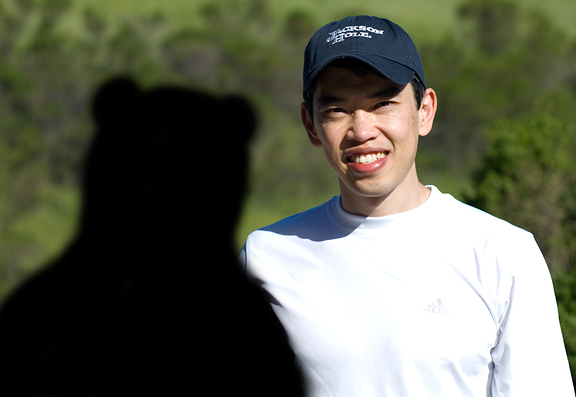 It was getting quite hot by 8:30 as Jeremy drove to
Lisa
and Mike's house. I changed in the car and we arrived just past fashionably late (had to stop and pick up flowers). Lisa was so gracious as to invite
Anita
, myself, and Jeremy to her place for "coffee" when we were trying to plan a morning meetup from Yosemite. Now as you and I know, "coffee" isn't just coffee when a food blogger says "Come over for some coffee."
lovely coffee cake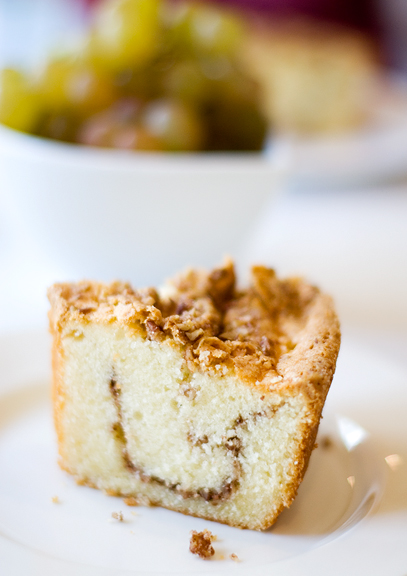 bonus: black sesame and pistachio macarons (these were going to a shower)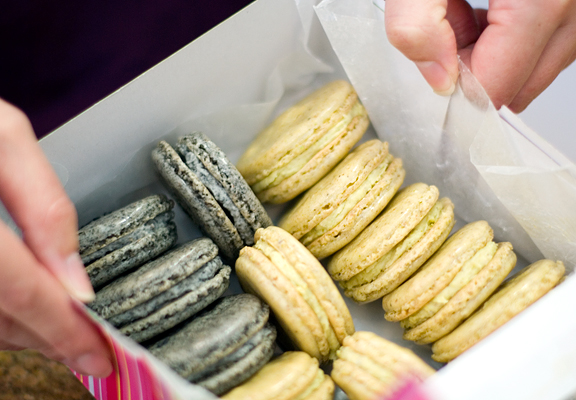 She also served some grapes and (according to Jeremy b/c I don't drink coffee) good coffee and fresh squozen orange juice. We had a lot of fun talking up the food blog gossip and latest news in our lives. I truly appreciate the unassuming attitudes of both Anita and Lisa. They are so genuinely sincere. But wait, I am forgetting the star of the show:
beautiful lucca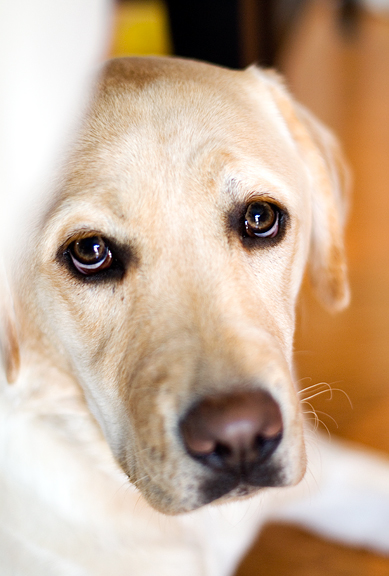 I'll be honest. I found Lisa through the Daring Bakers (before it exploded into the throngs of thousands), but the real reason I added Lisa's blog to my RSS feed at first was because she posted photos of Lucca when she was a PUPPY – an adorable, furry, chunky, yellow lab puppy! Jeremy could hear me squeal every time a new post came up. Lucca is just over a year now. She is such a sweet and good girl (as opposed to Kaweah who is a sweet girl… but not necessarily a good girl).
lisa and anita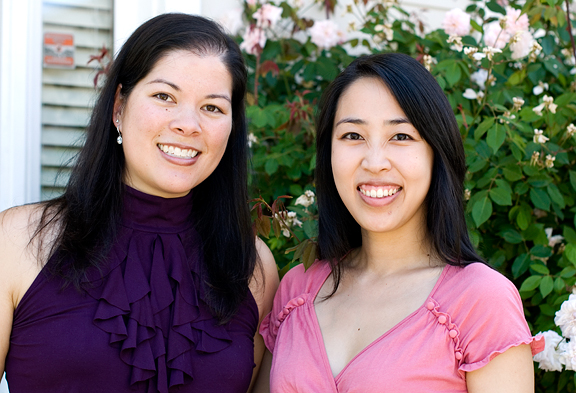 anita always has the cutest shoes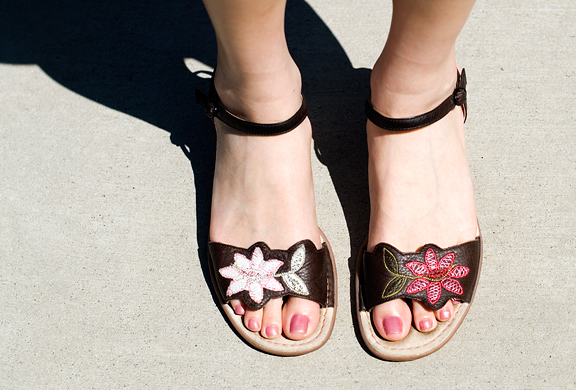 I've said it before and I continue to say it now. When I meet these food bloggers for the first time, it's as if we've met before – because we are already friends. People who don't believe that you can make true friendships online probably have shit for communication skills (or can't type). Again, the time was way too short, but I'm glad to have connected with these friends in person. Good people.
Maybe I'll talk about my visit with Grandma later. Maybe not. She's very special to me and well, sometimes words can't do her justice. She seriously kicks ass – my little 88-year old Chinese grandmother. Love her.
There *is* a recipe, although this one is short because you've seen its cousins before and I need to skidaddle. I had a lot of leftover strawberry Swiss meringue buttercream frosting from that cake and there was no way I would throw it out (that is good stuff). I tend to prefer ganache in my macarons, but I was willing to mess with some buttercream – especially when it tastes this good.

adding red-dyed sugar to the whites
I've been cautious of adding liquid to my egg whites when making macarons, so I usually whisk some coloring into the sugar and let it dry before adding. This time, I added more red coloring (because last time it was too weak) and the sugar was damp… nay, wet. It seemed to hold up just fine, but I would still hesitate to push that limit.
mixing in the almond flour
Helen
had emailed me about her strawberry macaron experiment using
ground dried strawberries
, which is brilliant (of course, it's HELEN!), but I was too lazy to even *think* about making the macarons anything but almond-flavored.
sorting the cookies by size
I hoped that the buttercream would be enough to carry the strawberry flavor through. I love that strawberry buttercream recipe. I swear by it. I had faith in it. Unlike the last batch of pistachio macarons that I tanked (the oven and I – we fought), these came out well. My OCD side actually loves the part where I sort the macs by size. I imagine Good Bakers don't have to sort by size because they have an even piping hand.
just a squirt of buttercream
I was satisfied with the end result. It was sufficiently strawberry tasting without overpowering the almond. Nice and light… all of that butter. Perhaps in the future I'll play around more with buttercreams since those are easier to flavor than the macarons. I'll have to consult with Helen when she arrives in Colorado!
my judge's entry for CLICK may 2009: cookies
Strawberry Buttercream Macarons
[print recipe]
basic macaron recipe from Tartelette
225g powdered sugar
125g almonds, blanched
25g sugar
red food coloring (about 7 drops)
100g egg whites (about 3)
Grind the almonds and powdered sugar in a food processor until finely ground. Add a drop of food coloring at a time to the granulated sugar and whisk together until evenly colored (your sugar will be darker than the final macaron). Set aside and let dry (a few minutes). In this case, it was a little wet, but it was okay. Whip egg whites until foamy, slowly add the granulated sugar and continue to whip until they are glossy. Don't overbeat the whites. Fold the almond and powdered sugar mixture into the whites with a wide spatula. The mixture should remain shiny and flow easily (hold a ribbon for ten seconds, I would say). Fill a pastry bag with the batter and pipe small rounds onto parchment lined baking sheets. Let the macarons rest for 20 minutes. Preheat the oven to 315°F (325°F at 8500 feet) and when they are ready, bake them for 12-15 minutes (12 minutes). Let cool, remove from the paper and fill with the buttercream (use about 1-2 cups). Makes 35. If making small macarons (1-inch), bake for about 10 minutes.
strawberry swiss meringue buttercream
8 oz. egg whites
16 oz. sugar
1 lb. butter, room temperature
4 oz. strawberry purée
Combine egg whites and sugar in a Kitchenaid mixing bowl. Whisk constantly over a gently simmering hot water bath until 140°F is reached. Remove from heat. Place on mixer with whisk and whip until stiff. Turn down whip speed to 3rd and whip until cool to the touch (this takes a while – should be cooler than your hand). Change to a paddle and gradually add soft butter by tablespoon pieces. Mix to emulsify. Once desired consistency has been reached, add purée and mix well. Makes about 6 cups.