Recipe: shrimp toast
I'm done processing my photos from Yosemite and I think the latter half of any shooting trip always suffers. By the end of a multi-day shoot, I'm less inclined to sit around trying to get the perfect shot and by the end of my photo processing (which proceeds chronologically) my threshold for photos to even bother processing goes way down.

foothill poppies and lupine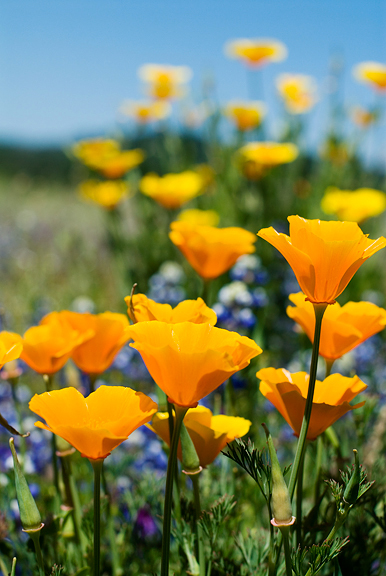 yosemite falls (upper and lower)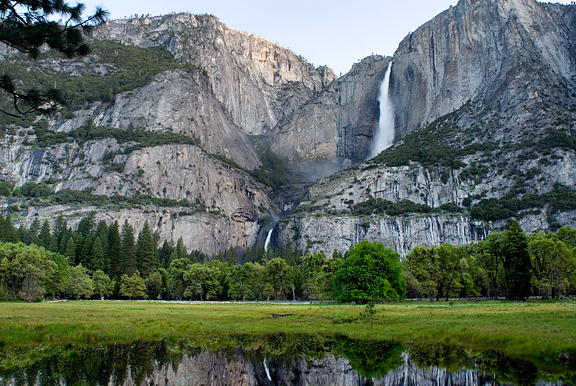 You can see selected photos from the trip on the photo blog:
waterfalls
,
flowering trees
,
Yosemite valley shots
,
foothill wildflowers
, and
wildflowers within Yosemite
. After Yosemite, we spent three days getting stuffed to the hilt on amazing Chinese food. I can't keep doing that. Next time I see Grandma, we'll have to make a deal that we only eat out once a day and nosh on fresh fruits and vegetables the rest of the time. After the third meal out, I feel as if I'm going to blow up from all the sodium intake. Of course, the menus never fail to entertain.
you can always find chinglish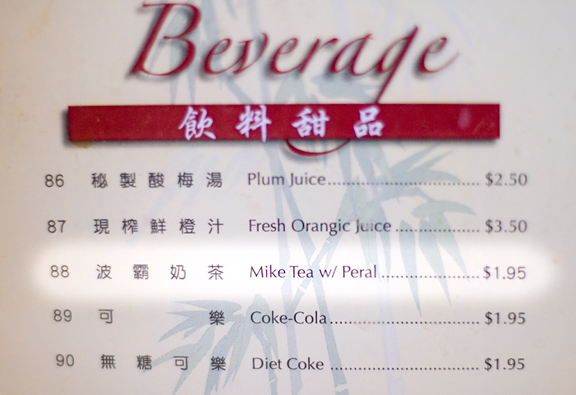 Grandma and I are tight and we've been that way ever since she came to live with my family when I was but a wee bern. She is this tiny, unassuming Chinese woman who looks 20 years younger than she is (good genes – her four daughters all look fabulously young and beautiful), has a clever head on her shoulders, possesses more wisdom than anyone I know, and treats people with kindness and respect. EVERYONE likes my grandma. She is teh cool. Even the jerkiest of jerks likes her. She ROCKS.
Fiona marveled at the history my grandma must have lived through – absolutely! Her life story is riveting at times, heartbreaking at others, but she is resilient and a survivor who is constantly adapting to her surroundings, to her situations. Grandma exudes a peaceful tranquility. I never met my maternal grandfather, barely remember my paternal grandfather (he was a general – not the cuddly type of grandparent), and was kind of scared of my paternal grandmother. While hiking through Yosemite with Jeremy, I reflected on that and said, "It doesn't matter – for the three grandparents that never really figured into my life, my grandma makes up for that a hundred times over."

peonies for grandma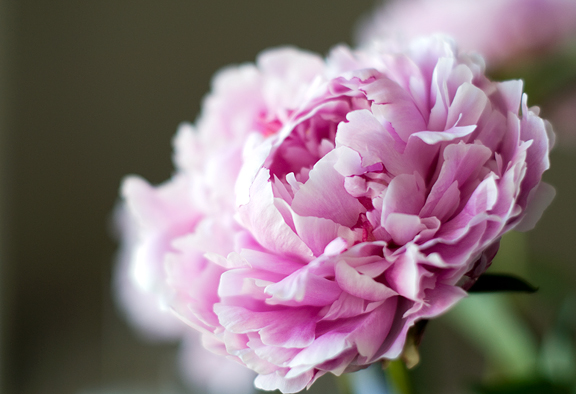 So while I'm talking about my Chinese grandma, it's a good time to crank out another Chinese recipe, don't you think? I have only ever had shrimp toast in restaurants. They were usually more toast than shrimp and greasy beyond belief. A few years ago, my mom began to mention that she makes shrimp toast for parties and it's a huge hit (no surprise there – she's a great cook). I had a shrimp-cooking frenzy last month and this was one of those bouts of "something shrimpy to make". Why not shrimp toast?
peeled shrimp and an egg to be whirred
chunks of butter
I didn't get my mom's recipe before she went away on travel, so I pulled up Ming Tsai's recipe on my iphone while I was prowling the aisles of the grocery store. If I can't trust Ming for a recipe, I may as well turn it in, you know… I searched several recipes in books and online, but settled on this one because it called for butter (which I always have on hand) instead of lard (something I am irrationally afraid of).
mix ginger, green onions, and water chestnuts into shrimp slurry
organic potato bread, because i hate wonder bread
Because my local Whole Foods was cleaned out of wild-caught, shell-on shrimp and because I was sick of driving to Boulder for shrimp, I just sucked it up and bought the farm-raised, pre-shelled, de-veined tiger shrimp from southeast Asia. I know this single purchase is going to doom the planet, but there you have it. I was actually delighted that it took all of… two minutes to pull the tails off and chuck them into the Cuisinart instead of the 30 minutes of shelling and de-veining the little buggers. Oh Convenience, you are such a dirty temptress. The shrimp were pulsed with eggs and butter (I omitted truffle oil) and then mixed with minced vegetables (I added ginger – we love it) to make the shrimp mousse.
spreading a generous layer of shrimp mousse on the bread
a sprinkle of black sesame seeds for contrast and accent
I couldn't bring myself to purchase Wonder Bread because I won't even let my dog eat it. Some organic potato bread worked just fine since I could use the remainder for sandwiches. I sliced the crusts off per the recipe instructions and I think that sealed Jeremy's fate – because he loves ANY sandwich with the crusts cut off (i.e. tea sandwiches). Slap a little mousse on the bread, sprinkle some sesame seeds, deep fry those babies and you have yourself some spanking shrimp toast. I think my mom has a more-toasted-less-fried version which I'll have to try. This one is a little too fried for my liking, but Jeremy gobbled them up and declared his love for shrimp toast (a food he has always avoided at the restaurants). They really are good – especially hot.
fried, crispy, and delicious
crunchy outside, shrimpy inside
Shrimp Toast
[print recipe]
slightly modified from Ming Tsai's shrimp toast recipe
1/2 lb. (225g) raw shrimp, peeled, de-veined
1 egg
1.5 oz. (40g) unsalted butter, cold
dash sesame oil
salt to taste
2-3 green onions, trimmed and minced
1/3 cup (45g) water chestnuts, minced
1-2 tbsps ginger, minced
sesame seeds
loaf of bread, sliced thin with crusts removed (plain white bread or something soft and plain)
oil for frying
Place the shrimp, egg, sesame oil, and salt in a food processor and pulse until mostly smooth (a few lumps are good). Add the butter and pulse until blended, but small chunks of butter are still present. Empty the shrimp mousse into a bowl and mix with the green onions, water chestnuts, and ginger. Cut the bread slices into triangles. Spread a layer of mousse (about 1/4 inch thick) on each slice of bread. Sprinkle with sesame seeds. Heat a few inches of oil in a medium pan to 350°F. Fry the shrimp toasts mousse-side down for a minute or more until golden then flip to fry the other side for another minute. Remove from oil and drain on a cooling rack or paper towels. Serve hot. Makes about 2 dozen toasts.