Recipe: matcha green tea passion fruit macarons
Snow. We have lots of it. You'd never know it from the bloody 80 degree weather down in Boulder today. There is a ton of snow in the backcountry still. It's starting to get sloppy (i.e. posthole city), but the other day we caught it on a cold morning so the slopes were nice and frozen climbing up.

i accessorize like any other girl… just that i accessorize with crampons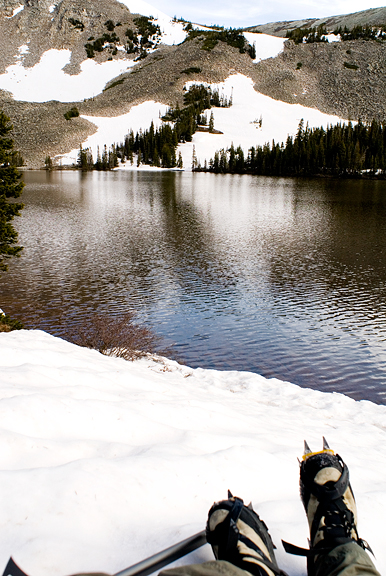 On our way in, we encountered a couple with their dog while we put our crampons on. They were in no way prepared for the conditions. The gentleman asked if this was the way to Mount Audubon. Well yes, and no. There are some great cross country routes to Audubon from there and if that was the intended route, then yes it is. But those two… they were not going cross country. Based on the short conversation we had, I wouldn't really trust them to find Audubon when the trails were free of snow let alone when they were under several feet of snow. So no, they were on the wrong trail (it actually helps to read the sign at the trailhead, but whatever). They told us they'd just head to Mitchell Lake instead. Okay! Have fun and be safe!
A little while later, we got sidetracked and passed a smaller unnamed lake. There they were, posing for pictures. That wasn't Mitchell Lake, but I think they thought it was. No matter, as long as they keep from getting themselves killed. We made our way up to Blue Lake basin and well – Blue Lake was completely white and gorgeous. We should have brought the skis because it was fabulous corn snow on the way out.

jeremy traverses an icy slope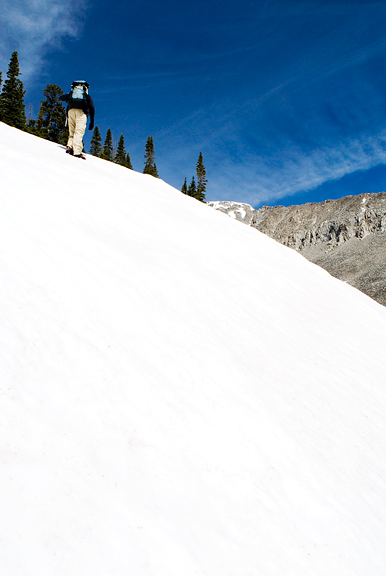 following a small backbone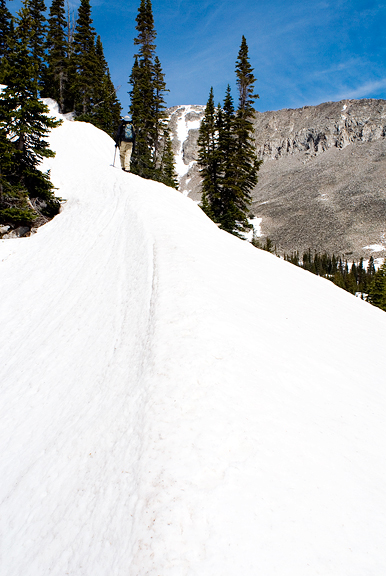 We don't take or prepare fancy food in the backcountry contrary to what a lot of people would expect. In the sticks, I'm all about efficiency. So I had a granola bar with me for a calorie boost and it was probably over a year old. The first bite was peculiar. It was like chomping on a piece of Ikea particle board furniture. It tasted of chemicals and that flavor of nuts gone rancid. I took another bite to make sure I wasn't losing my marbles. Nope. Nasty. Jeremy offered to finish it, but he's pickier than I am and after one bite he made a face and folded the rest up and put it in his pack. So the whole way back I kept burping Ikea furniture flavor no matter how much water I drank. As soon as we got home, I remedied the situation by popping my latest macaron into my mouth: matcha green tea passion fruit. Ahhhhhhhh.
matcha, how i adore thee
especially in a macaron
I've got the whole
green tea and passion fruit theme
going on over here. I just cannot get enough of the combination and these ideas keep lingering on my brain. While I usually have an excess of egg yolks in my kitchen, this past week I had an excess of about 20 egg whites. I never have a problem using up egg whites. Never.
tip from tartelette: the whites are ready when they don't fall out
macaronage (the french have a word for everything)
I tend to like a strong matcha presence in my pastries and confections. I don't honestly know if it's because I love the flavor or the color more. I went the same route with my passion fruit buttercream filling.
piping the batter for the macarons
passion fruit concentrate to flavor swiss meringue buttercream
I used the same passion fruit concentrate for this recipe as I did for
this panna cotta recipe
. I added tablespoon after tablespoon until I felt it was the right amount of tropical oomph in the buttercream.
i have never felt this way for a buttercream before
sandwiching awesome between awesome
This is by far my favorite macaron that I've made. Usually I make a batch and taste a few but distribute the rest to others. Today, I had to give several away to my friends so that I wouldn't eat them all myself. Jeremy says this one ties with the
pistachio macarons
as his favorites. If you like green tea, if you like passion fruit, then this is a no-brainer you are gonna love. It doesn't whack you over the head with flavors, it's more subtle than that. I see little round passion fruits swing dancing with green tea leaves when I bite into one of these.
a little green tea time
Matcha Green Tea and Passion Fruit Macarons
[print recipe]
modified macaron recipe from Tartelette
110g blanched almonds
200g powdered sugar
2 tsps matcha (green tea powder)
100g egg whites, aged a day and brought to room temperature
50g sugar
1 cup passion fruit swiss meringue buttercream
Pulse almonds in a food processor until finely ground. Add powdered sugar and matcha powder. Pulse until well-blended. Whip the egg whites until foamy and gradually add the granulated sugar while whipping until a shiny meringue forms (but not too dry). Add the almond mixture to the meringue and quickly incorporate the mixture into the meringue while taking care not to overbeat. You want to achieve a batter that flows and "ribbons" for at least 5 seconds. Pour the batter into a piping bag fitted with a large plain piping tip (Ateco 809 or 807) and pipe small rounds onto a baking sheet lined with parchment paper. The rounds should be about 1 1/2 inches in diameter and at least an inch apart. Let the macarons sit for an hour to develop a hard shell (@8500 ft., this takes about 15 minutes for my arid climate). Preheat oven to 300°F and bake for 8-10 minutes (10 minutes for me). Remove from oven and let cool. Remove from parchment.
passion fruit buttercream
4 oz. egg whites
8 oz. sugar
8 oz. butter, room temperature
5 tbsps passion fruit concentrate (this amount you will have to determine according to your preference)
Combine egg whites and sugar in a Kitchenaid mixing bowl. Whisk constantly over a gently simmering hot water bath until 140°F is reached. Remove from heat. Place on mixer with whisk and whip until stiff. Turn down whip speed to 3rd and whip until cool to the touch (this takes a while – should be cooler than your hand). Change to a paddle and gradually add soft butter by tablespoon pieces. Mix to emulsify. Once desired consistency has been reached, add passion fruit concentrate and mix well. Makes about 3 cups.
Assembly: Pipe buttercream onto a macaron and sandwich with a second macaron. Makes about 2 dozen.