Recipe: vietnamese spring rolls
I know it seems that I was MIA here, and I was… but I wasn't. I was completely in action all weekend which was why I had nary a minute to sit down and write anything coherent (although that assumes what I typically write is coherent…). But it was a lovely weekend and I'll tell you why: my eye doctor had a last-minute cancellation and asked if I could come in last week instead of July 28, 2036. I have new Oasys contacts for dry eyes on and life has become a lot happier. A lot happier.

wildflowers fully underway in our yard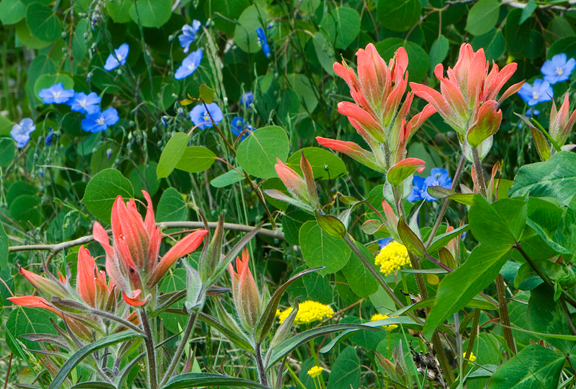 Just a few of the highlights with lots of pictures, okay? I finally got myself to the Boulder Farmer's Market on Saturday. Seems trivial enough, but Saturday mornings for us are typically spent UP in the mountains, not DOWN on the flats.
fresh picked lettuce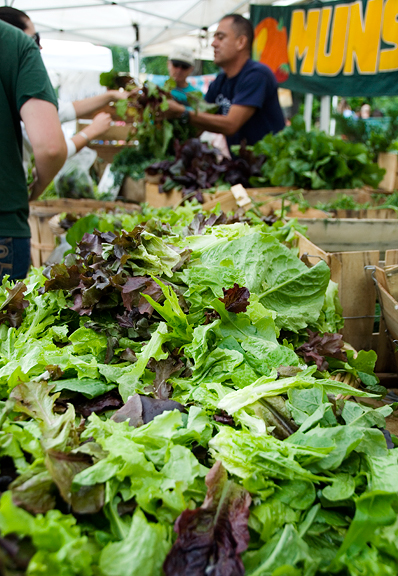 itty bitty strawberries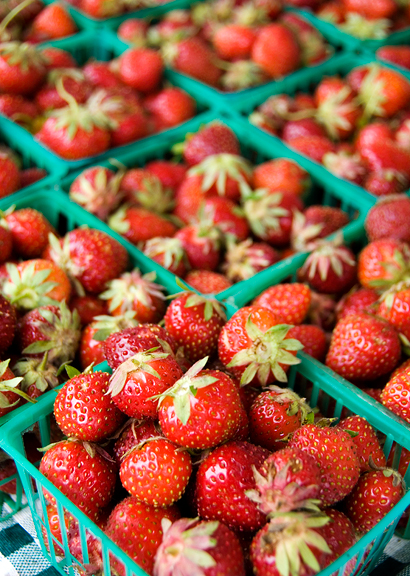 boatloads of colorful radishes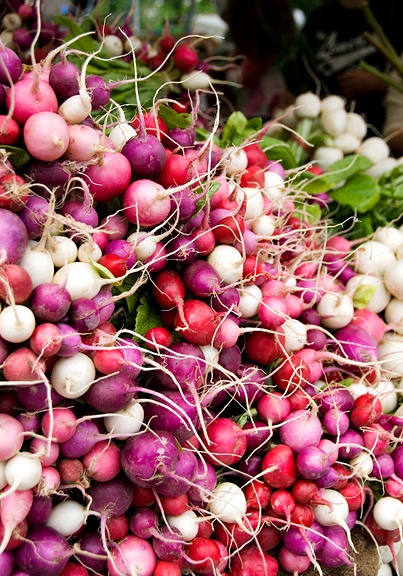 The reason I wasn't in the mountains was because I had a shindig at
The Cup
, which lovely
Gwen
organized for Denver/Boulder bloggers. Lady bloggers. Kickass lady bloggers. It was actually a pre-meet for Blogher 09 goers and a great opportunity to network in person with local women who move in different circles. Fascinating, but more importantly, fun. All of the photos from the pre-meet can be viewed
here
.
these two = definite trouble (manisha and dana)
Sunday, we scrambled to prepare for a friend's visit until we learned that her flight was cancelled and she wouldn't be getting to Colorado until 9 pm, thus putting the kibosh on our plans. [Dear Ithaca, NY, I hate your bleeping guts.] So we salvaged what we could of the day.
we enjoyed some sushi for lunch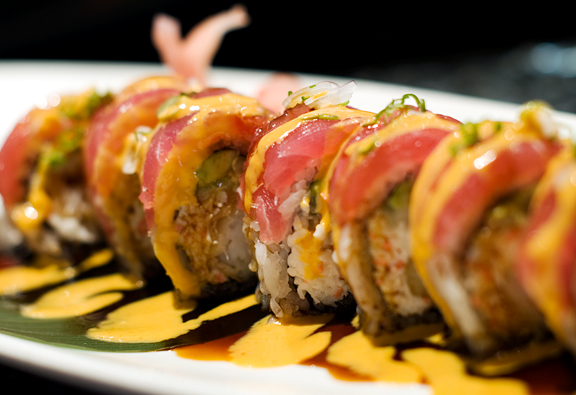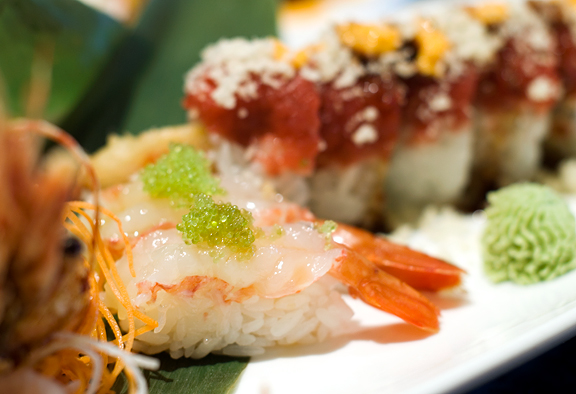 and took some cake to andrew after his triathlon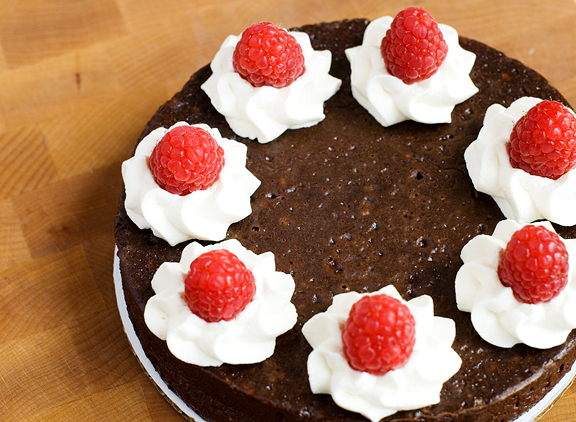 By sunset, we sat down to the dinner that we had planned to serve to our friend. It's a fun and delicious meal that I learned from our dear friends,
Todd and Diane
who so graciously invited us into their paradise last summer.
summer is getting to this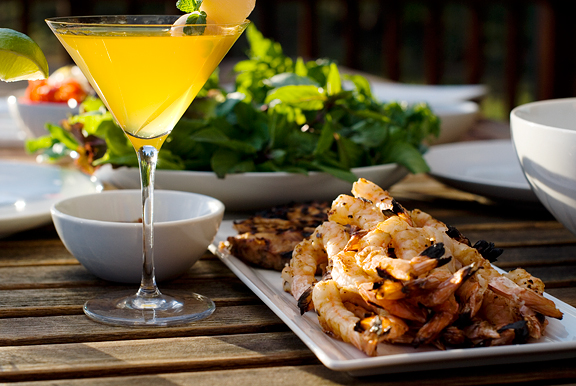 Vietnamese cuisine (like many non-Chinese Asian cuisines) has always resided behind a veil of confusion for me. I love the food, I see the foreign ingredients at the Asian grocer, but I'm hesitant to make the leap to assume that I know what goes in which dish. When I'm uncertain about a Chinese recipe, I go to my parents or my grandmother or my aunt. When I'm completely clueless about a Viet recipe (which is always), I go to
Todd and Diane
: great cooks, patient teachers, terrific sense of humor, true friends.
marinade ingredients: brown sugar, lime juice, garlic, fish sauce, chili paste
marinate shrimp or pork or chicken or…
I'm including pictures of labels because my own experience says the brand you buy really does matter when it comes to something like hoisin sauce or fish sauce. I was pleasantly surprised that I actually had all of the ingredients required for the marinade and the dipping sauce. Even if you don't keep these stocked in your cupboards, more and more (white) supermarkets are starting to stock them. Wowee!
dipping sauce: hoisin, rice wine vinegar, creamy peanut butter, garlic, chili paste
spring roll wrappers – diane said i could use tapioca, so shut up
I didn't know there were multiple kinds of spring roll wrappers. I didn't realize I had picked up tapioca wrappers instead of rice paper wrappers. Upon revisiting my local Asian grocer (with the nice Viet lady who shouts a lot, but it's a gentler kind of shouting – she's getting used to me) I saw there are indeed many kinds of wrappers. Diane said no worries, that tapioca was just more gelatinous because of the tapioca starch and perhaps a little thinner. She suggested dipping it quicker in the water. Love her.
You can put any kind of protein in the spring rolls: chicken, beef, pork, shrimp, tofu. We chose to marinate shrimp and a couple of pork chops for grilling. To keep the shrimp from curling, Jeremy skewered them straight. It makes for easier rolling of the spring rolls.

grilling shrimp
slicing a few pork chops
What I love about this meal is how fresh it is. Super fresh and loaded with gorgeous vegetables and herbs! When we ate at Todd and Diane's house, nearly every bit of vegetable matter came straight from their magical garden. *pluck* just like that! To do the dish as much justice as I could, I procured fresh herbs and vegetables from the local Farmer's Market. But, it wasn't as good as Todd and Diane's garden.
thai basil, mint, cilantro, lettuce
peppers, cucumber, mung bean sprouts
The fun part is assembling your own food. Actually, Todd and Diane let us cook our own food on our individual
joy cooks
at their place which was doubly entertaining. What you do is take a spring roll sheet and dip it in warm water for a second or two and set it on your work surface. Then load it up with goodies from the spread.
quick dippy
colorful and healthy choice of fillings
Excellent pointer from Diane: lay the lettuce leaves down first, it helps to keep the pokier ingredients from tearing through the wrapper. Yes ma'am!
loaded
rolling carefully, but keep it tight
You can tuck the sides in or not according to your preference or dexterity. Once the roll is ready, dip into the awesome sauce and enjoy edible summer. [Just a heads up to any friends coming to our place for dinner this summer – you WILL be eating this!]
thank you, t&d for teaching me to do it right
Vietnamese Spring Rolls
[print recipe]
from White on Rice Couple guest blogging at Rasa Malaysia
Note: you can substitute any meat or tofu for these rolls
1 lb. pork chops (prefer darker meat)
1 lb. raw shrimp, peeled, de-veined
double batch of nuoc cham (one for each meat)
~30 10-inch diameter spring roll wrappers (rice, tapioca, etc.)
1 lb. fresh mung bean sprouts
1 red bell pepper, cored and sliced thin
1 large English cucumber, cut into thin strips
large bunch of fresh herbs (mint, cilantro, Thai basil, regular basil), washed
large bunch of fresh lettuce leaves, washed
hoisin peanut dipping sauce
warm water in a large shallow bowl (large enough to accommodate a spring roll wrapper)
hoisin peanut dipping sauce
8 oz hoisin sauce
1/4 cup smooth peanut butter
1 tbsp rice vinegar
2 cloves garlic, crushed (I crush it into a paste)
1 tsp chili-garlic paste or 1 minced thai chili, to taste
warm water
Mix all ingredients together until combined. If sauce is too thick, add hot water and mix in until you achieve desired consistency.
nuoc cham marinade from Creative Loafing
2 limes, juice of
2 tbsps brown sugar
4 tbsps fish sauce (I like Three Crabs brand)
8 cloves garlic, minced
chile-garlic paste to taste (or finely sliced hot chiles)
Whisk together all ingredients until sugar is dissolved. Set aside.
Marinate the pork chops in a plastic bag with a batch of nuoc cham for a couple of hours. Marinate the peeled shrimp in a ziploc bag with a batch of nuoc cham for an hour. Wipe metal skewers with vegetable oil (or soak bamboo skewers in water for 30 minutes) and skewer the shrimp lengthwise to keep them straight. Grill the pork on high heat for 1.5 minutes per side then cook over indirect heat (someplace on the grill with no flame under it – i.e. shut off one side) and cover. Cook for 4-7 minutes per side until an internal temperature of 145° to 150°F.* Let the pork rest for 5 minutes before slicing. Grill the shrimp skewers on high heat for a minute or two. Flip and grill another minute or two until done.
Assemble the spring rolls by dipping one spring roll sheet into a shallow bowl of warm water for a second or two and setting it flat on your plate. Layer lettuce, herbs, vegetables, and meat in a small strip about 1/3 of the way from the edge nearest you. Roll from the edge nearest you and tuck in the sides as you go if you wish. Roll tightly, but not so tightly that you tear the wrapper. Dip in the hoisin peanut dipping sauce and eat!
For excellent instructions (with photos) on how to roll the spring rolls, see how White on Rice Couple do it right.
Serves 4-6.
* This is according to The Complete Meat Cookbook by Bruce Aidells and Denis Kelly.