Recipe: sautéed snow pea shoots
Gah! Summer is HOT. Colorado has enjoyed – or at least *I* have enjoyed – a very cool and wet spring this year. It is one of the wettest springs in 20+ years according to meteorological records (which I love to dork out on). And then summer rolled around and wham! It's been hot. The dog's residence time per visit to the deck is on a steep decline because she can only take but so much HOT before she staggers back into the house, panting and drunk on sunshine.
One of the benefits of the heat in the mountains is the instability in the atmosphere due to that delicious mixing of cold and hot air masses. This translates into some of my favorite things to observe and capture in summer: stormy weather.

driving down on the flats you see tons of mammata in the afternoons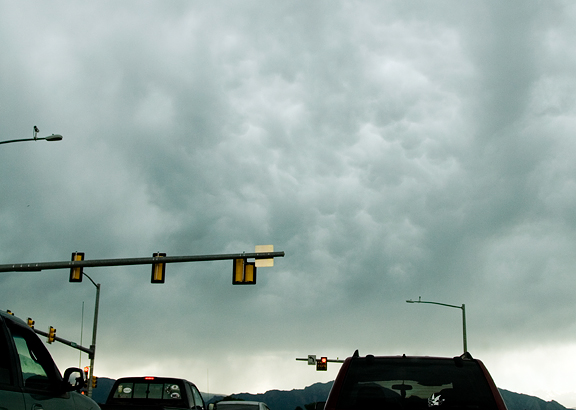 lightning show at our house!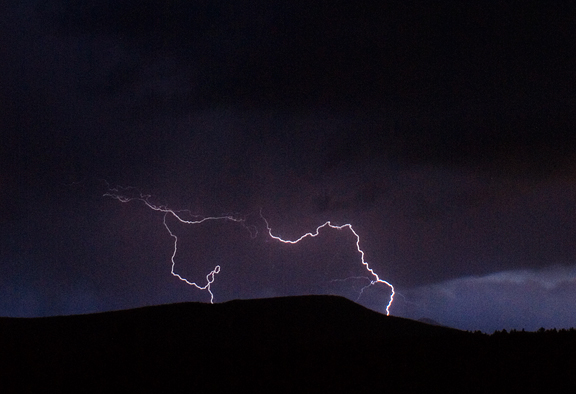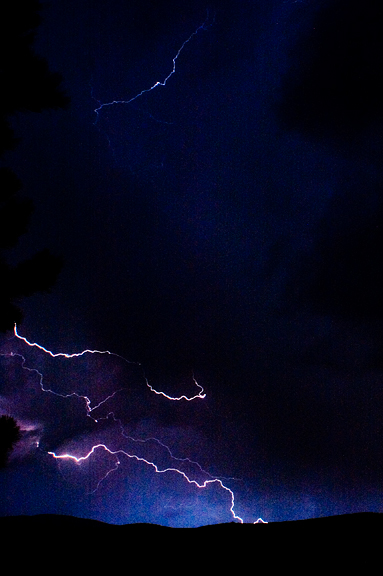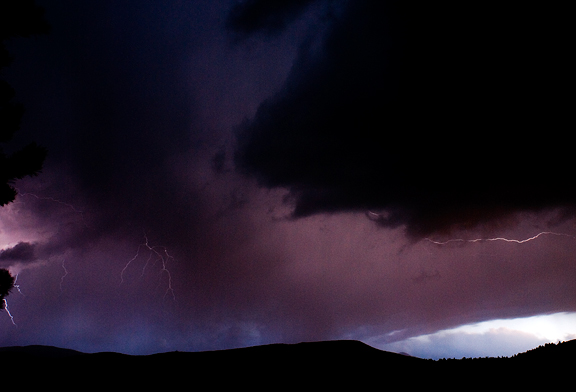 It also means more dinners on the deck after the sun goes down so we can enjoy the cooler evenings, listen to hummingbirds zipping past, and watch the foxes stealthily make their way through our yard.
summer deck dining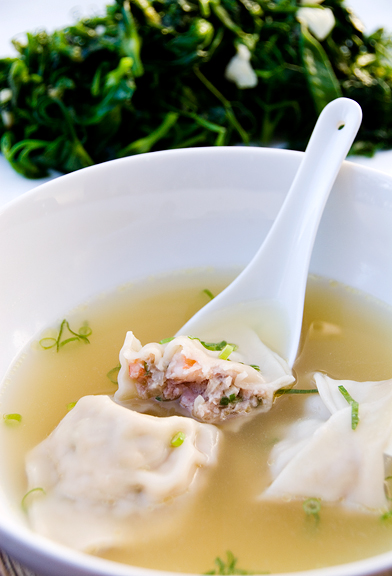 While I was at the Boulder Farmer's Market over the weekend, I stopped by the one stand that was selling Asian greens. Oh boy, oh boy. It's hard to get my grubby little hands on fresh Asian greens in this place. I looked over the spread while the little Asian woman spoke at me in hard, sharp, quick and somewhat pushy comments. "You like!?" "Cook these, these good!" "Take two!" "How about
gai lan
or some
bok choi
?!" I smiled (Western culture) and tried to ignore her (Eastern culture) while I sought out what I really wanted… snow pea shoots.
a favorite green and it's not just because it has the word "snow" in it
The moment I placed my hand on a bursting bundle of snow pea shoots to examine their freshness, she shouted, "You like those! Take home and stir-fry, so easy!" I thought about how soon I could cook them before they would spoil in my refrigerator. Meanwhile, she piled a second bundle into my hand and said, "You take two I give you $5. Cook down very much! You want three?" $5 later…
She was right, you know. They do cook down like any delectable leafy green does. I knew this. I also had a dirty little secret. My grandma picks the tenderest part of the shoots off and discards the tougher lower leaves – this is how she taught me to trim snow pea shoots and this is what I do because Grandma is always right. That meant the yield would be even smaller. So from two pounds of snow pea shoots, I discarded about a quarter of the weight in tough leaves and stems into the compost. The preparation is simple which allows that delicate flavor to stand front and center.

salt and smashed garlic
Snow pea shoots aren't usually sandy like spinach, but these had itty bitty bugs, so we did a triple wash in the "plunge and swish" manner. Shake out as much of the water as you can since they are going into hot oil. I just heat up a little vegetable oil, toss in the garlic, and wait until the garlic begins to sizzle and release its intoxicating fragrance. That's when I add the pea shoots – all at once.
i nearly lost my eye to flying hot oil to bring you this photo
The shoots cook very quickly, so as soon as they begin to wilt (like 30 seconds) sprinkle some salt over the greens and then stir-fry.
work quickly – a few minutes and you're done
Serve the greens right away as they are best eaten hot. My batch had several baby snow peas (yay!) emerging from the flowers and they were particularly sweet and crunchy. Now how awesome is that?
the greens, they are good for you
Sautéed Snow Pea Shoots
[print recipe]
2 lbs. snow pea shoots
2 tbsps vegetable oil (not olive oil – something without much flavor)
4 cloves garlic, peeled, smashed and roughly chopped
salt to taste (1/2 tsp)
If the bottom leaves on the shoots are tough, you can trim the shoots by pinch off the tender tops (keep the tops, discard the bottoms). There are usually two and sometimes three tender tops for each "stem" so be sure you get all of the good tips. Wash the shoots thoroughly in water and drain, shaking out as much excess water as possible. In a large frying pan or wok, heat the oil over high heat. Add garlic to the hot oil and when it becomes fragrant, add all of the shoots to the pan at once taking care to avoid splattering oil. Sauté the shoots. When they begin to wilt, sprinkle salt over the shoots. Continue to sauté until all of the greens are just wilted. Remove from heat. Serve.