Recipe: blueberry peach crisp
There are times I dream of the day when I can have a shunt put into my head so I can be "plugged in" 24/7, not unlike that awful Keanu Reeves movie (Johnny Mnemonic). I refer to the concept of plugging in and not the bad acting despite Keanu's strapping physique. Strapping :) Heeee! Where was I? Oh yes… I sometimes forget how utterly glorious it is to just unplug.

backpacking in the san juans at 12,500 feet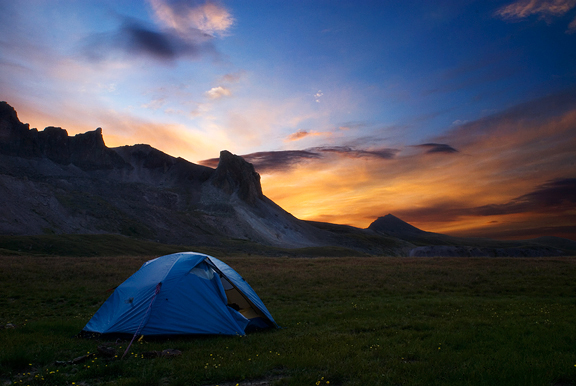 The plan was to kill two birds with one stone, but I ended up wounding one and missing the other completely. We backpacked into the San Juans to shoot the Perseids (meteor shower) only to be socked with weather. I love weather. If you've read more than two posts on
use real butter
you know that my idea of a rockin' good Friday night is to shoot a lightning storm. Yes, I am that much of a dork. Still, that threatening system kept us off the high passes we were to cross over the next couple of days. I love a lightning storm, but I am not so keen on standing under one at 13,000 feet. Instead, we returned to our puppy who was staying at Camp Grandparents in southern Colorado where I could shoot the storms from a safe distance away.
there is good lightning to be had from the deck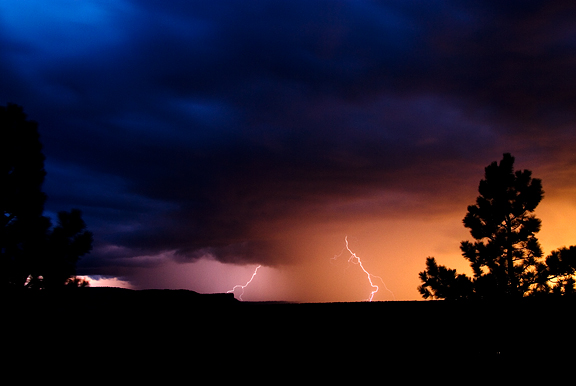 We spent the weekend cooking, baking, quilting, Wii bowling (and boxing – omg, I haven't laughed that hard in ages), and eating at the compound. I call it The Compound because it's like a giant vacation retreat in the mountains. The Hatch green chile crop is early this year and they were roasting them in town. My ILs picked up a couple of bags one day and for dinner we had green chiles fried in blue cornmeal, chile rellenos, shredded beef tacos with green chiles, and green chile blue corn muffins. Better than any restaurant, that's for sure. There are no pictures from that meal because I was too busy eating it.
roasting the beautiful lovelies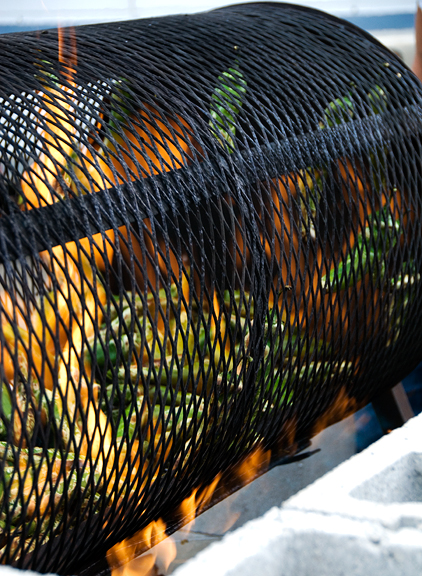 from the front porch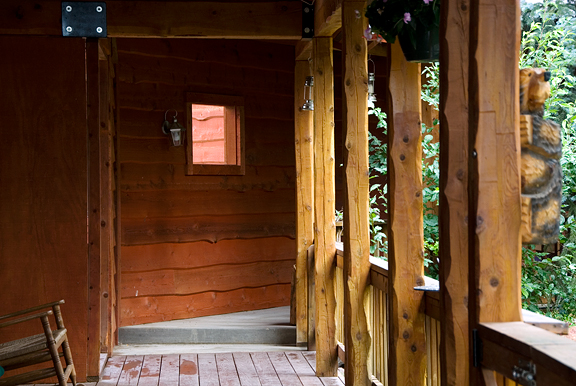 Did I mention my MIL can outquilt just about anyone? She's like… she's like Billy the Kid of the quilting world. We have a little ritual where I teach her pastry recipes and she teaches me nifty quilting techniques when we visit with each other. Well – we only quilt at their place because MIL has a gorgeous and dedicated sewing room, which isn't a room but more like a cottage. Call it Quilting Central at The Compound. As an early birthday gift, she took me to the quilt store in town and bought me some beautiful fabrics. Neat quilt shop. They also sell pet food, fishing tackle, and
heavy artillery
enough guns and ammo to arm a small country. It's important to be able to get all of your shopping done in one place. I started two quilts, two baby quilts for kids who are probably driving already. By the time I finish those two quilts, my friends will have collectively popped out another 8 babies and I will have 26 babies to make gifts for. Maybe some of you should cool it for a while. Just sayin'.
the quilting room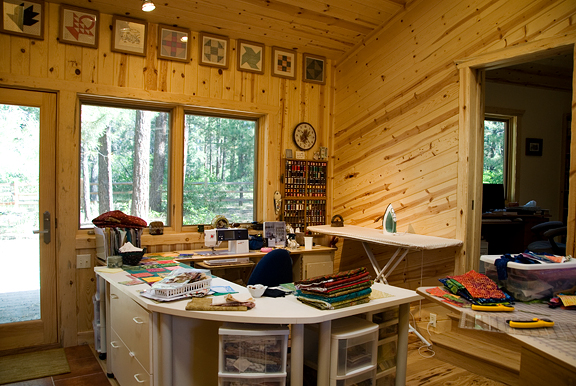 Kaweah had a wonderful time playing with Bumpy and Buffle(head), the ILs' pups. In fact, I think she sort of hates us now for taking her away from Camp Grandparents where there is bear poop to roll in, an endless supply of toys to shred, plenty of dog butts to sniff, round-the-clock wrestling, and more deck square footage than our entire house. Sorry pup, you'll have to settle for Paradise B. Despite getting stormed out of our trip early, we picked up an extra day at The Compound and for the most part remained unplugged. It was pleasant, but we were happy to come home to our own bed last night.
Colorado peaches were starting to show up at my ILs' local farmer's market over the weekend. I love a good and juicy peach. They rarely last long enough to make it into a baked good, but last week I had purchased too many (can such a thing exist?) peaches and needed to use them up before we left town.

let's see, peaches and blueberries…
working butter into flour and sugar
What I love about crisps is how bloody easy they are. Chop, toss, moosh, dump, sprinkle, bake. My one and only gripe about crisps is that they don't lend themselves to easy distribution otherwise I would have sent some to my neighbors. When I get on a crisp-baking tear, I need to keep those disposable aluminum baking pans handy.
toss pecans in with the topping
prep the fruit
Take care not to equate ease of assembly with lackluster taste. Crisps highlight their fruity components front and center. It's ALL ABOUT THE FRUIT! I don't like to overprocess raw foods because I believe most good produce can shine on its own or with just a dash of this or pinch of that. Especially when you are talking about summer fruit! [For some reason, the Daring Bakers hosts never take advantage of summer fruit IN SUMMER – wtf?]
gently toss the fruit with sugar, cornstarch, and nutmeg
crumble the topping
The fruit was so sweet, I dare say I could have omitted a lot of the sugar that was tossed in with it. The surprise for me was that soft, crunchy texture from the pecans in the topping. I had actually debated using almonds instead of pecans, but I'm so glad I didn't. Topped with a scoop or two of lemon custard ice cream (thanks to
Helen
), that's your ticket to summery bliss. Yee-haw!
this plate serves two
Blueberry Peach Crisp
[print recipe]
from Fine Cooking issue #93
2 oz. unsalted butter, softened (plus more for pan)
3 oz. all-purpose flour
1/2 cup light brown sugar, packed
1/2 tsp ground cinnamon
1/4 tsp salt
2/3 cup pecans, coarsely chopped
3 cups (~1 lb.) blueberries, washed, drained, and room temperature
3 medium peaches (~1 lb.), halved, pitted, and sliced 1/2 inch thick
1/4 cup granulated sugar
3 tbsps cornstarch
1/4 tsp freshly ground nutmeg
Place rack in center of oven and preheat to 375°F. Butter a 9-inch square pan (I used my 8-inch pan). For the topping, mix together flour, brown sugar, cinnamon, and 1/8 tsp of salt in a bowl. Work butter into the mixture with fingers until clumpy. Stir in the pecans. In a large bowl, toss the blueberries, peaches, granulated sugar, cornstarch, 1/8 tsp salt, and nutmeg together. Pour the fruit into the pan and level out. Sprinkle the streusel topping over the fruit. Bake for 45-50 minutes until the center is bubbling and the topping has browned. Serve warm.
more goodness from the use real butter archives