Recipe: blueberry hand pies
I'm sleep-deprived and behind on my work, but I'm not (too) stressed out because I'm having a good time. I got to watch and minimally participate in the filming of a television segment for Frank Bonanno and my good friend, Ellen, in Denver last week. I say minimally because I really REALLY did not want to be on camera. Besides, it was HOT in the kitchen. We were all happy when that part was done so we could head outside to watch the filming of the cocktail segment.

prepping for cocktails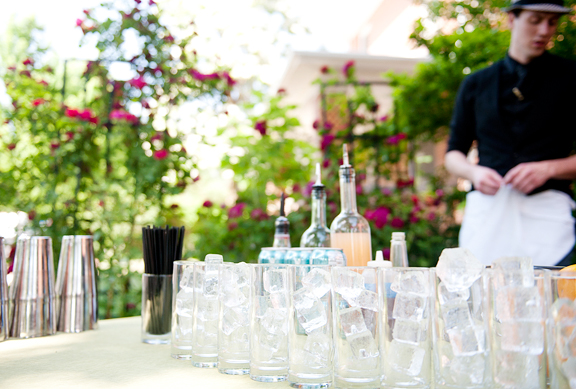 Aside from my desire to support a good friend, do you want to know the real reason I left the mountains to head to Denver (because it usually takes a plane ticket to get me to drive down to Denver)? A hedgehog. SQUEEEEEEE!!!!!
her name is rosie and she belongs to frank's kids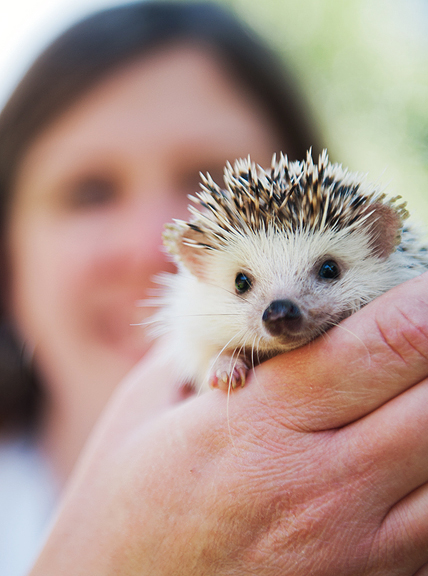 My parents arrived Friday evening and we met with them to go out for dinner. It used to make me a little crazy and headachey when they would both hold simultaneous, yet separate conversations with me. But now… now I just laugh and try to listen to both, and laugh some more. They came up to our house for dinner over the weekend. It feels good to cook for my folks – to spoil them since they were always spoiling me (and now us). More than ever, I just feel that I want my parents to be happy. Isn't this what we wish for the ones we love?
this dish never fails to please: pan-seared scallops on fresh corn and roasted tomatoes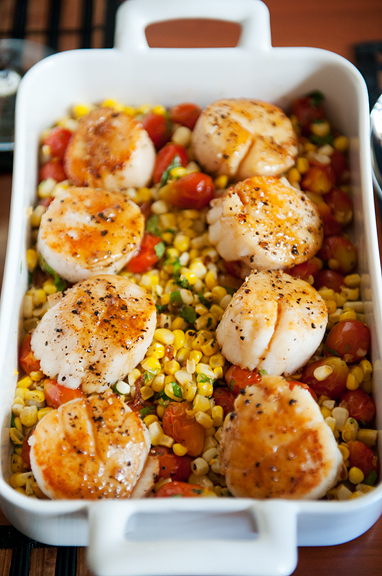 The weather got uncomfortably warm right around the time the pine pollen got ridiculous (i.e. everywhere). But before all of that happened, I made some fruity pies. Remember the mad loot I scored in the way of organic blueberries from Whole Foods? I used one of those pints for something other than jam. Pie is great and all, but HAND PIES are like… presents.
puff pastry, blueberries, egg, cinnamon, salt, lemon, cornstarch, sugar, turbinado sugar
mix the cornstarch, sugar, cinnamon, and lemon zest
mix the blueberries, lemon juice, and salt together
The ONLY reason I'm willing to make these right now is because of this wonderful store-bought puff pastry that I LOVE. I've gone on at length about how much I hate the regular commercial brands and their utterly disgusting hyrdrogenated fats that leave a horrid film coating your mouth, but this one uses real butter, flour, water, salt, and lemon juice. It's spendy, but it's worth the occasional splurge for a treat like hand pies.
combine the sugar mixture with the blueberries
toss to coat
slice up the dough
pile 1-2 tablespoons of filling
You don't have to use puff pastry (I'm partial to it). You can use a pie crust dough, or any pastry dough that you happen to like. Just make sure to adjust the baking time accordingly for your dough of choice. Also, don't try to overstuff the pastry (which I sort of did) because the fruit is going to bubble over and out and all over your pan (for that reason, I highly recommend lining the pan with parchment or foil).
whisk the egg wash
brush the edges of the pastry with egg wash
crimp the edges
There's no need to be a perfectionist with the pastries. The dough will puff out as it bakes and smooth the irregularities (think of an averaging function). This is another reason why hand pies are AWESOME. Do remember to give it a once over with the egg wash (for a nice and shiny finish) and please cut a few vents into the tops to allow steam to escape.
brush with egg wash
slice venting slits
top with turbinado sugar
baked to a golden color
I had a good deal of bubbleage during baking, which leads me to believe that I overstuffed the pastries a tad. Some bubbleage is to be expected, but I think I had a little too much of the precious fruit juices boiling into a fruit leather on the pan rather than in the pies. However, the pies were wonderfully balanced and fruity. Despite how fast and easy it is to devour one hand pie after another, we managed to ration them out over a few days. They didn't last more than three days because we polished them off, but they were still good on that third morning. So I'd say they keep for three days in an airtight container either on the counter or in the refrigerator, that is… IF you can make them last that long.
a happy pile of blueberry hand pies
it's blueberry goodness in a little package
Blueberry Hand Pies
[print recipe]
1/2 cup sugar
3 tbsps cornstarch
1/2 tsp ground cinnamon
1 tsp lemon zest, freshly grated
1 tbsp lemon juice, fresh
2 cups (1 pt.) blueberries, fresh
pinch of salt
1 egg yolk
1 lb. pie crust dough or puff pastry dough (you can use this recipe for puff pastry)
turbinado sugar
Whisk the 1/2 cup of sugar, cornstarch, cinnamon, and lemon zest together in a small bowl. Mix the lemon juice, blueberries, and salt until the berries are wet. Toss the sugar mixture into the blueberries and mix until the berries are evenly coated. Roll the dough out to about 1/8-inch thickness and cut into 8-10 square or rectangular pieces (you are welcome to make circular or whatever funny shapes you want). In a small bowl, whisk the egg yolk and 2 tablespoons of water together. Place 1-2 tablespoons of blueberry filling on half of each pastry. Brush the edges of the pastry with the egg wash and fold the pastry in half, sealing in the blueberries. Press the edges together then crimp with a fork. Chill the hand pies in the refrigerator for 30 minutes. Preheat the oven to 375°F. Remove the hand pies from the refrigerator and brush the tops with the egg wash. Slice a few vents in the tops of each pie to allow steam to escape. Sprinkle the pies with turbinado sugar. Bake for 20-25 minutes or until golden (this will depend on the pastry you use). Makes 8-10 hand pies.

more goodness from the use real butter archives