Recipe: pan-seared sesame-crusted tuna
Helloooooo September! I'm so happy she's here now. I love September. Love it. You know how you have 60 days' worth of stuff to cram into 30 days? That's my September. Oops! now 29 days…
There is no better way to kick off a new month than with a dinner party. I mean, a dinner partay. I was running a little behind schedule when folks began to trickle in yesterday evening. Luke and Nichole asked if there was anything they could help with. Normally (and my friends will verify) I say no and have people sit down with drinks, appetizers, and let the conversation roll. I'm a bit of a control freak like that. But the appetizers were not assembled yet, Jeremy was tending grill and dishes, and I was still getting my mise en place EN PLACE for dinner. I sliced up the grilled pork chops and showed Luke how to wrap spring rolls while Nichole became the mojito maestra. They took to their tasks like pros. The food was in good hands and I could relinquish those duties without a worry. Nice. I guess you *can* teach an OCD to delegate.

the spring roll brigade at work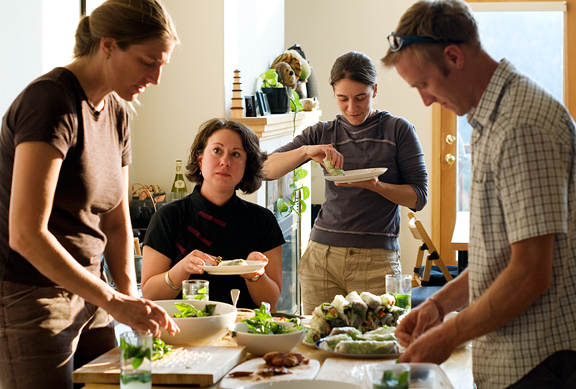 It's times like these when I am reminded why I should only serve Chinese food if the headcount is under 6… because we don't have burners with enough BTUs to handle the volume. But it's a known fact that you can't get decent Chinese food in Boulder. Period. I wanted to treat our buds to something authentic, you know? It would have been great to whip up a quick meal so I could sit down and chill with folks more. I tried a newish recipe this week that was fast and amazing. We both loved it. Unfortunately, at $30/pound (okay, technically $27.99/pound – but when you buy 4 pounds, that $8 becomes negligible) it's not an especially economical dinner to be serving at a dinner party. I dare say it's worth the splurge for a lovely dinner for two.
wasabi (powder)!
spice up your life: a little wasabi mayo
I wanted to recreate a meal I truly enjoyed at the Alley House in Pagosa Springs, Colorado – a pan-seared crusted ahi tuna. When I got to the Whole Foods Seafood counter, they were out of ahi tuna so I opted for the maguro (tuna sashimi) which looked particularly fresh and brilliant next to the yellowfin tuna steaks. Not to mention that Jeremy and I are sashimi and sushi whores.
hello, you beauties
black and white sesame seeds
It's so quick to throw together and cook that you'll have no excuse not to walk the dog. I mixed black and white sesame seeds with salt and pepper and coated each steak with the mixture. The seeds do a remarkably good job of sticking to the fish (I was expecting a lot of sesame seed confetti everywhere but ON the fish). My dad has done this before with crushed wasabi peas, those munchy little snacks you can find in Asian markets. I didn't have any on hand, but that sounds fantastic. Something to try later.
coat the fish
slicing avocado
Before I seared the tuna, I prepped each plate with a pile of fresh salad greens and a fan of avocado slices so I could serve the tuna as soon as it was done. Searing goes quickly. I used my All-Clad because it does a great job of getting and staying very hot. Just add a little unflavored oil (vegetable or canola) and wait until the pan is HOT. I seared the pieces for less than a minute on the large sides and for 20 seconds on the small sides (use tongs to hold them in place). We tend to like our maguro raw, but if you're pan searing, you want a little cooked perimeter for aesthetics. Some folks don't like raw fish and prefer to cook it mostly through, in which case I think, "Why bother? You can ruin a perfectly good piece of steak for a lot less money." Okay, but that's just me and my very opinionated opinion…
pan-searing the steaks
slice the steaks (or not)
A quick drizzle of wasabi mayonnaise and anago sauce (or serve them on the side for dipping) and you're done! I topped ours with a little masago (smelt fish roe). It's basically a sushi roll without the rice or seaweed. No wonder we love it! Tender tuna, crunchy sesame seeds and masago, creamy avocado, sinus-clearing wasabi mayonnaise (actually, it's quite mellow by my standards), and a sweet accent from the anago sauce make for a mouth-watering combination. It's so easy too!
i love preparing great food at home
Pan-seared Sesame-crusted Tuna
[print recipe]
inspired by Alley House
4 tuna steaks (~6 oz. per person), ahi tuna or maguro (sashimi)
1/4 cup black sesame seeds
1/4 cup white sesame seeds
1 tsp salt
freshly ground black pepper
2 tbsps unflavored oil (vegetable or canola)
2 ripe avocados, sliced thin
salad greens
wasabi mayonnaise
anago sauce
masago or tobiko (smelt fish roe)
wasabi mayonnaise
2 tbsps wasabi powder
2 tbsps water
1/2 cup mayonnaise
anago sauce
6 tbsps soy sauce
4 tbsps mirin
2 tbsps brown sugar (or caramelized sugar syrup)
dash of rice wine vinegar
Wasabi mayonnaise: Mix the wasabi powder with the water until it forms a uniform paste. Mix with the mayonnaise. It tastes better if you let it sit in the refrigerator for an hour or so before serving.
Anago sauce: Combine ingredients in a small saucepan and bring to boil. Let boil for a minute or so and reduce to simmer until slightly thickened. Let cool (it will thicken some more, so don't boil it down too much).
Combine the sesame seeds, salt, and pepper in a bowl. Completely coat the tuna steaks in the mixture, pressing seeds and seasonings into the flesh. Heat the oil in a large, shallow frying pan over high heat. When the oil is hot (chuck a sesame seed in and it should sizzle – just take care if the darn thing jumps and hits you!) set one or two steaks into the pan. Take care not to crowd the steaks. More than two at a time will make it hard to sear the sides without overcooking the other pieces. Sear for less than a minute on the flat sides (unless you want it more cooked) and while gently holding the steaks with tongs, sear for about 20 seconds (or more if you prefer) on the short sides. Remove to a cutting board and slice the steaks into 1/2-inch thick pieces at an angle – or leave whole if you prefer. Set avocado slices on a bed of salad green and then fan the tuna on top. Drizzle with wasabi mayonnaise and anago sauce over the fish or serve on the side. Top with a sprinkle of masago. Serves 4.