There are times when I'm wrong. I know this shocks you as much as it shocks me. A year ago you could find me railing against Twitter and FaceBook declaring I would never join either one. Today, you will find me railing against Twitter and FaceBook ON Twitter and FaceBook. Twitter is for the egomaniacs, minutiae-obsessed, and people who never shut up. FaceBook is for those who don't know how to blog. Okay, I'm making fun (sort of). I drank the punch for a variety of reasons, but one of the benefits of Twitter that I never foresaw was how it connected me to Boulder. I don't live in Boulder. When people ask where I live, I usually tell them Boulder, Colorado because few people have heard of my little mountain town. So one evening the tweet activity was hopping and I'm tweeting away with Andrew (follow @andrewhyde on Twitter), the man who knows EVERYONE, and a fellow tweets that he likes the name of my blog and if I drop by his shop, I'll get free chocolate. Andrew too, if he comes with me.
Yeah. Sure you will, Mr. Axe Murderer.
There is much spamming on Twitter (I had 67 hot babes ask me to check out their profiles the other day… uh huh) and you get your fair share of freaks. I checked his profile and read that Rick is an organic chocolatier in Boulder. REALLY? I did some quick research and saw he is the real deal. I asked if it would be okay for me to come by and take pictures. Sure, but just try the chocolate first, no obligations. Great! I'll get in touch when I find some time in my schedule. Over a month later, I'm donning crocs and a hair net as I pass through the glass doors into the inner workings of Seth Ellis Chocolatier headquarters. This is why I love Twitter – it has brought me closer to the fooding community in Boulder and it's a GREAT community. I still hate FaceBook.

chocolate truffle to nibble on while i waited for rick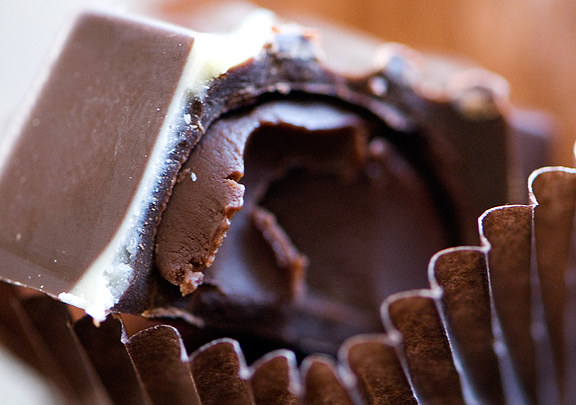 Rick Levine (follow him on Twitter:
@ricklevine
) is one of three partners who head
Seth Ellis Chocolatier
in Boulder, Colorado. Their artisan chocolates are not only organic, they are fair trade, nut-free, gluten-free, and kosher. I would hardly call myself an expert in chocolate, but the visit wasn't like letting Kaweah loose in the dog treat factory either. My readers know I prefer fruit over chocolate any day of the week. That said, I can definitely appreciate quality chocolate and have enough of a discerning palate to know the difference between Good and
Evil
Bad chocolate.
the enrobing machine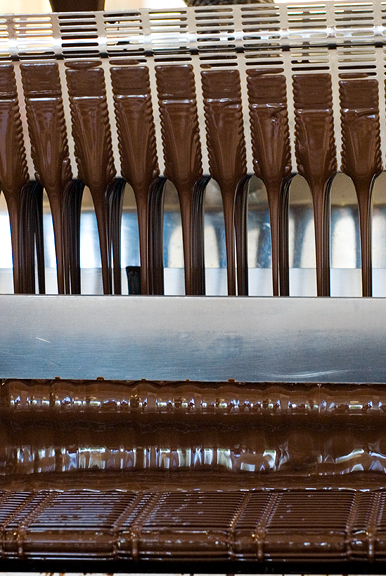 If you've followed my adventures in tempering chocolate, you know that it has taken time, patience, and a lot of chocolate for me to finally achieve a proficiency where I no longer dread the task. The machine above streams hundreds of kilos of tempered chocolate 24/7 and enrobes luscious confections faster than I can say "Schokinag". This is the first piece of machinery that greeted me once I entered the chocolate shop. It's beautiful. It's better than that 40 foot chocolate falls we saw in Dunedin at the Cadbury factory. Actually, the 40 foot chocolate falls was gimmicky and gross.
production for the colorado buffs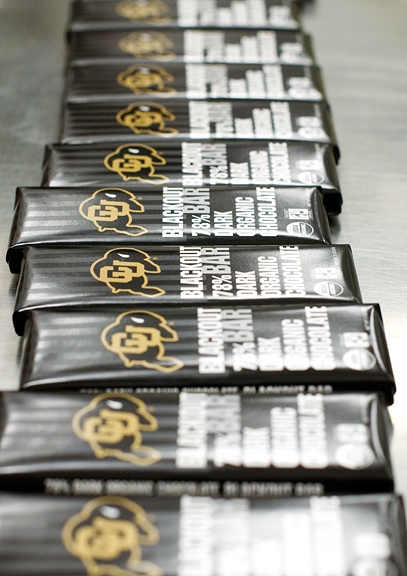 When I arrived, the shop was abuzz prepping to ship an additional last-minute order to the University of Colorado, Boulder. I offered to return at a better time, but Rick insisted and graciously invited me to tour the operation.
business partner and chef david lurie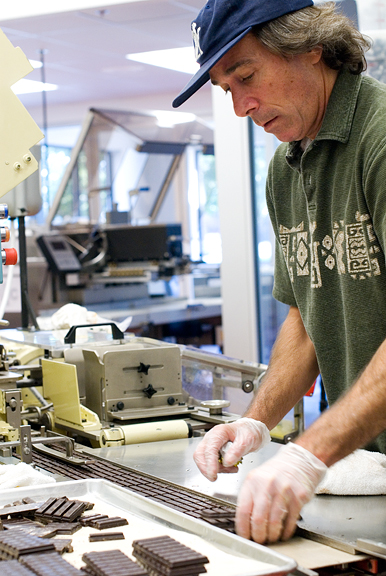 I know what some of you might be thinking – it's sooo Boulder: organic, fair trade, nut-free, gluten-free, kosher, eco-friendly. But that's why I love Boulder. To take all of that and make it into a growing business and turn out consistently high-quality artisan chocolates is so much more than just chocolates. Merely being a devourer of chocolate is not enough to fully grasp what goes into this labor of love. Rick described ingredient sourcing and tracking, recipe development, automation without sacrificing quality, machinery and equipment design, packaging (biodegradable – yeah!), marketing, software, distribution. There is much overhead that has nothing to do with the chocolates… and yet it has everything to do with the chocolates. It's business.
rick explains how the vacuum mixer works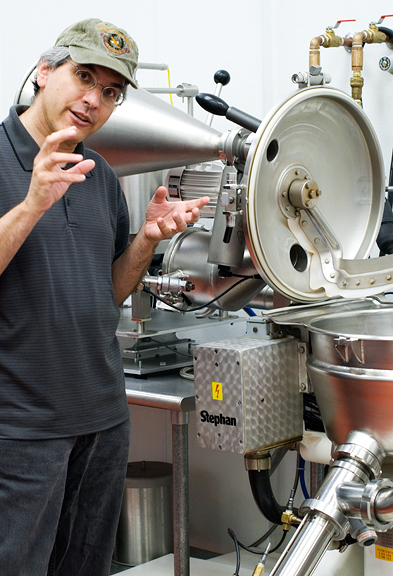 Everywhere we walked, Rick talked and answered my questions while breaking off a piece of white chocolate blended with local organic powdered mint for me to try or handing me a chocolate-covered candied lemon peel. I can't walk and taste chocolate at the same time. I mean, when I'm REALLY tasting food or wine, I have to stop moving and just concentrate on what I'm seeing, tasting, smelling, feeling in my mouth. Each confection was surprising for its purity of flavor and pleasing textures as it melted on my tongue. I can tell you the first thought that entered my mind when I tried the candied lemon peel: can I get the recipe for this? Rick said it takes three weeks to make the candied peels!
the team packs the day's shipments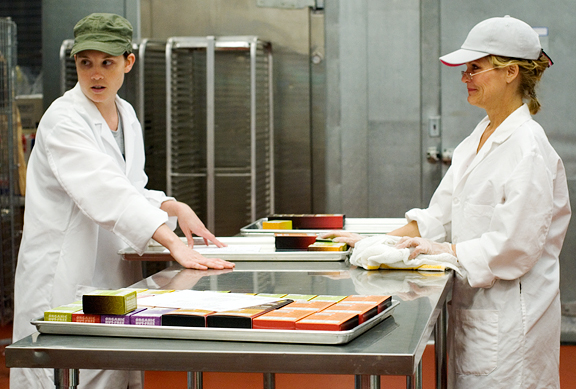 stacking dark chocolate bars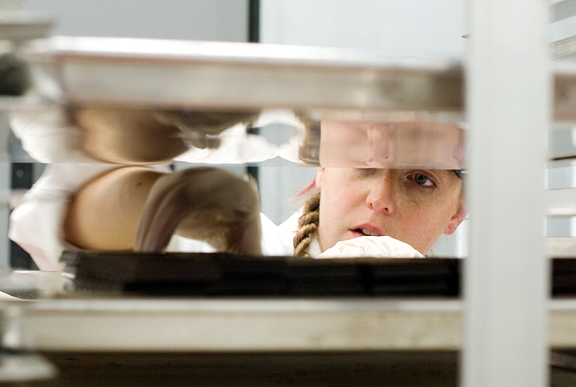 For me, the coolest candy was the Sun Cup. It is a high-brow version of the Reese's peanut butter cup. I'll be honest with you, I do not like Reese's peanut butter cups except for once a year when I am feeling a little white trashish around Halloween, but a Sun Cup? Give it to me (please). If you will recall, their chocolates are nut-free. Rick asked if I liked dark or milk chocolate. I can never just answer "dark chocolate" because I have to qualify that answer with "I don't like most milk chocolates, but I really love a Good milk chocolate." He handed me a dark chocolate Sun Cup. I took a bite and tried to puzzle out what I was tasting while Rick smiled and watched. Hamster wheels spun in my brain. The chocolate was clearly several orders of magnitude better than the stuff Reese's slaps together, but the filling… it had a texture similar to the peanut butter filling – except it couldn't be peanuts. It tasted familiar. What was it?
gorgeous samples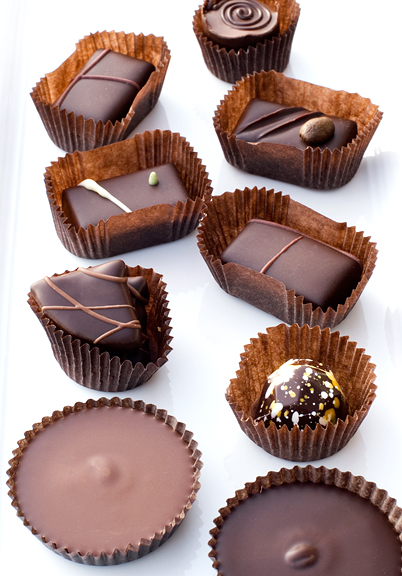 Sunflower seed butter. Mixed with some white chocolate and (I think) cocoa butter to help it remain solid at room temperature and some flaked sea salt to emulate the crunch of a peanut, it fooled my brain into thinking "peanut butter cup". Rick told me 1 out of 10 people with peanut allergies have some reaction to sunflower seeds, but what a great alternative for those who can't enjoy a Reese's cup. Seriously? I think the Reese's cup is what you eat when you CAN'T get your hands on a Sun Cup. The development story behind the Sun Cup is as brilliant as their lovely labels designed by third partner and Rick's brother, Neil in California. Sorry, I didn't get a picture – busy nibbling.
At the end of my tour, Rick gathered an assortment of chocolates and packed them in a box for me to take home. I would have brought Jeremy along (he is the chocoholic in our house and would have loved the science and engineering aspects as much as I did) except he had a student's candidacy exam to chair. Don't feel too sorry for Jeremy, he ate most of the confections I brought home. We marveled at the artistry in every bite.

ginger chocolate truffle (geodesic dome)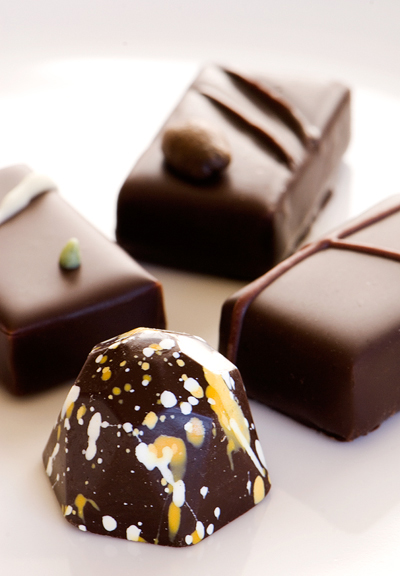 chocolate truffles (on right top to bottom): mint, coffee, raspberry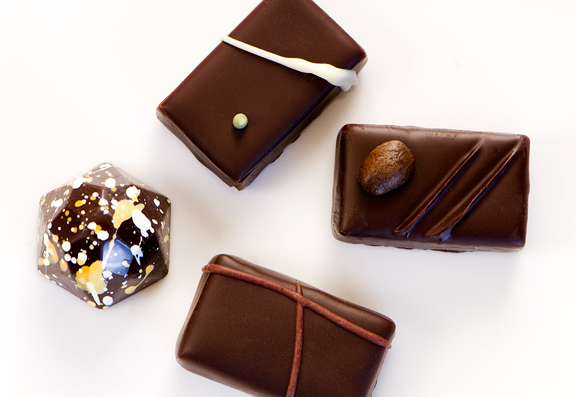 The process is transparent to you and me, the consumers. What we get are beautiful, unadulterated confections. My tour of the facility gave me a deeper appreciation for the care and attention to detail that goes into Seth Ellis Chocolatier's products. For me, it was fascinating to learn how Rick brought his experience as an entrepreneur in the tech start up world and married it to his passion for chocolate. His ultimate goals: to make fine chocolates and have fun. It looks like he's meeting those goals. Thanks for the tour and the education on how to run a great business, Rick!
UPDATE from Rick: Here's the deal. Anyone who stops by and rings the doorbell gets chocolate. Say Jen sent you, and I'll give you a Sun Cup. [Wow!! -jen]
Seth Ellis Chocolatier
5345 Arapahoe Ave.
Suite #5
Boulder, Colorado
They do not have a store front retail shop, but you can find a retailer who carries Seth Ellis Chocolates.

sun cup – a nut-free and far superior version of the reese's peanut butter cup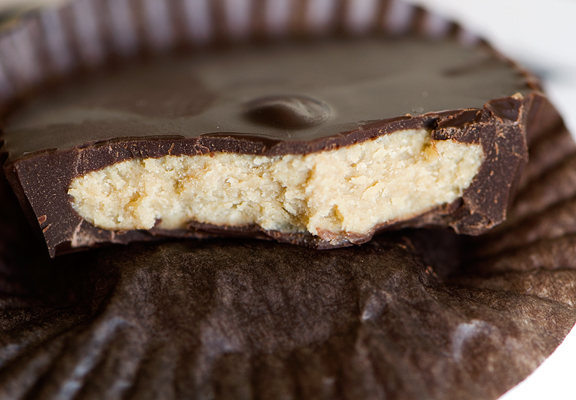 Full Disclosure
Seth Ellis Chocolatier did not pay me nor was I under any obligation to write this post. I received a tour and a box of ass-kicking chocolates for coming by to check them out. I just like sharing a Good Find and spreading the gospel about awesome people and great businesses – particularly if they are local.