I'm writing from my motel room and well, I was in this same motel just two nights ago. This time, however, I'm with Jeremy and Kaweah who are joining me for a weekend of shooting, hiking, and hopefully, decent fall colors. Kaweah couldn't care less about the colors – she's all about finding Dead Things. This year's colors are substantially diminished compared to last year. That early season snow storm on the last day of summer and the subsequent wind storms haven't helped either. In the north, the stands are dull and stripped bare. I think tomorrow might be the last good day of the season before another storm comes barreling through. As with life, as with everything – make the most of it.

aspens aren't the only color in colorado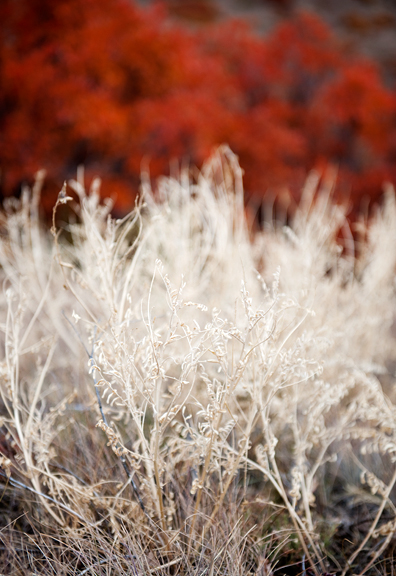 This is actually the first time in about three weeks that I get to spend quality time with Jeremy because we've both been traveling and very busy. Already, the 5+ hour drive was spent talking and catching up with one another. I love that kind of QT. Kaweah is snoring – she has one queen bed ALL TO HER FURRY SELF! Well, this post is a short one because the wireless in the motel is utter crap, we're all nodding off, and NaBloWriMo will inevitably involve short, pointless (okay, I guess all of my posts are pointless) ramblings.
Have a great weekend. See you here tomorrow :)