Recipe: mocha truffles
Last night I had some grand plans. Jeremy was observing from 1-4am (in case you are confused, some radio telescopes can now be operated remotely by the astronomer who logs in from a computer in their office or their home) and I thought I'd wake up with him and get a little night photography done. But by 10 pm, a friend tweeted they were getting snow down on the flats. I took Kaweah outside and sure enough, snow on the ground. I looked up for that gorgeous full moon I had seen earlier in the evening and – nothing. Just a blanket of dark gray clouds stretching across the sky while snowflakes rushed down at my face.
By daybreak, a familiar and long overdue sight greeted me. Kaweah develops a certain jauntiness to her step when she runs out into the snow, shoving her snout into the powder, emerging with a sugar-dusted muzzle, and then sneezing so that every bit of her furry self shakes and wiggles out to the tip of her tail.

it's cold this morning!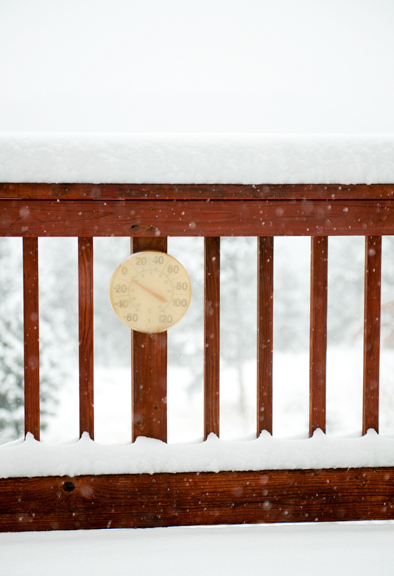 kaweah's modus operandi in winter
I was only disappointed in missing out on my photo shoot for a millisecond. Okay, nanosecond. Because we're all about the snow here. My world isn't complete without the snow. December can't call itself DECEMBER without the snow in these parts. Now I'm finally in the mood for the holidays. Time to bust out the chocolate! Back in October, I received my dear
Anita
's second book right around the time Scharffen Berger sent me some samples of their chocolate. Who in their right mind is going to say, "No thank you, I don't want any of your fabulous free chocolate"?!?
the geek in me just loves these field guide formats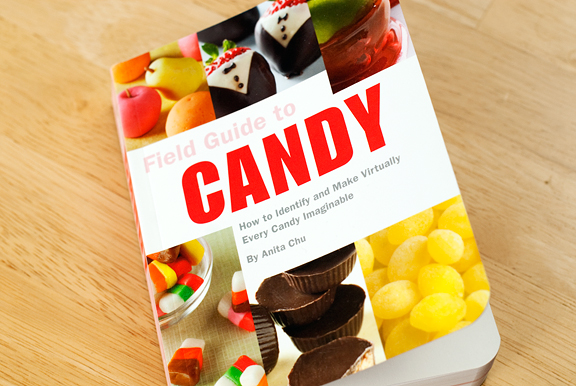 holiday baking is in my future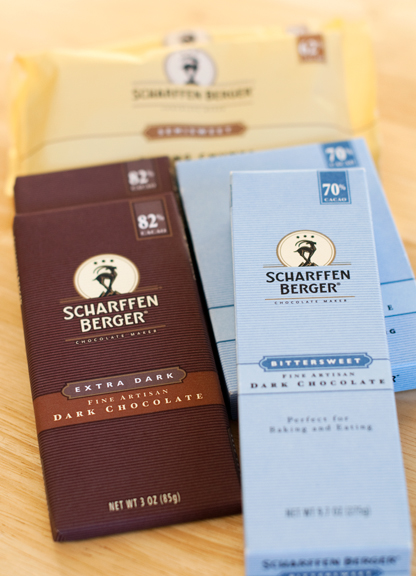 Full disclosure:
The
Field Guide to Candy
was a complimentary copy sent to me by Quirk Books. Scharffen Berger shipped me an assortment of their dark chocolates and a 2-gigabyte jump drive (it's so cute!).
I've hosted a chocolate tasting party before. When I was shopping for the chocolates, my hand hovered over Scharffen Berger and then decided to try Green and Black's Organic. What a mistake. I should have chosen the Scharffen Berger then. Imagine how happy I was as I contemplated what to do with this beautiful stash of chocolate. I don't eat much chocolate, but I use a ton of it as I enjoy making chocolate goodies to give to people (because PEOPLE like love chocolate). So flipping through my new Field Guide to Candy, I settled on some simple mocha truffles.

espresso powder and cream
let's use a 62%
I have made Kona coffee truffles in my pastry skills course before which involved steeping whole Kona coffee beans in hot cream for an hour. This recipe calls for espresso powder and Kahlua coffee liqueur. I have a soft spot in my heart for boozy sweets and treats, especially around the holiday season. Since the Scharffen Berger chocolate came in nifty little chunks, you would think I could just go with that and let the hot cream do its work. Because liquids boil at a lower temperature at my elevation (and probably because we keep our house between 58°F and 65°F in winter) the chocolate rarely ever melts completely. So I pulse my chocolate in a food processor first and then let the hot cream sit and melt the chocolate. If there are still lumps, I zap it on low power in the nuker (microwave) for a few seconds until all is smooth, but not runny.
hot espresso cream poured onto the chocolate
stirring it together
Bakers say it over and over again. Watching that mess of cream and melted chocolate transform into a silky smooth ganache is such a delight. Making beauty out of chaos.
stir in the butter
Once the butter and Kahlua is incorporated, the ganache sits in a cool room and sets up over the course of a few hours. I considered dipping the truffles in tempered chocolate per the recipe, but tempering is no trivial matter. I've finally become comfortable enough with it that I can consistently temper chocolate. Even so, I thoroughly enjoy the
Robert Linxe-style truffles
which don't rely on a proper temper. So that's what I did.
a scooper is very handy
the ocd in me requires rolling truffles into spheroids
I melted the remaining 62% cocoa chocolate at half power in the microwave until just melted (you don't want the chocolate so hot that it melts the truffle) and donned a disposable glove for the dipping. My hands are always warm and so I find the glove provides a (very) small temperature buffer between my hand and the chocolate. Not to mention the clean up is far easier. Don't go into this expecting to dip all of the truffles and then roll them in cocoa powder – you need to roll them in cocoa powder before the chocolate cools and hardens. I don't recommend freezing or even refrigerating the truffle centers before dipping because (and this is from experience), the outer chocolate shell cracks as the truffle center comes to room temperature and expands.
dip
coat (oy, what a mess)
I think most people expect dusted truffles to be soft bites. That hard outer shell is an additional happy, crunchy texture… and let's face it – MORE chocolate goodness. The ganache had a coffee flavor that was pretty understated. That's understandable coming from Jeremy (our resident coffee snob), but even for me – someone who doesn't do coffee at all – I felt myself desiring a slightly more pronounced coffee flavor in the mocha. I think it could be stronger, but your mileage may vary. The chocolate itself was well-balanced and pretty smooth without any startling characteristics and worked well in the truffles. Have you started your holiday baking and candy making yet? Truffles are a relatively simple, yet exceedingly luxurious and wonderful gift to give to any chocolate lover.
wrapped and ready to go
Mocha Truffles
[print recipe]
modified from Field Guide to Candy by Anita Chu of Dessert First
2/3 cup heavy cream
1 tbsp instant espresso powder
8 oz. bittersweet chocolate, chopped
1 tbsp coffee liqueur
2 tsps unsalted butter, room temperature, cut into pieces
6 oz. bittersweet chocolate, chopped
1/4 cup cocoa powder (I used Dutch-process)
Place the cream and espresso powder in a small saucepan over medium high heat and bring to boil. Place the 8 ounces of chopped chocolate (I like to pulse mine finer in a food processor) in a bowl and pour the hot cream over the chocolate. Let sit for a minute. Stir until chocolate is melted and blended with the cream. Stir in the butter and coffee liqueur until the mixture is smooth and uniform. Pour the ganache into a baking pan (I just left it in my bowl) and let sit at room temperature for a couple of hours or until it is firm enough to scoop. Line a baking sheet with parchment or wax paper and scoop balls of ganache onto the sheet. Roll them quickly and gently between your hands to make them more spherical. Melt the 6 remaining ounces of chocolate in a small bowl (I microwave on half power for 15 seconds at a time until mostly melted, then remove from microwave and stir until it is completely melted). Let the chocolate cool a little. Place the cocoa powder in another small bowl. Line another baking sheet with parchment or wax paper. Dip each truffle in the melted chocolate so it is completely coated. Shake off any excess dripping chocolate and then gently drop the wet truffle into the bowl of cocoa powder and coat the truffle. Set the finished truffle on the fresh baking sheet and let cool. Makes approximately 24 truffles.