Recipe: red bean ice cream
Gong Xi Fa Tsai! Xin Nian Quai Le. Wung Shir Rui.
Happy Chinese New Year, everyone! Congratulations, good fortune to you, and may you receive all your heart desires. More than any other day of the year, on this day I feel so much good will toward people. Remembrance for the ancestors and loved ones who are no longer here with us. Love for the wonderful people in my life. Gratitude for this life. The big party is done and the house is clean. Our refrigerator is stocked to the hilt with leftovers. It's a good day. I have every intention of making it a good year too. How about it?

celebrating the new year with friends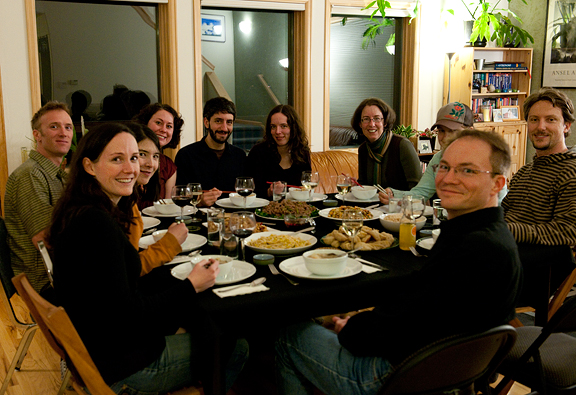 When I started celebrating the lunar new year on my own (in college) it was usually Chinese take out for dinner. Slowly, over the years, I learned to make the various dishes that my family typically celebrates with on the eve of the new year. It has grown on me. The longer I have been away from home, the stronger my ties to my culture and the cuisine (it's almost ALL about the food, yo) have become. My parents, my grandma, my aunts – they all put on their own feasts. My sister used to call me on Chinese New Year's Eve on her way home from work and ask what she could whip together for dinner because she wanted my nephew to learn the traditions of our family, our culture. Kris was not a cook like the rest of my family, but passing on this celebration to little Benjamin was important to her. I miss those calls.
These days, I try to make a point of sharing the feast with friends. The more people you have, the more dishes you can serve! Plus, I am often heard (loudly) bemoaning the utter lack of decent Chinese food in these parts of Colorado so much that Chinese New Year is the right time to step up to the plate and show people what I mean when I say real Chinese food. Each year I expand the repertoire by a recipe or two. Last night, while cooking for a dozen people, it became painfully clear to me why my parents have outdoors burners with enough BTUs to launch a rocket. Still, I think we all had a good time.

lucky ten ingredient vegetables (everything your heart desires)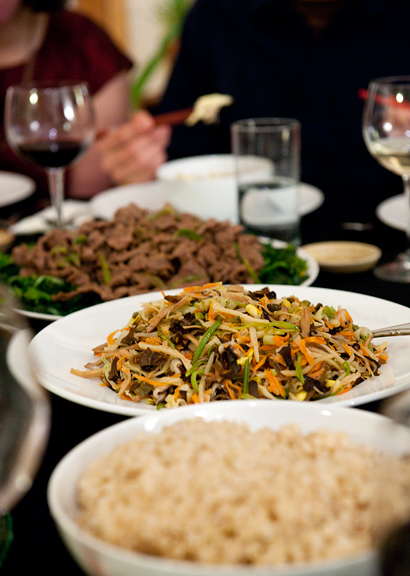 my favorite bean sprouts (money)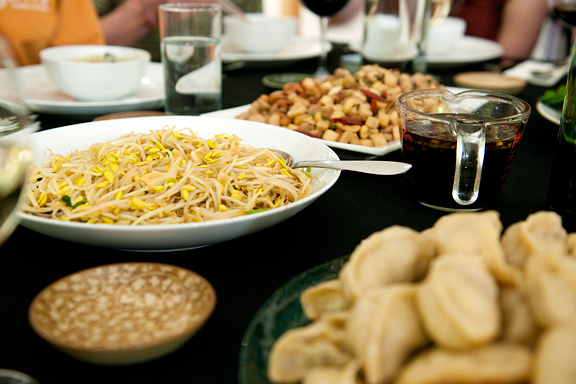 Here's what was on the menu:

shrimp toast
potstickers
cellophane noodle soup
lucky ten ingredient vegetable
stir fried soybean sprouts
sautéed chinese barbecue beef with chinese broccoli
kung pao chicken
steamed brown rice
lemon tart
chocolate mousse
green tea matcha ice cream
vanilla bean ice cream
coffee ice cream
red bean ice cream

chocolate mousse shots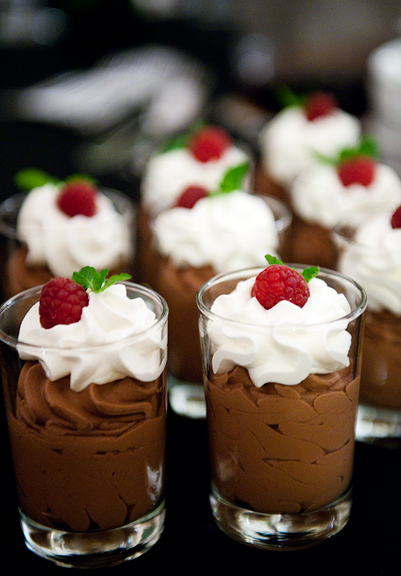 kaweah snuggles up with nichole while everyone plays on the nintendo wii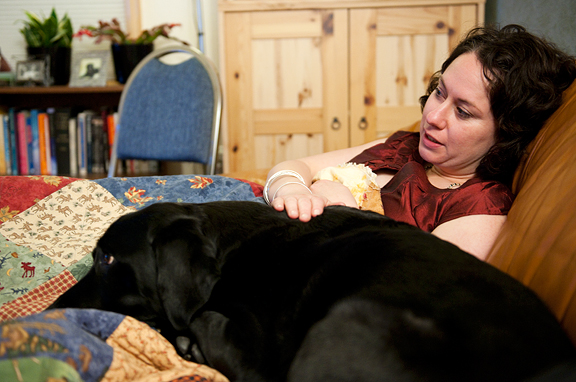 Of course, while I am okay with traditional Chinese desserts, I'm not a huge fan. I tend to prefer to end these big celebratory meals with more westernized desserts. However, there is nothing quite so lovely as the marriage of Asian flavors and western-style sweets. Two of my favorites are green tea ice cream and red bean ice cream. With all of the egg whites I've been using in baking lately, I had plenty of egg yolks left over. So ice cream was a no brainer.
sweetened red beans
i made it part paste
I hadn't realized that I had bought a can of the mostly intact beans. The usual paste I purchase is deep and dark in color. Since I needed paste for the recipe, I pulsed mine in the food processor and it came out a little more pale than usual. I left about a quarter of it whole beans since I like the occasional red bean in my ice cream.
yolks and sugar
beaten until pale yellow
This recipe comes together slightly differently from what I'm used to for most ice creams (that's because I use
The Lebovitz
as my guide for all things ice cream). I think the texture might come out creamier without whisking the eggs and sugar together first. Or maybe the texture is just a tad less creamy because of the bean purée.
whisk in hot milk
strain the custard
The original recipe strains the ice cream after adding the red bean paste which I changed because it would have strained out all of my whole beans. I love ice creams that are smooth as much as ice creams that are chunky or full of stuff. Ice cream is just one of those happy desserts that makes the world smile.
mix in the red beans
add the cream
Traditionally, we eat the red beans in a hot, sweet soup with goodies like bits of taro root or tapioca added. I've also had them on shaved ice with sweetened condensed milk and sweet boiled peanuts. Red bean ice cream is just another way to love the red bean. And since Chinese New Year is also Valentine's Day – let's share the love.
happy new year!
Red Bean Ice Cream
[print recipe]
slightly modified from Recipe Zaar
1/2 cup sugar
3 egg yolks
1 cup milk
1 1/2 cups red bean paste (I like 1 cup paste, 1/2 cup semi-whole beans)
1 1/2 cups heavy cream
Beat the sugar and egg yolks together in a medium bowl until pale yellow. Bring the milk to a boil in a medium saucepan and remove from heat. Whisk into the egg mixture and scrape back into the saucepan. Stir constantly over medium-low heat with a whisk until the custard thickens (about 5 minutes) making sure to scrape the bottom of the pan. Strain the custard into a clean bowl. Mix in the red bean paste and then stir in the cream. Cover and refrigerate completely before churning in your ice cream machine. Makes about a quart.