Recipe: chocolate mousse bombes
FYI: For those of you asking about the scarf in the last post – it is the My So Called Scarf pattern and it's easy to knit and simply gorgeous.
V-day is coming. I am admittedly not a romantic, as most of my friends know. In my mind, romantics are always setting themselves up for disappointment. I'm a pragmatist. I get shit done (or I try to anyway). It works for us. Just last night I tried to schedule a party with several of my tele betties and Jeremy casually reminded me that one of the dates I suggested was our anniversary. Oops!
Winter is back, as are her winds. We have a movie of non-stop horizontal snow speeding past our picture windows, stripping away any heat in the house. Kaweah is cuddled up in the office on the luxurious faux fur/fleece blanket I made for her in December (and now wish I had bought enough of that awesome faux fur to make one for us because there isn't any more!)

snuggled up and happy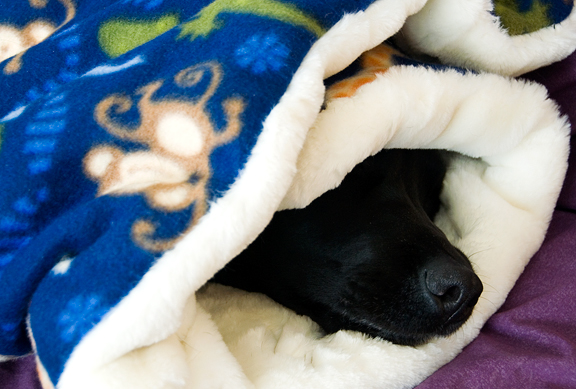 It's a good day to get stuff done inside, trusting that the snow outside will stick on the mountains and that good skiing is to be had soon enough. We did take advantage of the break in the weather over the weekend, including getting out for a walkie. I think we tell one another, "Kaweah needs a walk" when what we're really saying is "I need to get outside and breathe some mountain air." It's good for all involved.
she carried this stick for the duration of the walk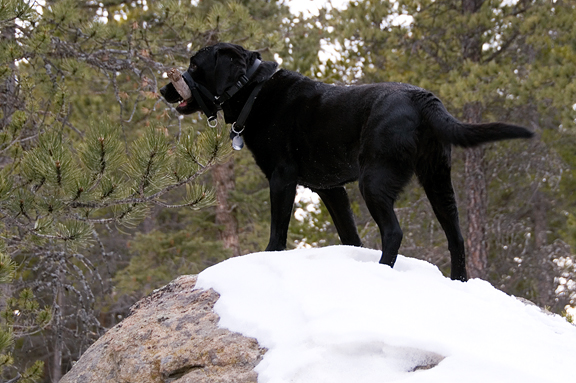 and didn't want to give it up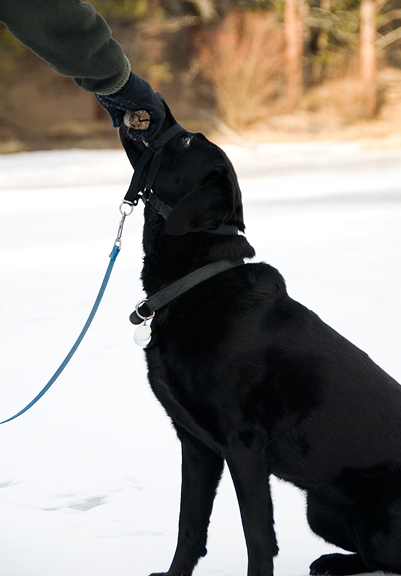 some intervention was required before she made mulch of it (and ate it)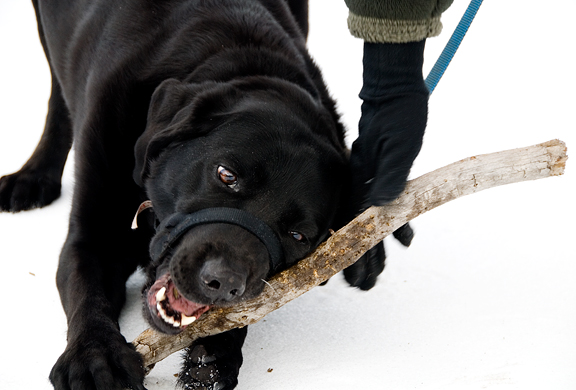 please give me my stick back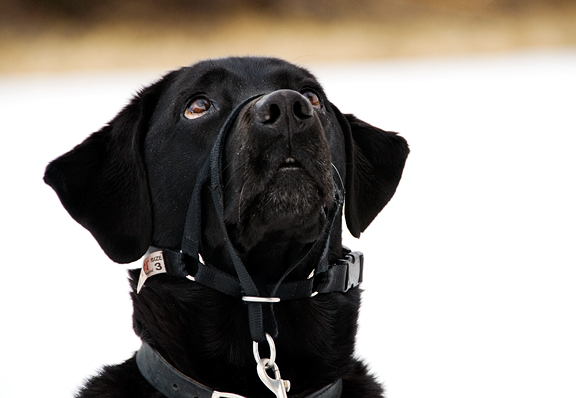 I used to be an impulse shopper when I first started working right out of college. All that money, no responsibilities, I was maxing out my retirement contributions and I *still* had tons of money. I realize now just how dangerous it was to live right behind a Williams-Sonoma in Pasadena. What cured me of that nasty habit in short order was moving – often and across the country. There's nothing like packing stuff you don't really need in 100 degree heat to fix the accumulation of junk. That, and I hate clutter. Being poor graduate students helped to put finances in perspective. So even though we now have a house large enough to store a lot more crap than we currently have, we think hard about what we want to purchase, where the heck we're going to put it, and if we truly need it and will use it. One of the many wonderful things about my relationship with Jeremy is that we never fight about money (we never fight). He was supportive of my purchase of these Gastroflex silicone bombe molds that I've been eying for two years ever since I used them in my pastry course. Especially after I mentioned "chocolate" when describing my intended uses. I waited this long to make sure I *really* wanted them.
what else, but chocolate shells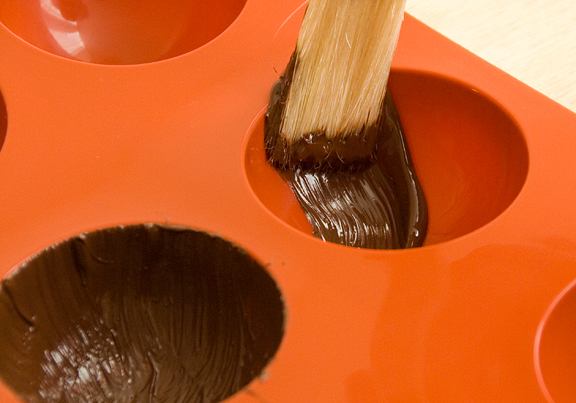 I've seen several varieties of silicone molds, but most of the ones in cookware stores are flimsy at best. These molds are the industrial versions and I love them. I love them. I looooooove them. Love them. Love. Another reason I waited so long to purchase them was that I had to be sure I could master tempering. Even though I say I hate tempering… I am getting proficient enough at it that I'm more comfortable with the process and have tempered a lot of chocolate in the past two months alone. Wooooo! Someone smack me!
fill with chocolate mousse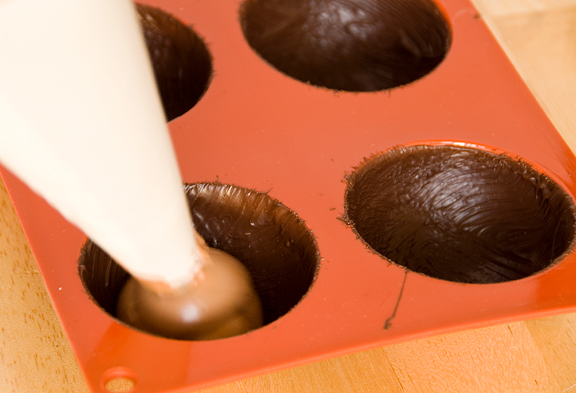 Brushing one coat of chocolate is not going to do the trick. I brushed two coats and in hindsight, I'd recommend three coats. That's not a problem if your chocolate is tempered properly because the first coat dries in a minute and once you're done coating all of the molds, the first one is ready for the next coat. If you put them in the freezer to firm up the chocolate (again, only if your chocolate wasn't tempered properly) then be sure to let the chocolate come to room temperature before applying the next coat. Otherwise your warm chocolate will become a gunky mess that sticks and hardens too quickly while you're brushing chocolate onto a cold shell.
plop a couple of raspberries in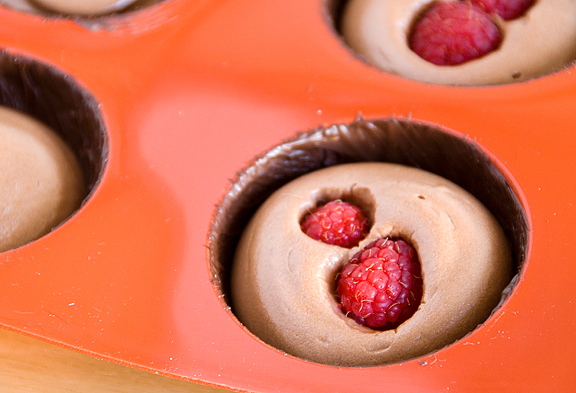 The last thing you should make when assembling the bombes is the chocolate mousse (or any flavor mousse). In my pastry class we filled the shells with mousse and then had several variations of the little surprise in the middle: caramel, peanut butter ganache, etc. I chose raspberries because I like to have that 1% of something healthy in the mix.
cutting out chocolate chiffon cake bases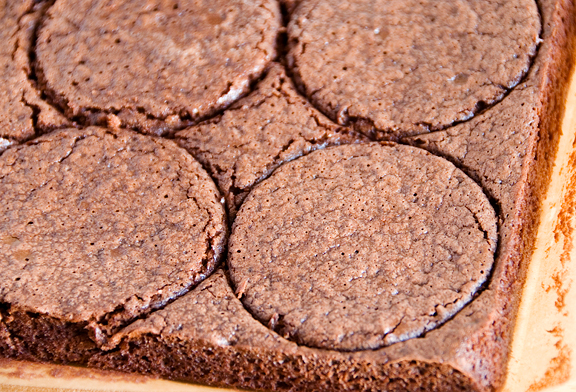 I filled the molds a little full because I omitted the chocolate short dough base. If I included the short dough base, I would have filled the molds only 2/3 full and squashed the chiffon circle into the mold so that they were flush with the edges of the molds.
placing them on top of each mold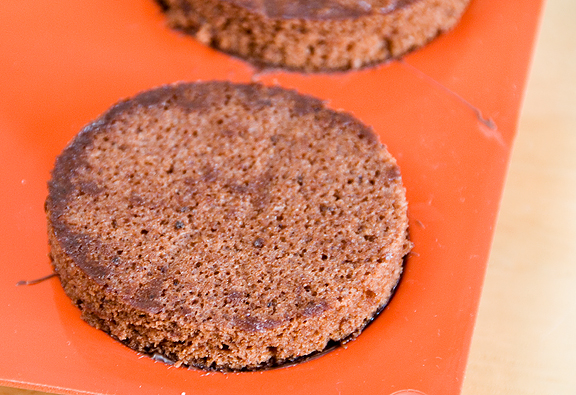 The molds then go into the freezer. Why? Because the mousse needs to be firm enough to maintain the structure of the chocolate shell when you invert the bombes. How do I know this? Because I initially tried to unmold a bombe that had been in the refrigerator and cracked the shell. Jeremy happily ate that failure.
oh, did i mention that i bought a sheet of mini bombe molds too?
Once the bombes are unmolded, let them come to room temperature or place them in the refrigerator so that when you serve them, the mousse is soft, smooth, and creamy. I embedded one raspberry in each of the smaller bombe molds. They are totally cute. We sent large bombes over to our favorite neighbors.
big bombe
little bombe
Chocolate Mousse Bombes
[print recipe]
from the Culinary School of the Rockies
8 oz. semi-sweet chocolate, tempered
1 11×17-inch sheet of chocolate chiffon cake (1/2 recipe, and you'll have leftover cake)
1 cup fresh raspberries
chocolate mousse
12 3-inch hemisphere molds (mine are actually 2 3/4 inch)
chocolate chiffon cake
makes 2 11×17-inch sheet pans or 2 9×3-inch rounds
10.5 oz. cake flour
3 oz. cocoa powder
8.75 oz. confectioners sugar
0.5 oz. baking powder (omitted at 8500 ft.)
7 oz. whole milk
6 oz. canola oil
3 eggs (4 eggs if small)
1 tsp almond extract
2 oz. praline paste (or hazelnut paste)
13 oz. egg whites
9 oz. granulated sugar
Oven 375°F. Prep pans by buttering bottom and sides. Place parchment in pan and butter the parchment. Sift dry ingredients (except granulated sugar) into a large bowl. Mix all ingredients (except the 13 ounces of egg whites and granulated sugar) in the large bowl until combined. Whip whites and granulated sugar to medium peaks. Fold into batter gently a third at a time (tempering the batter). Bake until set, about 20-25 minutes. Remove from oven and remove from pan. Let cool completely on a rack.
chocolate mousse
slightly modified from Tartelette's mousse recipe
6 oz. semisweet chocolate, chopped
1/4 cup whole milk
2 oz. butter
1 egg yolk
1 cup heavy cream, cold
In a bowl set over a pan of simmering water (make sure that the bowl fits snuggly over the pan and does not touch the water), melt together the chocolate, milk, and butter. Remove from the heat and let cool to lukewarm. Whisk in the egg yolk. In a mixer, whip the cream to medium peaks and fold it into the chocolate mixture. Yields about 3 cups.
Assembly:
With the chocolate in temper, brush a layer of chocolate in each mold. When the chocolate has cooled and is solid, apply another coat of tempered chocolate. Finish with a third coat. Using a 3-inch round cutter, cut out 12 rounds from the chocolate chiffon cake. Fill a pastry bag fitted with a plain tip with the chocolate mousse. Pipe mousse into each mold about 2/3 to 3/4 full. Gently press two raspberries into the center of each bombe so that they are enveloped by the mousse. Top each mold with a round of cake. Freeze until firm (about 2 hours). Unmold the bombes and let return to room temperature before serving or store covered in the refrigerator.