Recipe: cream cheese brownies
[A huge thank you to Fine Cooking for highlighting use real butter in their newsletter as one of their favorite food blogs. I find myself in truly stellar company. It's no secret to my readers that Fine Cooking is my favorite cooking magazine and a source of inspiration for urb.]
The excitement never ends over here at urb headquarters, but first… some proof that I am keeping off the streets this summer:

we are back to sunny weather here – great for a ride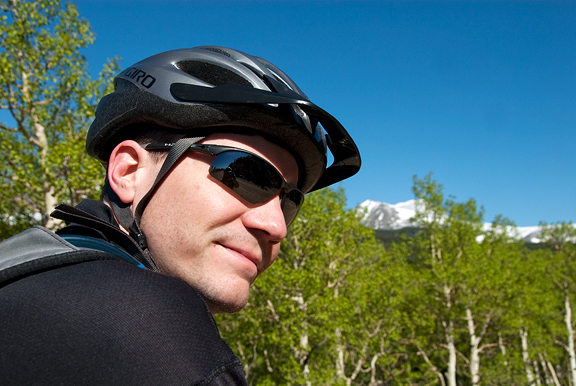 or a romp in the high country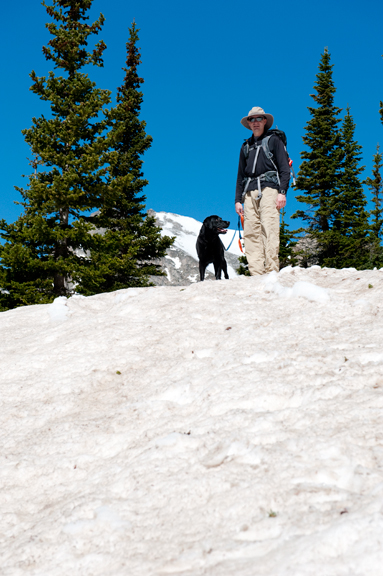 the snow is melting fast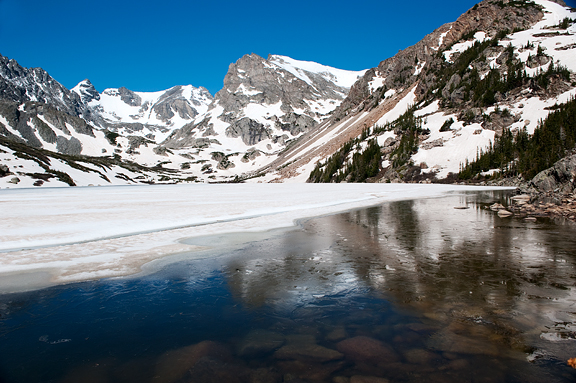 kaweah wanted to go for a swim in the icy water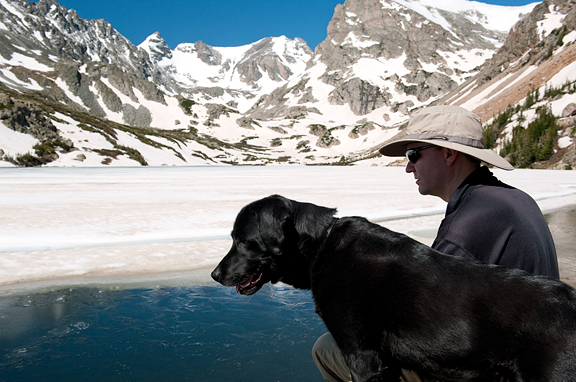 and she did!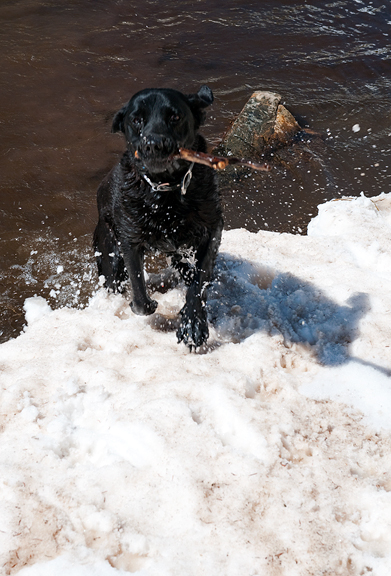 See all of that blue sky in the pictures? That's right. Blue Colorado sky, bright green aspens, dark green pine forests, white snow, and in a few weeks – multitudes of brilliant and colorful wildflowers. This is the place to be and if you sign up for the
Food and Light photography workshop
, you'll be
here
to enjoy Colorado, a fantastic group of fellow food photographers, and all of the great things our sponsors have lined up for us. Speaking of sponsors, I am *really* excited to have the following companies (many of them local) supporting our workshop:
Pro Photo Rental
,
Atlas Purveyors
,
Culinary School of the Rockies
,
Izze
,
Savory Spice Shop Boulder
,
Chocolove
,
Stonyfield Farm
,
New West KnifeWorks
,
Earthy Delights
, and
Nations Photo Lab
.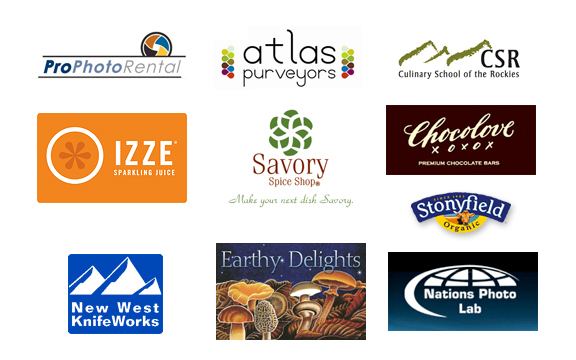 And before we dive into the recipe, I'm psyched to be a judge for the
Threadcakes Contest
which is now live through Monday, August 16, 2010.
What's Threadcakes? I'm glad you asked! It's a competition where entrants bake and decorate a cake based on a Threadless t-shirt design. Some of the designs are absolutely stunning – as are the cakes! Here are the rules and you can follow Threadcakes on Twitter @threadcakes. You should go to the Threadcakes website to see last year's winners. I was totally impressed and I know some of my readers and blogging pals have the talent to bring the smackdown this year. Check it out!
Last week when the weather was decidedly cooler and rainier than it is now, I baked four batches of these brownies for friends, neighbors, visitors, and Jeremy. Ever forget about a recipe for a while and then rediscover it? I actually got this recipe from Jeremy. Okay, I got this recipe from Jeremy's mom. Jeremy told me these are his grandmother's cream cheese brownies and he *loves* them. I never knew his maternal grandmother as she had passed away before Jeremy and I met, but I hear many loving and hilarious stories about this wonderful woman.

cream cheese and butter
making the cream cheese batter
Everyone who tries a cream cheese brownie is
hooked
and I have data spanning almost 20 years and about 30,000 people (give or take a few). I think it has to do with the almond extract which is a winner in my book every time. The recipe I have in my very old and abused spiral notebook of recipes says to use
Baker's German's Sweet Chocolate
– that I
must
use Baker's German's Sweet Chocolate.
melted chocolate and butter
beating sugar into the eggs
For the first several years, I DID use Baker's German's Sweet Chocolate and one day noticed that the recipe on the back of the chocolate box was the same as Grandma's recipe. I broke this news to Jeremy and he laughed. This in no way diminishes his Grandma's prowess as a baker and I think this sort of discovery is not uncommon for many of us. Knowing that the recipe was provided by Baker's, I suspected the directive to only use their brand was self-serving in that corporate way.
[Edit: And as an interesting side note, German was the last name of the fellow who invented this type of chocolate – it is NOT German…]
pouring the chocolate mixture into the batter
divvying up the chocolate base
I don't keep Baker's German's Sweet Chocolate in my cupboards and a quick search revealed that it contains a tad more sugar than regular chocolate. What is REGULAR chocolate anyway? A slight reduction in sugar isn't such a bad thing, so I used some 60% bittersweet chocolate I had on hand. Would you believe it – they were great AND a discontinuity in the space-time continuum did not appear in my oven for failing to use Baker's chocolate.
pour cream cheese batter on top
add a dollop of the chocolate batter and swirl it around
Okay, but the best part of this whole recipe was that I baked the brownies in my cute little square pans. You know how people love the edges on brownies and even go so far as to purchase
these crazy brownie pans
to maximize brownie-edge real estate? I can achieve EVEN MORE brownie-edge goodness with my mini square pan. You do the math – I am right. But if you prefer the traditional 9×9-inch square pan, you can do that too and the brownies are just as terrific. Either way nothing says, "I think you're swell!" quite like a cream cheese brownie from your kitchen.
i think you're swell
Cream Cheese Brownies
[print recipe]
slightly modified from the back of the Baker's German's Sweet Chocolate box
4 oz. semi-sweet chocolate, roughly chopped (they say you must use Baker's German's Sweet Chocolate – totally false)
5 tbsps butter, room temperature
3 oz. cream cheese, room temperature
1 cup sugar
3 eggs, room temperature
1/2 cup + 1 tbsp unsifted flour
1 1/2 tsp vanilla
1/2 tsp baking powder (@8500, a pinch will do)
1/4 tsp salt
1/2 cup nuts, chopped (optional)
1 tsp almond extract
Preheat oven to 350°F. Grease a 9×9-inch baking pan (I sometimes double the recipe and use a 9×13-inch pan) or grease a dozen 2×2-inch square pans (one sheet has a dozen squares). Melt the chocolate and 3 tablespoons of butter over low heat. Stir constantly to avoid burning the chocolate. Remove from heat. In a medium bowl, cream the remaining 2 tablespoons of butter with the cream cheese. Gradually add in 1/4 cup of sugar, beating until fluffy. Blend in one egg, a tablespoon of flour, and 1/2 teaspoon of vanilla. Set aside. In a mixing bowl, beat two eggs until they are light colored and slowly beat in the remaining 3/4 cup of sugar until the mixture thickens. Add the baking powder, salt, and 1/2 cup of flour. Blend in the chocolate mixture, 1 teaspoon of vanilla, nuts, and almond extract. Spread half of the chocolate batter in your pan (if using the little square pans, divvy half of the batter among the squares). Then top with the cream cheese mixture. Spoon the remaining chocolate over the top and run a knife or toothpick through the batter to marble it. Bake for 35-40 minutes for a 9×9-inch pan or until a toothpick comes out clean. For the 2×2-inch squares, bake for 20 minutes. For a double batch in a 9×13-inch pan, I start checking around 40 minutes and keep testing with a toothpick until the center is done – but it does tend to dry out the edges. One batch makes 16 brownies or 12 cute little square brownies.