Hai! There's a giveaway buried deep at the end of the post. Cool stuff that I know you will love. What is cooler? You have the chance to win x3 because Tartelette and White on Rice Couple are also holding giveaways! Great minds… (okay, we planned it that way, but still!) You should totally enter all three.
Few things keep me from this blog for long: chemotherapy, emergency surgery, and apparently food photography workshops. I should say running food photography workshops. Who knew?!
I sort of knew, but now I really know. It's an enormous amount of work and I can honestly say that Food and Light could not have happened without the logistical and technical support of Todd and Diane (veterans of organizing and running workshops), Jason (single-handedly built our workshop a new network when the venue's network was brought to its wobbly knees), and my Jeremy (for everything) – four people who consistently go above and beyond without ever being asked to. They did me a solid. Thanks, guys.

todd and diane present on artificial lighting techniques and equipment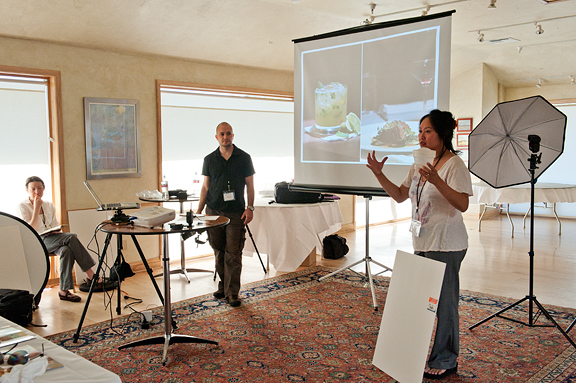 … to an attentive group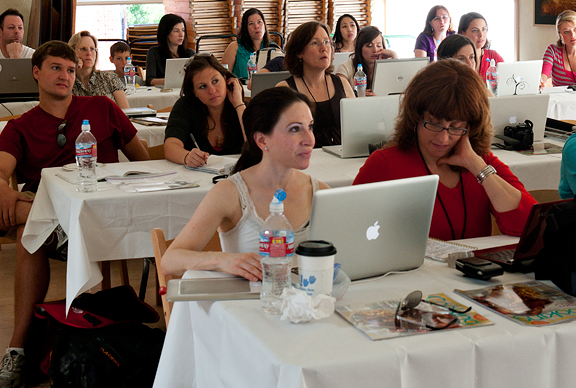 Don't even start to think that this workshop rocked on the efforts of just five people. No way.
Helen
, The Maestra,
pwned
the styling like nobody's business, always happy to share tips and experiences with workshop participants. She even demonstrated how to turn unsightly bean dip into something marvelous.
Pro Photo Rental
provided us with several beautiful professional lenses for folks to try out.
Matt and Nicole
graciously presented stunning pastries to the workshop each morning for shooting (and eating!). Special thanks to
Lisa
,
Anita
,
Dana
, and
Annie
for staying behind to help us break down the venue (and break out happy hour at The Kitchen Upstairs).
watching helen work her artistry on bean dip
attendees look on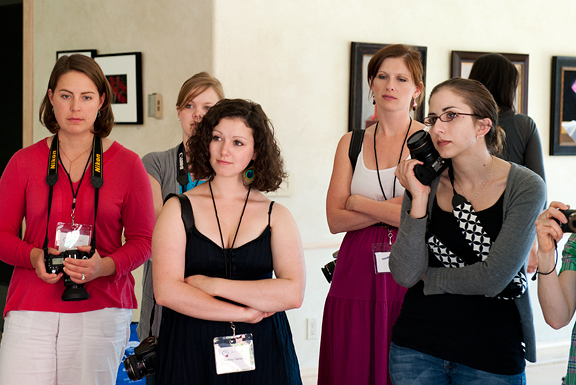 Most of all, I cannot emphasize enough how wonderful our workshop group was. We had good people. I mean, we had truly kind, generous, friendly, enthusiastic people in attendance. You could not have picked a better crew. They listened, asked questions, shared with one another, helped each other, and created an excellent atmosphere for learning.
diane styles greens and peas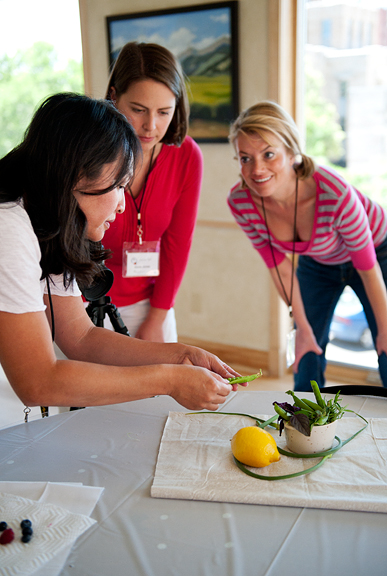 And that is what the workshop was all about – learning. Having spent a billion years in graduate school watching some good and a lot of bad instruction, I have my (strong) opinions about teaching. We didn't want to load the workshop with lecture after lecture. Heck, if that were the case we instructors would have walked out on ourselves! Two-thirds of the in-session workshop was reserved for hands-on, one-on-one, run-with-it time. They ran with it.
annie practices bounce fill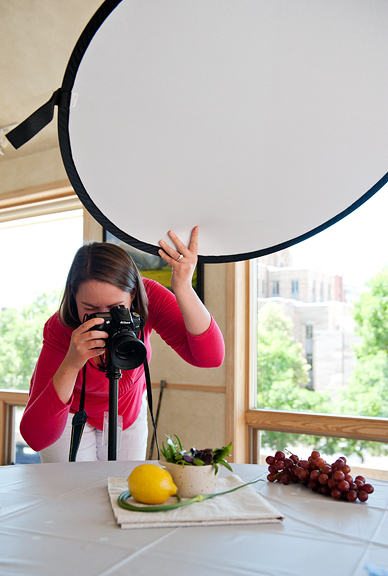 kelsey styles her shot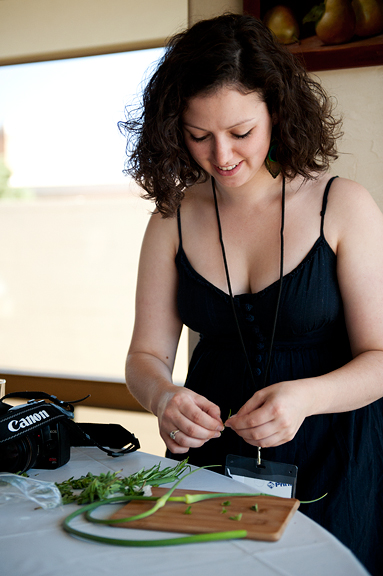 shannon works the english peas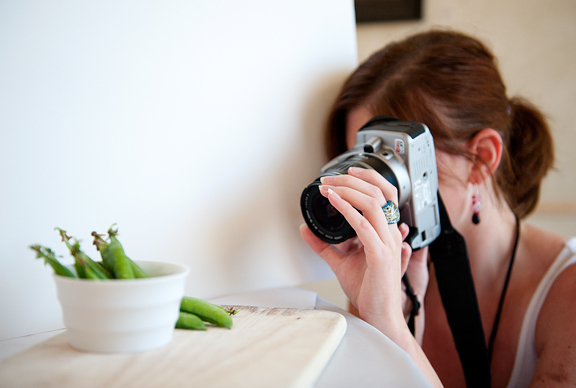 susan making bread look its best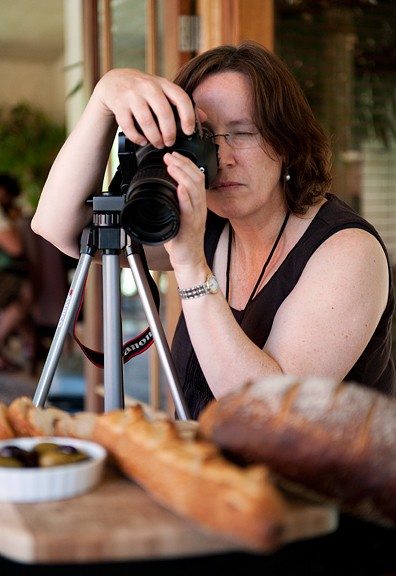 Even lunch time was part of the workshop because we gave an assignment to photograph in a restaurant setting. I can just imagine the surprise of the staff when half of the attendees who went to
The Kitchen
for lunch whipped out their cameras once their food arrived. Somehow between all of the lessons, demos, hands-on sessions, exploration of downtown Boulder, and networking, our fine group managed to process and
upload their photos
for our final awards which included giveaway prizes from our amazing sponsors: two (2) $100 gift cards to the
Culinary School of the Rockies
, five (5) $100 gift cards for
CHEFS catalog
, two (2) beautifully-crafted knives from
New West Knifeworks
, and a heady spice set from
Savory Spice Shop in Boulder
.
post processing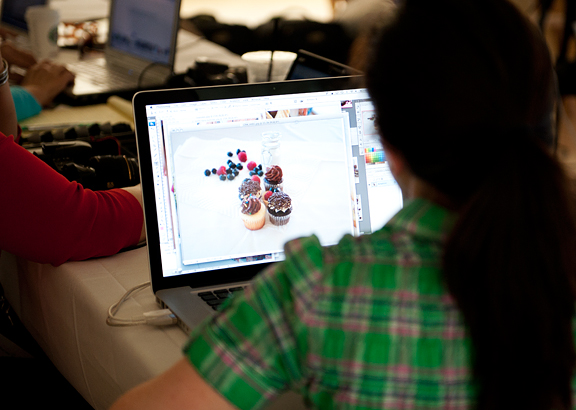 last lecture on styling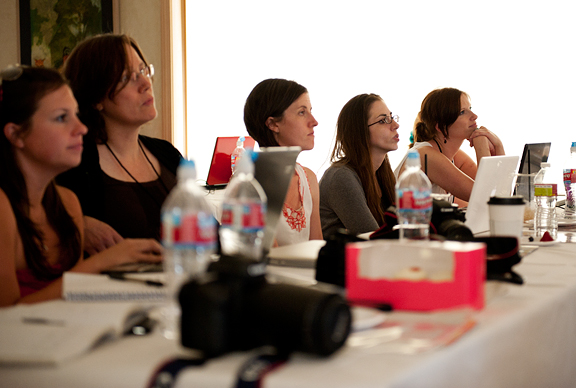 Probably the toughest part of the instructors' jobs was choosing the winners. All of the submissions looked terrific. Everyone showed improvement. The judging was close. Even the attendees' votes were tight races! I think that speaks to the excellence, effort, and dedication of our participants. Congratulations to the winners (but you are ALL winners in my book – for reals):
Best Overall (instructors vote): Christopher
Best Overall (group vote): Annie
Most Original (instructors vote): Lisa
Most Original (group vote): Jennie
Most Improved (instructors vote): Ethan
Most Improved (group vote): Shanon
Best Styling (instructors vote): Marla
Best Styling (group vote): Anita
Best Lunch (instructors vote): Taylor
Best Lunch (group vote): Taylor
group photo!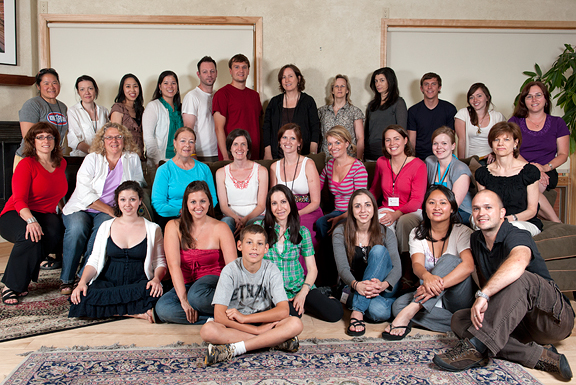 It was over before we knew it and there were hugs between friends old and new as attendees said their thank yous and good-byes. Our small group of nine headed to
The Kitchen Upstairs
for an undeniably happy hour. We did it!! Thanks to all who made this happen.
food makes up for lack of sleep, right?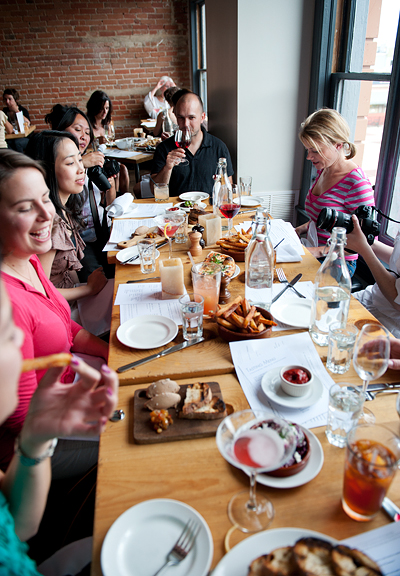 we never stop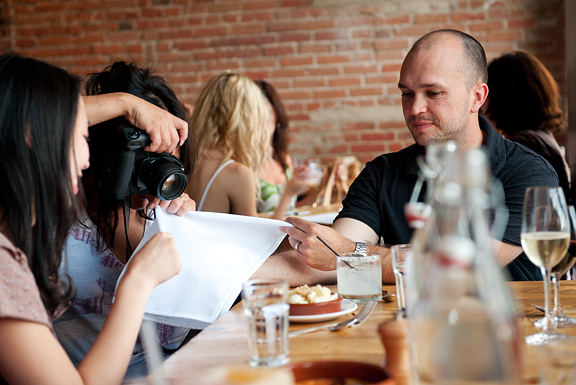 More farewells and then it was back home to the mountains where Kaweah happily greeted Todd and Diane who had come to spend their last evening in Colorado at our house. The next morning we took them for a pleasant hike into our beloved high country which is priming for peak wildflower season.
marsh marigolds in bloom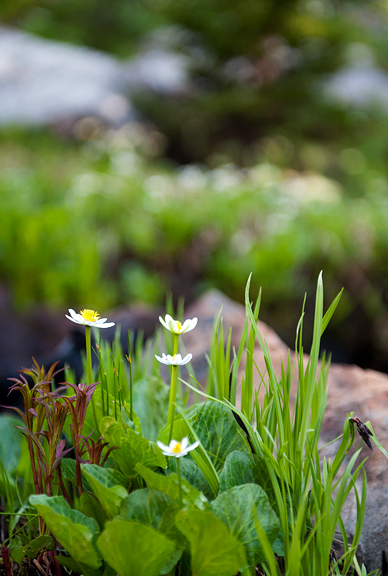 this air isn't like los angeles air!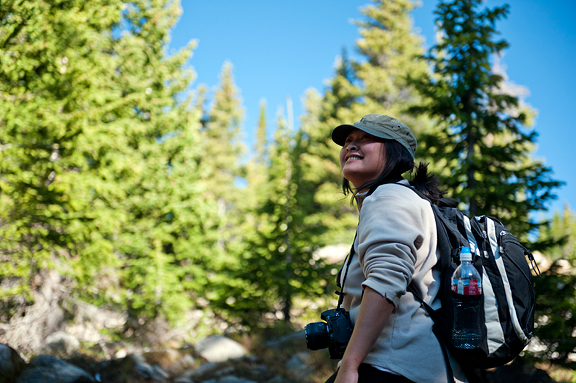 kaweah couldn't wait for her swim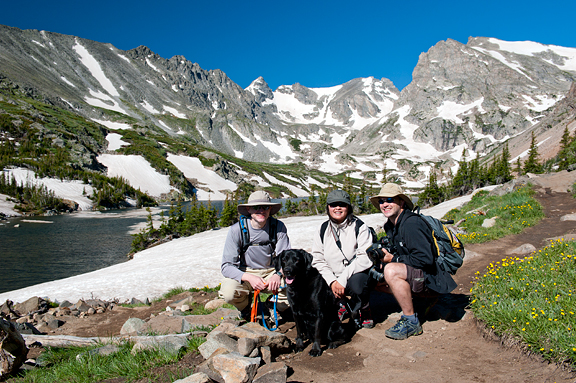 so happy!
Before Todd and Diane left for the airport, we enjoyed a relaxed and beautiful late lunch at
L'Atelier
, another favorite restaurant in downtown Boulder.
todd's plate was the prettiest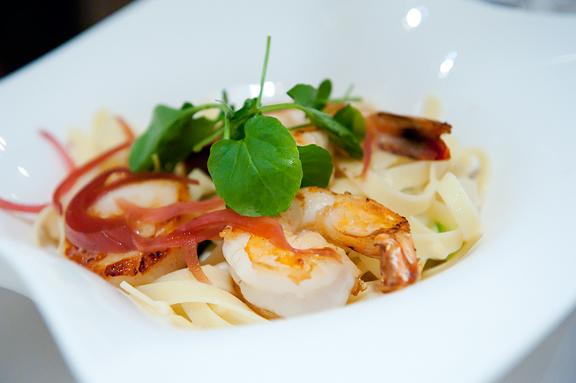 Things are slowly getting back to normal around here. Except that I have three extra swag bags courtesy of
CHEFS catalog
. CHEFS asked us to please give the goodies away on our blogs if there were any left over. You will want one of these. You will, because CHEFS was so unbelievably generous filling our attendees' bags (well, they also included a lovely nylon tote of their own).
Each nylon tote includes a set of four (4) large wooden spoons, three (3) beautiful kitchen towels, a Wüsthof 6-inch bread knife and cutting board, a set of four (4) small stainless steel prep bowls with lids, a large silicone rubber spoonula/spatula, and a ceramic peeler.
Wow! Here are the rules for the
use real butter
giveaway:
1) share with me your favorite summertime snack
2) leave a comment on this post by midnight Monday, July 5th (so you have all of Monday)
3) all entrants must have a US shipping address
4) one entry per person
5) winner will be selected by Kaweah (aka beyond random)
Don't forget to enter over at Tartelette and White on Rice Couple to increase your chances (check out the gorgeous photos on both posts – that's why theses guys are teh awesome). Good luck!
Disclaimer: CHEFS catalog sponsored our workshop by donating these supplies.
Other posts on the Food and Light Workshop:
Annie's Eats
Christopher Cina
Dessert First
Elana's Pantry
Family Fresh Cooking
Food for My Family
The Kitchen Witch
Lisa Is Bossy
Phoo-D
Photographie du Jour
Photographie du Jour (2)
Tartelette
Taylor Takes a Taste
White On Rice Couple