Recipe: salsa del norte
Ever since Thursday night, when I was on the deck all bleary-eyed at 4 am trying to capture some astronomical magic, my sleep schedule has been completely whack. Since my parents are visiting, we're dining out at some of our favorite places. I feel like I won't want to eat for about a week after they leave. They go to bed on the early side (around 10pm) and then Jeremy and I stay up working late. But then Dad wakes up bright and early and well – Jeremy and I make it a rule to be awake when guests are awake. So you see, I am brain-function-impaired more and more each day. I suspect I'll be stumbling around like a drunkard tomorrow.

i don't even have emotions about these seared scallops right now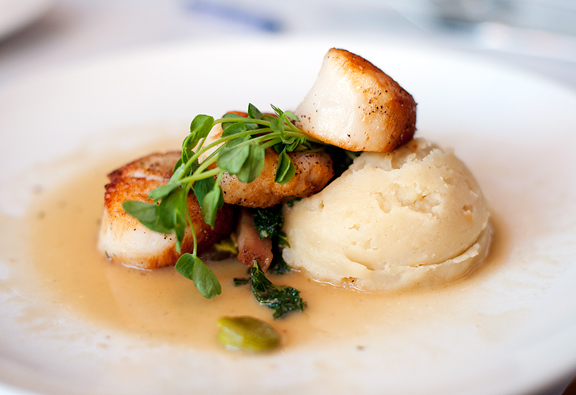 So normally, I keep my mouth shut about all of the people who tweet and post and Facebook about their
gardens
. You see, I'm lucky to not have killed off my little potted mint plant in the window sill yet (trust me, its days are numbered). I am so very green with envy of
my
many
friends
who
not only live in a climate conducive to gardening, but know how to garden and then go and make gorgeous food with their bounties. Yes well, I'm the sucker who pays at the market for what she can't grow. I long for the old days when my girlfriend at Clusters-R-Us came in with a bag of heirloom tomatoes from her yard and shouted, "Take them! I have so many I don't know what to do with them!" It's better than winning the lottery, in my opinion.
my store-bought produce
tomatoes are precious gems
It's too cold overnight around here to grow things like tomatoes, but I have often thought that if I grew them indoors in our great room which has incredible sun exposure, I might be able to pull it off. Imagine my delight when I noticed a hydroponics grow store had opened up next to our local video shop. I mentioned this to my more astute friends one day and said I couldn't wait to try growing some vegetables. They laughed. I hadn't made the connection between all of the medical marijuana stores popping up (like weeds) around our town and the hydroponic garden shop. I mean, it's not like I know how to grow most things anyway so why would that have been obvious to me? I just want some damn vegetables. I could conceivably try growing everything I'd need for a good old fashioned salsa.
onions, garlic, cilantro, jalapeño, salt, vinegar
broiled tomatoes
Truth be told, I like Trader Joe's Salsa Autentica and I have about 24 jars of it in my cupboard. You should see the look on the face of the cashier when they ring up two or three dozen jars of salsa. They usually quip, "Wow, you guys must really like salsa *insert nervous laugh*." If Trader Joe's would move it's righteous butt into Colorado, I wouldn't have to hoard salsa in the first place and I wouldn't have to bleed so much money at Whole Foods. Word. But what I like from time to time is this fresh, yet roasted salsa that you get in restaurants. Turns out, it is ridiculously easy to make. Ridiculously silly easy.
blenders seem to be at the root of many festive foods and beverages of late
ah cilantro – how i've grown to love you
Broil the tomatoes, dump everything into the blender, and you have yourself some salsa to love. Crank up the tang or the spice or the salt as you see fit. This comes from my favorite New Mexican recipe book and after one bite Jeremy noted that this is exactly what he gets in Mexican restos in New Mexico. So maybe I'll limit my Trader Joe's salsa purchase to just a dozen jars from now on?
guac, salsa, chips, beer – the only thing missing is you
Salsa del Norte
[print recipe]
from The Border Cookbook
1 1/2 lbs. whole Roma or Italian plum tomatoes, unpeeled
1/2 medium onion, chunked
1/4 cup chopped fresh cilantro
2-3 fresh jalapeño peppers
2 garlic cloves
1 1/2 tsps salt
2-3 tbsps vinegar, cider or cane
pinch of sugar (optional)
Heat broiler. Place tomatoes on a small baking sheet lined with foil. Broil 15-18 minutes, turning a couple of times until soft and skins split. There should be some dark spots. Let the tomatoes cool a bit. Put the whole tomatoes in a blender with the rest of the ingredients and purée. Serve warm or refrigerate for later use.